Should You Hire a Senior Move Manager?
Moving is always a big undertaking. If you don't believe me, take a quick look at our moving checklist. It's a long list.
And when it comes time to move an elderly parent or loved one, the moving checklist usually becomes a lot longer and more complicated.
This is where senior move managers come in.
A senior move manager is precisely the person who understands these extra layers of complication. They're dedicated to understanding the issues and concerns of seniors that might be downsizing their living arrangements.
So. Should you hire a Senior Move Manager?
The short answer is, probably yes. But of course, there is more to it. Read along to understand what a senior move manager does and how to choose a manager you can trust.
To prepare for hiring a Senior Move Manager, you're going to want to know how much your move is going to cost. Fortunately, we created an instant moving cost estimator to help you budget your move.
What is a Senior Move Manager?
Senior move managers specialize specifically in helping seniors move.
It's similar to booking a real estate agent to help you sell a house. Sure, you could sell the house yourself, but hiring an agent will help tremendously.
When you hire a real estate agent, you trust that you have a professional taking care of all of the technicalities and that you can focus on what's truly important. This is precisely what a senior move manager does.
What does a Senior Move Manager do?
According to the National Association of Senior Move Managers, you can hire a senior move manager to help you with the following services:
Developing an overall move or "age in place" plan
Organizing, sorting, and downsizing
Customized floor plans
Arranging for the profitable disposal of unwanted items through auction, estate sale, buy-out, consignment, donation, or a combination of the above
Interviewing, scheduling and overseeing movers
Arranging shipments and storage
Supervise and oversight of professional packing
Unpacking and setting up the new home
Related services, such as cleaning, waste removal, shopping, senior escort, assisting with the selection of a realtor and helping prepare the home to be sold.
Essentially what your senior move manager does is they become your moving associate. They only have the quality of your move, your needs, and your satisfaction in mind. They are both moving experts and are experts at working with seniors.
Why Should I Book a Senior Move Manager?
You'll need the professional help
We all know that moving is a huge task for just about anyone. However, helping seniors move presents its own specific challenges. A few of these challenges include:
Senior loved ones might not be as healthy or strong as they used to be, this means that they'll need extra help with their move.
They are likely to have decades' worth of items in their household that represent great memories. How do you choose what to move or what to downsize?
The home itself could represent a lot for the senior. It may be the case that they don't want to move in the first place.
Adult children coordinating the move might create certain tension that makes the move that much more difficult.
Each case is certainly different, but the truth is, a senior relocation is especially physically and emotionally draining. This is where senior move managers come in.
A senior move manager understands every one of these challenges to the degree that the rest of us never will. It's their job. They're professionals.
Your help will still be essential
You should hire a senior move manager because the best way you can really help your senior loved one move, is by providing emotional support and giving them a familiar shoulder to lean on. So instead of arguing about how you're going to get the move done, you can be a lighthearted presence for your loved one.
As we've mentioned, moving can be especially meaningful for a senior. Make this as positive of an experience as possible.
They know the details better than anyone
Generally speaking, when you're planning a move, you can't think of everything you need to have done on the spot. Moving seniors adds an extra layer of details that we can't understand until we're in the situation. Fortunately, senior move managers have faced these issues and will be able to anticipate and prepare all parties involved for what's coming.
Moving scams for seniors are not unheard of
Unfortunately, we live in a world in which there are people who will take advantage of any opportunity for a quick buck. Seniors are one of the most vulnerable groups to financial exploitation.
Senior move managers know these scams and know the industry. You can rest assured that this won't be a problem when you hire one.
This is also a huge reason you'll want to hire one of the best moving companies in the industry.
PRO TIP: We really recommend booking one of the best moving container companies for your senior move. Why? A moving container allows you to load and unload at your own pace and it forces you to downsize. Pretty neat huh?
Where can I Find a Senior Move Manager?
Want to Find a Senior Move Manager you can trust?
It's time to get to know the National Association of Senior Move Managers or NASMM. NASMM is the leading membership organization for Senior Move Management.
NASMM actually trademarks the term Senior Move Manager, so any company that is not a member of NASMM cannot call themselves a senior move manager. The following list breaks down all the reasons you'll want to hire an official NASMM "Senior Move Manager."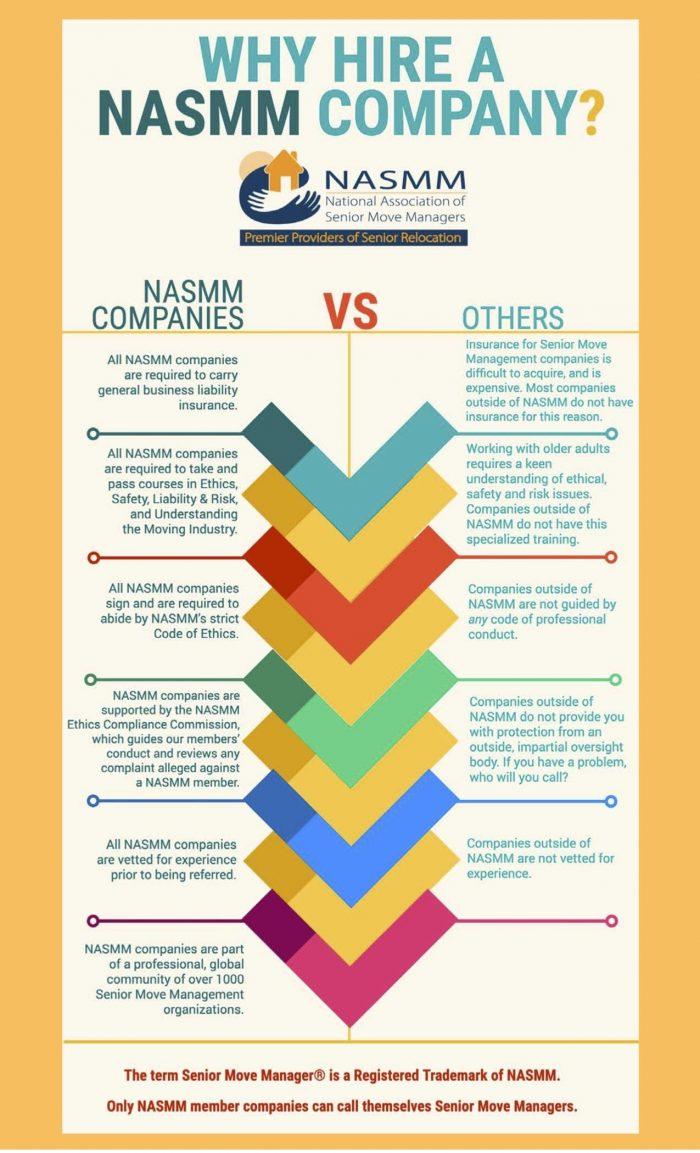 So basically, being a member of the NASMM is so valuable in the industry, that companies are willing to comply with all of these measures in order to be a member. This certainly assures you are only going to be working with experienced and ethical managers.
NASMM senior move managers have helped thousands of seniors move in a way that wouldn't be otherwise possible. Go to the NASMM website to find a NASMM certified Senior Move Manager near you.
On the NASMM website, you'll be able to contact them to find out about how much it's going to cost for their services. In addition to their estimate, you'll want to get a quote for your move. For this, check out our moving cost calculator for a free, instant, and personalized estimate.
Not what you were looking for?
Check out other categories that can help you find the information you need!