ServiceMaster Brands Acquires Two Men and a Truck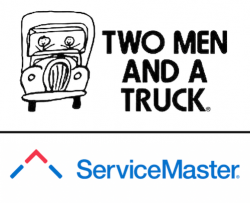 On August 3, 2021, ServiceMaster Brands announced that they will acquire Two Men and a Truck. Two Men and a Truck is now the fastest-growing moving and storage franchise in the United States. The full acquisition details and cost of the sale are currently are unknown, but both companies are excited about this next phase. 
Executives from both companies expressed optimism that the well-respected brands would complement one another nicely and that their synergies would drive growth and improve customer experiences. 
As leaders in their respective industries (ServiceMaster specializes in home and business cleaning services), both companies share similar values and rely on extensive franchise networks to provide customer services nationwide and internationally.  
Mary Ellen Sheets officially founded Lansing-based Two Men and a Truck in 1985, but her sons provided local moving services for years before that. 
Back then, few could have predicted that the company would have nearly 400 franchises in the United States, Canada, and the United Kingdom more than three decades later. 
Founded nearly a century ago, ServiceMaster Brands operates a network of more than 2,000 commercial and residential cleaning franchises.
In 2020 Atlanta-based company Roark Capital purchased ServiceMaster Brands.
Roark's diverse portfolio includes well-known dining chains like Arby's and Buffalo Wild Wings. 
Terms of the sale stipulate that ServiceMaster Brands continue to support several charities long championed by Two Men and a Truck.  
To learn more, you can read the full statement and details from ServiceMaster, here. 
Not what you were looking for?
Check out other categories that can help you find the information you need!
See All
Hide All