VIP Transport: A Complete Review
As is often the case in the transportation industry, VIP Transport came from relatively humble beginnings.
It all started four decades ago in Long Beach, California when graduate student Dan Griffiths worked at a local moving company.
Dan developed a passion for devising creative solutions to perplexing transportation problems, and he eventually set out on his own and founded VIP Transport.
That said before long Dan and VIP had picked up a few high-profile customers like Hitachi Data Systems and the US Post Office.
Since then, VIP has safely transported more than 500,000 shipments, and its services now include office and residential moving, warehousing and logistics, and special commodities transportation to name just a few.
Through its affiliations with United Van Lines and Mayflower Transit, VIP now offers even more services both domestically and internationally.
Before reading on take a few moments to check out these helpful pre-move resources –
Best interstate movers – With so much at stake, hiring a top-rated long-distance mover with verified customer reviews is imperative
Best moving container companies – It's simple. You load and unload, they drive, and you save big bucks
Moving cost calculator – Just enter your move dates, origin and destination cities, and the estimated size of your move, and the magic algorithms will do the rest
VIP Transport's household goods moving services at a glance
VIP Transport offers a wide range of specialized services that many of its competitors don't.
Where the rubber meets the road, VIP is one of the industry's most experienced and diversified carriers.
In the household goods moving niche, VIP offers –
Local, intrastate, interstate, and international relocation services for corporations and individuals
Loading and unloading labor
Full-service packing and unpacking (with debris removal)
Packing supplies for do-it-yourselfers
Custom crating
Automobile transportation
Concierge and maid services, home theater set-ups, and help with in-home organization
Short and long-term storage (standard and climate-controlled)
Specialty services for pianos, grandfather clocks, wine collections, and artwork
Before signing a contract with VIP or anybody else, consider alternatives like the best moving container companies.
VIP's specialized transportation services
Since its founding, much of VIP's business has come from corporate customers that need customized transportation solutions for fragile, high-value products.
Today, this segment of the industry still accounts for a significant portion of VIP's annual revenue.
Additional specialized services include –
Logistics
Warehousing and distribution
Commercial, industrial and office relocations
Third-party transportation management
Fine art packing and transportation for private customers, museums, and galleries
Laboratory moving, climate-controlled, and advanced cryogenic transportation
Truckload (TL) and less-than-truckload (LTL) shipments
VIP Transport – not just another moving company
VIP Transport stands out from run-of-the-mill moving and storage companies in a number of ways.
In the 40 years, the company has been in business, it has amassed an impressive list of A-list clients.
In addition to having extensive experience in the household goods market, VIP is a major player when it comes to handling shipments of extraordinary value like electronics, original artwork, and museum exhibits.
But though many moving companies claim to offer these services, few have the equipment and experience necessary to move such sensitive shipments safely and efficiently.
Getting a quote from VIP Transport
Before diving in, check out our moving cost calculator.
Just enter your move dates, origin and destination cities, and the estimated size of your move, and the magic algorithms will do the rest.
Regardless of which kind of transportation services you need, getting a quote from VIP is relatively easy.
In the top left corner of the website's homepage (just below the white VIP Transport logo) you'll find five tabs, the last of which is GET A QUOTE.
After clicking on this tab, you'll be able to choose which kind of quote you'd like.
For a household goods move you'll want to click on RESIDENTIAL QUOTE, after which you'll be asked to enter the following information –
Name, email address, and phone number (all are required)
Company name (if applicable)
Estimated move date
Origin and destination cities and states
Size of home or apartment
After this information is sent, you'll be contacted by a VIP representative to schedule a virtual survey.
It's not clear if VIP offers in-home estimates.
In-home estimates are almost always more accurate than virtual surveys, especially on large and complex moves with additional services like packing and crating, so this is a question you'll want to ask your representative.
As always, we suggest getting multiple estimates from the best interstate movers.
VIP Transport locations
VIP Transport's corporate office is located in Corona, California.
In addition, the company has facilities in –
Santa Ana, California
Las Vegas, Nevada
Jessup, Maryland
This may not seem that impressive by big van line standards, but remember, VIP is an agent for both United Van Lines and Mayflower Transit.
Thanks to their affiliation with these well-respected full-service moving companies, VIP is part of two vast and elite agency networks that include thousands of trucks and hundreds of agents, warehouses, and distribution centers all over the country.
When it comes to providing top-notch relocation and specialized transportation services, this is a huge deal.
VIP Transport's standing with the Better Business Bureau
According to the Better Business Bureau (BBB), VIP Transport has –
An A+ rating
Been accredited since July of 2002
Been in business for 40 years
Zero reviews and zero customer complaints
It is a little strange that VIP hasn't gotten any reviews in 40 years, but the fact that the company hasn't had one complaint filed against them with the BBB speaks volumes.
Take a look for yourself –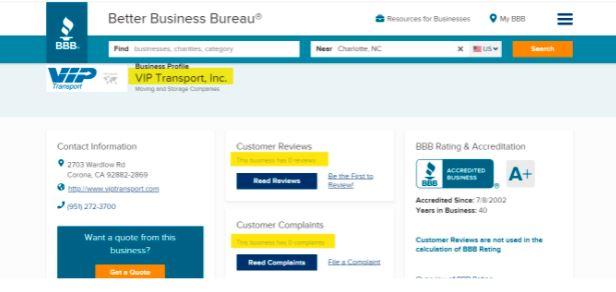 VIP Transport's drivers, crews, and fleet
VIP takes great pride in the experience and professionalism of its drivers and moving crews, and before being hired each applicant must undergo a 10-year background check.
This isn't surprising considering VIP's high-profile customers and the valuable shipments the company handles on a daily basis.
VIP's assets include –
Rigging and hoisting equipment
Straight trucks and pack vans
Retractable tarp and flatbed trailers
Climate-controlled trailers for temperature-sensitive loads
Standard and high-cube 48, 51, and 53-foot trailers with air ride suspensions
Trailers with onboard generators for shipments that require electricity while in transit
Frequently asked questions (faqs)
Who should use VIP Transport?
With such a wide range of service offerings, VIP is definitely worth checking out whether you're moving household goods, artwork, laboratory equipment, or a high-dollar wine collection.
Who are VIP Transport's customers?
VIP's clients include NASA, the Smithsonian, Marriott, Jet Propulsion Laboratory, Chili's, the LA Times, the Los Angeles Lakers, and the University of California. Yeah, it's pretty impressive.
How big is VIP Transport?
As stated on its website, VIP Transport is one of the largest agent/carriers within the United and Mayflower systems. According to ZoomInfo, VIP has nearly 60 employees and annual revenues approaching $45 million.
Is VIP a Certified Women-Owned Enterprise?
Yes, VIP has been a Certified Women-Owned Enterprise since 2011.
Not what you were looking for?
Check out other categories that can help you find the information you need!
See All
Hide All