What is the cost of living in Philadelphia, PA?
Philadelphia is expensive compared to national averages, but it's an affordable option if you want to live in the Northeastern US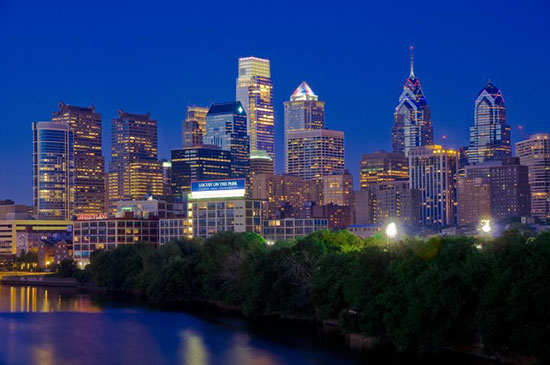 Here's the deal:
Philadelphia is the 12th most expensive city in North America according to a cost of living comparison done by Expatistan.com.
If we compare Philadelphia to other US cities with similarly sized populations you can see the difference pretty quickly.
From the bar graph below, Philly is over 20% more expensive than Phoenix or Dallas and 40% more expensive than San Antonio.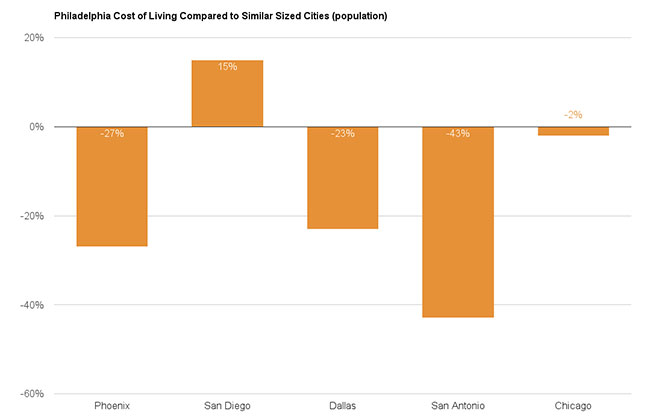 The only similar sized city more expensive than Philly is San Diego. But San Diego has a beach and 70 degrees all year round so that kind of makes sense…
If we look at cost of living in Philly compared to national averages we see a similar story.
Pretty much everything is more expensive with the exception of health care.
You get the idea, Philly ain't cheap. But, cost of living is all relative and Philadelphia is no exception.
Let's get this out of the way, if you want affordability, the Northeastern United States is not the place to look. If everything is bigger in Texas, everything is more expensive in the Northeast.
That being said, if you're going to live in the region, Philadelphia is actually a very cost effective option!
If we compare Philly to nearby major cities the picture changes quite a bit. The city is a bargain compared to New York, Boston, or DC.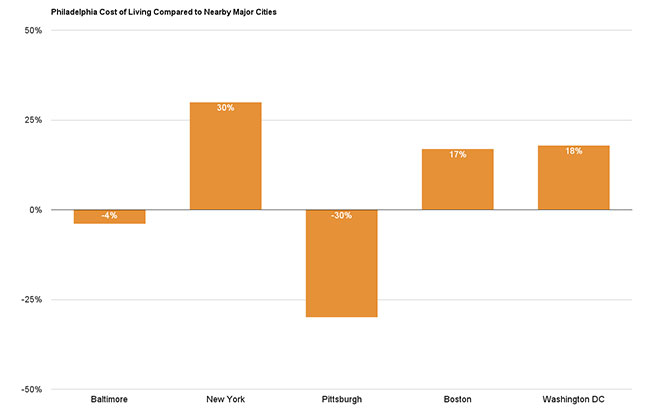 The only significantly cheaper nearby city is Pittsburgh. But come on! Pittsburgh is really more of a mid-west city and has about one-fifth the population of Philly.
How much does it cost to live in Philadelphia?
Okay, now let's get to the real question, how much can you expect to pay every month for the basics in Philly?
Short answer: Somewhere around $1,400 to $2550 depending on your lifestyle.
Alright, let's dig into these numbers a bit.
Housing: $800 – $1600 per month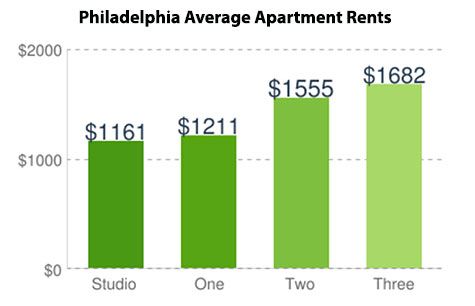 Apartment rent will run around $1,200 if you're living alone and roughly $800 if you plan on having some roommates.
On a national level, Philly rents may seem high. According to the Bureau of Labor Statistics, "Housing accounted for 35.0 percent of the area's household budget, significantly higher than the 33.1-percent U.S. average."
Again, this isn't really a fair comparison. Philadelphia, with an average rent of $1,556, is far cheaper than Boston ($2,380), Washington DC ($2,200), and New York City ($2,900).
If Philadelphia has any kind of affordability problem, it's definitely not housing.
Utilities: $112 – $196 per month
Northeast winters are cold and summers are hot so prepare to be running your heat and AC for a good chunk of the year. Obviously, this means some high utility bills as well.
Internet: $46 – $57 per month
Philadelphia is headquarters to the telecom giant Comcast. Comcast tower is one of the largest skyscrapers in Center City. Despite Comcast's large presence in the area, Philly is a fairly competitive market when it comes to internet options with prices ranging from $30 to $80 per month.
Groceries: $300 – $400 per month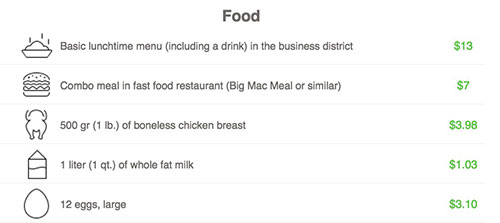 Spending around $300 – $400 per month on groceries is pretty typical in the city. Although, this doesn't include budgeting for eating out at restaurants or grabbing something off a food truck.
One nice side effect of the city's crazy liquor laws is there are a ton of BYOB restaurants, so you can save on your drink tab!
Transportation: $150 – $300 per month
Philly has a decent and affordable public transit system with monthly passes costing $101 each. Taxis and Uber cabs are also fairly easy to catch throughout the city.
Surprisingly, about 50% of the city's commuters drive a car alone to work and 67% of households own at least one vehicle. Gas prices are usually close to the national average and monthly parking deck fees can run a few hundred per month.
Bottom line: expect to spend anywhere from $1,400 to $2550 to cover your basic expenses living in Philly.
Another thing to be aware of is Philly's crazy tax laws. For instance, city sales tax is 8% and wage tax if you work and live in the city is nearly 4%.
Taxes aside, obviously, costs can vary quite a bit depending on if you're single or have a family. The MIT living wage calculator does an excellent job laying out typical costs for different life stages.
If you're looking to move to the Northeast, moving to Philadelphia should be a no-brainer! And did we mention NYC and DC are only 2 hours away anyway…