Is Moving to Philadelphia Worth It?
Philadelphia is the 6th most populous city in the United States, with a population of 1,584,138. Not quite New York City size, but still one of the largest cities on the east coast and twice the size of Boston.

With an average 1 bedroom rent cost of $1,688 per month, Philadelphia is the 28th most expensive metropolitan area in the United States. That's not bad, especially since it's the 6th largest city!
Philly has 25 neighborhoods. That might seem like a lot, but it's far fewer than cities like New York or Chicago. Each neighborhood has its own vibe and character, along with different rental prices.
Check out our neighborhood guide to see where you'd like to settle when you move to Philadelphia.
A few things to find that perfect Philly neighborhood
First thing's first: set a budget. There's no point looking at places you can't afford, so bust out your calculator and figure out a target monthly rent. Take your time–a budget is no joke.
Next, take a look at this map to understand how the different Philly neighborhoods are laid out across the city.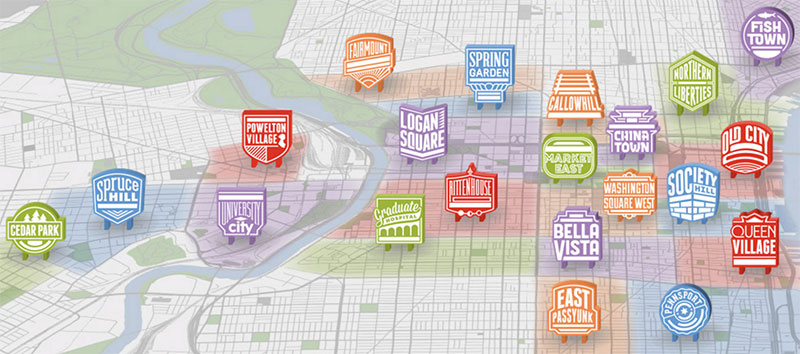 Now here's where your budget comes in. The rental price map below will give you a good idea on where you can afford.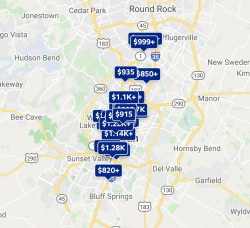 For example:
Rittenhouse, Society Hill, Old City, and parts of University City, you're looking at spending between $1,500 and $2,000 for a one-bedroom, or $3,000 to $4,000 for a two-bedroom.

Chinatown, Washington Square West, and Graduate Hospital would be less per bedroom, around $1,000.
The farthest neighborhoods from Center City — Cedar Park, Spruce Hill, East Passyunk, Pennsport, Manayunk, and Fishtown —these are places where you can find an apartment for $600 to $900.
So let's get this out of the way now: if you're on a tight budget, look south to East Passyunk or north to Manayunk. If cost is no object, look to Rittenhouse or Society Hill.
Back to index

Where are people like e living?
We all want to live near people who are at similar points in their lives. Below is a list showing the common demographics of each neighborhood.
Also, check out this guide from Seer Interactive – a digital marketing company based in Philly.
Next: consider your commute to work
Let's put it simply:
A close commute will make you happy. A long commute will make you sad.
You'll need to figure out how you'll get to work before you sign a lease or a mortgage.
Here's a breakdown of getting around the city:
If you want to have a car…
Unlike NYC, it's feasible to own a car in Philly–but there are a few things you should know.
Highway access is good. Philadelphia has direct access to a huge network of highways, most notably I-95, which runs from north to south through the city. And the Schuylkill Expressway (I-76), which runs along the Schuylkill River. Be especially careful with I-76, it's infamous for choking rush hour traffic.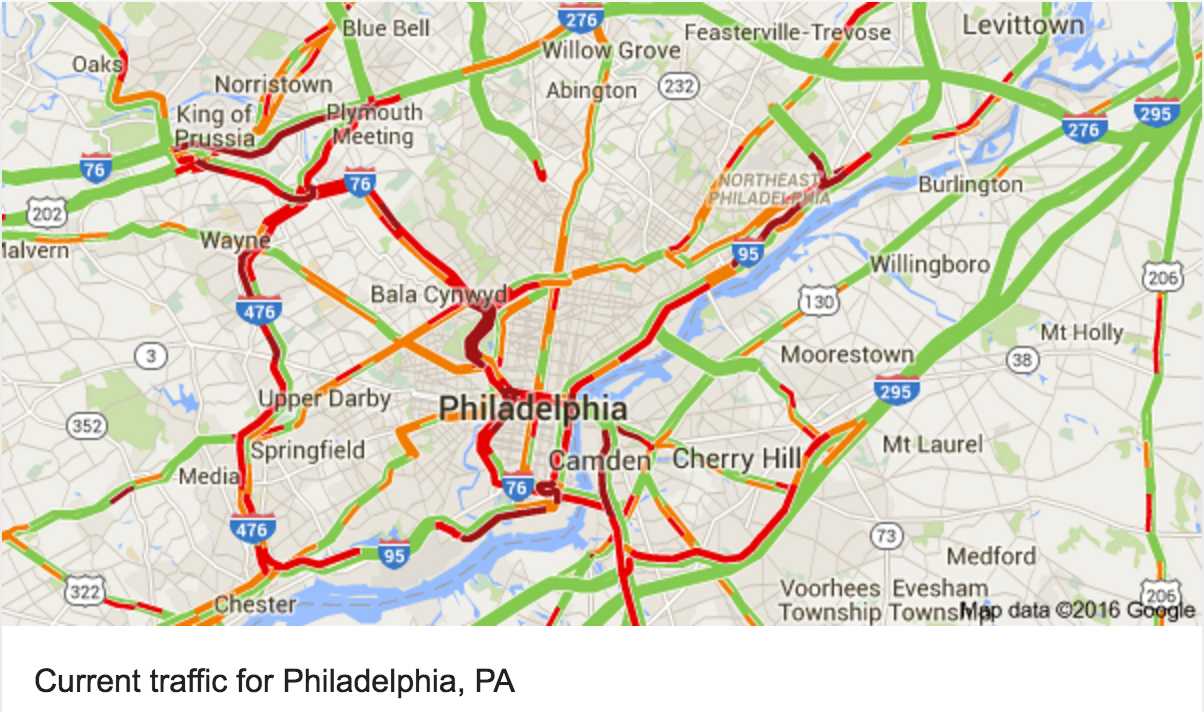 Parking is horrible. Prepare to perpetually look for parking any time of day. Parking is so bad in Philly they even made a reality show about it.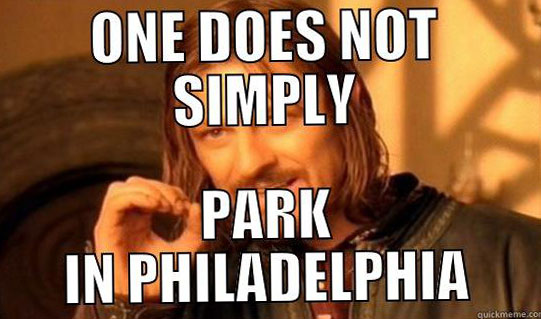 The PPA (Philadelphia Parking Authority) is also notoriously strict, so you can expect a few parking tickets per year. If you absolutely have to have a car, look for an apartment in Fairmount or University City. Or, find an apartment with a garage.
Philly has awesome public transportation
Philadelphia doesn't get nearly enough credit for a city with such great public transportation.
SEPTA (South Eastern Pennsylvania Transportation Authority) is the regional rail system that maintains an extensive public transportation system of buses, light rail, trolleys and rapid transit. The bus network has over 200 routes all around the city.
PATCO (Port Authority Transportation Corporation) also runs trains from Center City back and forth to New Jersey – not that you'd particularly want to go to Jersey, but you might be one of those NJ commuters. We don't judge.
Below is a transit map for all of Philadelphia.
Imagine for a second, Philadelphia as a living, breathing human being. 30th Street Station (pictured above) would be the heart, pumping out trains in all directions.
For example, if you chose to rent an apartment in University City and wanted to meet a friend in Old City, you could hop on the Market-Frankford Line (the thick blue line).
Or, if you're living in Fairmount, you could take the Broad Street Line (the thick orange line) down to AT&T Station to see a Phillies or Eagles game if that's your thing–unless you're more of a Flyer's fan.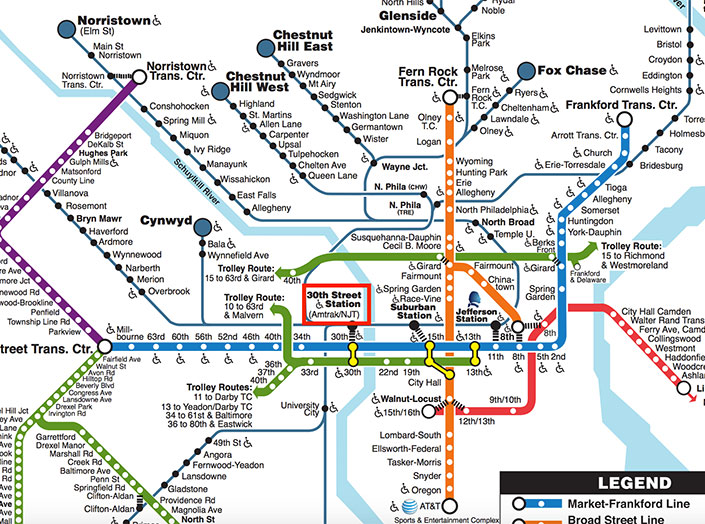 It's also worth mentioning, Amtrak's regional hub is at 30th Street Station. Trains run daily to New York, Washington D.C., Baltimore, and other notable northeast American cities. A trip to New York can take as little as one hour–it's easier to get to Manhattan than Pittsburgh!
Bottom line: the public transit system is great and it can get you almost anywhere inside the city within 20 minutes. Also, if you're considering living in the suburbs, Pennsylvania, and New Jersey are easily accessible by train and bus as well.
Back to index

Bike, walk, Uber, explore
You can get by with a car, but by no means do you have to have one. In fact, it'd be much easier to sell your car when you move. Everything is within walking distance, and cheap Ubers and taxis are everywhere.
You can ride a bike too. There are bike racks all over, but be careful of aggressive drivers (they're also everywhere) and biking the cobblestone streets (a relic from revolutionary war times).

Philly is the 4th most walkable city in the country. You can walk almost anywhere within city limits in an hour or less. Philadelphia's walk score is 79, compared to a city like Los Angeles, which is only 68. New York is 88, but Philly's bike score tops New York's by 3 points.
Below is a walk score map. The greener the better, so you'll be happy to see Philly's all green. And you'll need to be walking. Italian cheesesteaks aren't exactly light on calories.
Finding a safe neighborhood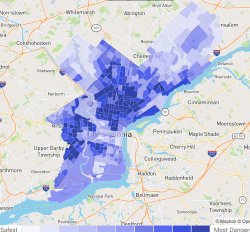 In Center City and the neighborhoods we've been discussing (Rittenhouse, Old City, Society Hill, Fairmount, Spring Garden), crime rates are very low.
Straight to the point: if you want to avoid the areas with the worst crime, don't go north of Girard Avenue or west of 40th Street. It's that simple. You can find more information on crime in the city here.
Back to index

If you like to party like it's 1776…
Great nightlife is everywhere in Philly, but some areas are better than others. If you want to be in the middle of things (or far away from it) put down the beer bottle and pay attention! Philadelphia is a city of neighborhoods, so keep an eye out for your perfect match.
If you're fresh out of college, but want to hold on to the college lifestyle for a bit longer, check out University City. It's home to Drexel University and the University of Pennsylvania, hence the name. The people here tend to be younger, college-aged students, and as such there is large apartment turnover. There are tons of great college bars here, like Cavanaugh's, which runs the Erin Express every year, a famous St. Patty's pub crawl.

Old City is, as its name implies, the oldest part of the city. Independence Hall is the centerpiece here, and it's nearly impossible to explore for more than five minutes without tripping over ancient cobblestones or seeing an old lady dressed as Betsy Ross. Though the residents are a bit older, the nightlife is quite active. Bars like Plough & the Stars and Sto's have a great mix of people, and are great places around South Philly to watch a big game. And speaking of oldest, be sure to check out McGillins on 13th and Drury, the oldest bar in the city.
Rittenhouse, on the other side of Broad Street from Old City, is arguably the nicest neighborhood in Philadelphia. Rittenhouse Square is a beautiful park in itself, but the neighborhood extends for a few streets in each direction. Throughout these streets are probably the best nightlife destinations in the city. There are clubs like Voyeur, Raven Lounge, and The Library Bar for getting dressed up and dancing. If you're more in the mood for a casual night with your friends and a pitcher of Guinness, check out Irish Pub on 20th and Walnut or Fado on 15th and Locust.
Okay, now that we've narrowed down the perfect neighborhood, it's time to actually find a place to live in. Here's the deal…
An apartment in Philadelphia must have heating and air conditioning. The winters in Philadelphia often get very cold, and the summers get very hot and humid. You will hate your life without quality climate control.
Another must-have is a washer/dryer. Unless you live in University City with all the college students, laundromats are few and far between, especially in the nicer neighborhoods like Rittenhouse and Old City.
You'll also want to factor in utility costs such as what you'll be spending on your electricity, cable, and your water bill to make sure your budget can handle necessities along with rent.
Where to look for Philly apartments
Here are some good websites to find apartments. Like many cities, Craigslist is very active in finding apartments (especially places with owners desperate to rent out).
Note: This DOES NOT mean you should trust Craigslist implicitly. Here's their guide on how to recognize potential scammers.
Understand how rental agents work
Unlike New York, in Philly rental agents don't always charge a fee to the client. Most of the time, they're paid a commission or fee by the owner of the apartment looking for a tenant.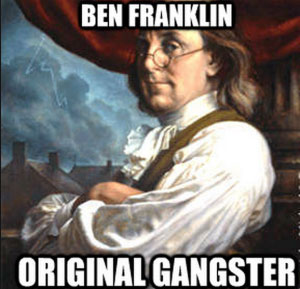 You'll see this notated on apartment ads as an "OP" for "owner pays." However, if you want a rental agent to look at a ton of places, they may charge you a fee. If the apartment doesn't pay a referral fee, a rental agent will also typically charge you a fee directly. Usually, this fee will range from a couple of hundred bucks to a month's rent.
Important: Don't let yourself get scammed! All of this should be worked out in advance with the rental agent. If you're 100 percent unwilling to pay a fee, tell the agent that you only want to see apartments where the owner will pay the fee.
Yeah, finding an apartment is competitive
Philadelphia's apartment rental market is incredibly competitive.
According to U.S. Census data, Philly's homeownership rates between 2015 and 2019 dropped to 53%. With that drop, apartment vacancy rates have dropped to historic lows. The vacancy rate in Philadelphia was 5.1% at the end of 2019, which is lower than the national average. Basically, it's tough to find an apartment in Philly.
Philadelphia has a huge college population. Many leases end in the spring, around May 31st. The ideal time to start looking for apartments is in April or early May, and be ready for a June 1st move-in.
What you'll need in order to rent
You'll absolutely need your Social Security number when applying for apartments. Landlords and realtors will almost always run a credit check on you and any roommates you'll have. Many will also ask you for a pay stub as proof of income.
As for deposits, most landlords will require first month, last month, and security deposit (equal to one month's rent).
Let's do the math. If the monthly rent for an apartment is $1,000, you're probably looking at paying the landlord a deposit of $3,000 upon signing the lease. This will cover your first month's and last month's rent, and you'll get the security deposit back minus any catastrophic damages you might make in a game of pong with your friends.
Landlords in Philadelphia are legally bound by certain requirements, listed here. One of those rules is that each room must have at least two electrical outlets, so you'll be able to waste TONS of electricity.
If you ever run into a problem with a landlord, there's a page on City Hall's website for reporting it.
Speaking of City Hall…
Finding a house near Philadelphia
So, you have kids and you don't want to raise them in the city of brotherly love.
Suburbs it is!
There are incredibly nice suburbs and small towns in both South Jersey and Pennsylvania that are an hour or less from Philadelphia by train or car. From New Jersey, you'll be taking the PATCO train, and from PA you'll be taking SEPTA.
The nicest New Jersey suburb of Philadelphia is Haddonfield. It's twenty minutes away from Center City by train and a half hour by car. The median home price in Haddonfield is just about $524K.
The nicest area in the Pennsylvania suburbs is called the Main Line, and it consists of a few towns, Lower Merion and Radnor among them. They are about a half hour away from Center City by car. Fifty minutes by train.
There are plenty of family-friendly surrounding areas with cheaper real estate as well.
Also, be aware of the Philly city wage tax. As a non-resident, you'll pay about 3.5%. Residents pay about 4%, so it's not that big of a difference.
Back to index

How to get all your stuff moved
Now for the real fun, moving!
If you want to get an idea on the cost of different moving services, check out our moving cost calculator.
You also may want to have a glance at our state-to-state moving guide.
A few other things you'll want to keep in mind.
Moving Permits: Due to constricted parking throughout the city, you may want to apply for a moving permit. This permit will block off street space for your moving van. You must apply at least 3 days before your moving date. The costs are $25 for 40 square feet of space. This will make your move much easier. Just be prepared for pissed off pedestrians and cab drivers.
Also, keep in mind Philly is an old city. Almost all the streets are one-way and narrow. Many of the streets (especially in Old City) are cobblestone. The buildings are packed closely together with doorways and halls much thinner than modern standards.
Moving lots of stuff, especially large pieces of furniture, will be very difficult, tiring and time-consuming. Prepare accordingly.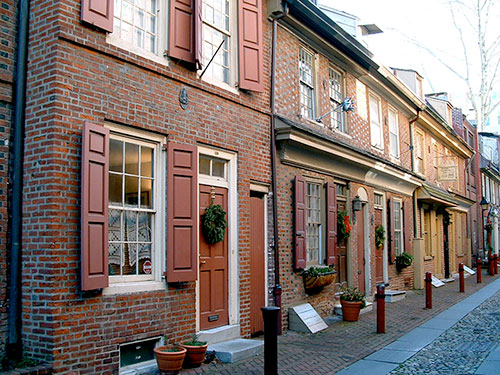 Some iconic Philadelphia row homes pictured above.
A few more moving resources:
If you're looking to hire a moving company to help you move to Philadelphia we created a list of the best interstate movers.
Or, if movers are out of your budget be sure to check out our list of best moving pod companies. They'll be cheaper but still allow you to avoid some of the hassles of moving.
Lastly, if you need to ship a car be sure to have a look at our list of best car shipping companies.
Everything you need to do post-move
Yay! You're now a Philadelphian. Now do these things.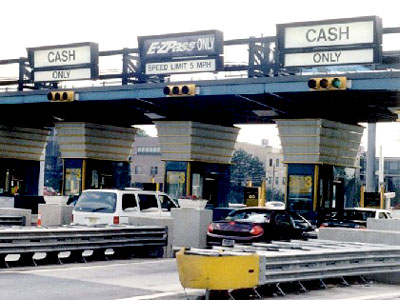 Voter registration: You can register to vote when you apply for your PA driver's license, by mailing in a voter registration form, or in person at the County Voter Registration Office.
Driver's license: If you're from out of state, you must apply for a PA driver's license within 60 days. You'll need to do this in person at the Bureau of motor vehicles and you'll be required to take a vision test. A license costs $29.50.
Vehicle registration: You're required to register your vehicle within 20 days of moving to Philadelphia. Registration fees are $36; a title costs $22.50 and a lien recording costs $27.50.
EZ-Pass registration: For those unfamiliar, EZ-Pass let's you go through toll booths without stopping. If you're going to be commuting into the city from the burbs, EZ-Pass is a must.
Local dialect: Learn phrases including, iggles, jawn, wooder, lager, jimmies and more here
Philadelphia has a special municipality wage tax equal to 3.92% for Philadelphia residents and 3.5% for non-residents who work in the city. Don't be surprised when you see this on your paycheck.
City sales tax is 8%. Philly also has some other arcane taxes, such as a hotel and liquor tax, that you can find here.
Trash & recycling: The city handles trash and recycling. Collection days vary by neighborhood. Find yours here.
Back to index

We would be remiss not to mention all the awesome things to do in Philadelphia. Now that you've landed, it's time to soak in some Philly culture.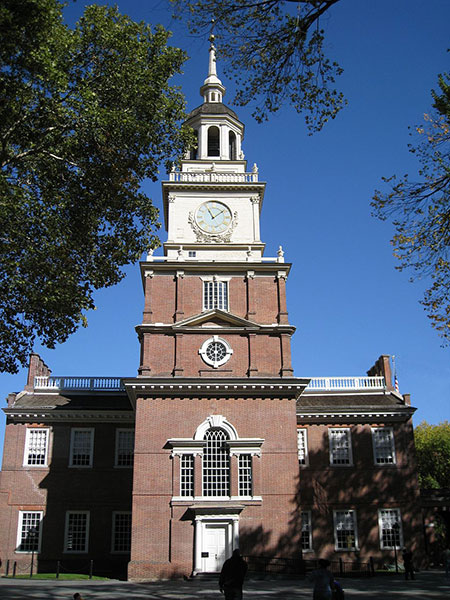 For starters, go to Independence Hall. It's where the Founders signed the Declaration of Independence and the Constitution. The Liberty Bell is here too. Need I say more?
Once you're done with that, go visit the Philadelphia Museum of Art and the Franklin Institute. They're a ten-minute walk apart along the Ben Franklin Parkway from one another. Hint: the Art Museum is where Rocky ran up the steps.
If museums aren't your thing, the city has a number of awesome concert venues including, WorldCafeLive which is home to public radio's world cafe program. For bigger acts check out, The Mann Center. And for you indie lovers, the Electric Factory, the TLA, and Union Transfer all have great show lineups.
You also should take a walk down to South Street. It's a quirky little street that goes for blocks and blocks and blocks, so you'll never run out of stuff to do or places to find.
Among them are Philadelphia's Magical Gardens and world famous Lorenzo's Pizza. Ask about the "Philly Taco" at Lorenzo's. You'll regret it if you don't. You'll regret it if you do. So just do it.
Once you've hit all the main attractions, we've also put together this list of 40 lesser known things to do in Philadelphia.
And here are some other great resources for finding great things to do in Philly…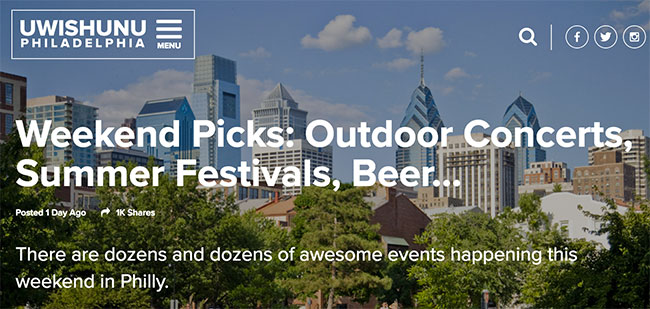 That's all we've got. Let us know if we missed something in the comments!
Not what you were looking for?
Check out other categories that can help you find the information you need!
See All
Hide All