Rising Gas Prices will Blow up your Moving Costs this Summer – Here's how to Fight it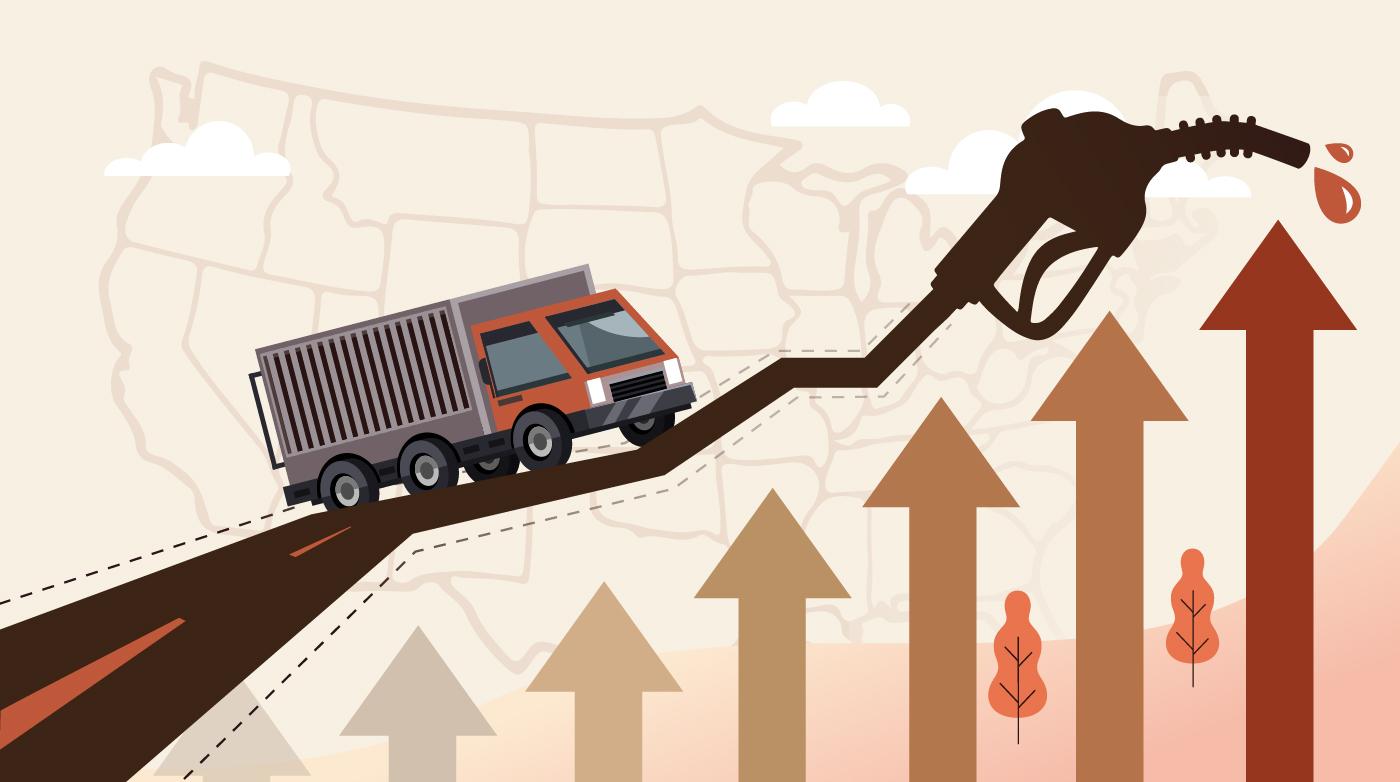 Rising gas prices will cause painful moving cost increases this summer across the country.
Since January 1 of this year, prices have already risen 26.63% across the U.S, with California hit the hardest at a $5.77 state average in March 2022. As of April 5th, the national average was $4.17 a gallon, according to AAA. That's an over 41% increase from April 2021.
Crude oil production is an incredibly volatile market due to the list of natural, economic, and political factors that influence the cost from state to state and country to country on a global scale. Gas prices always find their way of tapering off eventually, but we may be in for a rough couple of months.
Some experts are even predicting a national average between $5 and $6 this summer.
With peak moving season starting this month and lasting through August, consumers are starting to feel the pinch.
Estimated gas prices and impact on moving
Over the last couple of years, labor shortages and supply chain disruptions due to housing market and COVID-19 impacts have caused significant increases in moving costs nationwide. Add to that this year's record gas prices, and relocating has become quite the expensive endeavor.
If you're one of the nearly one in five Americans contemplating a move in 2022, it's a good idea to start factoring the cost of fuel into your calculations – particularly for those gas-guzzling long-range trips. Whether you're looking to hire a full-service moving company or will be making the move yourself, you can bet you'll be paying at the pump either way.
If only we had known what was to come today, it may have been wise to stock up at the pump in 2020 and 2021 (what's the shelf-life of petroleum again?).
Full-service moving
The moving industry standard puts fuel charges at a 10-20% impact on full-service moves, which often leans toward the high end. With the current fuel situation, some companies have even priced their gas surcharge as high as 28%. This range fluctuation is as variable as gas prices themselves, but expect to see those close-to-30% surcharges for the time being.
Some professional moving companies have reported that their fuel surcharge in 2021 was 11% and has since increased to 28%. To put this into perspective, a typical 1 to 2-bedroom move from NYC to LA runs around a base cost of $5,500. A $5,500 base cost move in 2021 with an 11% fuel surcharge is $6,105 – while that same move in 2022 with a 28% surcharge costs $7,040. An almost $1,000 price increase.
The table below illustrates ten popular city-to-city moves across the U.S. and how gas surcharges have affected the overall cost for professional moving services in 2021 and 2022.
DIY moving
While you may save a few bucks opting for a DIY move, you surely won't be saving any money in the gas department.
The typical U-Haul truck gets 10 miles per gallon, and after considering outside factors (like the truck being weighed down by a house-full of belongings), it's more like 9. That same NYC to LA move in March 2021 cost around $901.15 in fill-ups at the $2.898 national average gas price. That has since gone up to $1,343.95 with March 2022's $4.322 national average.
This table shows the same ten city-to-city moves as before, but calculates the estimated gas prices for a DIY move.
How consumers can fight costs
While staying put might start sounding like the best option, there are some things to keep in mind when moving this year that will at least soften the blow.
A tip from moveBuddha co-founder, Ryan Carrigan, advises:
"You always want to check if there is a clause for a variable fuel surcharge. If the fuel surcharge is variable, it means the mover can change the amount charged for fuel during the move. Speak with your mover about how they set the rate. Most companies will set the surcharge based on a national average, but you'll want to verify this so companies don't try to unfairly overcharge for fuel."
Here are a few other actionable steps you can take to minimize your moving costs due to gas prices:
Choose the right time: Summer is almost always expected to see higher-than-normal gas prices with the increase in travel. Escape the surge and opt to schedule your move any time around late September to February.
Get crafty with it: Being a little extra strategic often pays off, and moving is no exception. Particularly if you're doing a DIY move, plan your route so that you avoid the states where you know you'll face higher gas prices. Semi-truck drivers often use this strategy and will purposefully fill up before reaching California in order to avoid Golden State gas station price tags.
Consider a moving container service: While the base cost of moving containers is pretty comparable to professional moving services, it's worth checking out the comparison of gas surcharges for each option. Containers often have more efficient transportation methods that don't rely on truck supply as much as moving companies.
Move your move: If you really are concerned about the gas prices and how they'll impact your already-pricy move, it might actually be best to stay put for now. Although he probably wasn't talking about gas prices in 1861, Abraham Lincoln once said, "This too shall pass."
For help ballparking your overall move price, check out the moveBuddha Moving Cost Calculator.
Not what you were looking for?
Check out other categories that can help you find the information you need!
See All
Hide All