Go Mini's Moving & Portable Storage Company Review
Overall Opinion of Go Mini's: The company began operations in 2002 and has since grown to have more than 200 locations in the U.S., Canada, and Mexico. This expansion has largely resulted from adding franchise locations. Based on customer feedback, Go Mini's offers clean and well-built storage containers and good local customer support. Despite their large national franchise network, they do not provide long-distance container transportation.

Jump to the Go Mini's review section that you're looking for:
Go Mini's: Services Available:
Go Mini's will drop off portable storage or moving containers at a site for the customer to load. They will return to retrieve the container for transfer to another location, such as a new home or office when you are ready. Customers commonly use these services for some of the following reasons:
Secure Inside Storage:
The containers are capable of being securely locked and placed outdoors at a home or business. Those who need an additional level of security can choose the inside storage option. When the container is ready, Go Mini's will transport it to a secured interior storage facility.
Storage for Businesses:
Storage of rarely used items: Many companies have seasonal decorations, booths, and equipment for periodic trade shows or exhibitions or outdoor furniture that are stored in these containers
Excess inventory: Some organizations have insufficient space to store all of their inventory or want to take advantage of discounts that require a bulk purchase
Renovations: Equipment, files, or office furniture can be stored in a container during large renovation projects
Relocations: Businesses may benefit from container storage when the company is relocating in phases or is awaiting the completion of the installation of carpet or other work at the new location
Storage for Home Remodeling:
Homeowners that are making significant improvement projects can use short or long-term container storage. Belongings such as furniture, appliance, and electronics can be safely stored to clear the interior. Many customers retain their containers for many months when completing larger renovations.
Local Moving:
People who are moving locally to a new apartment, house, condo, or retirement community may use a mobile container for short-term storage. This is particularly appealing to those who prefer to pack up their belongings at their own pace and do not want to hassle with driving a large moving truck.
Military Moving:
Go Mini's offers special pricing discounts for those in the military. For example, Go Mini's of Houston, Texas is offering a 10% military discount through the end of 2020.
Packing Supplies:
All of the locations offer packing supplies including moving boxes, packaging tape, and protective wrapping.
Container Options:
Depending on the size of the move, customers can choose from containers that are 12, 16, or 20 feet in length
Some locations offer an additional seven or eight-foot container as well
The entry doors of the container are either swing open or roll-up style
The containers are weather resistant and are suitable for outdoor or indoor placement
Go Mini's: Pros and Cons Summary:
The Good: Excellent Website Storage Calculator Tool
Go Mini's developed a storage calculator that is simple, yet unique, and very detailed (see image). The calculator allows the customer to create a list of items in each room, which generates an inventory list while determining the appropriate size of the container necessary. As items are added, the interactive image of the container automatically updates.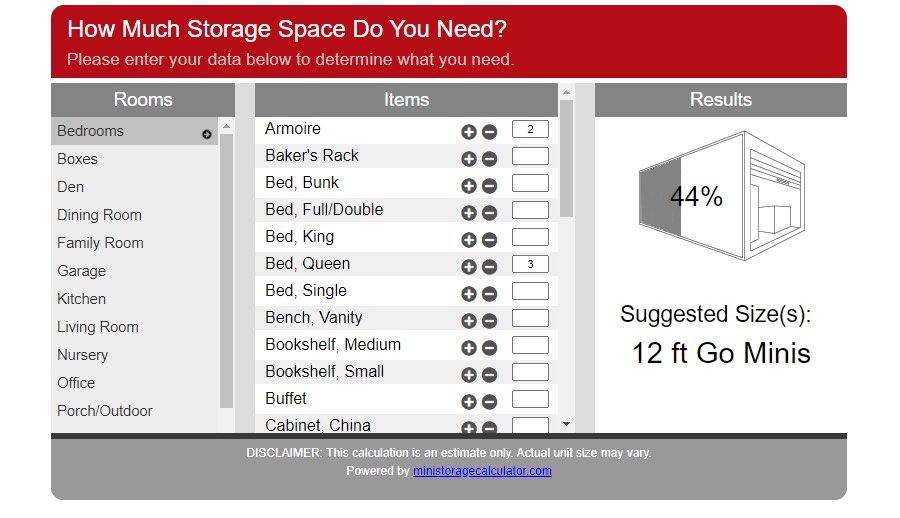 The Bad: Doesn't Provide Long-Distance Services
Although some franchise locations may offer long-distance transport services between major cities, the organization's business model focuses solely on local service.
---
Pros:
Some customers appreciate the ability to gradually load the container over days or weeks
The wheels of the container have a special layer of padding to prevent any damage to driveways
The interior floors of the container are coated to resist any moisture and the galvanized exterior prevents any "sweating"
The containers have vents to maintain airflow and prevent humidity and the mold or mildew that it can create
All containers have eight-foot ceilings and eight inches of ground clearance, which makes them easier to load and flood-resistant
Head-to-Head Comparison: Go Mini's vs PODS
| Factor | Go Mini's | PODS |
| --- | --- | --- |
| Largest Container Size Available | 20 foot | 16 foot |
| 16-Foot Container Capacity | 1,024 Cubic Feet | 838 Cubic Feet |
| 12-Foot Container Capacity | 768 Cubic Feet | 687 Cubic Feet |
| Distance | Local Only | Local and Long-Distance |
| Types of Container Doors | Roll-Up and Swing Doors | Roll-Up Doors |
See our breakdown of PODS vs their competitors.
Cons:
Not a viable option for long-distance or interstate moving projects
They don't offer an option for hiring labor to assist with packing, unpacking, loading, unloading, etc.
The Go Mini's franchise locations tend to be inconsistent regarding optional and additional services
Many locations don't offer a container smaller than 12-feet
They are primarily competing against other providers of mobile storage containers and are an option or alternative to renting a moving truck. Unlike many competitors, Go Mini's offers exclusively local service and maintains very competitive pricing in this segment of the market. In many cases, the Go Mini 20-foot storage container will result in tremendous savings for those who would otherwise have to purchase a second container.
Go Mini's does not actively promote the availability of insurance coverage; however, some locations have established relationships for this purpose. For example, the location in Augusta, Georgia offers a reasonably priced per-month program through Carstin Insurance as follows:
| | |
| --- | --- |
| $12 per month | $2,000 of coverage |
| $22 per month | $5,000 of coverage |
| $38 per month | $10,000 of coverage |
| $54 per month | $15,000 of coverage |
This insurance plan is intended to provide compensation when damage or loss occurs from many potential happenings. For example, a fire, wind or hail damage, theft, and water damage.
Customer Reviews & Feedback
The Go Mini's of Southeastern Massachusetts has a solid rating of 4.7 of 5 on Google that results from roughly 50 reviews. The feedback was extremely positive and many customers explained that the storage units were clean and in good condition.
The Go Mini's of Houston, Texas has 40 reviews with a rating of 4.7 of 5. The only negative comments involved some billing-related concerns. A manager from the location does respond to negative reviews in efforts to resolve the concerns.
The Go Mini's of Ventura County was rated as 4.5 of 5 on Yelp. Most of the customer feedback is positive. The lone negative comment involved some property damage that resulted from a driver who was attempting to move a storage container through a narrow driveway.
The Better Business Bureau page for the Simi Valley, California corporate location has a rating of A+. The few customer comments were all positive and praised the company for being professional and very punctual when placing and retrieving the storage containers.
Should You Consider Go Mini's for a Move?
The majority of Go Mini's customers seem to be highly satisfied. The primary drawback is that they don't transport their storage containers over long-distances. The design of their storage containers allows for more cubic feet of interior space compared to most competitors. They are an excellent option in the local portable storage container market.
If you're looking for a long-distance solution, look at moving container companies.
Not what you were looking for?
Check out other categories that can help you find the information you need!
See All
Hide All