1-800-GOT-JUNK? Company Review
Overall Opinion of 1-800-GOT-JUNK?: The company has an excellent franchise business model based on service and convenience that has proven successful. 1-800-GOT-JUNK is not the most affordable option; however, if you are seeking to have some stuff removed quickly without having to worry about much else, this is the option for you!
Jump to the 1-800-GOT-JUNK review section that you're looking for:
1-800-GOT-JUNK?: Services Available:
RBDS Rubbish Boys Disposal Service Inc. (D.B.A 1-800-GOT-JUNK?) is based in Canada and was founded by a college student in 1989 and since expanded to more than 200 locations that include locations in the U.S. and Australia. Their business model establishes local franchises with an excellent branding slogan of "The World's Largest Junk Removal Service", and competes as an alternative to dumpster rental.
The company has recently joined with WOW 1 Day Painting and Shack Shine (house detailing) under a parent company named O2E Brands.
Residential
"Truck Teams" are composed of strong and efficient workers equipped with shovels, rakes, and some basic hand tools
All trucks have a steel box that is 10 feet deep, 8 feet wide, and 5 feet high
Common services are cleanouts of attics, basements, garages, and crawlspace
Although not a moving company, they often are used before, during, or after a move. Those preparing for a move are asked to create a "purge pile" of the items to be removed and disposed of.
Offers cleanup and debris removal from renovation or construction projects
Emergencies: Removal of junk following a flood, storm, fire, or other disasters
Commercial
National or regional accounts: Commercial customers are assigned an account manager that can provide customized solutions for national or multiple location rollouts or recurring services
Foreclosures, evictions, rental cleanouts, and more for the real estate or property management sector
Storage unit cleanouts
Construction material removal
Office cleanouts: Office furniture, equipment, and computer-related items
Retail: Junk removal from store remodels or closures
ATM Unit Removal: A fully-insured two-member team will remove the automated teller machine, load it, and properly dispose of it
1-800-GOT-JUNK?: Pros and Cons Summary:
The Good: Very Simple and Convenient
The company offers full-service junk removal services—period. They don't offer many related or ancillary services such as storage options, dumpster rental, moving services, etc. As a result, the process is fairly straightforward. The best thing about 1-800-GOT-JUNK is that the customer simply needs to point out what they want to be removed and it's gone—very convenient and stress-free.
The Bad: Many Find The Prices High and Estimates are Sometimes Inaccurate
The selling point with 1-800-GOT-JUNK is speed and convenience. For example, younger guys that own a pickup truck are likely to scoff at the prices, knowing they could remove and dispose of the junk for a fraction of the cost.
The other concern is that although the estimates at given onsite after viewing what needs to be removed, the quoted price is still subject to change based on the space it ultimately takes up when loaded on the truck. When the initial quote is under-estimated, customers tend to feel like they are being taken advantage of.
---
Pros:
No credit card is required
They do take electronics (e-waste), appliances, televisions, tires, glass, fences, trees, concrete, dirt, and others
Items are donated or recycled when possible. Charities include Habitat for Humanity, The Salvation Army, and more
In response to the COVID-19 pandemic, the organization has implemented a "no contact" way of estimating, completing the junk removal, and processing the payment
Customer service representatives are on-hand 24/7 and appointment times are usually available within a day or two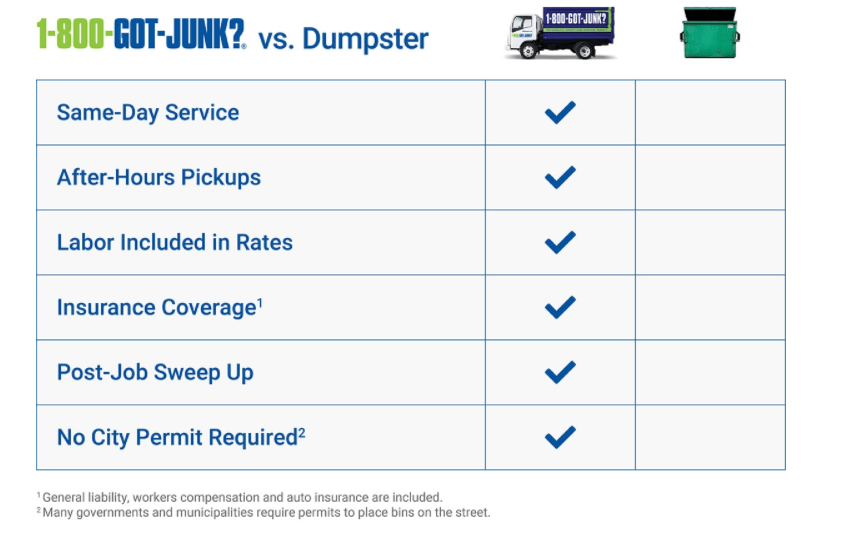 Cons:
Items they can't take include paint, chemicals, oils, asbestos, oil-type drums or tanks, or junk vehicles
Removals are generally only completed during daylight hours; however, special arrangements are possible
They aren't able to move, transfer, or relocate items—just disposal
Sometimes the crew will arrive with a truck that is already halfway filled (or more) that is unable to accommodate all of the items that the customer needs to be removed
They only have one standardized truck size, which may require using multiple trucks or making trips back and forth
Most major cities have a local franchise that services the area, but some small to mid-sized regions do not
Service Pricing
Quotes are only available in-person (onsite) and can't be provided over the phone. Accepted forms of payment are cash, Visa, or Mastercard.
Some locations also accept American Express, Discover, and Paypal. The process is incredibly simple as indicated in the steps in the image below: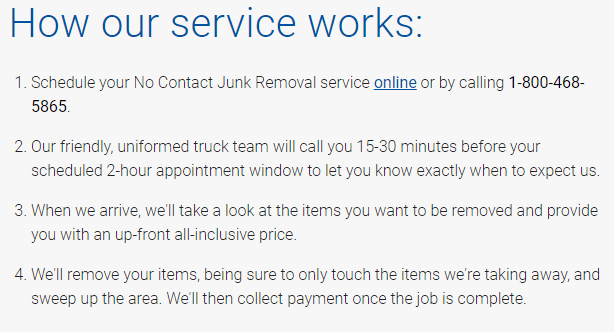 Based on customer feedback, general pricing can be estimated as follows:
One single item such as a mattress is subject to a base or minimum rate that is at least $119
One large couch and dresser is roughly $339
A full truck of junk may range from around $675 to $725
Customer Reviews & Feedback
On Google, they have a Los Angeles-area location with an overall 5.0 of 5.0 rating based on more than 1,500 reviews. As indicated by the excellent overall rating, the majority of feedback is positive. Many customers felt the service was very efficient, with a staff that was friendly and professional. The only complaint that was mentioned multiple times was that the pricing was high. For example, a $100 charge for removing one mattress and $139 for one sofa.
They have a Chicago-area location on Google with more than 2,000 reviews and an overall rating of 4.9 out of 5. The primary concerns expressed were price-related. Several customers had received a "ballpark" quote for rather small removals from a representative at the main call center that was increased when the workers showed up for the removal. Others were given initial on-site estimates that were significantly lower than the actual amount, which increased based on the amount of truck space that ended up being used.
They have a location in Rancho Cordova, California, which is just outside of Sacramento, that has over 100 reviews and an overall rating of 4 of 5 stars on Yelp. Most of the feedback was positive, as the staff is generally hard-working. The problems stem from how the estimate is provided based on the staff's best guess on how much truck space will be needed to remove the junk. Unfortunately, this estimate is often lower than reality (after all the junk is actually loaded up).
The franchise just outside Washington D.C has more than 50 reviews and an average of 3.5 out of 5 stars. Feedback suggests that the company does a good job confirming appointment times and the laborers generally work quickly. The majority of the complaints involved prices being too high. A couple of people complained that interior floors or walls were damaged by careless workers that were removing items.
Should You Consider 1-800-GOT-JUNK?
Yes. They are a good option for fast junk removal from any home or business.
A crew in a truck arrives within a two-hour window of your choosing to provide you a quote and is typically prepared to complete the removal immediately
They load up the truck
They sweep up the removal area(s) and leave
Feedback shows that the majority of their customers are satisfied with the experience.
Not what you were looking for?
Check out other categories that can help you find the information you need!