Jacob and Sons Moving & Storage Company Review
Overall Opinion of Jacob and Sons Moving & Storage: Prestige Moving System Inc. dba Jacob and Sons Moving & Storage has a company website that initially creates a good image; however, looks can be deceiving. It seems that have created a web profile that is an exaggeration of reality. Their Google profile is the only source of significant customer feedback and is filled with "perfect" five-star reviews, with a few legitimate (but negative) reviews.
They are not accredited with the Better Business Bureau (BBB), yet have this logo prominently posted on their website. The logo for the American Moving & Storage Association is also posted on their site, but they are not listed as an active member. Further, they have no feedback on Yelp and no current Facebook activity.
Compare Jacob and Sons to the moving companies on our list of best interstate moving companies.
Jump to the Jacob and Sons review section that you're looking for:
Jacob and Sons Moving & Storage: Moving Services Available:
Jacob and Sons Moving & Storage is based in Hallandale, Florida, a city roughly 20 miles north of Miami. Services are marketed to those moving intrastate (within Florida) and those currently in Florida moving to another location nationwide.
Local Moving: A representative will visit your home or office to provide an onsite estimate. The basic moving package includes moving blankets, loading by uniformed staff, and disconnection of any appliances that will be moved. The company claims to have completed more than 9,700 local moves. Customers are offered an initial 30 days of complimentary storage.
Long-Distance Moving: They are prepared to move residents and businesses currently located in Florida to any other U.S. destinations. The company's moving schedule is on a first-come basis; therefore, booking as far in advance as possible is encouraged.
Commercial Moving and Office Relocation: The company boasts of having completed more than 4,900 corporate moving projects for businesses large and small. They understand the importance of safely moving equipment, supplies, and other assets. They use mechanical lifting and moving equipment to efficiently move larger companies and prevent costly downtime.
Packing and Crating: When packing services are needed, the company prefers to have their staff complete much of this work on the day before the move. Oversized or fragile items may be framed in a custom crate for transport.
Storage Services: The organization has employed strong security measures for its storage units. Their storage options are designed to be affordable and the agreement terms are straightforward. More than 6,000 customers have used their storage services. (see storage pricing range below)
Jacob and Sons Moving & Storage: Pros and Cons Summary:
The Good: Offers "Full Service" Moving and Storage Services
They offer local and long-distance moves for residential and commercial customers. Other services include packing, unpacking, crating, storage, and more.
The Bad: Inconsistent Customer Service
Feedback indicates that customers have difficulty with getting updates during long-distance transports. It is not clear whether state-to-state moves are contracted through another carrier or not (brokered).
---
Pros:
All staff is properly screened and background checked and the organization is licensed and insured
Representatives are available daily from 7:30 a.m. to 8:00 p.m. to provide support over the phone
Moving customers are eligible for 30 days of complimentary storage space
In response to COVID-19, estimates can be provided remotely using a video platform
Cons:
Instant quotes aren't available on the website and estimates do require speaking over the phone with a sales representative.
They don't accept credit cards for paying the remaining balance (less the initial deposit) and several customers complained of having to pay these large amounts in cash.
Feedback suggests that problems are more likely to occur on long-distance moves where customers are attempting to determine the estimated date of arrival at the destination.
Doesn't currently offer any transport or storage options for cars, RVs, or other vehicles.
Quotes are generally created by a professional estimator that will visit the home or business to ensure accuracy. Recently, they have introduced technology that allows for this process to be conducted via a video conference using a mobile phone, tablet, etc.
The organization positions itself as among the most competitively priced, particularly in the Florida intrastate market. Off-peak season rates may be available on weekdays between October and April.
Pricing Details
Small apartment moves are typically completed using two movers and a box truck for rates between $99 and $125 per hour.
Two or three-bedroom apartment moves will involve three movers and a box truck for rates between $125 and $155 per hour.
Local moves within 30 miles are subject to a flat one-hour for travel time.
Customers can purchase boxes and specialized moving supplies. No online ordering platform currently existing for these purchases.
Storage rates are approximately .35 per square foot with a $120 monthly minimum, which is billed on the first day of each month.
Estimates do include mileage and taxes
Current Promotional and Discount Offers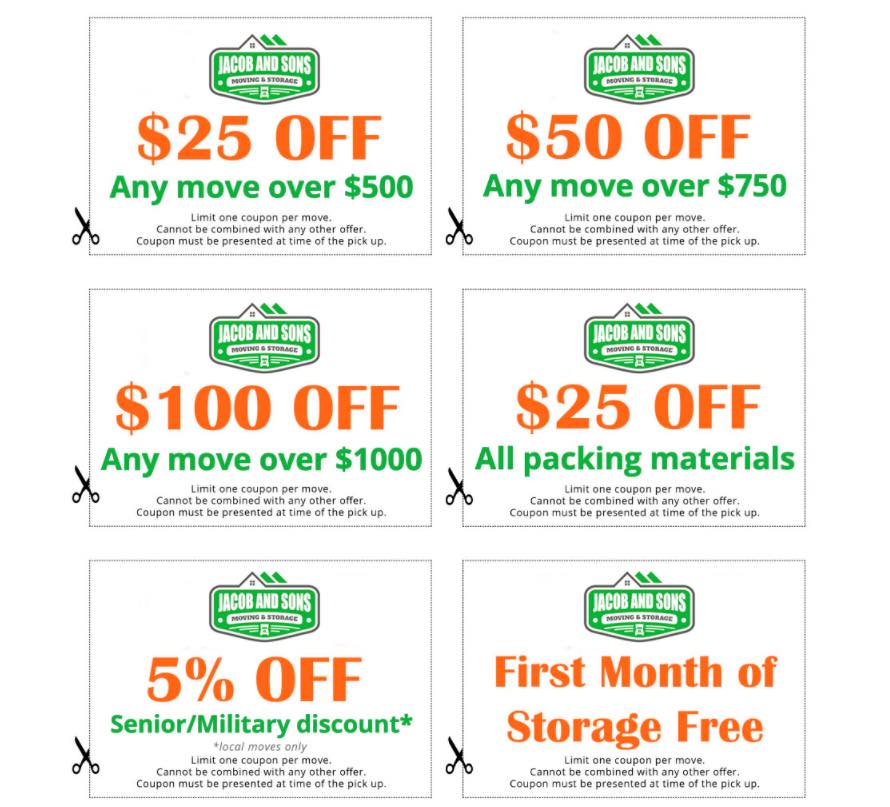 Reward Referral Program
The management team at Jacob and Sons has implemented a rewards program for those who refer new customers. Rewards are available for real estate or mortgage professionals, residential or commercial property managers, and more.
Insurance Coverage for Lost or Damaged Items or Property
They are compliant with the federally-mandated minimum coverage that equates to sixty cents per pound ($0.60) per item up to a maximum of $10,000. Customers are encouraged to check if their existing renter or homeowner's insurance policy provides any moving-related coverage. Jacob and Sons don't offer any add-on insurance to customers, but those seeking to purchase additional coverage are referred to movinginsurance.com for available options.
Customer Reviews & Feedback
The company has roughly 100 reviews posted on Google with an inflated overall rating of 4.7 out of 5. They have a highly questionable number of five-star "reviews" from people that have not posted any feedback on any other businesses using their Google profiles. A representative from the company does respond to the negative posts on Google and attempts to resolve customer concerns.
Several customers complained that the movers were not wearing facial coverings amid the COVID-19 pandemic. A few disgruntled customers experienced excessive delays on long-distance moves where the company's representatives were unable to provide any information on the status of the shipment. A couple of the negative posts also indicated that items were damaged during the loading or unloading process.
They don't currently have any feedback on Yelp.
The company is not currently accredited with the Better Business Bureau (BBB) and has no rating (NR), which is odd considering they use the BBB logo on the website. There have been no complaints reported in the past year and only one review.
Their Facebook page had very little activity. One customer stated that the estimate she received was roughly half of the final price. This customer also says she was told that her belongings would arrive in 7 to 10 days; however, it took 16 days.
Should You Consider Jacob and Sons Moving & Storage for a Move?
It is best to proceed cautiously with this company, as their marketing is tremendously exaggerated. Their website is very boastful, yet lacks key details such as the available storage options.