Tips on Moving to Grand Rapids, MI: Relocation Guide
Farmers markets, coffee, craft beer
If you like the idea of always having access to fresh produce, can't function without a regular dose of caffeine, and want to have a nice, crisp brew in Beer City USA, then moving to Grand Rapids will be a perfect fit for you.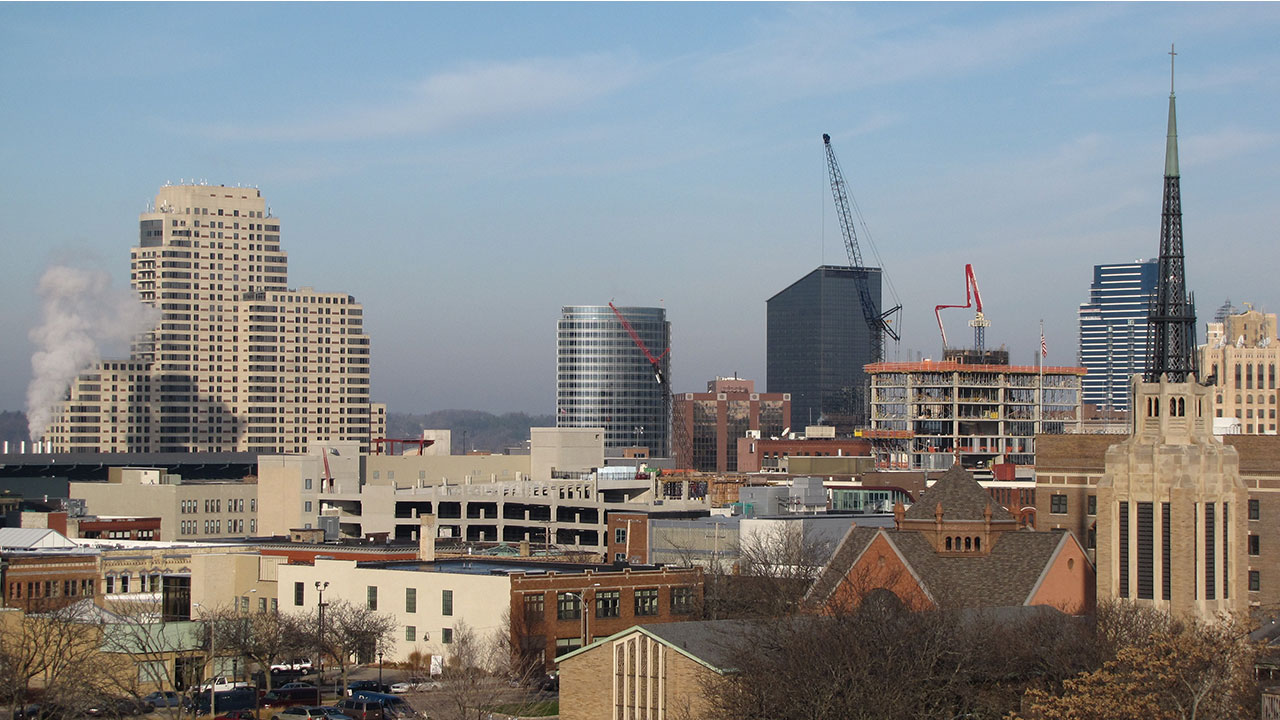 Photo Credit: John Eisnechenk
Grand Rapids is the 2nd most populated city in Michigan and boasts an affordability that surpasses many larger cities like Phoenix and Chicago.
Being something of a college town, Grand Rapids especially appeals to young professionals and new families who are drawn to the city's blend of big city amenities and action while still maintaining a suburban feel.
Grand Rapids may not be in the top 100 largest cities in the US but there's still a lot to know before moving here.
To help, we've compiled a massive guide of useful links and information so you are as prepared as possible to move to Grand Rapids.

Everything about relocating to Grand Rapids
And if you're looking for more info on moving to Grand Rapids, check out our Grand Rapids moving cost guide.


Quick Grand Rapids snapshot
As of 2021, Grand Rapids is the 122nd most populated city in the US and the second-largest city in Michigan with a population of 202,767.
The average rent in Grand Rapids is somewhere around $1200/month, making it the one of the more expensive in average rentin the United States.
In terms of cost of living, Grand Rapids is fairly affordable compared to the US average. It might be one of the most expensive Michigan cities, but that doesn't make it a bad choice.
Before we go any further, let's first check out this sweet aerial tour of the city…
Neighborhoods of Grand Rapids
As with every large city, the Grand Rapids area has a lot of neighborhoods.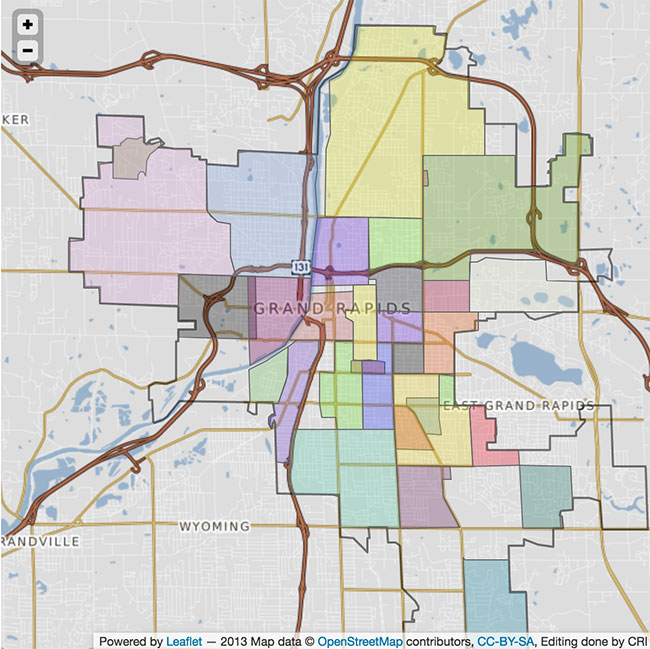 To help simplify things, it's best to lump these West Michigan neighborhoods into eight general regions: Downtown GR, Heartside, Heritage Hill, East Grand Rapids, North Quarter, West Side, Uptown, Ada, Medical Mile, and Southtown.
Each region of Grand Rapids comes with its own particular vibe and aesthetic. But before you get too concerned about finding the spot that best fits your personal style, you'll need to make sure you can afford it.
Judging by this Rental Map from Trulia, you can see that the cost of rent varies pretty significantly depending on which part of the city you're looking at.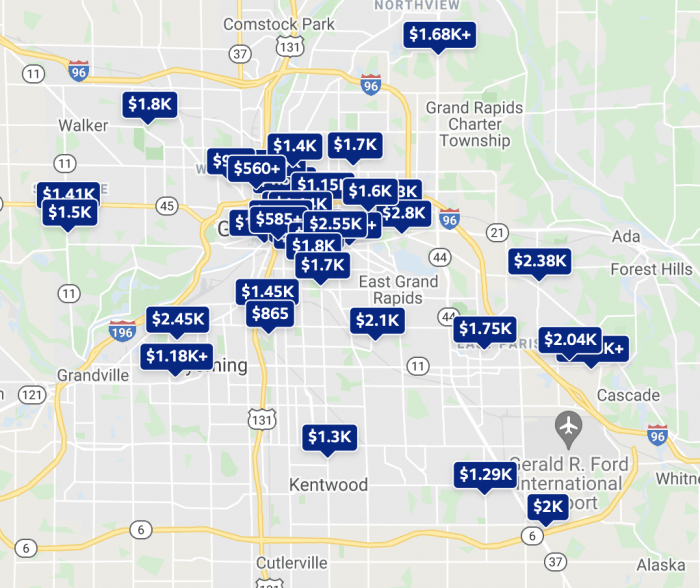 Like most cities, the centralized areas are more expensive and you'll generally find that rentals tend to be more affordable the further from the center of the city you get.
Here's a rough breakdown of rent pricing in Grand Rapids:
If you're looking for a place that's on the more affordable side, you'll want to check out areas like Holland, Ridgemoor, and Creston where you'll find average rent between $1,180 and $1,195.
You'll find places like West Grand, Michigan Oaks, and SWAN to be more in the mid-range, with $1,200 to $1,350 average monthly rents.
And if you don't mind your average rent around $1,487 then you should look at Highland Park, Heritage Hill, Midtown which all fit within the category of higher priced rentals.
But before you sign a lease, let's make sure you'll like your neighbors.
Where are people like me living in Grand Rapids?
The Zip Tapestry tool at Esri.com gives you'll all the data you need to see the types of people that make up different neighborhoods.
Just type in a zip code (for this example we used 49503) and they'll show you data on every demographic subsect in that region including the three largest sections of the population.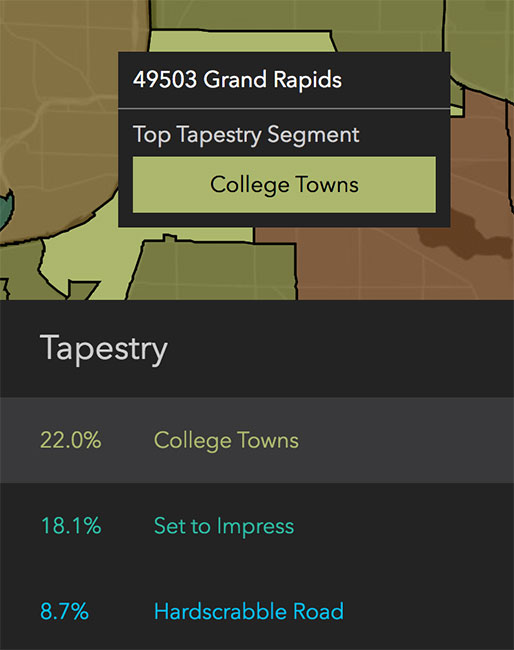 Here you'll be able to decide which area best fits your vibe––decide whether you're an Eastown guy or West Grand girl. (Yes, that was a Pet Shop Boys joke.)

Beyond liking where you live, you'll also want to make sure you're able to get to work from your home.
Grand Rapids is fairly commuter-friendly
As far as cities go, commuting in Grand Rapids is surprisingly not that bad.
Overall, the majority of commuters in Grand Rapids choose to drive. In fact, over 90% of residents drive as their primary means of transportation.

Despite the reliance on cars, GeoStat data above shows that Grand Rapids has fairly short commute times of 15 – 19 minutes which fall below the national average.
One reason Grand Rapids is car-dependent is the cold weather and snow. But that doesn't mean there aren't other great commuting options for non-drivers.
And if you've really got to get away, head over to nearby Gerald R. Ford International Airport!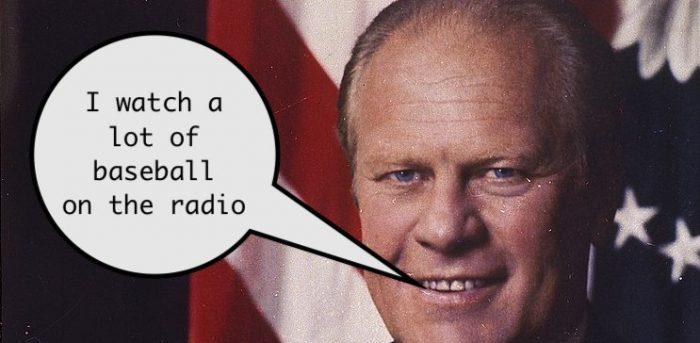 Grand Rapids has solid alternative transportation
Grand Rapids is decently accessible for both pedestrians and cyclists as well as having adequate (if limited) public transportation.

A walks core of 57 is actually pretty great compared to most cities. The downtown areas, in particular, are great for walking, especially after the city's implementation of a new pedestrian safety campaign.
And if you prefer wheels to sneakers…
Grand Rapids is cyclist-friendly
There are a good number of bicycle enthusiasts in Grand Rapids, as evidenced by its 53 bike score.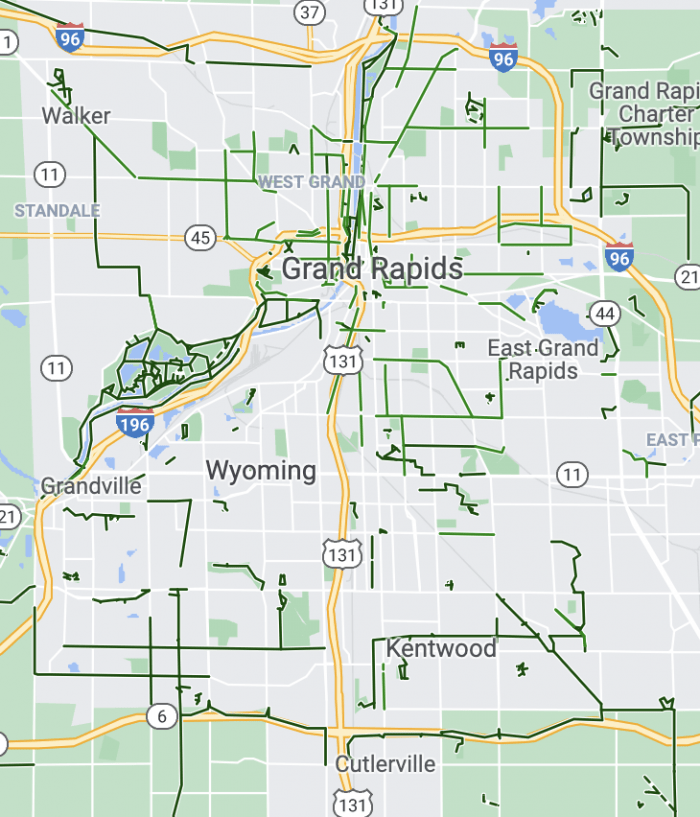 Overall, there are a fairly large number of people cycling regularly in Grand Rapids which has caused the city's biking industry to grow to a point where it's well supported.
In fact, the Greater Grand Rapids Bicycle Coalition has made it a goal to provide resources for cyclists as well as organizing Active Commute Week to encourage more forms of alternative transportation.
And while the winter may put a wrench in things, some people have figured out how to pedal through the cold.
But hey, there's also always the bus…
Grand Rapids' solid, but limited busses
Public transportation in Grand Rapids is decent but has a fairly limited reach.
Bus transportation is handled by The Rapid which runs frequently and consistently throughout downtown and the connecting suburbs. But if you need to go much further, you're probably out of luck.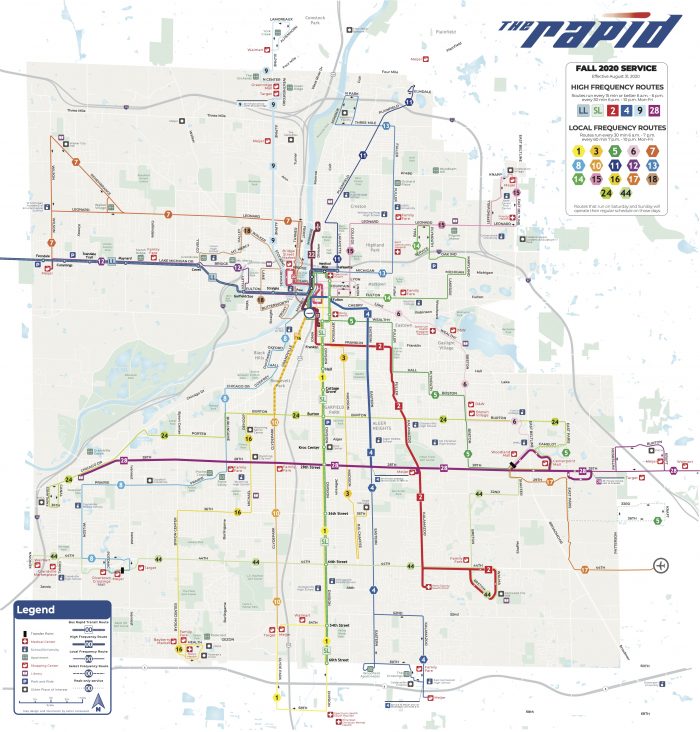 Fortunately, Grand Rapids has a Greyhound station that'll help if you need to travel outside of town.
That just about covers how to get around.
Now, the question is: How safe is it to live in Grand Rapids?
Grand Rapids is a relatively safe city
No matter where you're moving, you should probably get a sense of its crime rate beforehand.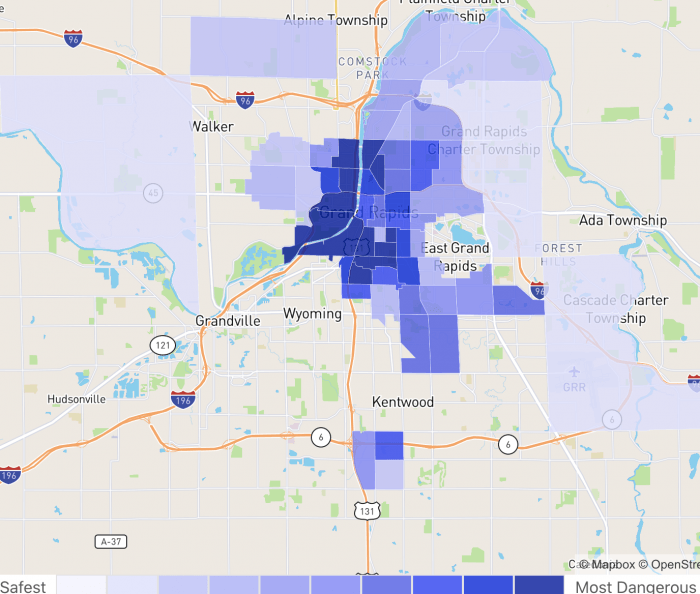 NeighborhoodScout sets Grand Rapids' crime score at 19 out of 100 (with 100 being the safest possible score).
While that may seem sort of low, it's actually pretty fantastic for a city this size. Detroit, for example, has a score of 2.
Looking closer at the details, you'll see that violent crime accounts for 30% of total crime in Grand Rapids, which isn't great, but that statistic is skewed a bit due to the fact that overall crime in Grand Rapids is low.
Alright, now let's actually figure out where you'll be living.
Finding your Grand Rapids apartment
When apartment hunting, your first focus should be finding one with the amenities you'll need.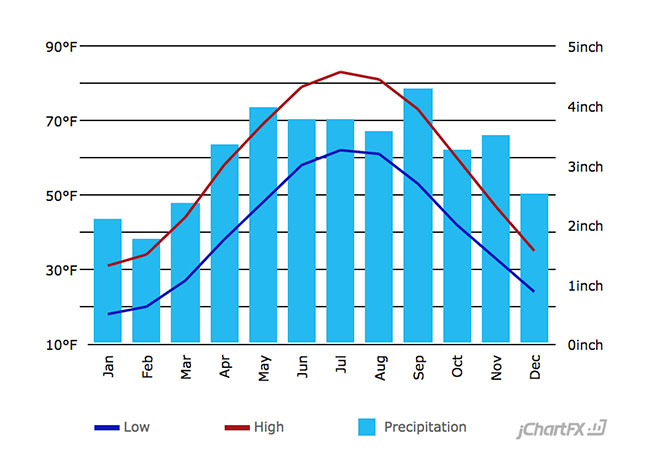 So yeah, Grand Rapids is pretty squarely in the Midwest, which means you'll be experiencing both the highs and lows of every season. And, being especially close to Lake Michigan makes for snowy winters and humid summers.
Obviously, the winters get cold and the middle summer months are muggy and hot. It's safe to say you'll need a place with both heat and air conditioning.
Keep this in mind when you're calculating the average cost of utilities per month so that you can adequately budget for an apartment.
Where to find Grand Rapids apartments
Finding a good source for apartment searching can be really difficult, which is why we've compiled a list of some of our go-to's when it comes to finding housing in Grand Rapids.
The rental market of Grand Rapids
2021 renters in Grand Rapids can look forward to a steady rental market.
Recent changes in Grand Rapids rent have seen an 8% increase while the vacancy rate has increased by 0.15% which is small, but not insignificant.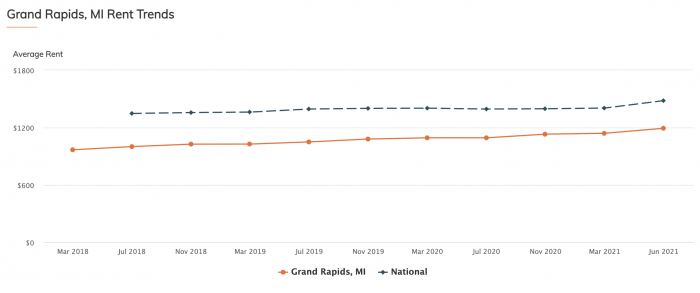 So yeah, the market is doing pretty well but even with those signs of improvement, affordability is still an issue.
Michigan rental law
No matter which state the rental market is in, it's a good idea to know your rights as a tenant to make sure you don't get taken advantage of by a bad landlord.
If you don't want to deal with the hassle of renting, Grand Rapids has plenty of options for buying a home.
Buying a home in Grand Rapids
If you aren't big on city life, don't worry! Grand Rapids has tons of great nearby suburbs which are well within commuting distance.
In late 2021, the median home value in Grand Rapids was sitting at $232,291 which was a 19.2% increase from the previous year.
Grand Rapids is currently very much a seller's market, but if you're willing to be flexible there are plenty of great options for homebuyers throughout the city. Here are a couple of our favorites: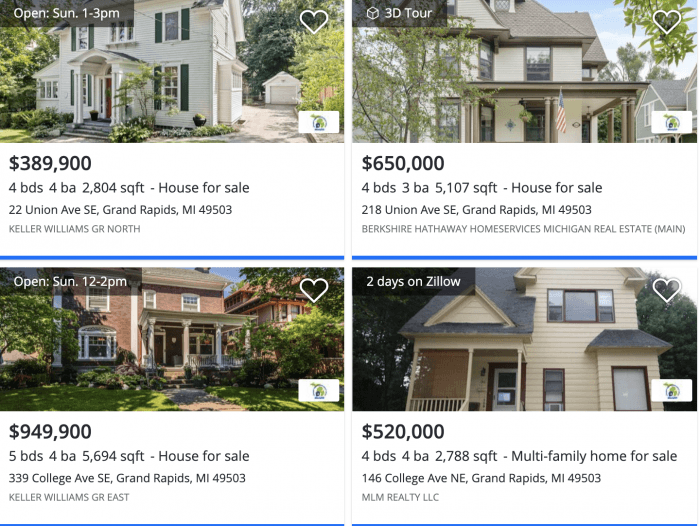 Heritage Hill
Heritage Hill is a quaint, historic neighborhood that's a great alternative to living directly downtown. It's low rent and historic homes are particularly appealing to college graduates and young families.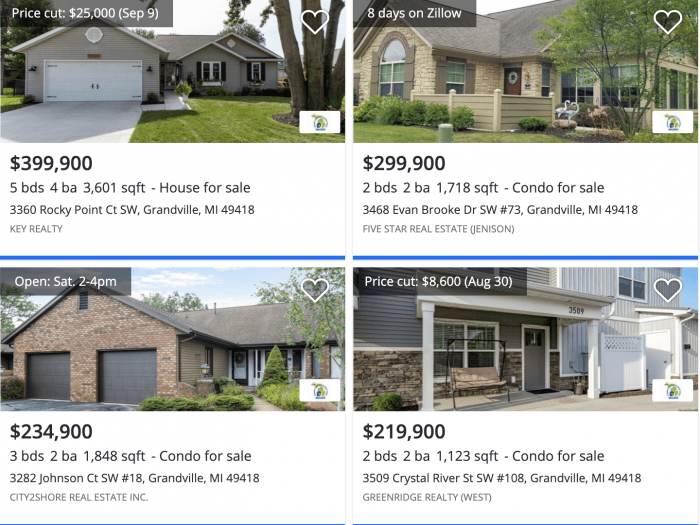 Grandville
The town of Grandville is a popular option for those who want to live outside of the city but wish to have a short commute. The area's quiet, suburban feel and easy access to public transportation make it very popular with young families and young professionals alike.
Now that you're ready to move to Grand Rapids…
Use our moving cost calculator to estimate your moving costs to Grand Rapids.
Also, if you are coming from out of state, be sure to have a look at our state-state moving guide for more info and tips.
Parking permits for moving vehicles in Grand Rapids
And depending on where exactly your home is, you might need to get special permission from the city to park a moving truck near it.
Grand Rapids Parking Services should tell you whether you need a permit and how to get one.
Putting the finishing touches on your Grand Rapids move
Congratulations, you've moved to Grand Rapids! Now all that's left to do is to take care of a few logistical things before you can kick your feet up and relax.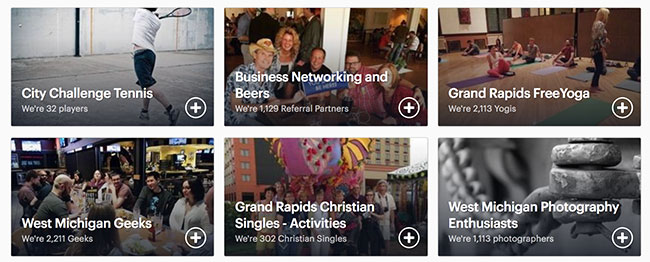 Things to do in Grand Rapids
Once you're settled, you'll probably want to relax and enjoy your free time. When exploring a new city, the best first stop is the tourism website which will let you know what makes Grand Rapids unique.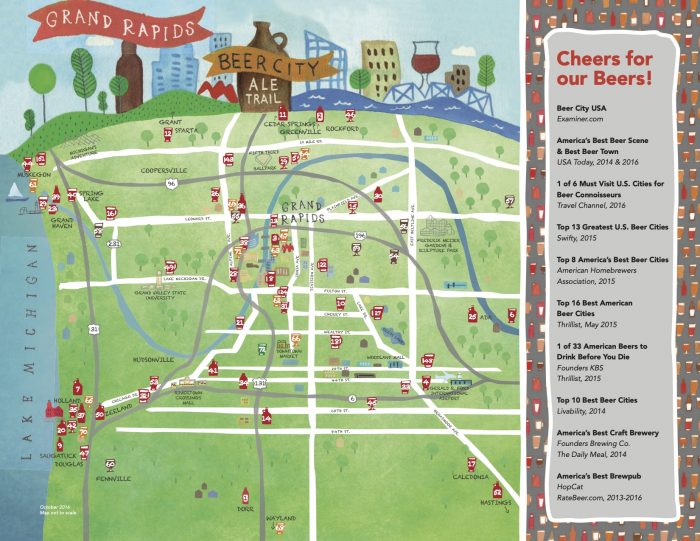 Fans of craft brews will be pleased to learn that Grand Rapids is considered one of the best beer cities in the US, boasting over 70 breweries and distilleries, such as the reputable Founders Brewing Co.
For the more outdoorsy types, Grand Rapids has plenty of parks and outdoor activities for hiking, picnics, and other family activities to keep busy and active during the warmer months of the year.
Here's our short list of must-do's :
Take what you'd like from our guide and good luck with your move to Grand Rapids!
Not what you were looking for?
Check out other categories that can help you find the information you need!
See All
Hide All