Is Moving to Chicago Worth It?
If you're into music, comedy, the performing arts, beautifully constructed high-rises with views of Lake Michigan, and sports teams who are (ahem) were perpetual underdogs, then you should consider moving to Chicago.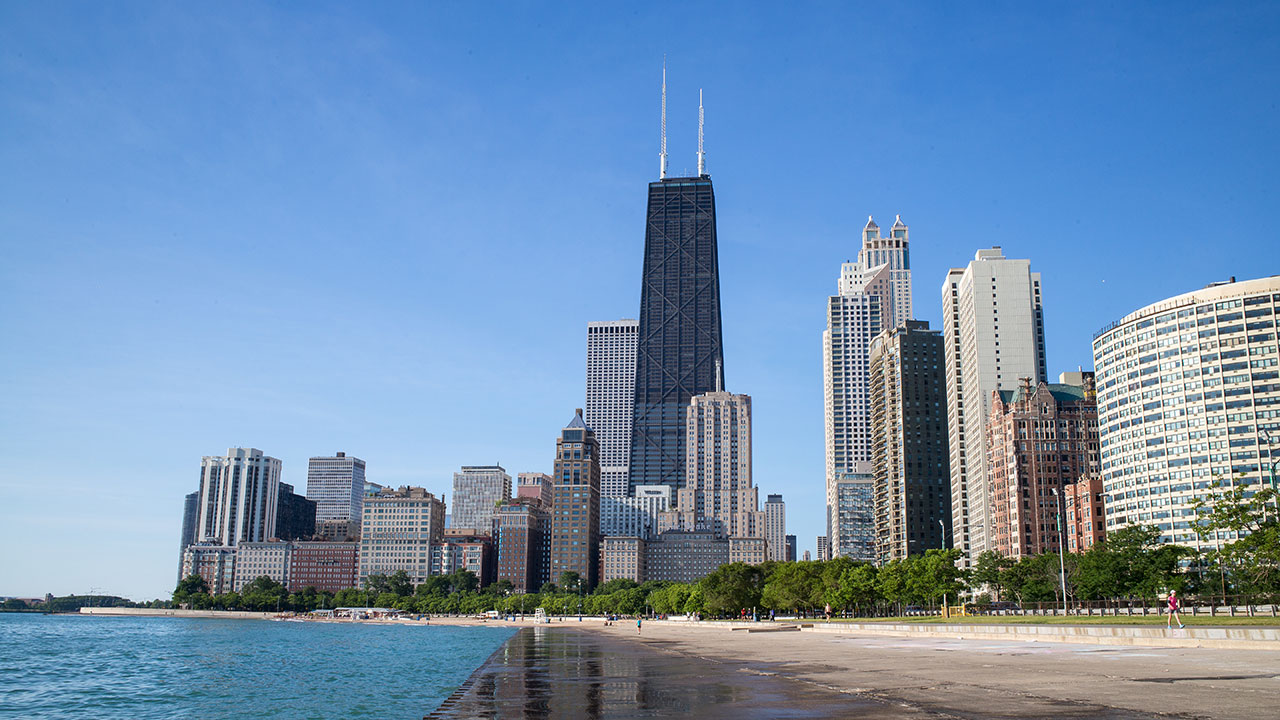 Photo Credit: Roman Boed
Chicago is one of the busiest, most densely populated cities in the country. The city can seem impenetrable to newcomers. That's why we're here to help.
This guide will provide all the basics you need in order to make your move to the Windy City.
Quick "Chi-town" snapshot
Chicago is the third-largest city in the US with a population of 2.71 million.
As of 2021, the average rent in Chicago is $2,012 a 1% increase from the previous year.
Chicago is the 11th most expensive city in the United States, putting it on par with places like Seattle, New York, and Los Angeles.
Chicago has an extremely diversified job market. Leading industries include manufacturing, food processing, as well as the recently booming technology and E-commerce scenes from companies like Lyft and Uber.
Before we dive in, check out this video to get a better idea of Chicago's awe-inspiring architecture, lakefront views, and the busy streets above the Chicago River. It's a crazy beautiful city!
Chicago's community areas
One of the first decisions you'll make when moving to Chicago will also be one of the most important: Where to live?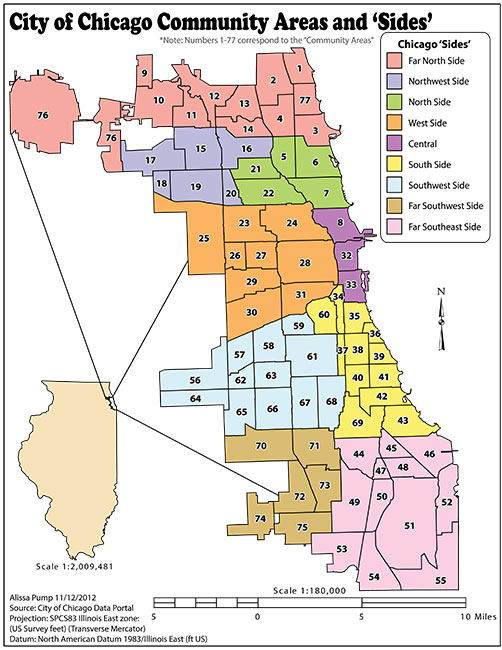 Chicago has a ton of neighborhoods (245 to be exact), each with its own identity, history, and culture. Where you live will have a major impact on not only your commute, but also your dining habits and social life.
As this map shows, the neighborhoods of Chicago are divided into 77 larger regions referred to as "community areas" which are themselves divided into four geographical regions.
For a more in-depth look at these regions, check out our Chicago Neighborhood Guide. But for now, let's start by looking at how expensive these areas tend to be.
The map below should give you a good idea of some typical rent prices around Chicago.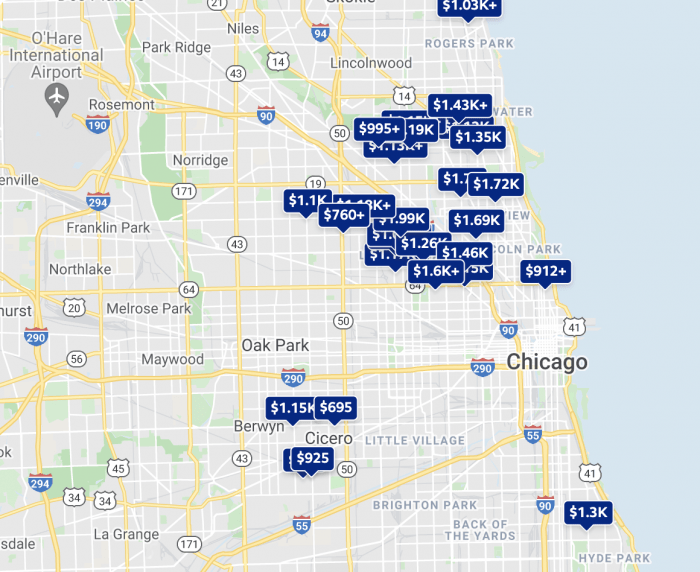 For example:
Like most cities, anywhere near the center of Chicago is gonna be very expensive. Being the main hub of the city, this shouldn't be too surprising.
River North, the Loop, Near North Side, Near West Side and Gold Coast are generally the trendier areas of the city with plenty to do and convenient commuting options, but they're also the most expensive with rents between $2,400 and $2,600.
The somewhat cheaper but still "hip" areas include Downtown, the Magnificent Mile, Old Town, Wicker Park, and Lincoln Park with rents usually ranging between $1,900 and $2,400.
For people on a somewhat tighter budget, you can find places for $1,500 and under in River's Edge, Chinatown, Hyde Park, and Englewood.
Affordability is extremely important, but it isn't the only factor in picking a place to live. You'll also need to find a place that fits your lifestyle and personality.
Where are people like me living?
The ziptapestry tool on Esri.com uses a region's zip code to provide you with a detailed cross-section of that area's demographics.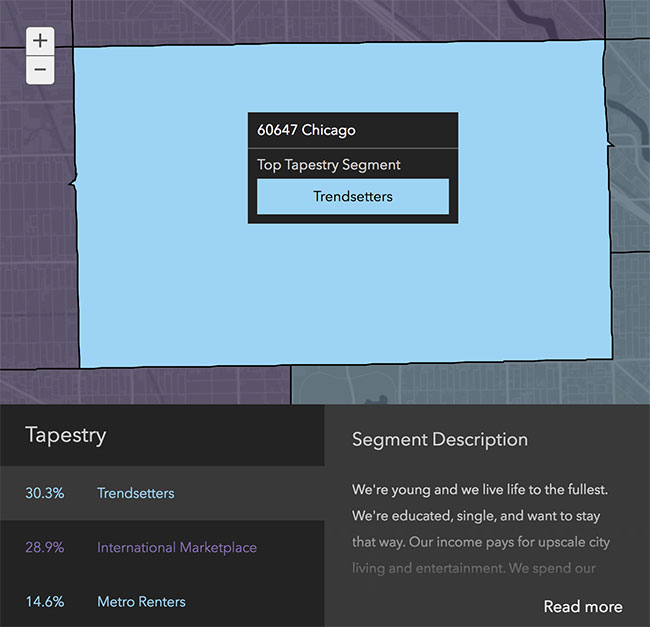 For example, if you plug in the zip code for Bucktown (60647) you'll get a detailed summary of the types of people living in that area. Pretty neat, huh?

Still, neighborhood demographics aren't everything. No matter where you live, you'll still have to get yourself to work every day.
So let's hop on the L and check out Chicago's commuter situation.
The unique frustrations of commuting in Chicago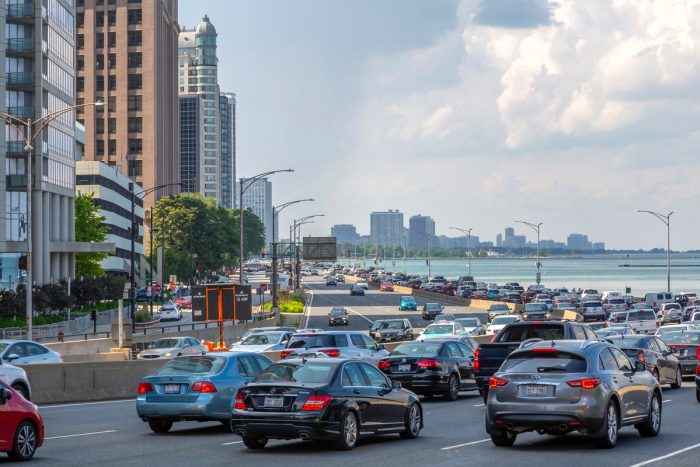 A study found that Chicago has the second worst traffic in the country. Residents spend, on average, an extra 145 hours per year stuck in traffic.
So, yeah…
Commuting in Chicago can be pretty awful
Here's a pretty good summation of Chicago's busiest traffic times, including a link to this map of real-time and future traffic congestion.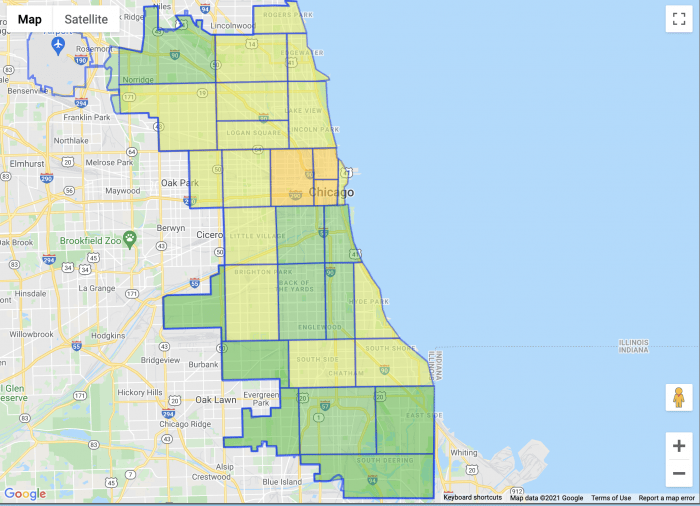 Traffic's pretty consistently high from 6 am to 8 pm with only a slight dip in the early afternoon.
Another contributing factor to the awful traffic; toll roads. These roads are pretty much inescapable when coming in and out of the city.
The electronic, pre-paid iPass can help to speed things up a bit, but that requires everyone else using the express lanes to know what they're doing (and they often don't).
Add a city full of gawking tourists and cyclists who don't know how bike lanes work and it becomes pretty clear why so many people choose not to drive within the city.
Do I need a car living in Chicago?
While a car can be convenient, you can make due without one in Chicago.
28% of Chicago households don't own a car, and it's easy to see why.
With a walkscore of 77, Chicago is EXTREMELY walkable!
Chicago's public transit is also decent
Chicago has a Public Transit Score of 65. That falls pretty squarely in the good-but-not-great range. Still, it's a much better alternative to driving!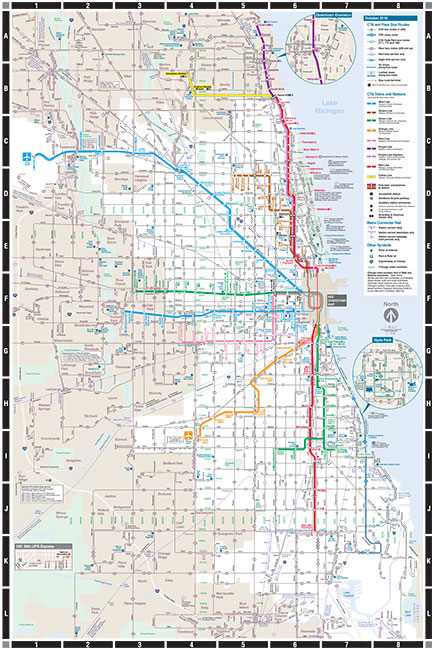 The Chicago Transit Authority offers both robust train and bus services via the "L".
Obviously, coverage is going to be better closer to downtown, but the CTA routes do expand significantly beyond the city's center.
You'll also want to keep the Cubs schedule handy, even if you aren't a fan, just to know when to avoid the Red Line.
Fares are pretty reasonable too. Bus rides cost $2.25 while a ride on the "L" runs $2.50. Using the Ventra app, residents can buy a $105 unlimited monthly pass.
Metra, Pace, and Greyhound
Pace and Greyhound are great options for traveling further within Chicago as well as to its surrounding cities. They also offer direct connections with the CTA's services.
Meanwhile, Metra offers railway alternatives to the "L", providing stops within the Downtown area that go outside of the city to the six-county area of northeast Illinois.
Biking
Biking is also a reasonable option for getting around in Chicago.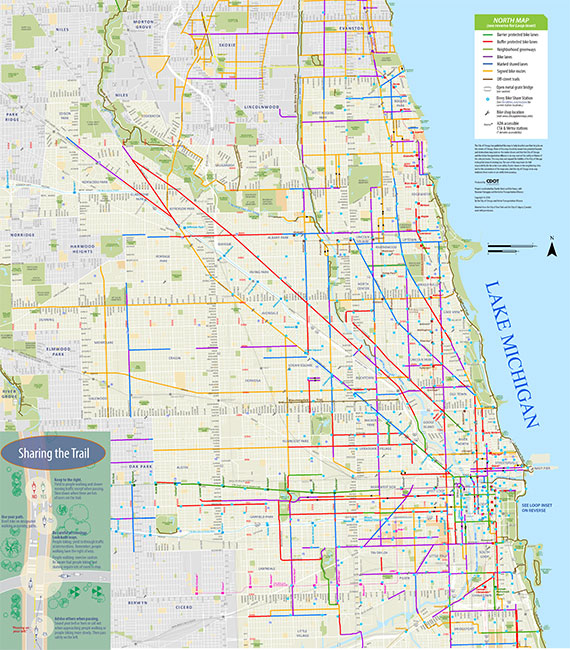 The city has a bike score of 73 and there are over 200 miles of conveniently placed bike paths within and beyond downtown. But it is important to mention, bike theft is kind of a problem.
While we're on the subject of theft, let's touch on the unavoidable topic of crime in Chicago.
Exactly how bad is Chicago's crime rate?
As you've surely heard, Chicago has a pretty bad crime rate.
According to Neighborhood Scout, Chicago scored a paltry 8 out of 100 in terms of overall safety which isn't great. But, it is much better than many large cities in the U.S.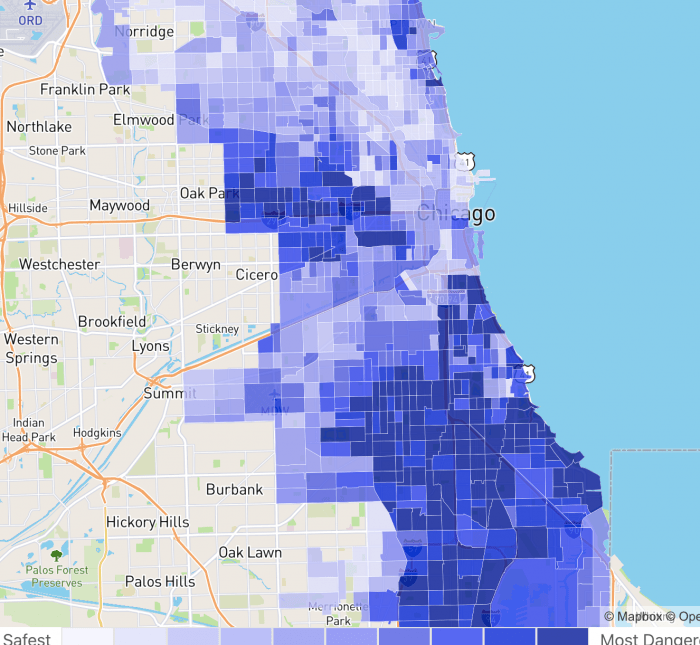 It's important to keep things in perspective when talking about crime in Chicago, particularly when the national news media follows it so closely.
In reality, it isn't that different from most major cities.
There are definitely some areas on the Far West Side and the South Side of town that can be fairly sketchy. But the closer to The Loop you are, the safer the area will be.
Chicago is a thriving, functional city with some select bad areas like any city.
Here's the blanket advice for city-living: Yes, crime happens––but as long as you stay aware of your surroundings, keep away from trouble areas, and keep to yourself, you'll be fine.
Now that we've gotten all the basics out of the way, let's find you a place to live.
Renting in the Windy City
First thing's first: What kind of accommodations are you going to need?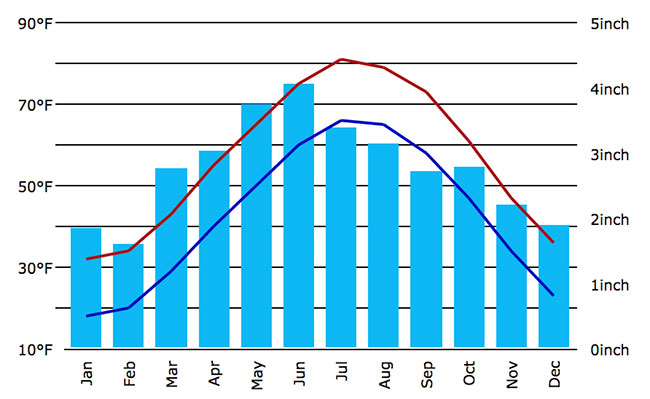 Chicago presents a great example of the extreme dichotomy of midwest weather. When it's hot, it's hot and when winter hits, it gets so cold you can barely breathe.
Obviously, this means you'll absolutely need a place with heating and air conditioning.
If you're living close to downtown, finding a nearby laundromat shouldn't be too difficult. Still, with the winter being as harsh as it is, you'd probably prefer an apartment with a washer/dryer.
Don't forget to take into account the average utility cost per month when you're budgeting for an apartment. You don't need any surprise bills ruining your new life in Chicago.
Below are a few of our favorite websites to find apartments. Use the sort functionality to drill down on your desired number of bedrooms, budget, etc.
It may surprise you, but we kinda dig Craigslist for finding apartments in Chi-town, especially if you're hunting for a deal.
Note: This DOES NOT mean you should trust Craigslist implicitly. Here's their guide on how to recognize potential scammers.
Chicago's rental market
Living in Chicago isn't cheap, but at least things are improving somewhat. Chicago's average rent has stayed fairly steady over the past year.
However, with rising national rents and a below-average vacancy rate, it's not surprising even current residents are holding onto their apartments rather than searching for something cheaper.
Know your Illinois rental law
As a renter, you need to know your rights to avoid shady landlords. Here's a list of laws and exceptions specific to Illinois.
Chicago's surrounding neighborhoods provides a calmer (if more expensive) alternative to those wanting to avoid the tightly-packed inner-city.
Glenview and Park Ridge are two of the city's highest-rated neighborhoods and it's easy to see why.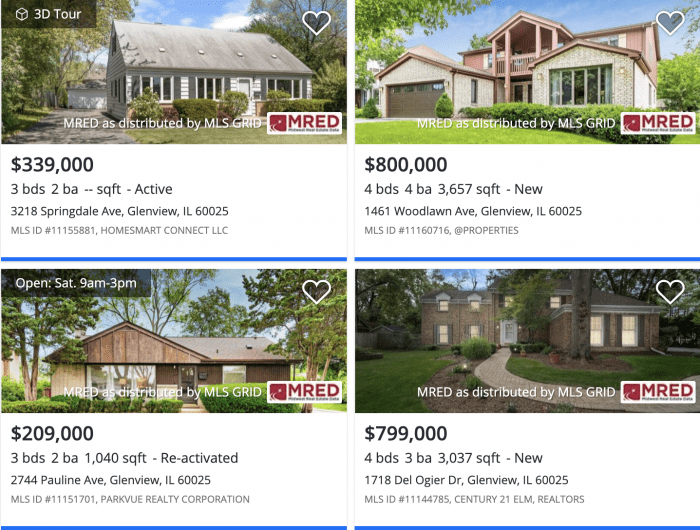 Glenview rates extremely highly in terms of nightlife, diversity, and crime. It also has a great public school system that appeals to young families. Though with a median home value of $554,260 and a median rent of $1,913, it isn't the most affordable area in the city.
Park Ridge provides many of the same benefits at a slightly better price. The median home value here is $468,791 and the median rent is around $1,195. The only downside here is a slightly less diverse population and fewer nightlife options.
If these neighborhoods are still a bit busy for your tastes and you prefer a more secluded, laid-back community that's still near the city, consider heading out to The 'Burbs.
Speaking of nightlife, Chicago has plenty of it.
Now, Chicago's nightlife presents you with so many great options that picking something to do can be a bit overwhelming. Your best bet is to figure out which neighborhood suits your style and narrow things down from there.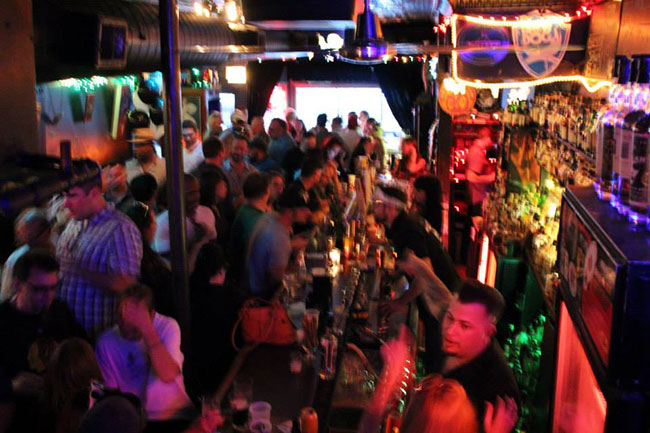 Bars: Preferred bar styles vary wildly from person-to-person, but The Hopleaf Bar provides some of the best beer selection and pub food available. For a more cocktail focused establishment, Lost Lake is a great option for a laid-back evening in Logan Square or, check out Delilah's for a downtown venue that caters more towards the "alternative" crowd.
Clubs: Those in favor of a louder, more danceable scene have just as many options, but the Smart Bar in the basement of the Wrigleyville building is a great place to start. Or, for a more versatile venue that offers two floors of dancing and live performances, check out The Mid.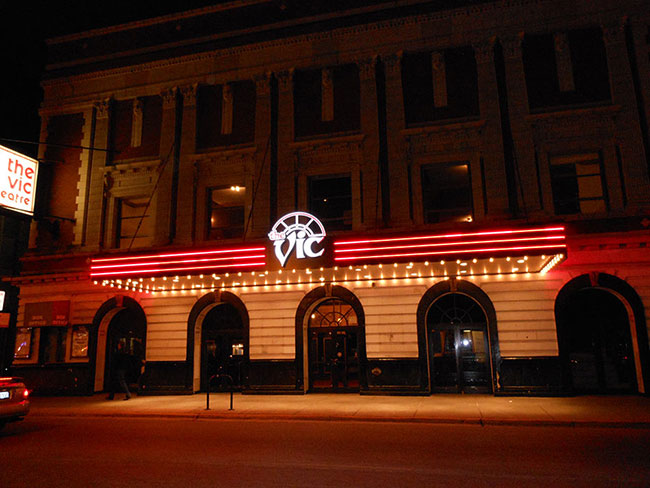 Music: And did we mention all of the amazing live music venues? The Chicago Theatre is the largest and typically features the biggest acts. You'll find the newer, hipper acts regularly playing at Lincoln Hall and more alternative acts at the Vic.
Now that you're ready to move to Chicago…
Use our moving cost calculator to estimate your moving costs to Chicago.
Also, if where you're moving from is pretty far, be sure to have a look at our long-distance moving guide for more info and tips.
If you're moving locally, check out these great local Chicago moving companies.
Another important point about moving to Chicago
Unlike most cities, the City of Chicago does not allow moving containers to be parked on the city streets. If you plan on using a moving container or freight trailer option for your move, you may want to think again.
You'll have to either rent a truck or hire a moving company to shuttle your items from the freight terminal into the city. Not fun!
Also, you'll need a parking permit to park a truck. Typically, your moving company will help you to file the proper permits for parking a moving truck, but if you end up having to do it yourself, you can find more details here.
Lastly, if you're moving into a fancy Apartment building the management will likely require proof of insurance from the moving company ahead of time. Be sure the movers bring their insurance info on moving day.
Things to take care of once you're settled in
Congratulations, you're a Chicagoan! Now, let's make it official!

Museums, monuments, and parks
Now that you're here, see the many sites.
If you've got more tips to dish on Chicago, let us know in the comments!
Not what you were looking for?
Check out other categories that can help you find the information you need!
See All
Hide All