Chicago, IL: Surrounding Neighborhood Guide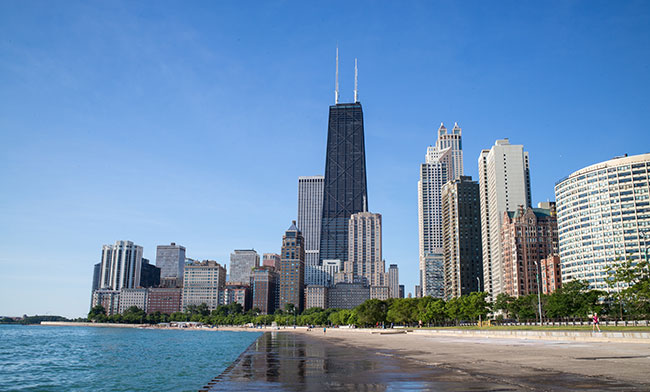 Photo Credit: Roman Boed
In this guide, we'll walk you through some of the major ones and try to give you a feel for which area might best suit your needs and lifestyle.
If you've already got a specific neighborhood in mind, use the table below to jump straight there. Or, if you prefer a more-laid-back environment, check out our Chicago Suburbs Guide.
If you're moving to Chicago, know this: Your moving experience will depend almost entirely on the moving company that you hire. Because of this, we recommend looking at the best Chicago movers.
Chicago Neighborhoods, Community Areas, and Regions
To give you a quick overview of the city, let's take a look at the 4 regions making up the Chicago.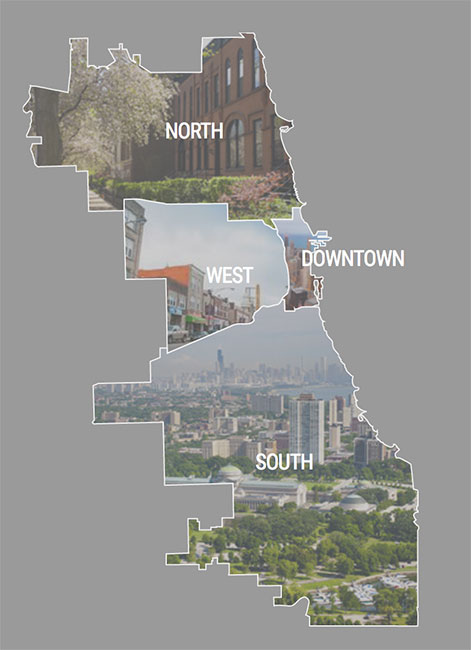 North: This is generally Chicago's performing arts hub. Here you'll find comedy clubs, small music venues, and baseball in Wrigleyville. This is definitely Chicago's "eclectic" region.
West: Chicago's most diverse region, here's where you'll find neighborhoods with a wide variety of cultural influences from Greek, Puerto Rican, Mexican, and everywhere in-between.
Downtown (East): The trendiest (and most expensive) area in the city, here's where you'll find all of the traditional Chicago iconogrophy, architecture, museums, and upscale shopping areas.
South: Chicago's Historic South district features some of the city's art centers, museums, and galleries as well as strong representations of The Great Migration and African American culture.
Average Rent in Chi-City
Chicago has the 9th highest rent and is the 11th most expensive city in the US according to Expatistan.com. That's reflected pretty well when you compare many of the more popular neighborhoods at the city's core.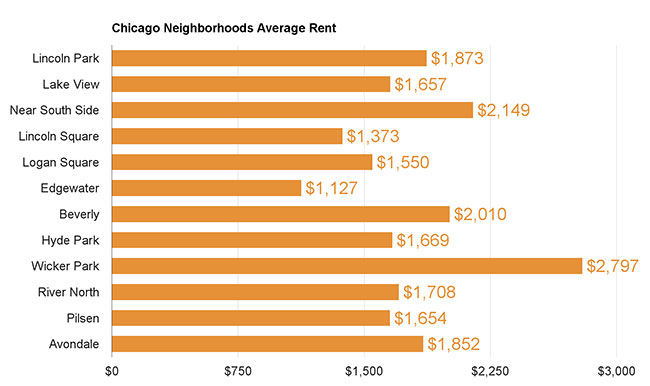 Like most cities, the closer you are to the Downtown area, the higher rent will be. Example: Wicker Park and Near-South Side.
Areas that are "hipper" and more suburban like Lincoln Park, River North, Avondale, and Beverly will also be on the higher end of the spectrum.
But, if you're willing to venture a bit outside of The Loop, you'll be able to find some reasonably priced areas with great scenery and plenty to do like Lincoln Square, Edgewater, and Logan Square.
Lincoln Park
With it's beautiful housing and architecture, abundance of parks and outdoor activities, and proximity to both Downtown and Lake Michigan, Lincoln Square has a lot to offer. Of course, all these amenities come at a pretty high price.
Located on the southern side of the North Side, it mainly attracts higher-income commuters who want the occasional break from the city, but still want to be nearby.
The Stats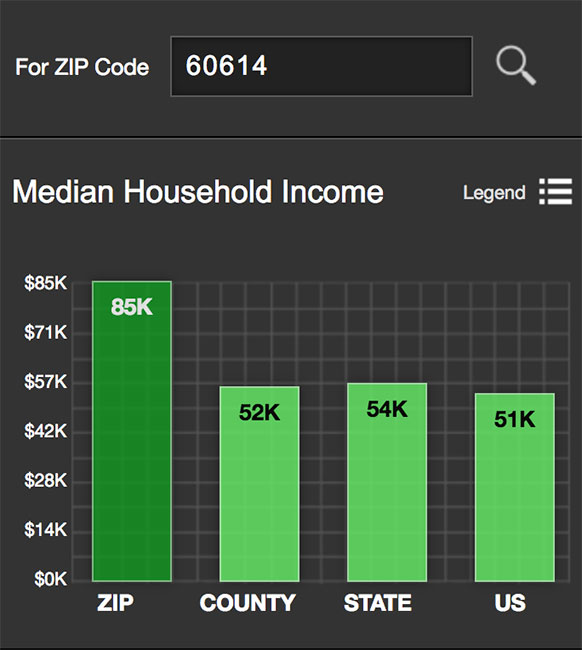 Average Rent (1 bedroom): $1,873
Median Household Income: $85k
Median Age: 31
Based on data from Esri.com, this area's high rent attracts primarily young professionals with incomes significantly higher than that of the city overall.
Noteworthy Local Hotspots
Lake View
Lake View is yet another pricey neighborhood in the North Side that primarily attracts recently graduated young professionals.
Fans of baseball and drinking will particularly enjoy the proximity to Wrigley Field and cubs fan hangout Wrigleyville. While the area may seem pretty commercial, there are plenty of interesting new architecture development projects.
The Stats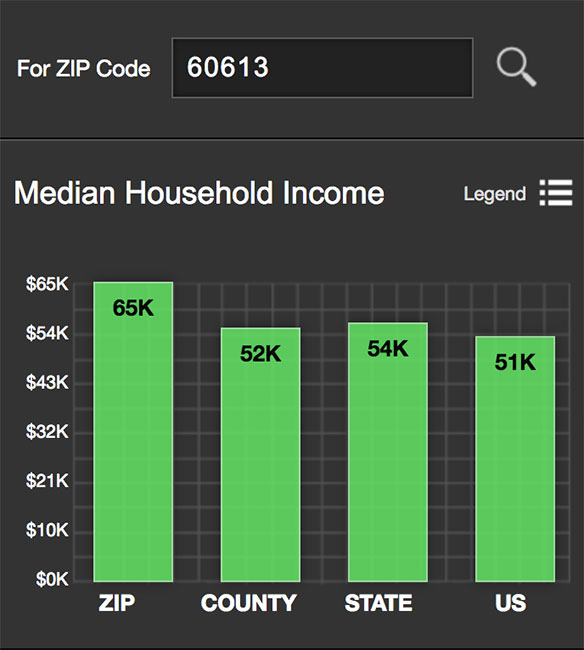 Average Rent (1 bedroom): $1,657/month
Median Household Income: $65k
Median Age: 33
Esri.com's data on Lake View implies that the area's relatively low rent primarily attracts young professionals with slightly above-average household incomes for the city.
Noteworthy Local Hotspots
Near South Side
Near South Side is something of an up-and-comer located near the south side of Central Chicago (duh).
The area is close to downtown and absolutely flooded with condos which makes rent here pretty expensive.
The Stats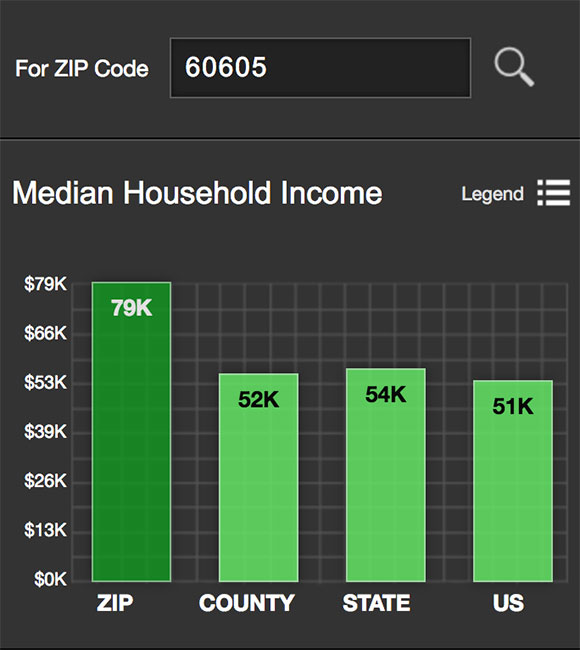 Average Rent (1 bedroom): $2,149
Median Household Income: $79k
Median Age: 34
This is one of the most expensive areas in the city, and the Esri data shows that it's primarily inhabited by high-income households.
Noteworthy Local Hotspots
Lincoln Square
Linclon Square has a small-town feel with downtown amenities and is the perfect North Side neighborhood for young families to settle down.
Lincoln Square is also a reasonably priced area that manages to avoid the oppressive chain-restaurant feel of most usburbs in favor of unique shopping district, bars, and food trucks.
The Stats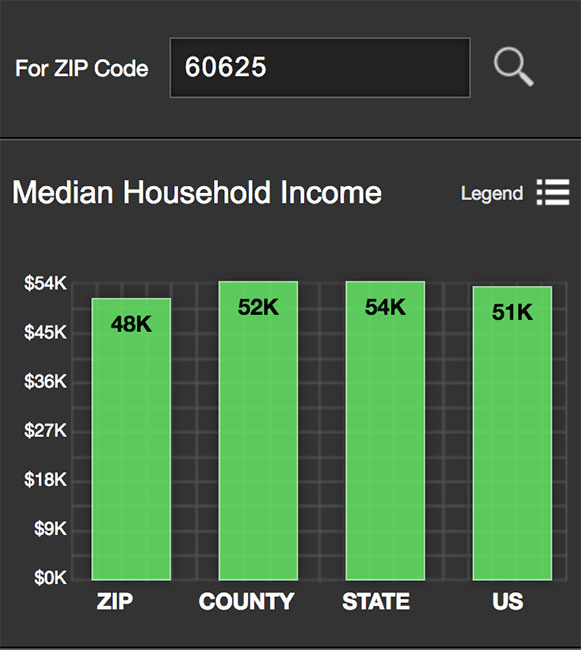 Average Rent: $1,373
Median Household Income: $48k
Median Age: 33
From Esri's data, we can infer that the relatively low monthly rent here makes Lincoln Square extremely appealing to young professionals and new families with a slightly below average median income.
Noteworthy Local Hotspots
Logan Square
Logan square is one of the most popular areas on the North Side due to its affordable housing, hip bar scene, and strong artistic community.
The rapid gentrification of the area has drawn plenty of criticism as it's gradually reshaped the historic neighborhood over the last decade, but it's undeniable that this practice has definitely raised the area's profile.
The Stats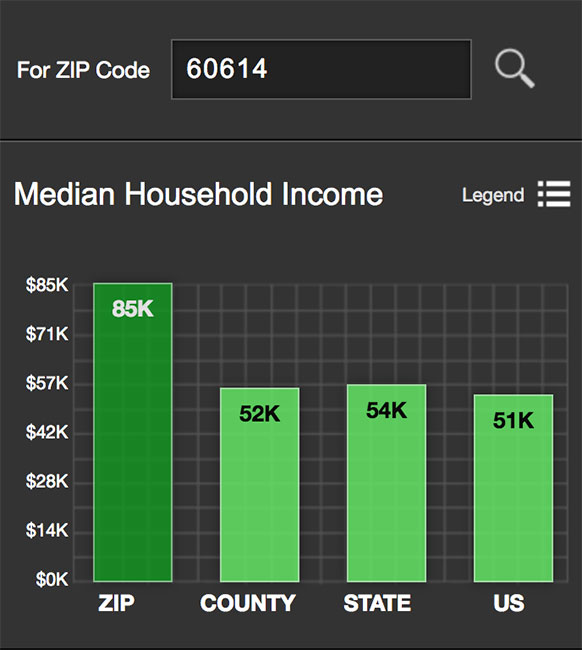 Average Rent (1 bedroom): $1,550
Median Household Income: $85k
Median Age: 31
The data from Esri shows us this area is still in flux. It's early enough in the gentrification process to still have low rent but far enough along that it's attracting high-income young professionals.
Noteworthy Local Hotspots
Edgewater
Edgewater is one of the most beautiful moderately priced neighborhoods in Chicago's North Side. It's also one of the most affordable places to rentfor young families and professionals. Also, it's near the beach and is brimming with friendly boutiques and bars.
The Stats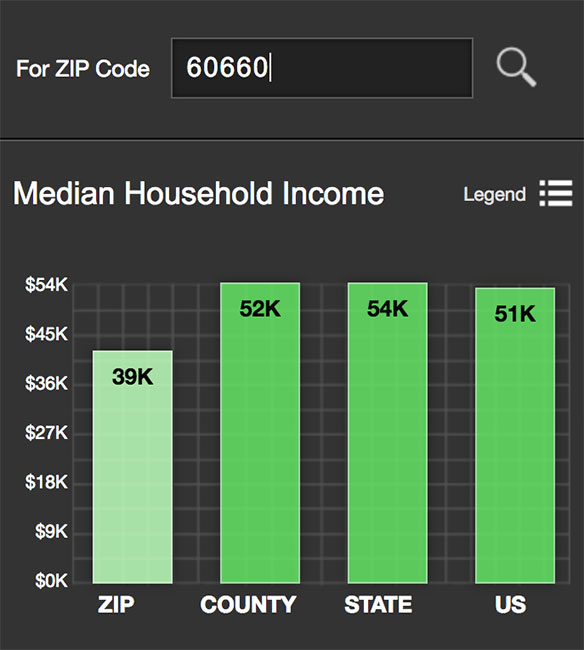 Average Rent (1 bedroom): $1,127
Median Household Income: $39k
Median Age: 36
The lower rent and higher median age in Edgewater combined with Esri's listed median income paints it as an area of primarily lower-income families, but also has appealing elements for young professionals and newer families.
Noteworthy Local Hotspots
Beverly
Beverly is one of the most family friendly areas in the city. Nestled in one of the few secluded, hilly areas, this is a top choice for those who work in the city but prefer their home lives a bit quieter
This type of idyllic, suburban South Side neighborhood does come at a pretty steep price. But at least the high cost of entry also gets you things like the amazing Beverly Arts Center of Chicago.
The Stats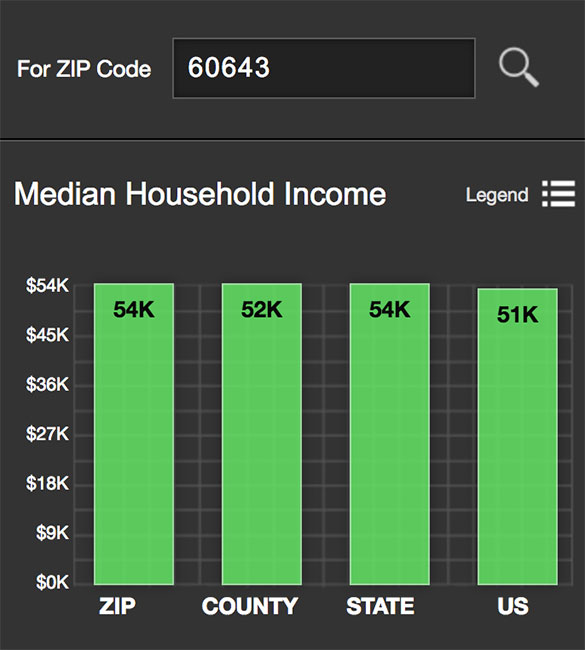 Average Rent (1 bedroom): $2,010
Median Household Income: $54k
Median Age: 42
Esri's stats shows Beverly as an area of average-earning families whose high rent would probably lead to a majority of residents opting to live in suburban homes rather than apartments.
Noteworthy Local Hotspots
Hyde Park
One of Chicago's greenest neighborhoods, Hyde Park has a ton to offer for students, young professionals, and new families who make a more modest income.
On top of the greenery, Hyde Park also boasts some of the best cultural attractions found in nearby suburbs including the Museum Park, the Court Theatre, and a plethora of lakeside homes and parks.
The Stats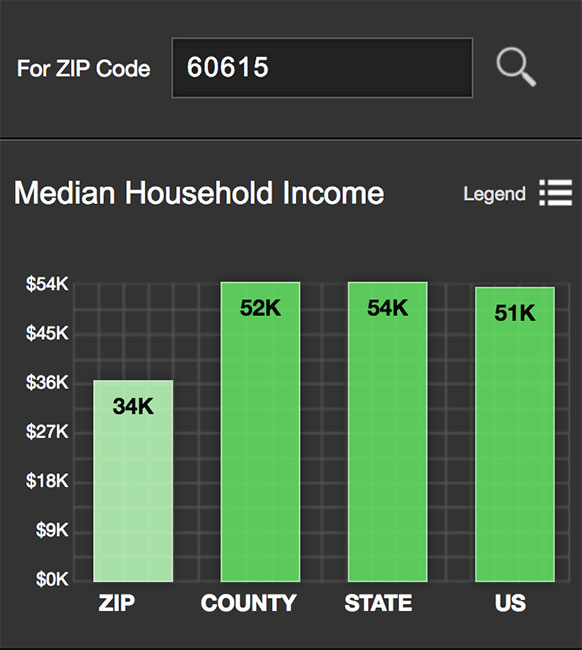 Average Rent (1 bedroom): $1,669
Median Household Income: $34k
Median Age: 34
The low incomes in Hyde Park listed on Esri make sense given the large number of students and young professionals. Fortunately, the area's average rent is realtively low to compensate for it.
Noteworthy Local Hotspots
Wicker Park
Wicker Park is an area on the West Side that has absolutely exploded as a hub for successful twentysomethings. Unfortunately, the rapid influx of trendy hipsters has led to massive increases in rent.
While the rapid gentrification of the area has led to a very appealing neighborhood filled to the brim with laid-back, upscale bars, the community is beginning to feel as if the developments are getting to be a bit much.
The Stats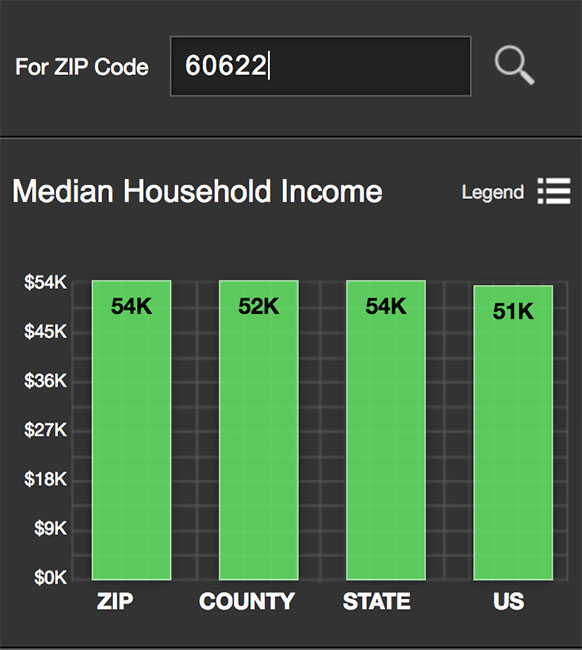 Average Rent (1 bedroom): $2,797
Median Household Income: $54k
Median Age: 32
As an area at the height of gentrification, the rent is has gotten extremely high and the residents are trending on the young side. The the average income remains around the city's average.
Noteworthy Local Hotspots
River North
River north is expensive, but the convenience of being a mere ten minute walk from downtown may be enough to justify the price tag if you can afford it.
Particularly attractive to high-income, single young professionals, this is the perfect place for those who want to live in and experience everything the heart of the city has to offer.
The Stats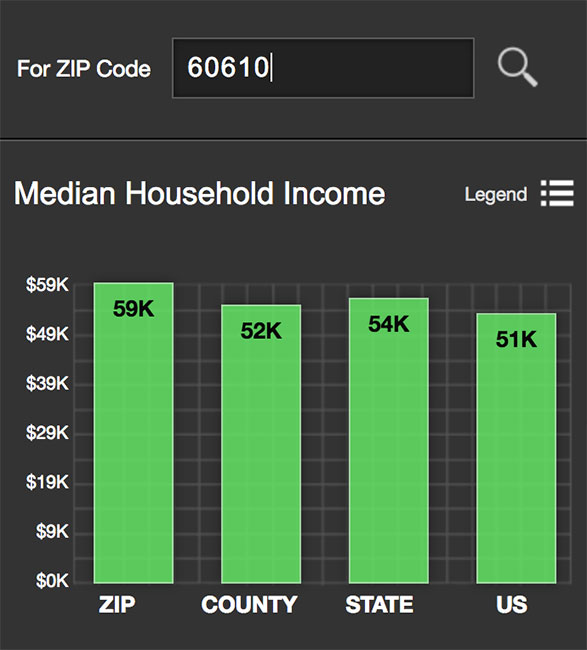 Average Rent (1 bedroom): $1,708
Median Household Income $59k
Median Age: 35
Noteworthy Local Hotspots
Pilsen
Pilsen is one of the quickest growing neighborhoods on the West Side. The area is still fairly affordable and offers a ton of great restaurants, architecture, and art installations, all brimming with great Mexican-American culture.
Having struggled during the recession, this area is currently on an upswing with an influx of new young residents leading efforts to rebuild the Pilsen art scene.
The Stats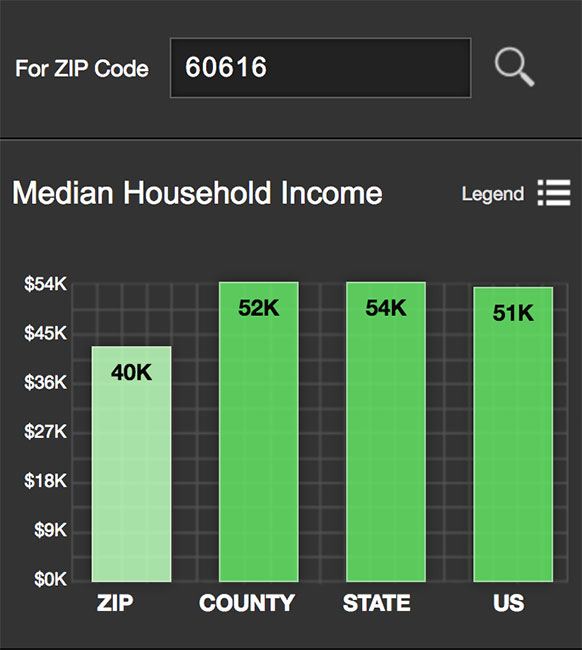 Average Rent (1 bedroom): $1,654
Median Household Income: $40k
Median Age: 37
Pilsen is a neighborhood on the rebound, with a slightly older population and lower income than the city's median. The low-rent continues to attract new residents.
Noteworthy Local Hotspots
Avondale
Located in the Northwest Side, Avondale is one of the hottest up-and-coming neighborhoods in Chicago. It may be a bit further from The Loop than other trendy neighborhoods, but the distance has managed to keep some of the more unsavory aspects of gentrification at bay.
As much of a draw as relatively affordable housing is, the biggest appeal here is the booming specialty restaurant scene, leading to a ton of truly unique locations.
The Stats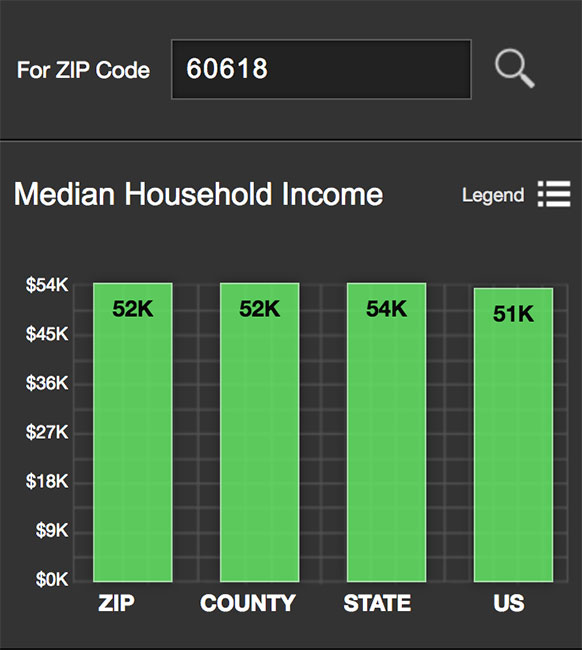 Average Rent (1 bedroom): $1,852
Median Household Income: $52k
Median Age: 33
Avondale's population is younger than most areas of the city. With household incomes around average and reasonable rents, Avondale is an area of Chicago in the midst of beginning to gentrify.
Noteworthy Local Hotspots
For more resources on finding a place to live and planning your move, check out our Moving to Chicago Guide
---
Not what you were looking for?
Check out other categories that can help you find the information you need!
See All
Hide All