Deseret Moves: The moveBuddha 2022 Utah Migration Report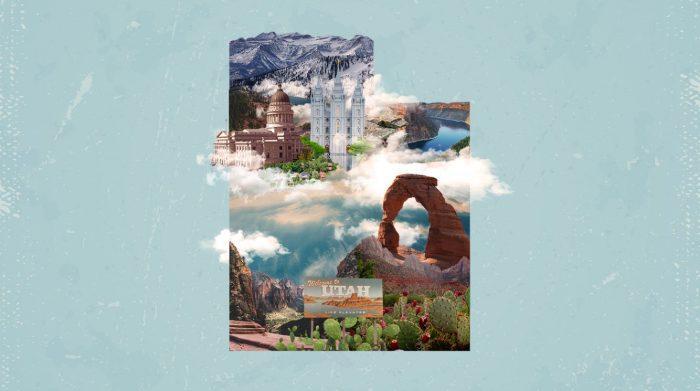 An outdoors lover's paradise, from Arches National Park to Zion National Park and the Great Salt Lake, pandemic-era movers flocked to the naturally social-distanced spaces of Utah. Are movers still heading to Utah, or are locals enduring overcrowding looking to head out?
Big takeaways
While Utah was a popular state to move to in 2020, moveBuddha data indicates a 45% percent drop in the state's move-in-to-out ratio from 2020 to 2022.
Almost 20% of newcomers to Utah arrived from California, followed by Texas (7.5%) and Florida (6.3%.)
moveBuddha data also shows Utah residents are moving in droves to Texas, Florida, and California, which collectively account for almost 25% of residents that left the Beehive State.
Cedar City currently has the highest rate of inflow among municipalities, with 177 moves into the city for every 100 out. Saint George (165 to 100) and Park City (131 to 100) are next in line for attracting new moves.
22 of the 26 cities included in the moveBuddha analysis currently have a higher outflow than inflow.
While Salt Lake City is still the most populated city in Utah, it currently has a 90 to 100 in-to-out ratio, indicating more are looking to move out than in. Other cities near Salt Lake City are also among the highest for outflow.
Deserting Utah or Moving to the Desert?
moveBuddha data confirms, Utah was a very popular place to move to in 2020. The state in-to-out ratio during that year was 141 moves in for every 100 out.
Utah saw a large influx of people during the pandemic, thanks in part to the availability of work. Utah's Department of Workforce Services notes that from February 2020 to March 2022, the state added more than 80,000 jobs at a 5.1% growth rate, which was the highest in the country. Over the past few years, many remote workers from California and Colorado arrived to take advantage of Utah's cheaper real estate and natural amenities. Likely contributing to the boost in the state population from July 2021 (3.3 million people) to July 2022 (3.4 million people.)
Utah County accounts for approximately 40% of the state's growth from mid 2021 to mid 2022. That's largely because Utah Valley is drawing people with its growing tech sector, primarily around Lehi. Major tech players including Adobe and Podium have offices in the state – giving it the nickname of Silicon Slopes.
However, the most recent moveBuddha data shows the state's popularity cooled off considerably in 2022, with the state move ratio dropping 45% since 2020 higher, down to an in-to-out ratio of 78 to 100. This means that for every 78 people making Utah their home, 100 are moving out. This report dives into the numbers to see what may be influencing this shift.
Table of Contents
I. Utah Moves: Statewide trends from the last decade and into 2022
II. 2022 Forecast: Which Utah cities are surging in popularity and which are losing residents?
III. Real Insights: We asked, why move to or from Utah?
IV. Sources and Methodology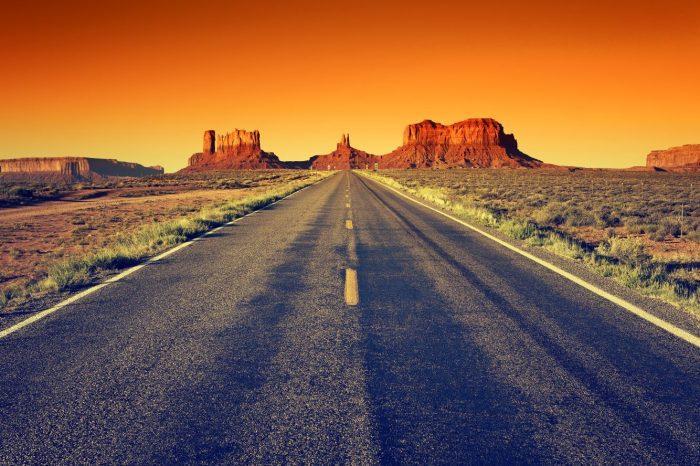 1. Utah moves, coming in and headed out
According to the 2022 search data, interest in moving to Utah has dropped.
In 2020 the state saw a swell of interest from movers with a 141 to 100 in-to-out ratio — 141 searches for moves into the state to every 100 out. In 2022, that ratio has dropped down to 78 to 100, a drop of 45% in the in-to-out ratio.

This significant drop has led to a higher proportion of Utah moves headed out of the state than in.
Out of the Beehive and headed to Texas or Florida
The influx of people into Utah during the early pandemic has had an impact on the state's housing market. These shifts may be in large part contributing to Utah movers eyeing other parts of the country.
Texas and Florida searches represent the majority of outbound Utah moves.
Top 5 states Utah residents are headed to: 
| | |
| --- | --- |
| State | % of total moves out of Utah |
| Texas | 10% |
| Florida | 7.9% |
| California | 6.7% |
| Washington | 5.6% |
| North Carolina | 4.5% |
Some driving factors that may be influencing exits from the state include:
Housing prices. The average single family home value in Utah has jumped nearly $200K from $366,930 in 2020 to more than $551K in 2022 according to the Zillow Home Value Index. Compare this states where Utahns are moving to like Florida and Texas where the 2022 average home costs $404,939 (FL) and $315,451 (Texas)
Shifting religious views. More than 60% of Utah residents are Mormons, which is the highest concentration of Latter-day Saints (LDS) in the country by a landslide. Many Utah residents are leaving for non-LDS communities (although Texas and Florida also rank #5 and #2 respectively in the country for LDS population, which may be attractive to this community.)
High taxes. Utah is among the weightiest when it comes to state-local tax burdens according to the Tax Foundation. Utah ranks #40 of the 50 states, facing some of the highest burdens in the country.
What is attracting outsiders to Utah?
On the flipside, Utah has a lot going for it that's been bringing many into the state over the last few years, and still bringing people in this 2022.
About 1-in-5 of the searches for moving to Utah across the nation are originating in California. Next in line are those coming from Texas and Florida.
Top 5 states moving into Utah:
| | |
| --- | --- |
| State | % of total moves into Utah |
| California | 19.26% |
| Texas | 7.5% |
| Florida | 6.34% |
| Virginia | 4.46% |
| Washington | 4.46% |
Here are some of the reasons outsiders decide to call Utah home:
Comparatively low cost of living. While home values have increased sharply in Utah, it's still one of the more affordable states to live in otherwise. Utah's current Cost Index is 99, taking into consideration the price of groceries, healthcare, and transportation among other common expenses. It ranks better in this regard than Florida (100.7) and a lot better than California (142.2) – but not Texas (92.1).
Excellent recreation. Utah has a rich landscape of everything from snowy mountains to tree-lined lakes and stunning rocky canyons. Leisurely exploring as well as skiing are a natural part of the lifestyle in Utah.
Weather. While Utah is prone to hot summers, similar to the Arizona heat, the dry, crisp air and sunny skies are a huge draw for outdoor fanatics. Plus, the state experiences true winter weather during the cold months necessitating proper winter gear and gifting locals with plenty of snowy slopes.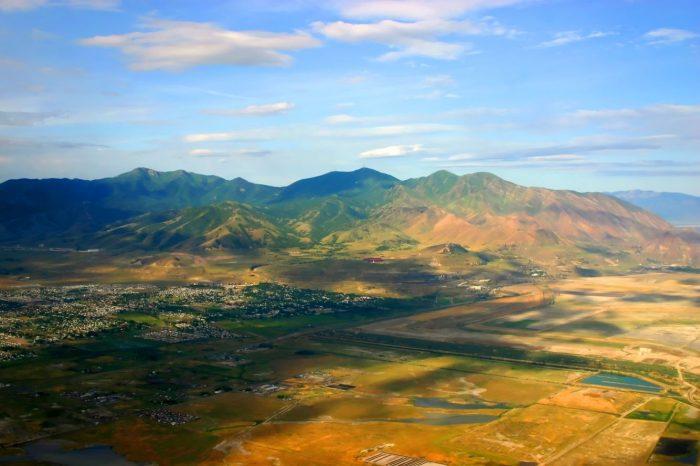 2. 2022 Moves: Which Utah cities are the most popular to move into and out of this year?
The moveBuddha data shows that of the 26 Utahn cities included in this report (our team only considers places with at least 25 searches in and out of the state), 22 of them are seeing a negative in-to-out ratio. A negative in-to-out ratio indicates that these cities are seeing on average more moves heading out than moving in.
However, there are select cities that are especially drawing in new moves – and the overall population of the state is still rising, including in rural mountain areas that boast higher incomes and wide-open countryside.
Utah Headed South, but not down South
No, we don't mean the state is going downhill as a place to live – it's not.
However, Utah's southern cities are attracting higher proportions of inbound moves, especially #1 Cedar City (177 to 100 in-to-out ratio) and #2 Saint George (165 to 100.)
One of the major reasons for this is home affordability. Zillow data shows a home in Cedar City averaged $409,360 in November 2022, which is actually slightly lower than the month prior. An average home in Saint George sits at $553,415, also a slight drop from October 2022.
Lower home prices don't explain why people are also heading to Park City located further north, where the average home tops $2.1 million. Instead, it could be attributed to the area's prime ski resorts, helping it play host to the Olympics in 2002.
Since the median household income in Park City is almost $115,000 – about twice that of Cedar City – it makes sense that those looking for a more upscale lifestyle would move here. Or maybe those with Silicon Valley salaries?
Meanwhile, the areas of Utah seeing the biggest exodus are near Salt Lake City, including the city itself. A single family home in Salt Lake City costs on average $626,190 as of November 2022. Plus housing is becoming scarce and rising mortgage costs are making it ever harder for locals to afford a home.
Gentrification in popular Salt Lake City neighborhoods is also driving up rental rates, beyond many peoples' reach (recent data indicates a median rate of around $1,100.)
Top 3 Cities to Move to in Utah:
#1 Cedar City, UT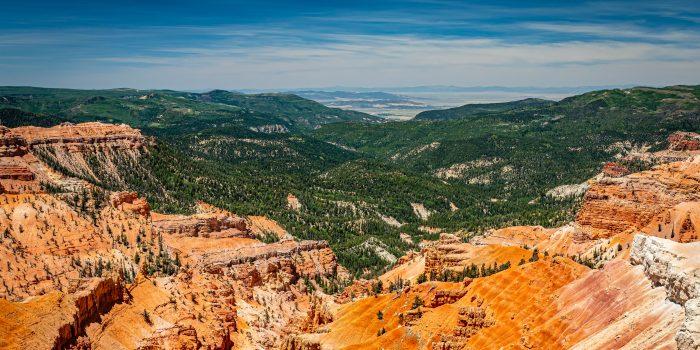 CBSA: Cedar City, UT
County: Iron
Census Population (2021): 37,206
Zillow Home Value (Nov 2022): $409,360
Median Rent: $809
Median Household Income: $52,524
Median Age: 26.1
College Education or Higher: 33.7%
Unemployment Rate: 5.5%
Cedar City, neighbor to Cedar Breaks National Monument, has a relatively young demographic (almost 30% of the population is 18 or younger). The city is within close proximity to prime skiing, hosts a plethora of lively festivals (including the annual Shakespeare Festival), and offers area homes well below the state average. A great place for active, young families, the city offers both a welcoming landscape and an inviting community.
#2 Saint George, UT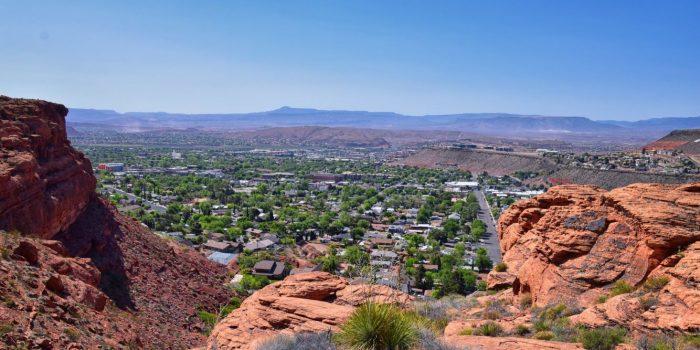 CBSA: St. George, UT
County: Washington
Census Population (2021): 99,958
Zillow Home Value (Nov 22): $553,415
Median Rent: $1,088
Median Household Income: $59,989
Median Age: 38.1
College Education or Higher: 29.4%
Unemployment Rate: 3.9%
St. George is one of the fastest-growing cities in Utah, with a population growth of 31% from 72,897 in 2010 up to 95,284 in 2020. And Census estimates alongside moveBuddha's data show that the city continues to attract large swaths of new residents, from retirees seeking warmer year-round climates to younger professionals who enjoy proximity to attractions. It's only an hour's drive to Zion National Park after all. The local weather and natural amenities may be quintessential deciding factors for newcomers.
#3 Park City, UT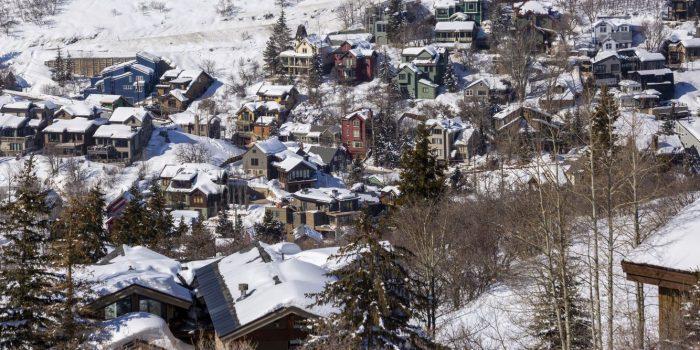 CBSA: Heber, UT
County: Summit
Census Population (2021): 8,457
Zillow Home Value (Nov 2022): $2,143,551
Median Rent: $1,681
Median Household Income: $114,798
Median Age: 41
College Education or Higher: 62.1%
Unemployment Rate: 1.6%
Park City has a lot going for it – but perhaps one of its biggest advantages is also the smallest. Park City has a relatively tiny population – much smaller than the other two most popular places for inflow in 2022. With the low population density (411 people per square mile) and numerous trails for biking and skiing, it's easy to see why this city is in the top 3 destinations for newcomers based on moveBuddha data.
The 3 Cities Seeing the Highest Outflow
Herriman, UT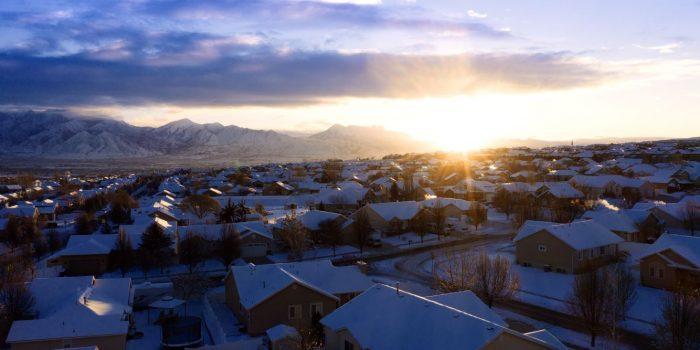 CBSA: Salt Lake City, UT
County: Salt Lake
Census Population (2021): 58,198
Zillow Home Value (Nov 2022): $687,594
Median Rent: $1,368
Median Income: $102,096
Median Age: 28.3
College Education or Higher: 38.5%
Unemployment Rate: 4.3%
The cost of living has increased in some categories in Herriman, including housing and transportation, which both are above the country's average. There isn't a whole lot to do here in terms of fun, so many people drive to Salt Lake City for entertainment. Prices of getting around and lack of nearby amenities are both suppressing factors.
West Jordan, UT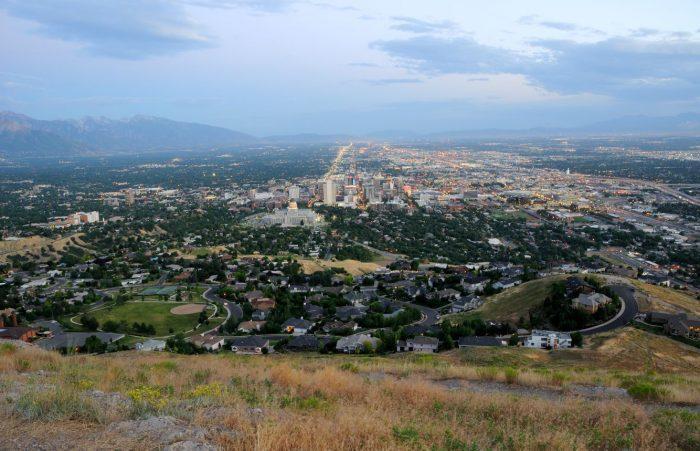 CBSA: Salt Lake City, UT
County: Salt Lake
Census Population (2021): 116,541
Zillow Home Value (Nov 2022): $566,333
Median Rent: $1,269
Median Income: $84,722
Median Age: 32.1
College Education or Higher: 26.4%
Unemployment Rate: 3.7%
West Jordan boasts modern schools (including Salt Lake Community College and Broadview University) and relatively low housing prices. However, the area is very densely populated, with about 3,618 people per square mile. Stress from such tight quarters could be encouraging locals to look elsewhere for greener pastures.
Midvale, UT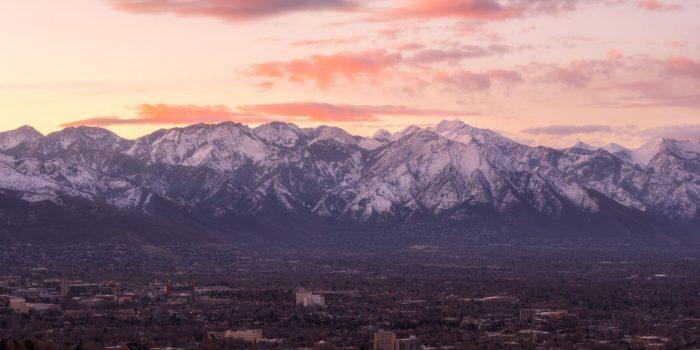 CBSA: Salt Lake City, UT
County: Salt Lake
Census Population (2021): 35,938
Zillow Home Value (Nov 2022): $519,427
Median Rent: $1,160
Median Income: $62,354
Median Age: 31.5
College Education or Higher: 30.4%
Unemployment Rate: 4.9%
The median income in Midvale is considerably lower than in other areas of the state, which could have people looking for higher-paying jobs elsewhere – including in the growing tech sector over in St. George's Tech Ridge. Housing prices in Midvale have also more than doubled since 2010. Lower incomes and rising home prices could be contributing factors to Midvale's exodus.
Stories from locals - Moving to Utah or moving out?
To learn a bit more about what is influencing moving decisions into and out of Utah, we reached out to movers who've recently made a move.
Here's what they had to say:
To Utah: Strong economy, closer to family and the mountains.
The main factors that drove my decision to move to Utah were the strong economy and the opportunity to be closer to family. I was born and raised in Utah, so I am familiar with the state and the culture. I moved to the Ogden area of Utah. I chose this area because it is close to the mountains and has a great economy. The area is also growing quickly, so there are many job and housing opportunities available. — Kerry Launders, moved near Ogden, Utah.
To Utah: Following a springtime visit, an unplanned change of residency.
My husband and I had no plans to move but our daughter and son-in-law had moved to Utah from Texas because they're big into outdoor living (camping, hiking, snowboarding, skiing, etc), and when we visited them in Spring of 2021, we enjoyed the area so much we decided to move here, too. — Angela Propes, moved to Lehi, Utah from Missouri.
From Utah: Exit the Utah County "bubble" and head to NYC dream.
Our decision to move was heavily influenced by a change in job and housing markets. Our home had appreciated in value (good time to sell) and apartment/rent prices in NYC had dropped heavily due to COVID. It was kind of the perfect storm for us to get out of Utah and into our "dream" location of New York City. — Devin Stagg, from Provo, Utah to New York City.
Additionally, Texas Realtor Daniel Johnson confirmed he's seen an increasing number of individuals moving from Utah to Texas. Here's what he had to say: "Most of my clients are moving to Texas because of 3 things: family distance, jobs, and health. My clients from Utah are finding that the huge equity increase in their home value due to the huge migrations as a result of the pandemic have resulted in their ability to sell their current house and buy a larger lot out in Texas.

Down in Deseret, But Not Out
According to moveBuddha's annual migration report, Utah ranks among the states seeing massive drops in demand from 2021 to 2022.
While the Beehive State saw an influx of newcomers (including remote workers) in 2020 partly due to the pandemic, many people are now leaving the northern Salt Lake City area as house prices and rents increase due to factors including gentrification and density.
Meanwhile, many people are heading to the southern regions of Utah that offer year-round warmth and wide-open countryside. "Old West" economies that were once reliant on mining and farming are now shifting to tourism and recreation in the rural Mountain West of Utah and other nearby states. Some of these cities will face tough growth challenges in terms of water resources in the future, including St. George, considered a gateway to the desert countryside.
The moveBuddha data through to the end of the year indicates many Utah cities are losing more people than they're gaining, though Census mid-year data shows the overall population of the state continues to increase. Perhaps next year's estimates will paint a different picture.
Methodology
This report primarily uses data sourced from moveBuddha's Moving Cost Calculator with supplemental city-specific details from the U.S. Census Bureau. To understand the cost of area homes, we use Zillow's Home Value Index.
moveBuddha proprietary data
This data was collected from January 1, 2022, through December 31, 2022, and includes searches across the nation by individuals who were either planning to move or hire a moving company throughout 2022.
More information about our move data and in-to-out ratio equation can be found in our annual Migration Report.
U.S. Census Bureau data
Zillow — Zillow Home Value Index city data
The Zillow Home Value Index or ZHVI provides us with the typical single-family home value within each city at a given period of time.
Not what you were looking for?
Check out other categories that can help you find the information you need!
See All
Hide All