1-800-PACK-RAT vs U-Pack: Comparing Service, Quality, and Price
Overall opinion: If it were us making the move, we'd lean toward hiring U-Pack. They have some of the most transparent pricing in the entire industry, plus super fast shipping times and great national coverage, so they're probably available wherever you are. Those are just a few of the reasons we ranked U-Pack in the top moving container companies of 2019. The one exception would be if you're making a local move—U-Pack only does moves over 100 miles, so if your new place is right across town, Pack Rat is the better option here.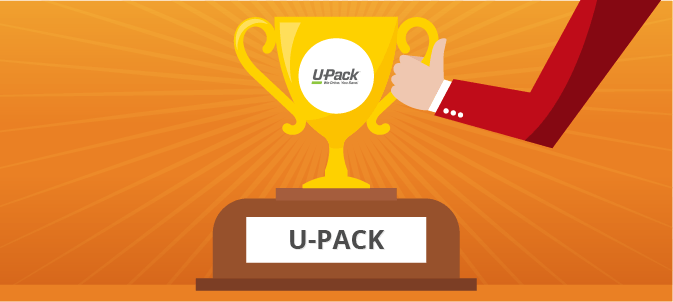 ABF U-Pack and 1-800-PACK-RAT are two of the biggest names in container moving and storage. They provide similar services to one another, which means getting quotes from both (plus some other moving companies that serve your area) is a good idea before booking a move.

Container companies all operate with the same basic service. You order containers from them, which they can usually deliver to your property. Then you pack your belongings into the containers, and the company handles driving or shipping them to their final destination. It's similar to a DIY move, but popular because it doesn't require the person moving to haul a trailer or drive a moving truck.

But while all container companies have some similarities, there are differences, too, in their services, costs, containers, and more. We found everything you should compare when trying to choose between 1-800-PACK-RAT and U-Pack and compiled it here.

We also have comprehensive reviews of each company that you can check out for more information. Read on for all the details.
1-800-PACK-RAT vs U-Pack: Pros and Cons
Let's start with the basics: The pros and cons of hiring each of these companies. Here are our favorite and least favorite features about both 1-800-PACK-RAT and U-Pack, as well as all the other pros and cons you should take into consideration before choosing one over the other.
1-800-PACK-RAT Pros and Cons
Read our comprehensive review of 1-800-PACK-RAT here.
What we love: One of Pack Rat's goals is to give you the best possible price for your move, which means they're also one of the only moving companies we know of that allows haggling over the price you're quoted, even if the quote is already competitive.
What we hate: Pack Rat only operates in 29 states, so it might not even have coverage in your area. If it does serve where you live, you might end up paying more because of the company's added costs for transporting containers farther to and from its limited locations.
1-800-PACK-RAT Pros
1-800-PACK-RAT Cons

Usually less expensive than a full-service move
Full refunds for changes and cancelations at least 48 hours before your move date
30-day minimum rentals, so you can take your time packing and unpacking
$10k insurance included with option to purchase more
Multiple container sizes
Barn-style container doors make packing easier
Offers moving supplies for an added cost, or free for some long-distance moves
Insurance plan included in every booking, with the option to buy more coverage
Free lock provided for container door

Some information isn't available online
Monthly storage fee can't be prorated
No online quotes or bookings — you have to call
No international moves, and locations are only in 29 states, so coverage is severely limited
Long-distance moves have a fuel surcharge that some customers have complained wasn't explained to them upfront
No Sunday deliveries
U-Pack Pros and Cons
Read our comprehensive U-Pack review here.
What we love: Besides that ultra-transparent pricing we love so much, U-Pack is owned and operated by freight shipping company ABF. That means there's serious shipping experience behind the brand, and you can trust your belongings to arrive quickly and safely to their destination.
What we hate: U-Pack is our favorite container mover, but if you're making a local move, they're probably not even an option for you. They only do moves of at least 100 miles, so for cross-town movers, you'll have to look elsewhere.
U-Pack Pros
U-Pack Cons

Usually less expensive than a full-service move
Transparent pricing with a guarantee that you'll have no hidden fees
Clean, simple website that offers instant quotes
Fast delivery, with an online tracker
Add-on services are available to make your move more full-service
Multiple container sizes
If you get the largest container size, you only have to pay for the space you use
Great national coverage, even in rural areas
No deposit or initial fees
Fast delivery times
Monthly storage available
Online shipment tracking
Competitive pricing on 100 to 250-mile moves

Stricter cancelation policies than some companies. If you cancel within a week of your move, you'll probably have to pay fees
No local moves
Largest containers can be difficult to park and pack because of their size
No onsite storage
You only have three days to pack/unpack your containers
No local moving options
Tend to be more expensive for cross-country moves
Parking can be a challenge
The 8′ tall freight trailer can be challenging to pack
1-800-PACK-RAT vs U-Pack: Services and Availability
While the basic services offered by Pack Rat and U-Pack are very similar, they're not identical. Depending on the services you need for your move, one or the other might be a better choice for you. Here's what Pack Rat and U-Pack offer.
Pack Rat
U-Pack
Moving
✔
✔
Storage at a Facility
✔
✔
Storage on Your Property
✔
Storage Between Destinations During a Move
✔
✔
Delivery and Pickup of Containers
✔
✔
You Pack the Containers
✔
✔
Professionals Pack the Containers
Available as an add-on service
Available as an add-on service
Limited Time to Pack Containers
✔

(Up to three business days)

Shipment of Containers to New Address
✔
✔
Insurance Included
✔
Insurance Available to Purchase
✔
✔
Free Cancelation or Modification
✔
(Up to 48 hours before your move)
Another important factor to consider is whether these two companies even offer services in your area and the area you're moving to. This is one area where there's a very clear winner — U-Pack has great availability throughout the U.S. as well as in Puerto Rico and Canada, while Pack Rat rental is only available in some states with no international availability at all.
However, the major downside to U-Pack is that the company isn't available at all for local moves. Unless you're moving more than 100 miles, U-Pack isn't an option at all, so you'll have to go with Pack Rat or another competitor.
Here's how availability for Pack Rat and U-Pack compares.
| | | |
| --- | --- | --- |
| | Pack Rat | U-Pack |
| Available in the U.S.? | In 29 states | All 50 states and Puerto Rico |
| Available in Canada? | No | Yes |
| Available internationally? | No | No |
1-800-PACK-RAT vs U-Pack: How the Containers Compare
It makes sense that a major consideration when choosing a container moving company would be the moving pods themselves. In this case, both companies offer a few different options for container sizes, and all their containers are made of metal, which means maximum weatherproofing and safety for your belongings.
While U-Pack offers fewer size options than Pack Rat, one of the features we love about U-Pack is that you can reserve an entire 27-foot tractor-trailer, and then only pay for the amount of space you actually use. That means no guessing about how many containers you'll need. With a container that size, you're unlikely to run out of space, but since you only pay for what you use, you know you're getting a good deal.
Here's how containers offered by 1-800-PACK-RAT and U-Pack compare.
Pack Rat
U-Pack
How many container sizes available?
3
2
What are the container sizes?
8-foot

12-foot

16-foot

5'10" U-Pack Relocube

27' trailer (only pay for the space you use)

Storage available for all container sizes?
Yes
Yes
Cubic footage available?
404-830 cf
305-1,800 cf
Container material?
Metal
Metal
1-800-PACK-RAT vs U-Pack: How Much Does a Move Cost?
We know that moving is more than just stressful — it's expensive.
Cost is likely to play a huge role in your decision to hire a moving company or use a moving container. While container companies definitely tend to cost less than full-service movers, there are so many factors that affect the cost of each individual move. Things like your starting and ending locations, the distance you're moving, the time of year, fuel costs — it can be tough to estimate the cost of a move because there are so many variables that go into price estimates.
With that in mind, we compiled some average prices for Pack Rat and U-Pack. Use these price points as very loose estimates, and keep in mind that you should get customized quotes from every moving company you're considering so you can accurately compare real costs for your move.
Cost for a Local Move
| | | |
| --- | --- | --- |
| | Pack Rat | U-Pack |
| 1 bedroom | $150 – $500 | Not Available for Local Moves |
| 2-3 bedrooms | $200 – $630 | Not Available for Local Moves |
| 4-5 bedrooms | $340 – $790 | Not Available for Local Moves |
Cost for a Move < 250 Miles
| | | |
| --- | --- | --- |
| | Pack Rat | U-Pack |
| 1 bedroom | $465 – $910 | $900 – $1,300 |
| 2-3 bedrooms | $660 – $1,900 | $1,100 – $1,700 |
| 4-5 bedrooms | $1,000 – $3,400 | $1,200 – $1,900 |
Cost for a Cross-Country Move
| | | |
| --- | --- | --- |
| | Pack Rat | U-Pack |
| 1 bedroom | $1,200 – $3,800 | $1,500 – $2,500 |
| 2-3 bedrooms | $2,400 – $4,600 | $2,400 – $3,900 |
| 4-5 bedrooms | $5,100 – $6,900 | $3,500 – $6,600 |
For more info on pricing check out our moving container price calculator.
1-800-PACK-RAT vs U-Pack: Which Moving Company Is Right For You?
Whether you choose Pack Rat or U-Pack for your move depends on a lot of factors.
If you're making a local move, Pack Rat is the better choice, since U-Pack doesn't offer local moves.
If you're not sure how much container space your belongings will take up, U-Pack is a great choice because of its pay-for-the-space-you-use policy for its largest trailers.
If you need to store belongings in a container on your own property, Pack Rat is the better choice, since U-Pack only offers storage at facilities. Same thing if you need extra time to pack and unpack your containers — Pack Rat allows you to take as long as you need, while U-Pack requires you to pack and unpack within a few days.
But if you're moving to or from Canada, Puerto Rico, or a state where Pack Rat doesn't have a location, U-Pack might be the better choice. Its great national coverage makes it a better option for many movers.
Whatever moving company you choose, you should research and compare multiple options before booking one. Looking to compare U-Pack vs U-Box, U-Pack vs PODS, and other well-known container companies?
Before you book, compare price quotes from multiple trustworthy movers (from containers to DIY to full-service), all instant and online with MoveBuddha.
Not what you were looking for?
Check out other categories that can help you find the information you need!
See All
Hide All