Aaron Bros Moving System Review
Overall Opinion
Aaron Bros Moving System is a Chicago-based moving that prides itself on its transparency and communication.
With over 50 years of moving experience, they have a great reputation as a local moving and storage company in Chicago and surrounding areas.
They offer a wide variety of services and are an excellent option for residential and commercial customers.
We're so impressed by their offerings that we put them on our list of the best movers in Chicago.
How does Aaron Bros compare to other Chicago movers?
| | | | | | |
| --- | --- | --- | --- | --- | --- |
| Company | Price | Vendor Type | Quoting options | Storage | Minimum Move Size |
| Aaron Bros Moving Systems | $$ | Carrier | Phone/virtual estimate | Yes | 1 bedroom |
| Advanced Moving & Storage | $$ | Carrier | Phone/virtual estimate | Yes | 1 bedroom |
| STI Moving and Storage | $$$ | Carrier | Phone/virtual estimate/In-person | Yes | 1 bedroom |
| Bellhop | $ | Carrier | Phone/virtual estimate | Yes | 1 bedroom |
Jump to the Aaron Bros review section that you're looking for:
About Aaron Bros Moving System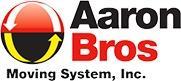 Aaron Bros. Moving System, Inc. (USDOT# 2440000) was founded by the Aaron Brothers in Chicago in 1969. The organization is a member of the American Moving & Storage Association and also has been a Mover Member of the Illinois Movers and Warehousemen's Association (IMAWA) since 2011. The company is a proud supporter of the Move for Hunger, the Greater Chicago Food Depository, and other charitable causes. The moving vehicles used range from 16 to 24 feet long.
Pros & Cons
They maintain available on evenings, weekends, and most holidays
Initial deposits and cancellation fees are not required
The company website and blog are tremendous resources for learning the best moving practices and about life in the Chicago area.
Customers might experience a delay in arrival times based on the completion of earlier moving projects that day.
The company is not offering interstate (long-distance) moving or international moving and relocation services.
Aaron Bros offers a variety of local moving services, including:
Residential moving: Aaron Bros provides residential moving services in Chicago and the surrounding suburbs and now offers services throughout Illinois. Each move-in has a designated Crew Leader. They will also load and unload portable on-demand storage (PODS) units. The company has many years of experience handling moves to and from the high-rise buildings commonly found in Chicago. Unloading services are available for those who are moving from another region to Chicago.
Commercial moving: A project manager will lead commercial moving and relocation plans and handle logistics, supervision and serves as a central point of contact. The staff will disassemble modular furniture, build custom palletized crates for heavy equipment, and create a detailed inventory of all items. IT and network equipment are safely disconnected and packed for easy reinstallation at the destination.
Emergency moving: Same-day moving services are available for those with an unexpected and immediate need to move. Examples of potential occurrences include eviction, lockout, fire, or flood. They are generally able to complete the move within 24 hours.
Packing services: The company's full-service moving options include professional packing of all belongings.
Moving supplies and equipment:  They offer free delivery of packing and moving supplies on orders that exceed $100. They also provide boxes, wrapping material, tape, labels, and more.
Piano moving: Well-equipped for moving pianos and similar oversized and specialty items
Storage: The organization now has four self-storage facilities locally constructed of fire-resistant materials and offering climate-controlled spaces. Monthly insurance plans are also available for purchase. The sites are multi-level with freight elevators, loading docks, dollies, and carts. An on-site manager is on duty during business hours, and a live person is available over the phone for customer support. Their website (www.wemovechicago.com) has an electronic application for making online unit rental payments. Some of the available unit sizes include 5 x 5', 5 x10', 10 x 10', and 10 x20'.
Customers are encouraged to use the online form to reserve storage space at their four storage facility locations:
7843 S Exchange Ave, Chicago, IL 60649
4034 S Michigan Ave, Chicago, IL 60653
5155 S Cottage Grove Ave, Chicago, IL 60615
8316 S Birkhoff Ave, Chicago, IL 60620
How much does Aaron Bros Moving System charge?
The company offers very competitive prices. They also warn customers of hiring cheap movers and have a "Beware of the Cheap Movers" posting explaining that Aaron Bros doesn't seek to compete with "budget" moving companies.
They base their prices on hourly rates that vary according to the time of day, distance to destination(s), and the number of staff required.
A 2-hour minimum applies to all hourly services. Acceptable payment methods include cash and major credit cards. Tipping is not required but encouraged. In response to the COVID-19 pandemic, "virtual" estimates are possible.
Moving estimates may be conducted in-home or at a place of business or completed using Facetime, Skype, or over the phone. Office hours are Monday through Saturday from 8:00 a.m. to 5:00 p.m. (closed on Sunday). Customers should be aware that the end and beginning of each month are typically the busiest times.
To get a free moving estimate from moving companies across the country, or just to get an idea of who much your move will cost, check out our moving cost calculator.
Customers have great things to say about Aaron Bros Moving System
Aaron Bros. Moving System, Inc. is accredited with the Better Business Bureau (BBB) since 2019 and has a rating of A+. The BBB has received 4 complaints in the past three years and 0 complaints in the past 12 months.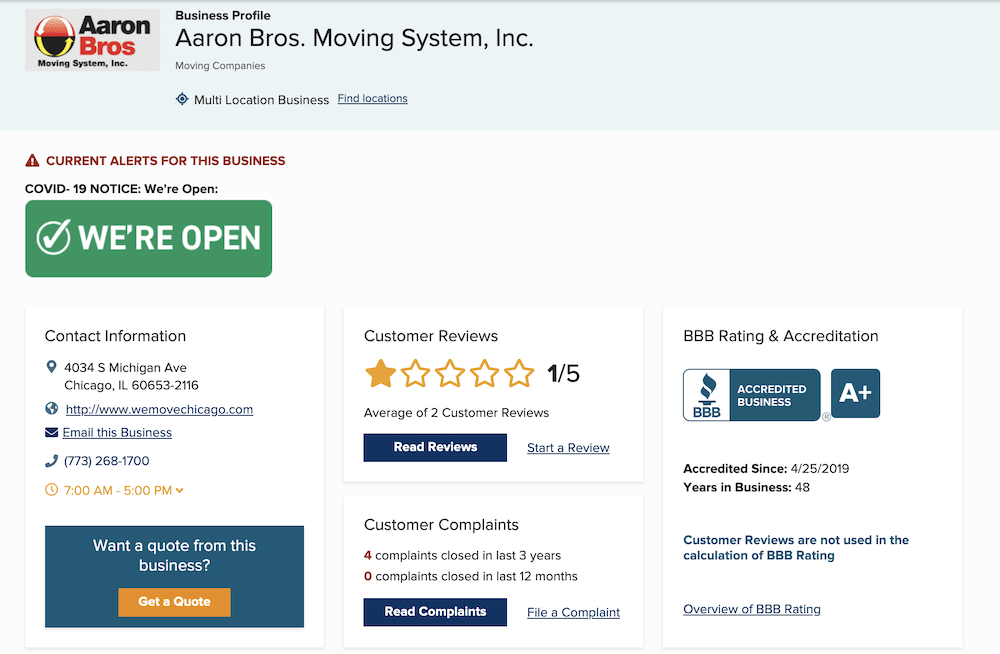 The following chart outlines the nature of the complaints received by the BBB.
| | |
| --- | --- |
| Type of Complaint | Number |
| Sales or Advertising | 0 |
| Billing or Collection Activity | 0 |
| Delivery Issues | 1 |
| Related to Warranties or Guarantees | 1 |
| Product or Service Problems | 2 |
The company has more than 70 reviews on Yelp with an overall rating of 2.5 of 5.
Aaron Bros Moving System, Inc. has an established presence on Google with more than 120 reviews and an overall rating of 3.8 out of 5.
Customers love their streamlined moving process, that they offer free quotes, have accessible storage units, as well as their packing and unpacking services. 
Is Aaron Bros Moving licensed and insured?
The company maintains carrier insurance for covering damage claims, and additional insurance options are available and recommended. Following the law, the company includes (free) basic coverage for damaged items equal to 30 cents (.30) per pound per article.
You cannot claim damage to items in boxes not packaged by Aaron Bros unless clear evidence shows that they mishandled the box. They also assume no responsibility for particle board furniture, which is typically inappropriate for disassembly and moving.
Aaron Bros uses the following process for damage claims:
If you notice damage to an item during the move, promptly notify the crew leader or send an email to the Claims Department at [email protected], and a representative will contact you
Have any documentation associated with insurance coverage that was purchased on-hand and take photos of the damage if possible
A representative will assist with navigating the claim-related paperwork
Aaron Bros may repair, replace, or propose a settlement based on the estimated value of the damaged property
The company's goal is to resolve the claims process within 10 business days
Aaron Bros Moving System Inc. is a registered Household Goods Mover with the Illinois Commerce Commission (ILCC MC: 28205). The ILCC received one complaint about the company from May 2018 to May 2021. The organization completed an estimated 1,537 moves in 2019 and 1,250 in 2018.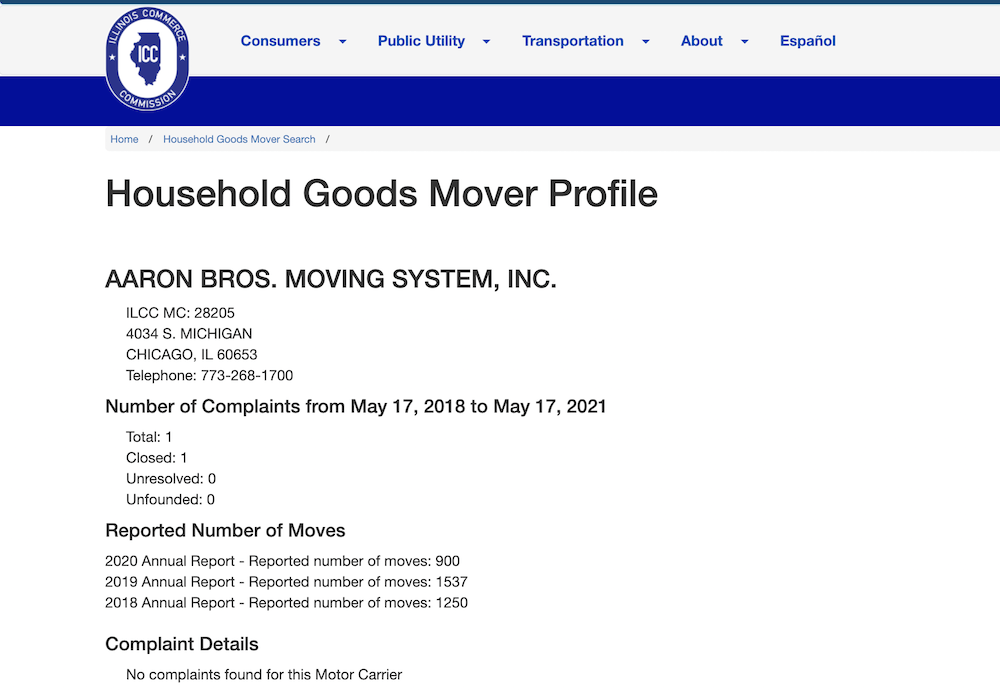 Aaron Bros Moving System Inc. does have an active registration (USDOT #: 2440000) but does not have the authorization to do interstate moves. They are, however, authorized to provide intrastate (within Illinois) transport of General Freight and Household Goods. They traveled an estimated 15,000 miles in 2019 and maintain $750,000 in Bodily Injury and Property Damage coverage and coverage for cargo.
Who should use Aaron Bros Moving System?
The organization is deeply rooted in the local Chicago region as a full-service moving and storage company, employer, and supporter of charitable causes in the community. The company presents itself transparently, which is refreshing in this industry.
They are limited to conducting business only in Illinois but offer four storage facility locations, emergency services, and overwhelmingly positive customer reviews. Aaron Bros Moving System is an excellent option for local moving and storage services and is on our list of the best movers in Chicago. 
If you're looking for a long-distance moving company, check out our list of the best interstate moving companies. 
Not what you were looking for?
Check out other categories that can help you find the information you need!