Moving Experience – Fabiana's Move with International Van Lines
In early March 2023, Fabiana began planning a work-related move from Miami, Florida to New York, New York.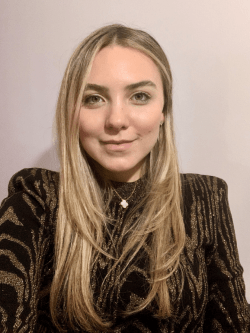 Fabiana was tentative about her upcoming relocation because she experienced significant loss and damage on a previous long-distance move.
This time she did more research and ultimately chose to get quotes from companies on our list of Best Long-Distance Movers exclusively. After careful consideration, she decided to work with Florida-based, family-owned International Van Lines (IVL).
To take advantage of a $500 relocation stipend and help anyone planning a move like hers, Fabiana participated in our Better Moves Project by sharing her experiences with IVL.
In this post, we'll look at what Fabiana liked about working with IVL (hint: she had a positive experience), where improvements could have been made, and what she learned along the way.
Move day takeaways for International Van Lines customers
Communication: International Van Lines communicated adequately throughout Fabiana's move
Pricing accuracy and transparency: IVL's quote was right on the money
Professionalism: Fabiana was thrilled with her moving crew's professionalism, care, and attention to detail
Timeliness: IVL picked up and delivered Fabiana's household goods on time
Loss and damage: Nothing was lost or damaged on Fabiana's move from Miami to New York City
Would Fabiana use International Van Lines again? Yes, Fabiana had a great experience working with International Van Lines
Fabiana needed help moving back to NYC
Fabiana's move was relatively small and had no specialty items like marble tabletops or pianos.
However, her move was unique because her household goods were in a storage unit in Miami. In addition, her movers had to shuttle everything from a small truck to a larger one because the facility's parking lot wasn't tractor-trailer accessible.
Based on these challenges and her negative moving experience two years before, Fabiana worried that her move would be needlessly stressful and that some of her items would get lost and damaged between Florida and New York.
Fabiana wanted to get the best bang for her buck (our Moving Cost Calculator is a great budgeting tool), but effective communication, timely service, and all-around transparency were big priorities too.
Fabiana's move at a glance
| | |
| --- | --- |
| Move date | March 11, 2023 |
| Moved from | Miami, Florida |
| Moved to | New York, New York |
| Distance | About 1,300 miles |
| Move size | 1-bedroom apartment, about 900 square feet |
| Moving company | International Van Lines |
| Moving quote | $4,153.51 |
| Actual cost | $4,153.51 |
Fabiana got quotes from five full-service movers
With her move date approaching, Fabiana spent nearly two weeks searching for the perfect service provider.
She ruled out moving containers and rental trucks and focused on finding an experienced interstate mover with reasonable rates.
First, she searched for the "best FL to NY movers." Fabiana got tons of hits because the Interstate 95 corridor between NY and FL (and vice versa) is one of the country's busiest moving routes. On the downside, the results were frustrating because each carrier and broker claimed to offer the best services for the lowest price.
Fabiana largely relied on moveBuddha to compare full-service movers with the resources and experience to handle her relocation to streamline the process.
Fabiana reached out to IVL early in the process. IVL's sales representative couldn't do a virtual survey because Fabiana's items were in a storage unit, but she provided an accurate list of the things that needed to be moved during their initial phone consultation. Shortly thereafter, IVL emailed Fabiana a binding estimate.
Here's how Fabiana's full-service moving quotes compared:
| Company | Estimated volume/weight | Estimated cost |
| --- | --- | --- |
| JK Moving | 351 cubic feet | $7,069 |
| Safeway Moving | 800 cubic feet | $5,991 |
| International Van Lines | 563 cubic feet/3,941 pounds | $4,153 |
| Colonial Van Lines | 3,000 pounds | $3,102 |
| American Van Lines | Undisclosed | $2,500 |
Fabiana chose IVL for price and reputation

Fabiana described IVL's sales and customer service representatives as "very helpful" because they always got back to her quickly when she had questions about her quote or the moving process in general.
IVL's binding quote included the following:
Loading and unloading labor
Door-to-door transportation
Elevator charges at origin and destination
Shuttle charges at origin and destination
Released-value coverage of .60 cents per pound per item (Fabiana chose not to purchase full-value replacement coverage)
Each mover had its pros and cons, but Fabiana wanted to limit her moving expenses to about $4,000 and she got the best vibe from IVL. She also liked that IVL's quote was right in the middle of the pack and that the company had lots of positive online reviews.
After paying a deposit by credit card, Fabiana prepared by buying boxes, packing a few personal items herself, and hiring a third-party company to help her pack and protect her television and furniture.
Moving day was quick and efficient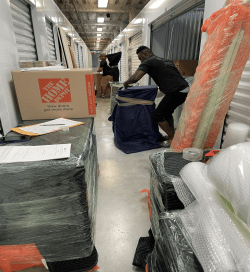 Fabiana got a confirmation email from IVL the day before her household goods were scheduled to be loaded. The movers also called on the morning of Saturday, March 11, to let her know they'd arrive at about 8:30 AM.
After introducing themselves and taking a quick look around, the driver began preparing an inventory while the crew moved everything from the storage unit to the truck parked in the loading dock. Fabiana loved how professional the movers were and how they treated her things as if they were their own.
The movers also protected a few loose items with moving blankets and bubble wrap, and Fabiana checked each box off her master list as it was taken away to make sure that nothing got lost in the shuffle.
The loading process took just three hours, and Fabiana made another payment via Zelle before the truck pulled away.
Delivery went smoothly too
IVL and Fabiana agreed to a 3 to 21-day delivery window during the quote process.
Multi-week delivery windows are common on long-distance moves because movers almost always load multiple shipments on over-the-road trucks before they depart. This leeway allows moving companies to maximize efficiency, keep costs low, and coordinate additional deliveries along the way .
Luckily for Fabiana, her household goods were delivered to her new apartment in New York just seven days after they'd been picked up in Miami. IVL confirmed delivery a few days out, and Fabiana got another call that day letting her know to expect the crew between 10 and 11 AM.
Before unloading began, Fabiana and the driver went over the paperwork and she made another payment to cover the balance of her charges.  All told, her move cost exactly what IVL said it would.
The driver stayed with the truck at the loading dock while his helpers moved everything up the elevator and into Fabiana's new place. All items were accounted for and nothing got damaged, and the crew made sure everything was exactly where she wanted it before hitting the road.
The verdict
To recap, IVL came through with an accurate quote, professional customer service, and on-time pick-up and delivery without any loss or damage.
In the moving business, we call moves like that a resounding success.
Here's how Fabiana rated IVL's performance on a scale of 1 to 5:
Communication – 4
Timeliness – 5
Quote accuracy – 5
Overall experience – 5
Fabiana would have liked having one point of contact throughout her move, and there were a few times when she would have preferred actually speaking with someone instead of communicating via email
We regularly hear about communication issues from Better Moves Project participants, but it seems as though IVL stayed in touch and made effective communication a priority on Fabiana's move.
That said, Fabiana is now settled into her new apartment in the Big Apple and she'd definitely consider using International Van Lines again on a future move.
She suggests the following for anyone planning a move like hers:
Setting aside ample time to research and vet movers
Making effective communication and overall transparency top priorities
Scheduling virtual surveys or preparing a detailed inventory for the movers if you're moving out of a storage unit
Check out these helpful resources before signing off:
Not what you were looking for?
Check out other categories that can help you find the information you need!
See All
Hide All