Top 25 Cities for Irish Culture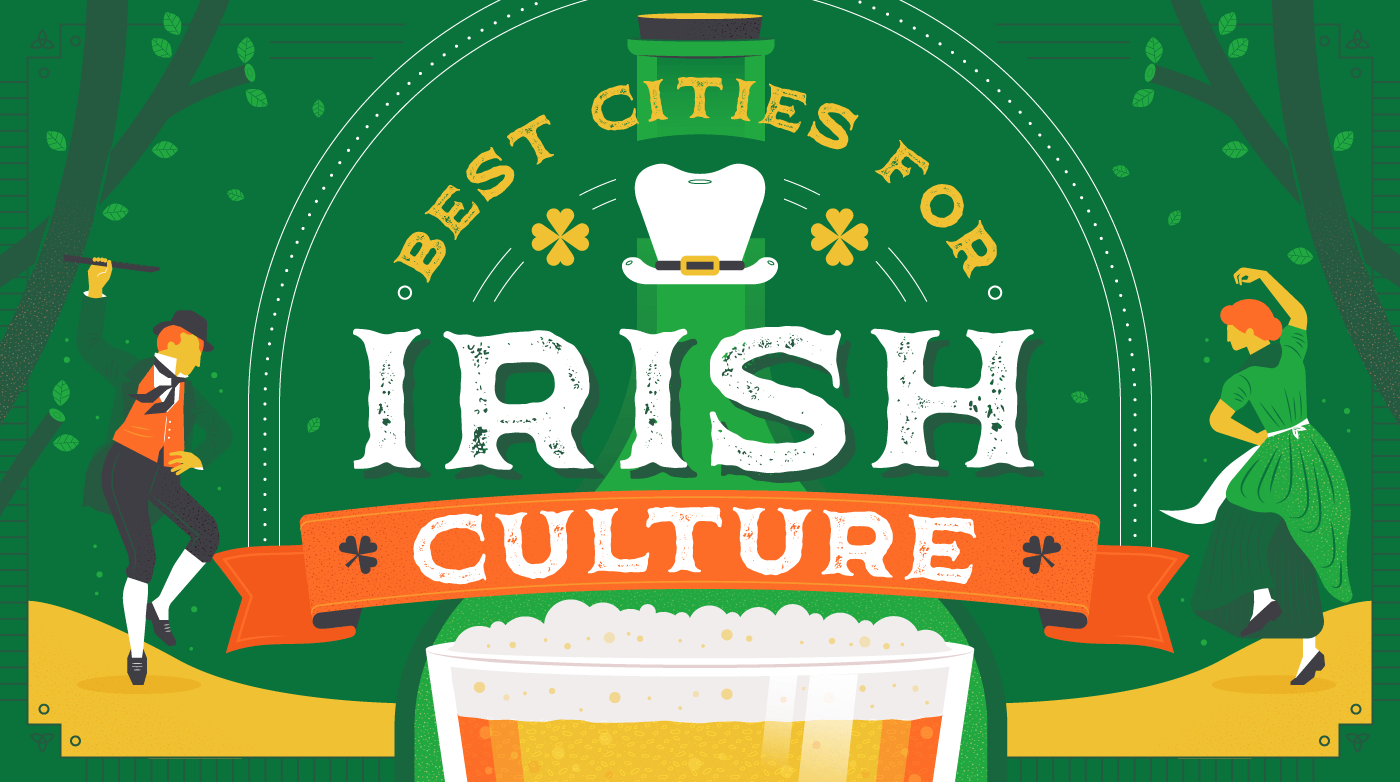 In practically every corner of the United States, there lives a pocket of Irish culture, whether it be locals of Irish ancestry or a pub named O'Connor's. In fact, nearly 10% of Americans identify as Irish, including U.S. President Joe Biden. (Finnegan is his mother's maiden name.)
If we look back into American history, the first Irish colonists' arrival was as early as the mid-1600s!
Over time, Irish-American presence flourished in major cities like Boston, Chicago, and New York. In fact, it was in these cities that the country's first St. Patrick's Day festivities expanded from small local events to city-wide celebrations.
While St. Patrick's Day may have started as an Irish Catholic commemoration of a sainted shepherd, now it has become a day of celebrating Irish culture in a plethora of ways. So whether you are Irish, enjoy Irish spirits or simply have a hankering for a Celtic springtime festival, we've uncovered the best cities across the nation for Irish culture year-round.
Key Takeaways
You'll find #1 Islip, NY at the end of the rainbow and at the very top of the ranking. Other Irish-rich cities in New York state include: Syracuse (#5), Poughkeepsie (#7), and Albany (#11).
Scranton, PA (#2) and Barnstable, MA (#3) are home to the 2nd and 3rd highest density of Irish population, just behind #1 Islip, NY.
The luck of the Irish is on the East Coast: 19 out of the top 25 cities are on the Eastern side of the United States.
Florida has the most cities in the top 25 with 7 total, thanks to plentiful local Celtic festivals and festivities across the state. The highest-ranking from the Sunshine State include St. Petersburg (#4), Winter Haven (#8), and Lakeland (#10).
Irish culture is strong whether Irish or not: 1 in 3 Americans celebrate St. Patrick's Day.
Details on our full methodology here.
Irish Gold: The Top 25 Cities for Celebrating Irish Culture
To uncover the US cities best for celebrating and embracing Irish culture all year round, we've analyzed the 200 largest cities in America and scored them based on a variety of factors including:
Percent of the population with Irish ancestry
Number of Celtic festivals, throughout the year
Sláinte! Score — Sláinte is the Irish term for "Cheers!" So, this score measures the density of Irish pubs, whisky bars, and the availability of Guinness kegs for each city.
Sorry, Chicago — that green river may be hard to beat on March 17th, but these 25 cities take the cake the other 364 days of the year.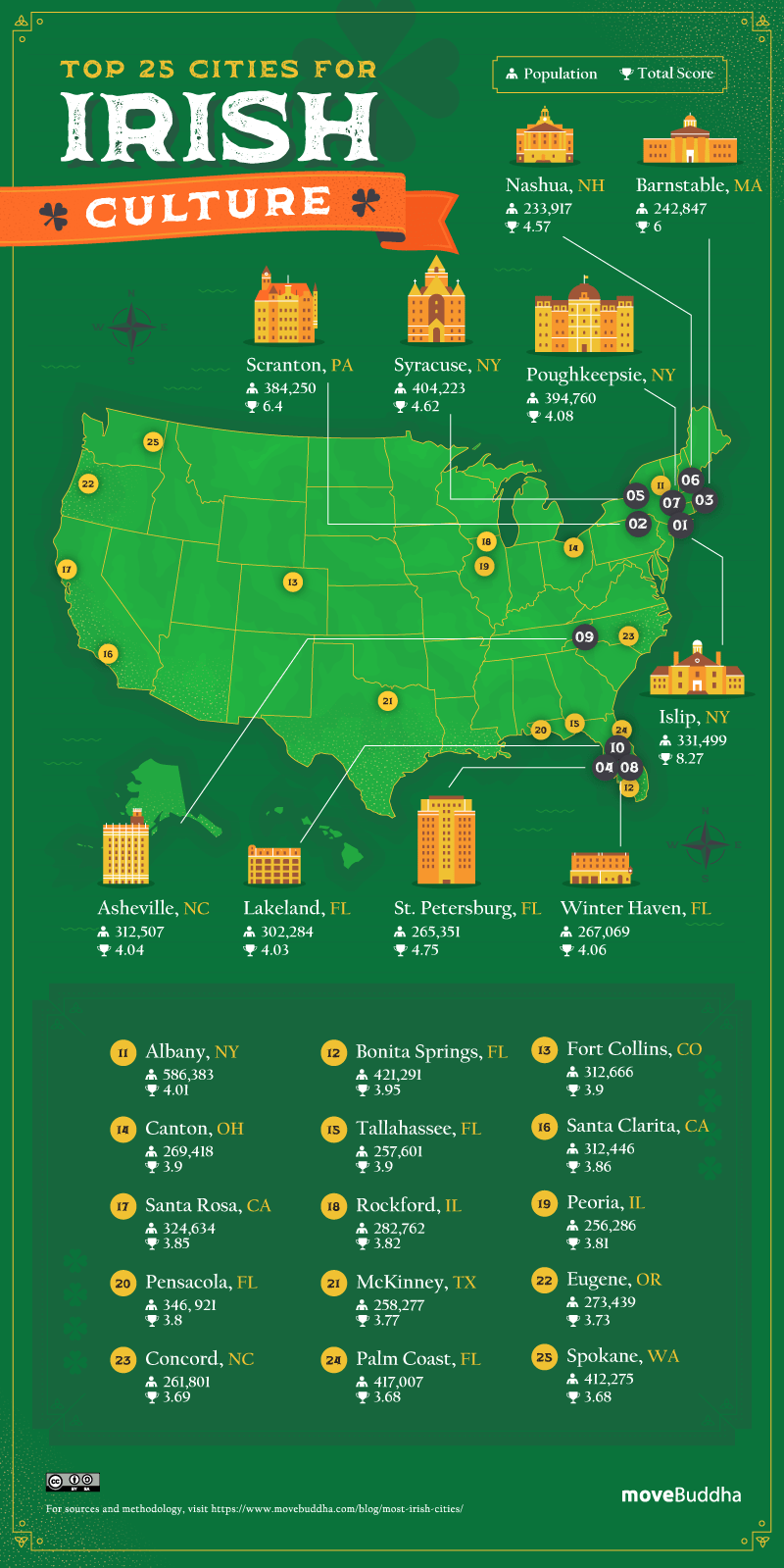 The Most Irish City in America: Islip puts the 'I' in Irish
Islip, NY topped our list as the #1 best city in America to celebrate Irish culture, scoring exceptionally high for having a high percentage of residents with Irish ancestry at just over 30% of the population. The only two other cities that even came close to this ancestry percentage are #2 Scranton, PA and #3 Barnstable, MA – both just over 25%.
In general, cities that scored highest when we looked only at the local Irish population density are concentrated on the east coast. Which is no surprise.
For instance, New York saw a major influx of Irish emigrants in 1845 due to the Irish Potato Famine. Irish families left their homes in Ireland in droves to seek a better life in America. The decade that followed saw over 900,000 Irish emigrants entering the U.S. through Ellis. By 1855, the population of New York state consisted of 25% Irish-born. This time period laid the foundation for the establishment of a strong Irish-American community on the east coast.
Of course, these and other Irish families dispersed throughout the country as the years went on.
Fenian Festivities in Florida
Of all the 50 states, Florida has the 2nd highest number of Celtic festivals celebrated year-round. Meaning that even without the bloodline, Irish and Celtic traditions run strong.
For example, St. Augustine, FL is actually America's oldest Celtic city. (Although, the local population here is so small that it wasn't able to be included in this city ranking.)
In St. Augustine, you will find one of the country's best Celtic celebrations, the St. Augustine Celtic Music & Heritage Festival. Plus, only a short drive up the coast will take you to our #24 Palm Coast, FL.
Of the 13 states that are represented in our top 25 cities to celebrate Irish culture, Florida has by far the most cities on the list… Lucky number 7 to be exact. St. Petersburg (#4), Winter Haven (#8), and Lakeland (#10) come in as the highest-ranked from the Sunshine State, followed by Bonita Springs (#12), Tallahassee (#15), Pensacola (#20), and Palm Cost (#24).
The Luckiest 10: The Best of Irish Culture
Every single city in our top 10 is located along the Eastern edge of the nation.
These lucky 10 are a mix of cities overflowing with local lads and ladies of Irish ancestry to others perfect for getting a taste of the lively culture.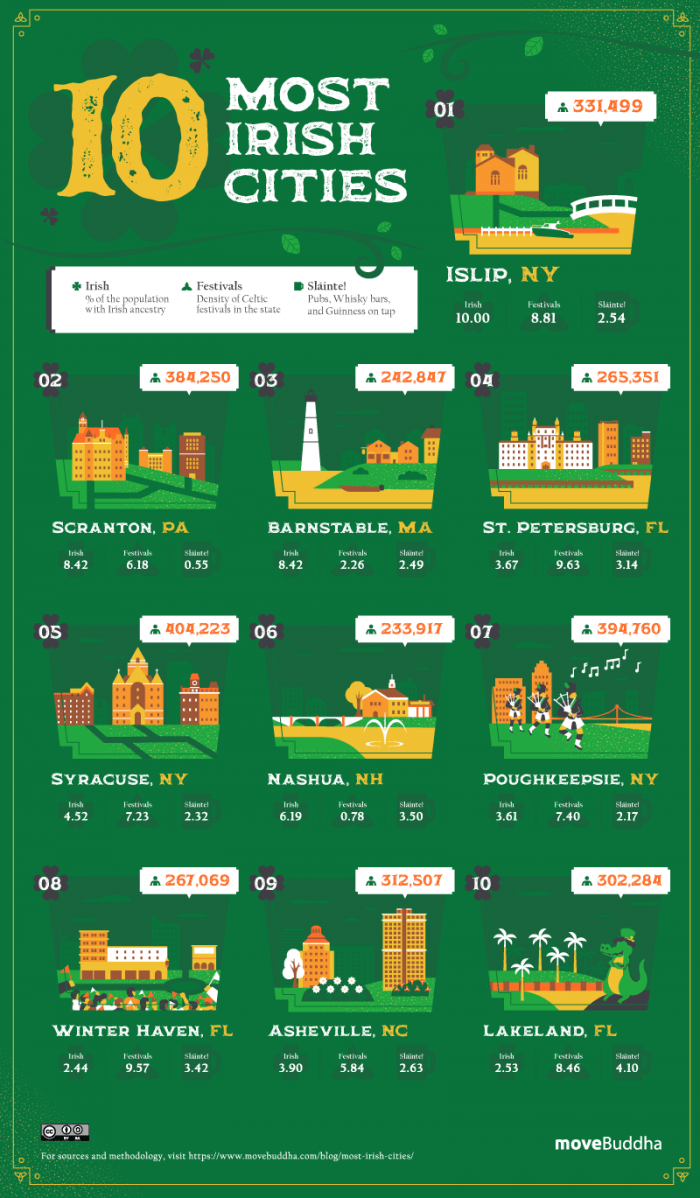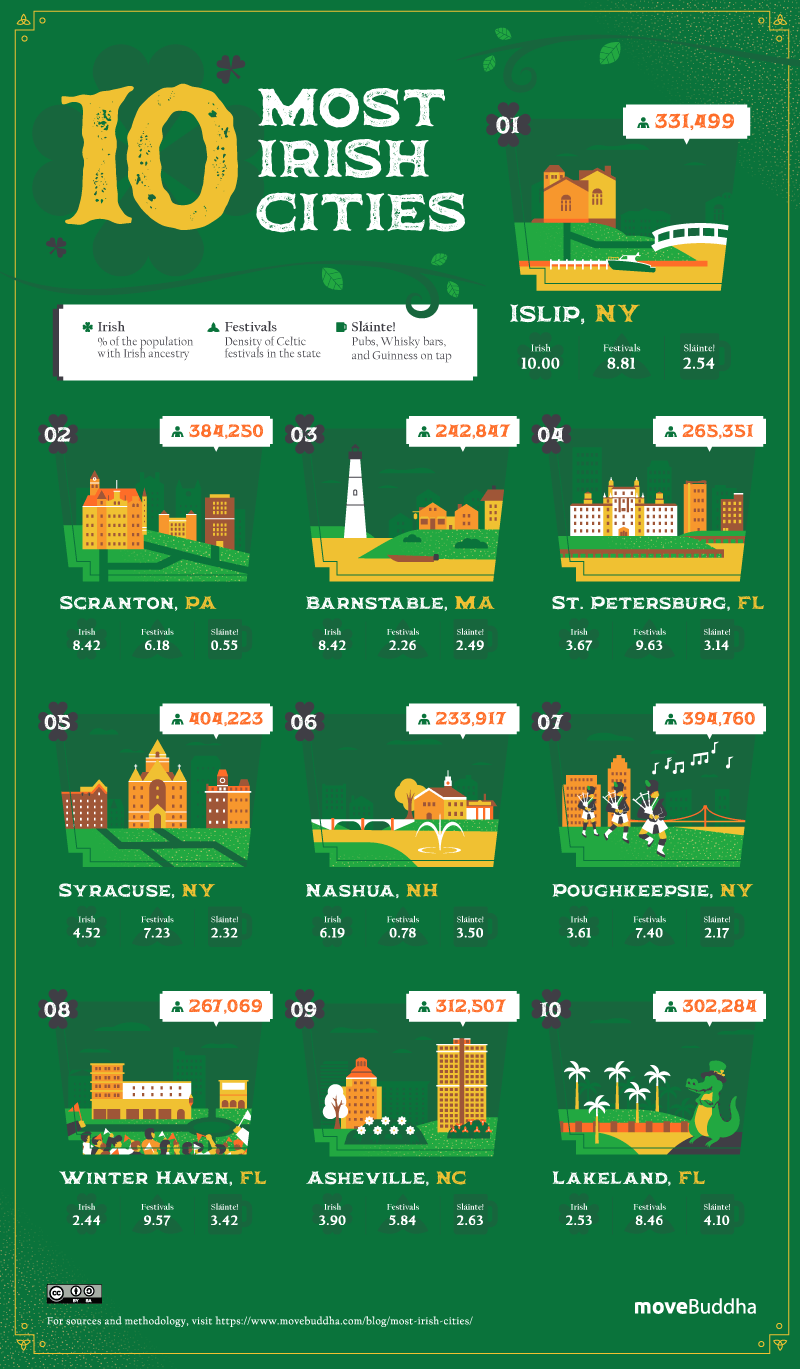 While the U.S. can't ever measure up to the Emerald Isle (Ireland), a few of these top cities almost make the cut — namely: Scranton, PA (#2); Barnstable, MA (#3); Nashua, NH (#6); and Asheville, NC. With a mix of Irish folks, Celtic celebrations, and a number of options to get your hands on a classically-Irish bevy, we're sure these cities have more than enough Irish luck to spare.
Nashua, NH in particular ranked #3 of all 200 cities with the best prospects for finding a proper keg of Guinness. Sláinte, Nashua!
Cultural Phenomenon: 39% of Americans Celebrate St. Patrick's Day
And the other 62% are grumps.
We also wanted to know what Americans do to celebrate Irish culture on St. Patrick's Day.
But first, how many are actually celebrating?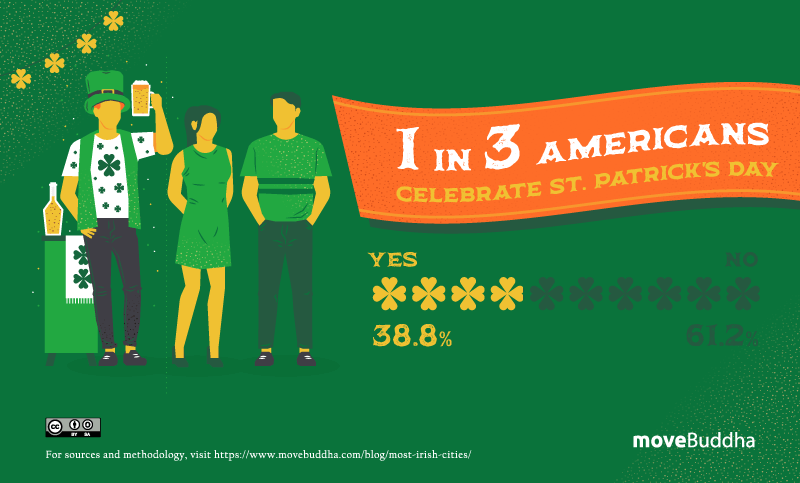 We asked our sample, "What do you do to celebrate St. Patrick's Day?"
1 in 3 respondents indicated they celebrate this important Irish Holiday in a variety of Irish-inspired ways: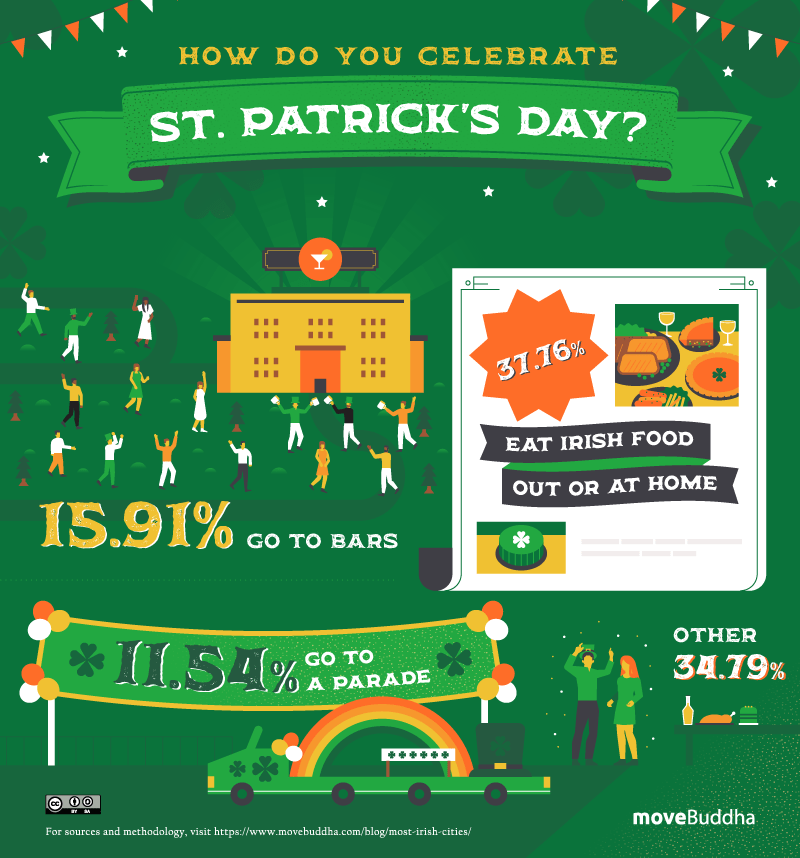 Break out your soda bread and shepherd's pie recipes – what's more festive than celebrating with a feast? Of those who do celebrate St. Patrick's Day, the majority of respondents celebrate by eating Irish food out or at home. Survey respondents aged 65+, in particular, celebrate with food more than any other age group.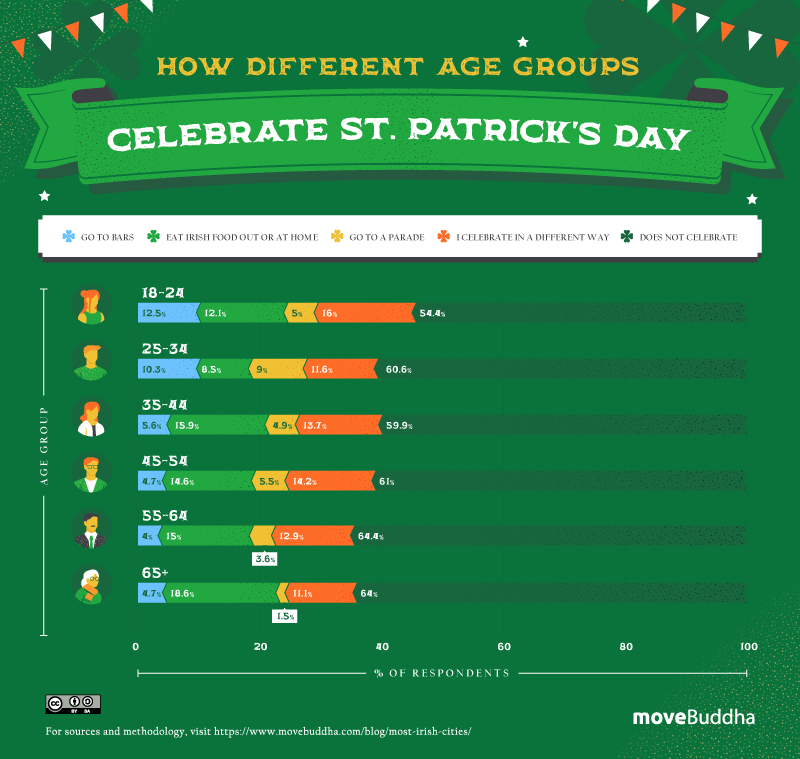 Millennials will be out and about on March 17th. Whether a pub crawl or St. Paddy's parade, 25-34 responded that bars or a parade are their preferred way to celebrate.
And finally: I Gcrích…
While you probably don't use "i gcrích" as a substitute for "in conclusion", there are many English words with Gaelic roots. For starters, 'whiskey', 'galore', 'boycott', and even 'trousers' are taken from Gaelic.
Irish culture runs deep in the U.S.
There are very few nationally recognized holidays that are in honor of another country, such as Ireland's St. Patrick's Day. Despite the fact that St. Patrick's Day is very much a time to declare patriotism to the Emerald Isle, across America folks both Irish and not deck themselves out in green.
We know March 17th isn't the only day worthy of celebrating Irish culture! Irish immigrants have played a leading role in the American culture we know today. Thankfully for those interested in discovering more about all things Irish, our top 25 cities are a great place to start.
Methodology
For each city, we assigned a relative score of 0 to 10 for a range of factors related to Irish population, Celtic celebrations, and where to get an Irish drink.
For each category, a cumulative score was calculated based on the average score of all relevant factors. The final score was calculated from the average of all category scores, with a triple weight given to the Irish Ancestry category. Cities were ranked based on this final score.
% Population with Irish Ancestry – Census (Triple weight)
Density of Celtic Festivals, by state – Celtic Festivals US
Sláinte! Score

Density of Irish Pubs – Yelp
Density of Whisky Bars – Yelp
Guinness Kegs per capita
Survey
We also conducted a survey to understand better how St. Patrick's Day is celebrated across the United States.
"How do you celebrate St. Patrick's Day?" survey – Google Survey
Not what you were looking for?
Check out other categories that can help you find the information you need!
See All
Hide All