The Heat is On: The moveBuddha 2022 Miami Migration Report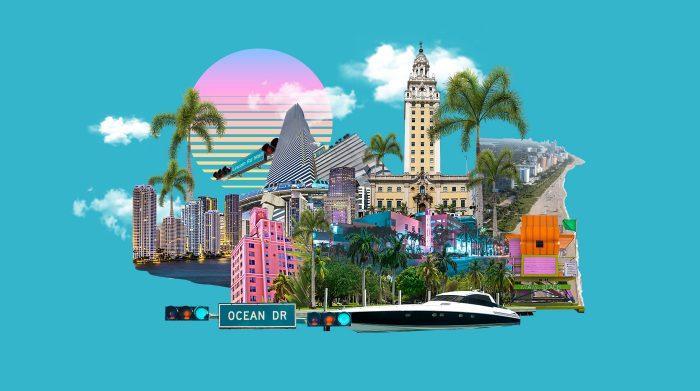 This tropical Silicon Beach provided tech crews a remote work paradise during other states' Covid lockdowns, and it looks like that trend has continued though outbreaks have subsided. Politics seems to be driving continual moves from states like California and New York, as more people who might be best able to afford high taxes and business interruptions decide they just don't want to.
Big takeaways:
Miami is growing, but not everyone's getting into the club. It's primarily young singles and well-heeled gentrifiers who are driving moves.
The aftermath of COVID-19 continues to benefit Miami: While Miami's COVID fever drove a massive spike of in-moves in 2021, in-moves are now stable and still above pre-pandemic levels.
Some Miami neighborhoods are hotter than others. Brickell is thriving, while just 6 zip codes are seeing more out-moves than in-moves.
New York, San Francisco, and Los Angeles are the biggest contributors to Miami's population boom. When Miamians move away, they're heading to Houston and Austin.
Miami has long been home to a mix of cultures. Before Will Smith sang about its mix of Cubans, Haitians, Indians, and Jamaicans, it was already a global city, a northern outpost of Latin America that served as a haven from political instability.
Benefiting from in-migration and the safe storage of cash, Miami expanded throughout the 20th century. Today, more than half of its residents were born outside the United States.
It's a place where residents grab a Cuban cafecito at 3:05 p.m. daily (the city's area code), then top it off with Haitian queue boeuf ordered off a menu in English, Spanish, or Creole before hitting a South Beach club to dance the samba until dawn.
Many were drawn to the party, and Miami kept growing in the 21st century, expanding 18% from 2010 to 2020.
Then came COVID-19.
And Miami got even hotter
With other states' economies in lockdown, Miami saw the nation's biggest leap in new residents, with moves up 60% from pre-pandemic levels. From 2020 to 2022 the city bustled with new residents and thriving businesses. Today, the internationally-minded "Gateway to Latin America" is home to 60 international banks, the Latin American headquarters of 1,200 multinational corporations—and a lot more Americans.
There are now more jobs in Florida than in New York. "Wall Street South" has begun eclipsing its predecessor, and Miami has become one of the fastest-growing cities in the U.S.
Now that the pandemic's relocation shuffle is subsiding, we wanted to know which Miami neighborhoods see the most moves in and out today. Which states are currently fueling the continued influx to South Florida? Is it sustainable? We analyzed 2022's moving data to get an idea of how this Magic City is pulling off its most significant transformation ever, and where it's heading in 2023.
Table of Contents:
I. Miami Timeline – Timeline of searches for moves
II. Miami Neighborhood Trends
III. City to City Moving Trends
IV. Moving to and from Miami by state
V. Methodology
I. Timeline of Moves to Miami: The Eye of the Hurricane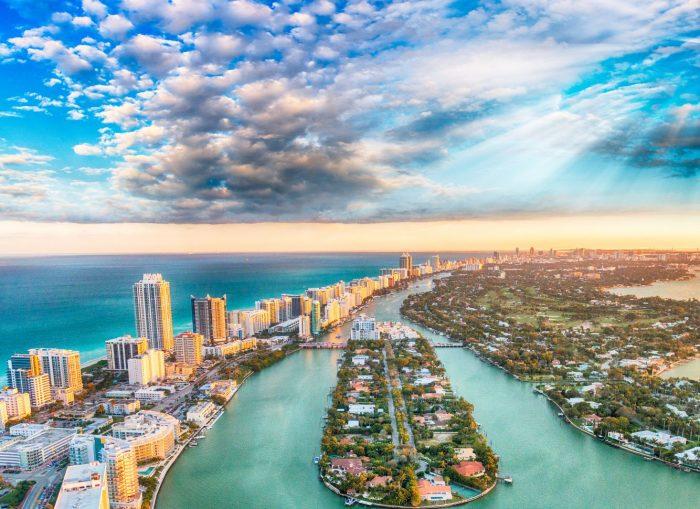 Although Miami saw overall growth from 2010 to 2020, it wasn't a boomtown in the days leading up to the pandemic.
In January 2020, it was more popular to leave Miami than to move in. Sure, the in- to out-ratio was close, but it was negative: that month, Miami lost a sliver of its population with a move ratio of .95. But a storm was brewing.
COVID-19 froze moving activity in its early days. But by the end of August 2020, Florida schools were open for in-person learning. Miami companies were beginning to recover from 6-weeks of mandatory closures.
Those setbacks sounded like heaven for newcomers. When in December 2020, California announced plans to shut down outdoor dining venues, the clouds parted, and new residents started pouring in.
Suddenly, the long-term burden of high taxes, high rents, and economic closures in other states coalesced.
It started getting national attention when one Silicon Valley tech investor Tweeted that the industry should just move to Miami. Several big names took the plunge, creating hype for Miami's startup movement. Chatter increased, turning into Google searches, and finally, the very real exodus from Silicon Valley to Miami.
Moves to and from Miami remain elevated substantially. January 2021 saw the biggest spike in moving activity, with more than three times as many movers to and from Miami as just 3 months before.
For instance, January 2022 saw 4.64 times the number of in-moves to Miami than in January 2020. That pace held fairly steady for the rest of 2022. By December, which saw the lowest interest of the year, there were still almost 3 times as many move requests heading to Miami as there had been in January 2020.
Funding poured into the city, and many movers in the tech industry set their sites on Miami. By percent change alone, tech workers who moved during the pandemic chose Miami 5% more than their second-favorite destination (Houston).
Since the beginning of 2021, only 4 months have seen moves out of Miami surpass inbound moves.
II. Miami Moving Trends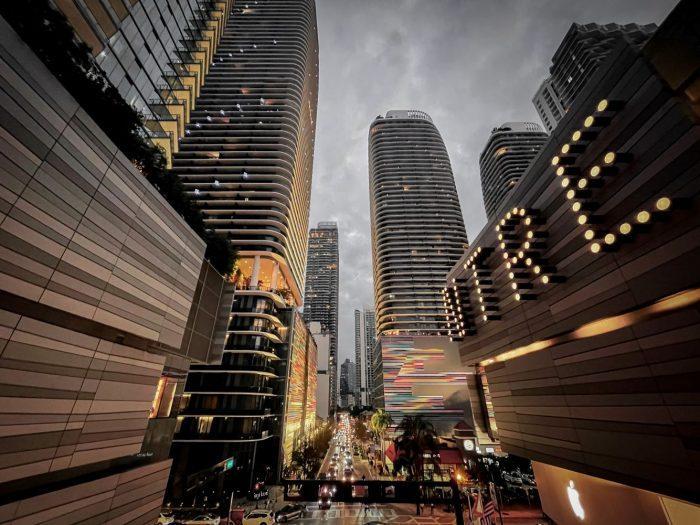 While Miami has seen a continued influx, some neighborhoods win more new residents than others. Where are Miami's new residents going? And in the South Florida migration boom, which cities are missing out?
Nightlife Hotspots like Brickell are on the VIP List
Analyzing moveBuddha search data, we found which zip codes have the highest proportion of moves out vs. in, and the inverse. Only zip codes with 25 moves in and out were considered for this analysis (18 zip codes).
Top zips to move to in NYC
| | | |
| --- | --- | --- |
| Zip Code | Neighborhood | In-to-Out Ratio |
| 33131 | Brickell and Brickell Key | 1.84 |
| 33139 | South Beach | 1.38 |
| 33130 | Brickell West | 1.31 |
The result? Brickell is Miami's biggest winner. With 1.84 in-moves for every move-out, Miami's financial center is center stage for new residents who want to live, work, and play all within the same few blocks. West Brikell's zip code also lands on the podium in third place for new move-ins.
Brickell's star has been rising for a while. In fact, Forbes called it an "overnight neighborhood" in 2015 and called attention to its growing reputation as a center for international firms like Pan American Finance and French giant Credit Agricole.
Brickell is still best known for its ties to the financial world. It's a place where transplanted New Yorkers can feel at home surrounded by banks, skyscrapers, clubs, restaurants, rooftop soccer fields, outdoor yoga parks, and well, noise.
The only difference?
The transportation's better in Miami: Residents here zip around the elevated train system called the Metromover for free.
Cross the bridge to South Beach, and you'll find another top zip code for in-moves. You'll also find tourist crowds, arts and cultural venues galore, and miles of powdery sand. Both Brickell and South Beach claim to dominate nightlife in Miami. They're both highly walkable, too.
That these dense, cultural capitals steal the top three in-move spots suggests that highly-compensated workers without large families are fueling Miami's influx. Real estate price hikes echo that conclusion.
For example, Brickell's $596.88K average home value caters to well-off buyers: it's 46% above Florida's average. All three zip codes with the highest ratio of move-ins come with above-average costs that are still rising. In Brickell, that same home would have cost just $385,410 in January 2020. That's a 55% increase over pre-COVID prices.
How does Brickell compare nationally? Well, the average home price increase from February 2020 to February 2022 has been 25%, so Miami's top neighborhoods are proving that it's not just the weather on South Beach that's sizzling.
Rents have risen at similar rates, up 55% since January 2020 in Brickell, 50% in West Brickell, and 61% in South Beach. While rents have leveled off more than purchase prices, it's not much consolation. The median wage has only gone up 6.3% in Miami in 2022, making the city increasingly out of reach for many.
Exurb Escape
Not all of Miami's zip codes are growing. Here are the zip codes with the lowest ratios of move-ins to move-outs, in other words, the places with significantly more people leaving than moving in.
| | | |
| --- | --- | --- |
| Zip Code | Neighborhood | In-to-Out Ratio |
| 33033 | Leisure City | 0.4482758621 |
| 33141 | North Bay Village, Normandy Isles | 0.4918032787 |
| 33180 | Aventura | 0.7321428571 |
While neighborhoods close to the city's action are buzzing with new moves, farther afield, Miami's suburbs aren't faring as well. The suburbs with the highest out-move ratios are at opposite corners of the city. But they're united in their constrained transportation options and distance to marquee events and hotspots.
Congestion is a common gripe. Add bridges to the commute time, and forget it. Rail service to Aventura is under construction, but cities on either side of rail lines, like North Bay Village and Normandy Isles, which are on islands, are not well-served by Miami's long, skinny city profile (they'd have to commute by car to Little Haiti to catch a ride).
While there's not an absolute divide between city and suburbs—parts of Coral Cables are high on both move-in and move-out lists— the pattern is real: the central city is flourishing, while in the suburbs, the population is falling like a frozen iguana.
Chillingly, the least popular cities are still seeing real estate price hikes.
These neighborhoods aren't much more affordable than popular Brickell and South Beach, but they do offer some savings.
That hasn't made them attractive for new moves into Florida.
Leisure City lies on the southern edge of Miami's suburban reach, 40 minutes from the central city at off-hours (but just 20 minutes from Everglades Alligator Farm). Its median household income is far lower than the other zip codes, at $36,611, with more than double Florida's typical poverty rate. On the other hand, Aventura's median income of $65,893 and North Bay Village's $69,239 are higher than Florida's median household income.
It could be that both low and middle-income movers are less likely to choose Miami as it becomes increasingly unaffordable. While high-income singles and wealthy investors head to Brickell, price increases elsewhere slow the city's overall growth.
Magic City's Disappearing Middle
Real estate prices further tell the story of a Miami that's increasingly inaccessible to the middle class.
Imagine a public relations manager moving from New York City. That worker made, on average, $160,720. After moving to Florida, they took home just $108,210.
Where to live? That same PR manager would take a 48.5% salary cut to move to Miami, while their average rent would actually increase (from $3,733.41 in Manhattan's most popular zip code for in-moves to $3,832.29 in Brickell). Currently, rent in Miami is 71% higher than the national average.
Further, Florida has always had a glut of low-paying service sector jobs fueling its massive tourism industry. All those workers need affordable housing. As prices in Florida rise, fewer potential new residents can keep up.
The sizes of Miami move-ins reinforce that small, single-worker moves in high-price neighborhoods dominate Miami's growth. Large households are also more likely to move into Miami than out, but 2-bedroom movers are calling it quits.
Our conclusion? Miami continues to win single tech workers with good jobs and high incomes. Wealthy investors with large move sizes are also hitting the beach. That's all great, but if middle-income couples and small families can't find their place in the 305, too, wealth inequality will likely dampen future growth.
III. Moving to and from Miami by city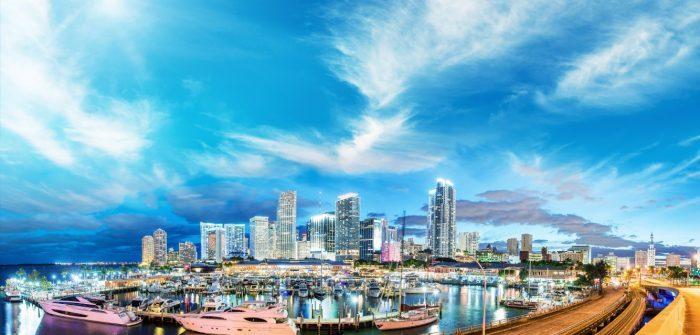 Moves into Miami from major U.S. cities are much more common than moves out of Miami into the same cities.
In 2020, a surge of moves headed to Miami from Brooklyn (670 moves in for every 100 out), Chicago (420 to 100), New York City (390 to 100), and San Francisco (360 to 100).
Since 2020, San Francisco, New York City, and Brooklyn have remained among the top 5 cities for high inflow into Miami.
Texas cities Houston and Austin have seen, on average, overall higher proportions of moves from Miami than moves into Miami over the past few years.
Miami's Melting Pot
Miami-born rapper Pitbull was right. No matter where you're from, she's probably going to make you move to Miami.
Major cities have more residents moving to Miami than Miamians moving to their cities. That trend cuts across geographies. From New York to Chicago, Los Angeles, San Francisco, Atlanta, Brooklyn, and even sunbelt cities like Las Vegas, people are moving to Miami.
And while some of the most lopsided in-to-out ratios of 2020 and 2021 have stabilized, the cities sending the most residents to Miami relative to how many Miamians move in the opposite direction hasn't changed much, either. For example, Brooklyn isn't sending nearly the same 6.71 residents to Miami for every new resident they're getting from Miami in return that they were in 2020. In 2022, they are still sending 1.76 residents to Miami for every one they saw in return.
In 2022, Atlanta lost the highest proportion of moves to Miami — 2.27 residents for every one moving from Miami to Atlanta.
Here are the top cities moving into Miami in 2022 (cities with the highest ratio of moves into Miami):
Atlanta
San Francisco
Los Angeles
Brooklyn
New York City
Miami exit cities in 2022 (Cities with the highest ratio of moves exiting Miami):
Austin
Houston
Miami Beach is a Techie Retreat
Lots of big cities contributed to Miami's rise in 2020. Today, the nation's most prominent tech cities are losing the most residents to Miami. San Francisco, New York, Los Angeles, Seattle, and Chicago all top Miami for startup capital investment and represent hubs for the tech industry. They're also all on the top ten list of cities sending the most residents south compared to Miamians heading their way.
With its crypto-friendly mayor and fintech connections, Miami has accelerated its startup funding from just $369M in 2020 to $2.6B a year later. This year, it's on track to repeat that performance. It's no wonder that Miami's also pulling talent from cities traditionally associated with the tech scene.
Even Miami Can't Mess with Texas
When Miami residents do call it quits, it's not because they're heading to a better beach. They're heading to Texas. Houston and Austin are both seeing higher proportions of moves from Miami than moves from these cities to Miami. Both cities saw more residents head to Miami in 2021 than vice versa, so the about-face is new.
Why's it happening? More Miamians were drying out in Texas in 2020 than vice versa, with a reversal in 2021. So, this change is likely just a return to the status quo. Both states have a similar political bent and low taxes, and both are flourishing, with rising real estate prices and plenty of in-moves. Austin prices won't get Miamians any extra square footage, while Houston won't help them escape hurricane season.
Perhaps this in-and-out traffic is simply a normal reshuffling of job aspirations and climate preferences.
IV. Moving to and from Miami by state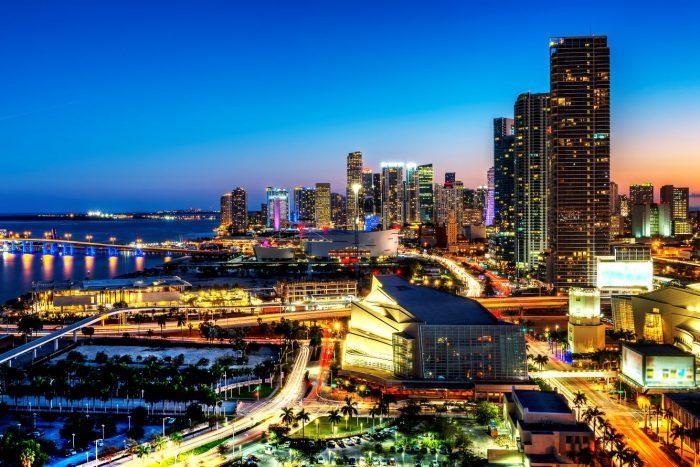 How we calculated net moves to Miami by state:
We looked at people moving from each state into Miami zip codes and subtracted those moving from Miami zip codes to the same state. This gives us the net moves to Miami by state.
Of net moves into Miami from out of state and out of Miami to other states, 70% of moves are moving into the city and 30% are moving out.
OF net moves into and out of Miami by state:
Moves OUT of Miami to other states
30%
Moves TO Miami from other states
70%
Here's where Miami residents moved to and from the most in 2022:
With San Franciscans, Los Angelinos, New Yorkers, and Brooklynites topping the list of cities donating the most residents to Miami, it makes sense that California and New York are the states most likely to see their residents move to Miami, but not vice versa.
California saw 70% of its moves involving Miami zip codes inbound, with 30% heading from a Miami zip code to a new home in California. That equates 260 searches for aspiring Floridians exiting the Golden State.
Given the close relationship between New York and Florida, how many Californians are heading to Florida is surprising. After all, Miami's been called New York City's "6th Borough" as it sends so many of its retirees and snowbirds to Florida. And the pandemic's moving reshuffle saw huge numbers of early retirements, part of which has been speculated to have powered Florida's population boom. California still took the prize, proving that Golden State residents are willing to go a very long way to maintain their Disney resident pass.
North Carolina benefited most from Miamians heading out of state. 75% of its moves involving Miami zip codes were Floridians moving to the Tarheel State. This "Halfback State" is a compromise between Florida and New York for retirees looking to escape hurricanes and high prices. It seems like younger movers are catching on, too.
Top 5 states looking to move to Miami by highest inbound net moves:
California
New York
New Jersey
Georgia
Massachusetts
Top 5 states Miami residents are searching to move to by most outbound net moves:
North Carolina
Texas
Tennessee
Kentucky
Arizona
Paradise Lost?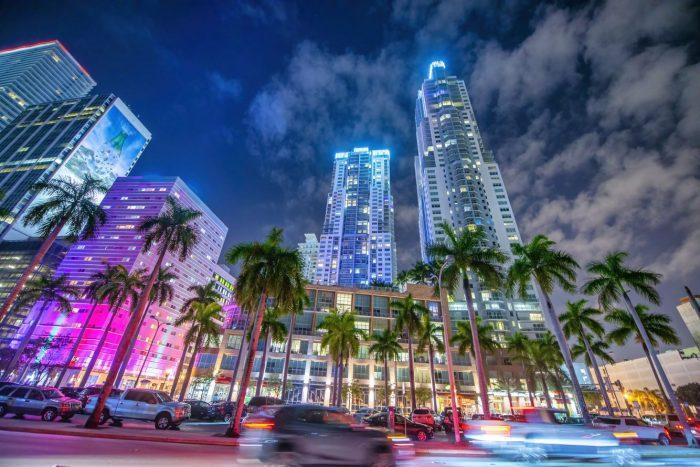 Miami was gaining ground as a financial hub for Latin American investment and a tech upstart before COVID-19.
And when New Yorkers, Californians, and tech investors started looking for an open state to keep doing business, its fortunes accelerated.
They flooded the city with the speed of a category 5 hurricane, tasking the economy and environment alike with accommodating a tsunami of in-moves.
In 2022, the influx of newcomers has stabilized. There have been more months with negative migration, but overall, the trends that grew Miami over the last two years are real, though not as strong as they once were. With the cost of living elevated, growth is sustained by gentrifying young movers and large, wealthy households.
Miami continues to face growing pains. Looking at its top and bottom zip codes offers some clues about how it can keep embracing financial and tech investment to keep expanding, rather than losing the factors that made Miami a welcoming paradise for so many for so long. New movers want everything the city has to offer. They want nightlife, but they also want walkable cities with tons of restaurants, entertainment, and recreation options. They also want to be able to afford to live there.
Miami can keep up its phenomenal growth if it creates a city for the good of all its citizens, becoming a truly sustainable paradise.
Methodology and Sources
Data used in this report spans from January 2020 through December 31, 2022, capturing searches by individuals who were either planning to move themselves or hire a moving company in the subsequent year.
We used this data to analyze:
Section I: Timeline of moves into Miami
Moves into Miami zip codes
Moves out of Miami zip codes
Mover search data collected from Jan 1, 2020 through December 31, 2022, by zip code.
Section II: Miami Moving Trends
The in-to-out ratio is calculated by dividing the number of searches for moves in by the number of searches for moves out.
2022 mover search data collected from Jan 1, 2022 through December 31, 2022, by zip code.
Zillow Home Value Index and Observed Rent Index data.
Section III: Which U.S. Cities are Moving to and from Miami?
The in-to-out ratio by city is calculated by dividing the number of searches for moves into Miami from a city by the number of searches for moves out of Miami to the same city.
Cities included in this analysis had a minimum of 25 searches for moves into Miami and 25 searches for moves exiting Miami to the same city in 2022.
Mover search data collected from Jan 1, 2020 through December 31, 2022.
Section IV: Which States are Moving to and from Miami Most?
Net inflow into Miami by state: The number of searches for moves from a state into Miami zip code subtracted by those moving from Miami zip codes to the same state.
This excludes moves from Miami to other parts of Florida state, and the reverse.
2022 mover search data collected from Jan 1, 2022 through December 31, 2022, by zip code.
Not what you were looking for?
Check out other categories that can help you find the information you need!