STI Moving and Storage Review
Overall Opinion
STI Moving and Storage is an established local and long-distance moving service provider with an excellent overall reputation.
They offer full-service moves, including short and long-term storage, corporate relocation, and various special options including cleaning, custom crating, piano moving and hoisting, and much more.
They even landed on our list of the best movers in Chicago.
Those moving locally in the greater Chicago, Dallas, or Phoenix area should strongly consider them. While local moving is their strength, they also seem to be a viable long-distance option.
How does STI Moving compare to other movers?
| | | | | | |
| --- | --- | --- | --- | --- | --- |
| Company | Price | Vendor Type | Quoting options | Storage | Minimum Move Size |
| STI Moving and Storage | $$$ | Carrier | Phone/virtual estimate/In-person | Yes | 1 bedroom |
| Aaron Bros Moving Systems | $$ | Carrier | Phone/virtual estimate | Yes | 1 bedroom |
| Advanced Moving & Storage | $$ | Carrier | Phone/virtual estimate | Yes | 1 bedroom |
| Bellhop | $ | Carrier | Phone/virtual estimate | Yes | 1 bedroom |
Jump to the STI Moving and Storage review section that you're looking for:
About STI Moving and Storage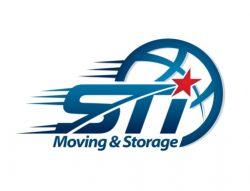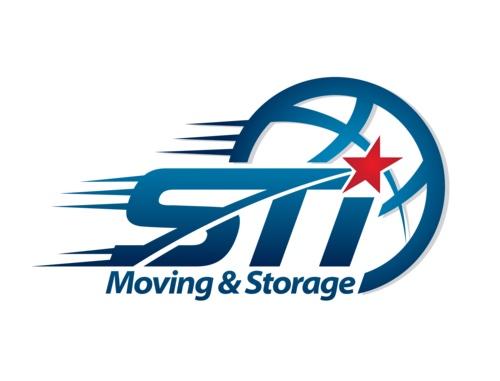 STI Moving and Storage (USDOT# 1308599) was founded in 2004 and is based roughly 10 miles north of Chicago in Skokie, Illinois. They are a professional moving company employing around 30+ people including a sales team of Relocation Consultants. While most of their business is in Chicago, they have recently expanded by adding locations in Dallas, Texas, and Phoenix, Arizona.
Pros & Cons
Eco-friendly moving options
Support charitable causes, including a donation program for The Anthony Rizzo Family Foundation.
You can reserve storage online on their website
Offer free virtual estimates available on their website
Can move pianos and delicate artwork
Third-party moving teams may complete long-distance moves
Does not offer international moving or relocation
Does not offer automobile (vehicle) transportation services
STI Moving offers a full-service moving experience
Their services include:
Local moving services: Applies to the greater Chicago area, and they specialize in services for those moving to or from "hi-rise" buildings that are common in the region. They added regional office locations in Dallas, Texas, and Phoenix, Arizona.
Long-distance moving services: They offer customized interstate moving services within the continental United States.
Corporate relocation: The team of Relocation Consultants works with businesses both small and large to complete moving and relocation services with optional packing, unpacking, and storage offerings. They provide minimal information regarding their commercial moving services on their website, which otherwise is pretty detailed.
Storage services: STI offers various storage solutions that are secured 24/7 and with optional climate-controlled units. Temporary storage options are available to accommodate any delay in accessing the destination.
Packing and unpacking: The company boasts having developed a "proprietary" system that involves professional packing, labeling, and creating a detailed inventory of all items. They limit boxes to a maximum of 50 pounds. Note: They provide furniture disassembly on moving day at no additional charge.
Pro Carpenter service: They have a moving crew who will build custom wooden crates to accommodate oversized items and will palletize as needed.
IT Professional: An experienced electronics and network expert will install computer hardware, establish server connectivity, and other IT-related set-up work.
Handyman service: Upon arrival at the destination, a well-equipped handyperson can assist the customer with most types of work, such as placing wall-hanging storage, furniture assembly, and light fixture installation.
White-Glove Moving Services: This is an "all-inclusive" or "luxury" service offering that includes packing, loading, transport, unloading, and unpacking. Even electronics are all unpacked, plugged in, and ready.
Moving of expensive and fragile items: Examples include electronics, art, antiques, wine collections, pianos, and other specialty items. If needed, they will provide hoisting of pianos and other awkward or oversized belongings.
Cleaning: This is another customized service offering that involves thoroughly cleaning and trash removal from the property.
Packing services: They have a full offering of moving and packing supplies available for order on their website that includes special kits based on the size of the move that includes dish boxes, picture boxes, and more. Note: They offer a "green" option using the stackable BluBox-It bin containers that are durable and reusable. (see images below)
Data from the Federal Motor Carrier Safety Administration indicates the following:
| | |
| --- | --- |
| Number of Vehicles | 16 |
| Number of Drivers | 12 |
| Number of Inspections | 19 |
How much does STI Moving and Storage cost?
The company offers competitive pricing; however, they emphasize having a wide variety of service offerings and high-quality customer support, not as being the lowest-price "economy" option. They don't offer instant or "ballpark" online estimates.
They have a basic website form for requesting a moving quote that captures your contact information, the move dates and locations, and the number of bedrooms in the new home. To receive a formal pricing estimate, customers must speak with a company representative.
A $50 hassle-free deposit applies for local moves or a $200 deposit for long-distance moves to secure a move date. The customer's deposit is fully refundable as long as they give a 72-hour advanced cancellation notice. For long-distance moves, the customer must pay 50% of the total at the time of pickup.
They calculate local moving rates on a per-hour rate with a two-hour minimum. They accept MasterCard, Visa, and Discover; however, a 3% fee applies. Personal checks are not accepted. Customers can pay electronically through the company website system.
For a free moving estimate from moving companies around the country, or just to get an idea of who much your move will cost, check out our moving cost calculator. 
STI Movers have a great online reputation
STI Moving and Storage has a well-established Google profile with more than 800 reviews and testimonials and an overall rating of 4.8 out of 5.
Feedback is overwhelmingly positive, with many customers praising individual staff members by name.
On Yelp, they have more than 200 customer reviews and an overall 3 of 5-star rating.
Their website (stimovers.com) has some handy tools, including a detailed Moving Tips guide explaining how to package each type of item for safe transport safely.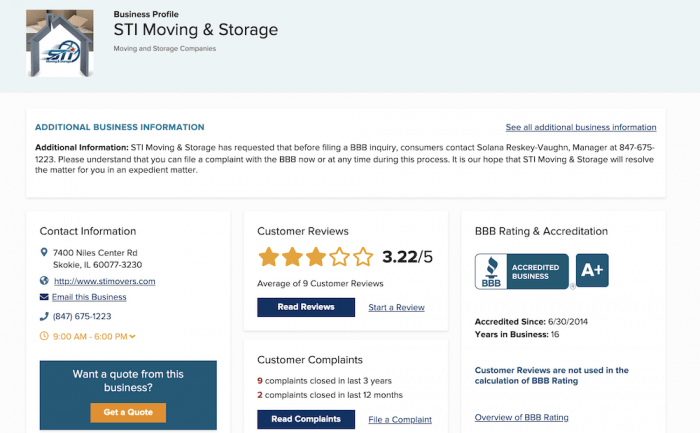 STI has an A+ rating with the Better Business Bureau (BBB) and has received accreditation in 2014. The BBB has received and closed 9 complaints in the last three years and two complaints over the last 12 months. The chart below is a summary of the nature of the complaints.
| | |
| --- | --- |
| Type of Complaint | Number |
| Sales or Advertising | 0 |
| Billing or Collection Activity | 0 |
| Delivery Issues | 4 |
| Related to Warranties or Guarantees | 0 |
| Product or Service Problems | 5 |
Customer service and support are available on business days from 9 a.m. to 6 p.m. and Saturday from 9:00 a.m. to 2:00 p.m. and may be conducted using their phone number or via email. The website's STI Live Support Chat tool appeared functional; however, no representative responded.
For the safety of their employees and customers amid COVID-19, the organization requires masks and to perform temperature checks.
Is STI Moving Licensed and Insured?
The Illinois Commerce Commission (ILCC) is the agency regulating local moving services. STI Moving & Storage Inc. does have a license under account #139020. According to the ILCC, the company has had zero complaints from the last reporting period of May 2018 to May 2021. ILCC data indicates that completed 1,159 moves in 2018 and 1,397 in 2019.
They are registered with the Federal Motor Carrier Safety Administration (U.S. DOT#: 1308599). STI has $1,000,000 in bodily injury property damage (BIPD) insurance and a cargo bond. For 2019, they traveled an estimated 393,917 vehicle miles.
Following federal laws, STI offers the minimum required coverage of thirty cents (.30) per pound per item in local moves and sixty cents (.60) per pound per item for long-distance moves. Customers are encouraged to consider purchasing Full Replacement Value Insurance through their partner MovingInsurance.com.
Should you use STI Moving and Storage?
When it comes to professional movers, STI is a moving company that checks many boxes and provides a worry-free moving experience. Customers are experiencing positive outcomes when using STI for moving projects.
We also love that they provide Blubox-It Bins as an eco-friendly plastic alternative to cardboard boxes that are stackable for safe transport and have easy-to-grasp handles and optional four-wheel dollies for moving multiple bins.
Feedback is excellent, and the organization appears focused on high-quality customer service and hiring a professional staff. The organization is involved in the betterment of the local community and supports several charitable causes. Although listed as an available service, it seems that commercial moving and relocation are not a primary focus.
Not what you were looking for?
Check out other categories that can help you find the information you need!