The 25 Best Cities for Millennial Dads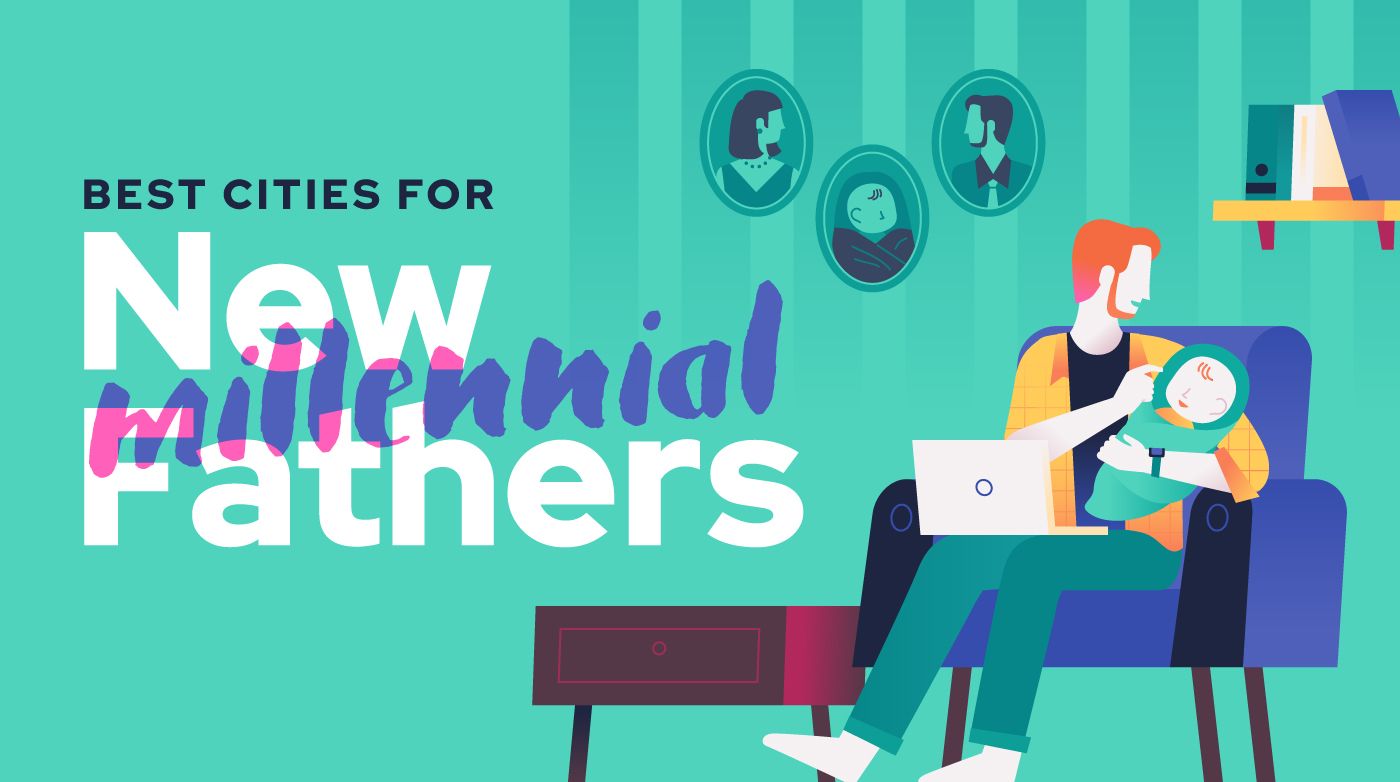 Millennial parent looking to move? Use our Moving Cost Calculator for free today.
As the number of millennial parents grows with each year and remote work becomes the norm, this moment offers a unique opportunity for young families to put down roots in a new city that offers the perfect balance of financial stability, health, and safety for their children, plus social and professional opportunities for parents.
We analyzed nearly one thousand of America's most populous cities to find the best living situations for millennial fathers.
From career opportunities to golfing opportunities, from childcare centers to microbreweries, from affordable homeownership to the concentration of similarly-aged peers, here are 25 cities where millennial dads will feel right at home.
Millennials parent differently than Gen X and the Boomers. 3.5 times as many men are taking parental leave today as in the 90s; roughly 24% of US households have a stay-at-home dad (up from 4% in 1989), and studies find that millennials' more relaxed attitudes about gender roles are making them more compassionate and engaged fathers.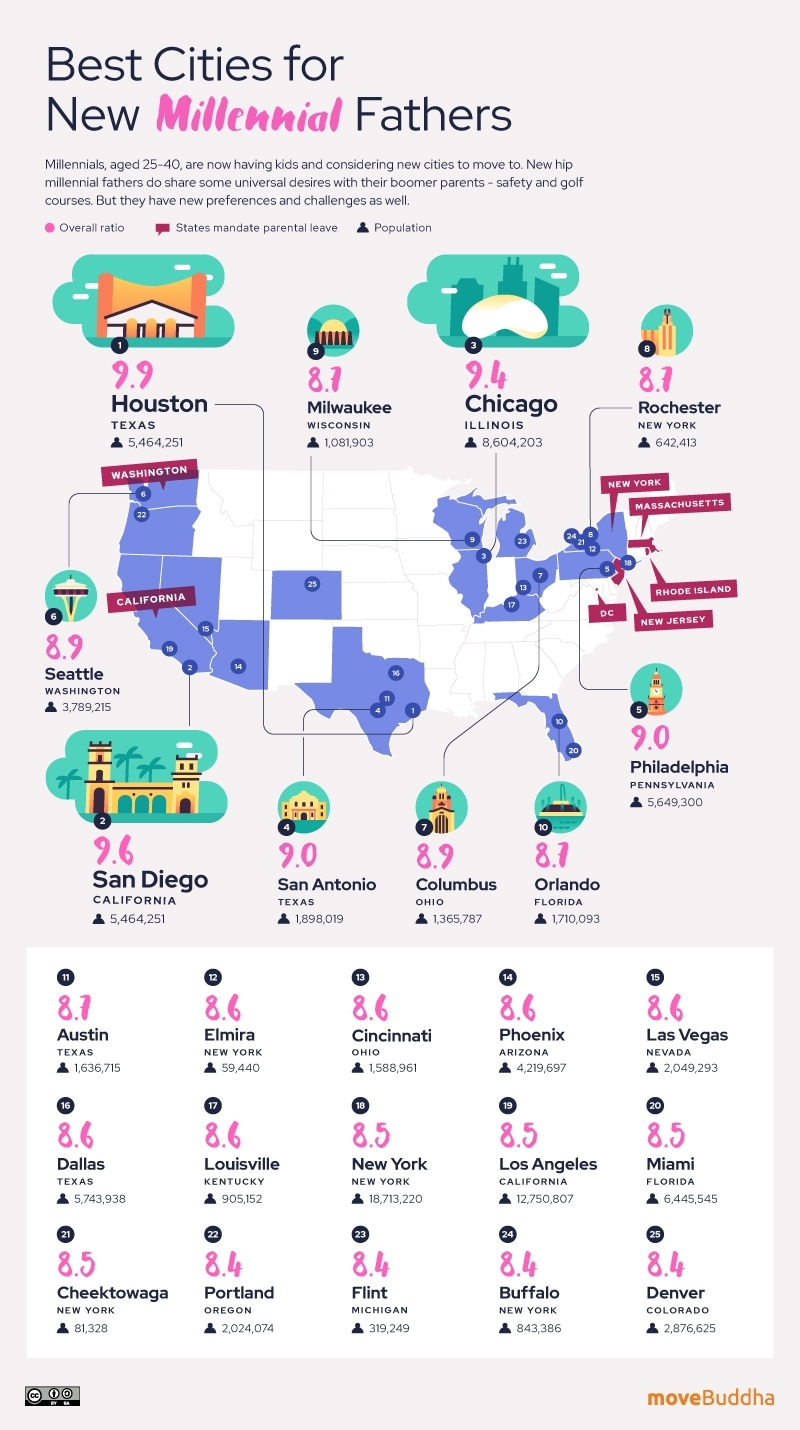 Given these trends and the characteristic millennial anxiety about finances, we evaluated a number of quality-of-life factors that would be appealing to new fathers and mothers alike: Career & Income, Home Value, Health & Safety, and Kid-Friendliness.
Then, to really add value and give a nod to the social lives of dads, we looked into three metrics that could make cities a bit more fun for millennial fathers: Golfing opportunities per capita, microbreweries per capita, and the concentration of people aged 20-49.
Based on these metrics, each city received a score from 0-1 in each category. The scores for all five categories were then averaged together to determine our final ranking of 973 American cities with populations of at least 45,000 residents. For more details, see the methodology section below.
Needing professional moving tips? Look into our ranks for top movers, best container companies and more.
Key findings
From Buffalo to the Big Apple, New York is the most welcoming state for millennial dads, with five cities (Rochester, Elmira, New York, Cheektowaga, and Buffalo) ranking in our top 25. NY State's generous parental leave policies certainly don't hurt!
Texas metropoles (Houston, San Antonio, Dallas) and large cities in the Midwest (Rochester, Buffalo, Milwaukee, Columbus) offer the most well-rounded combination of professional opportunities, home value, kid-friendliness, health and safety, and fun dad-centric opportunities. These cities rank as average or above-average in all categories.
Fast-growing it-cities Austin, Denver, Portland, Seattle, and San Diego all offer a plethora of dad-friendly activities. However, their overall scores are somewhat diminished by expensive housing markets. 
If money is no object, San Diego and Chicago are the perfect locales for millennial dads and their kids. In addition to being #1 and #5 overall for fun dad-centric activities, both cities rank among the 88th percentile for kid-friendliness and health and safety outcomes.
Do it for the kids: the 10 best cities for raising a family
At 46%, more families today have both parents working than ever before. And with millennials representing the largest generational cohort in America's workforce, childcare has never been more important to families.
From infancy to toddlerhood, to schooling age – millennial parents must contend with many hurdles in ensuring their children are in good hands during the workday.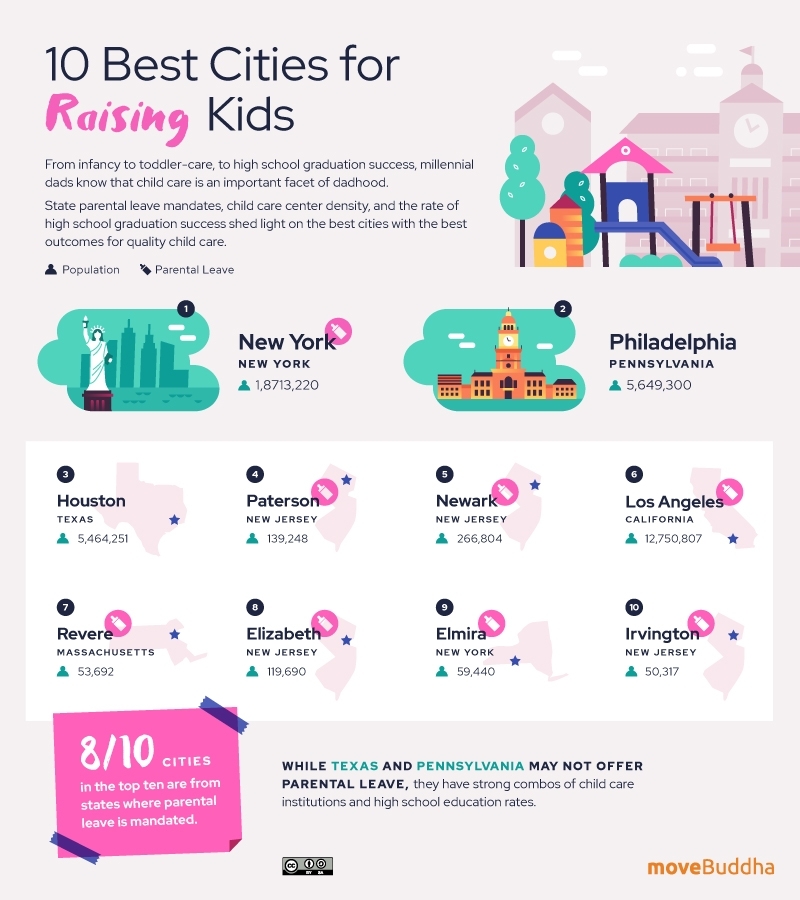 Our top ten most family-friendly cities for millennials were determined by evaluating the childcare opportunities for each stage of parenthood. For infancy, cities in one of the five states that offer paid parental leave (CA, MA, NJ, NY, RI) received higher scores. For toddlerhood, cities received scores based on the number of childcare centers per capita. And for school-aged children, scores were determined based on high school graduation rates.
Perhaps unsurprisingly, cities in states with paid parental leave policies performed very well in this category. New Jersey, in particular, has several cities with strong rates of high school graduation (Paterson, Newark, Elizabeth, Irvington). These cities have, however, considerably fewer childcare centers for parents of toddlers.
Philadelphia, while not in a state with guaranteed parental leave, offers the strongest combination of childcare institutions post-infancy. With a very high prevalence of childcare centers and an above-average high school graduation rate, Philly is a strong contender for millennial parents who prioritize quality childcare for their children.
Dads just wanna have fun: the top 10 cities for dadding-out
According to a study by Google, 75% of millennial parents continue to pursue their personal passions and hobbies after having children. When not working or parenting, which cities offer the best opportunities for dads to kick back with their peers, drink some craft beer, or play a round of golf?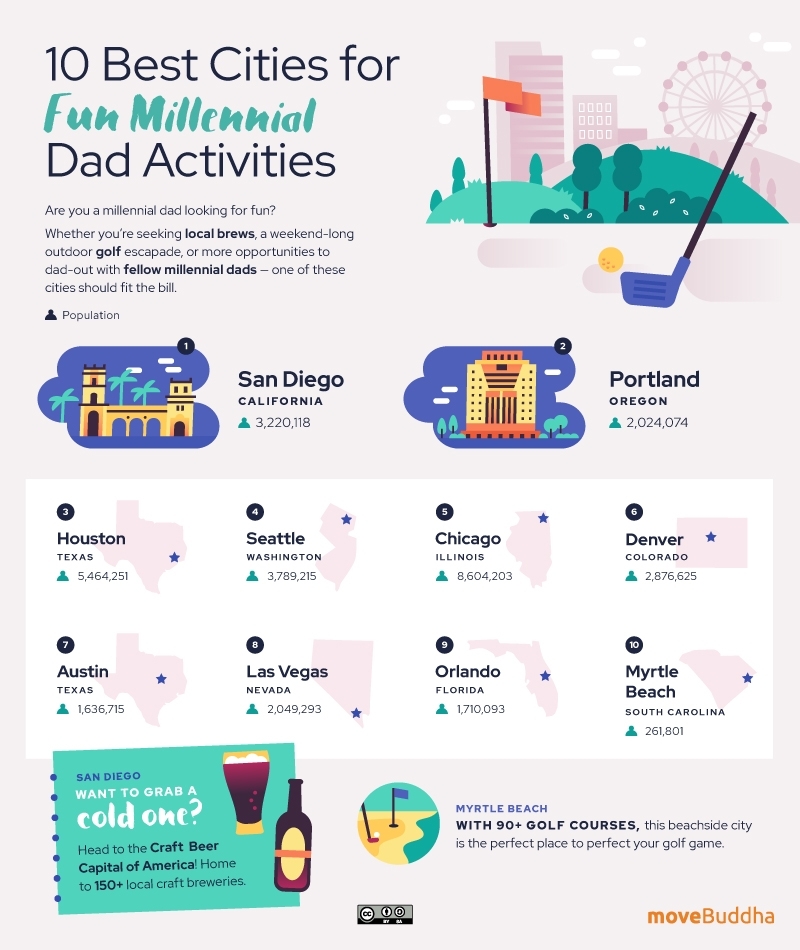 With more than 150 breweries, San Diego has been dubbed the unofficial craft beer capital of America, and the highest spot on our list of cities for social millennial dads. In addition, nearly 50% of San Diego's population are aged 20-49, and with over 72 golf courses, young fathers will have plenty of opportunities to relax with friends.
Our top 10 list for millennial-dad recreation is dominated by larger cities with one million plus residents and a reputation for being young and fun: the likes of Portland, Seattle, Denver, and Austin appear here. In these cities with high concentrations of young people, millennial dads will find plenty of peers and a local economy catered to their interests.
The exception? Myrtle Beach is a considerably smaller city, and though home to many retirees, this oceanside city has a considerable population of young people. Though you won't find much craft beer here, Myrtle Beach has as many as 90 golf courses.
Working dads: the 10 best cities for career and income
52% of working fathers today, many of them millennials, report difficulties balancing the responsibilities of work and family. Though they may feel stressed, they are doing a great job by many measures.
Millennial dads are spending as much 3x as much time with their children than dads did in 1982.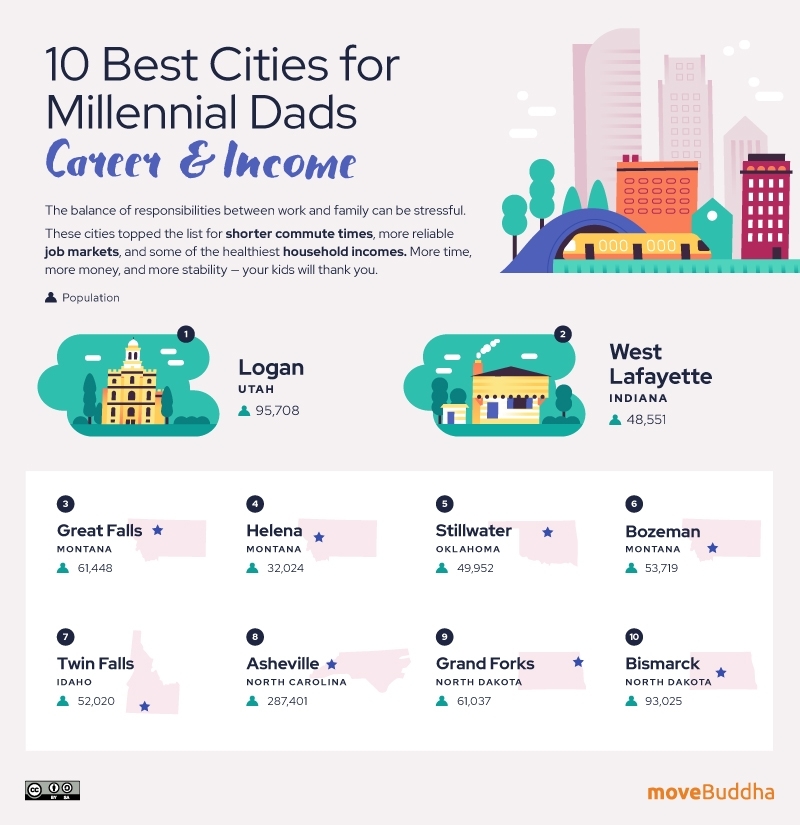 Millennial fathers looking for a reliable job market, livable salaries, short commute times, and excellent work-life balance may find what they seek in smaller cities away from the coasts. Our list of cities with the best commute times, unemployment rates, and median household incomes reveal that cities with populations under 100,000 may offer a great deal of career stability for working dads.
Logan, UT, our top city on the list had an unemployment rate of just 1.9% in 2019 before the coronavirus pandemic. In August 2020, while the rest of the nation was battling an 8.4% rate of unemployment, Logan was sitting at just 2.7%. Plus, with commute times roughly half the national average (14.4 min vs. 26.4 min) and a median household income on par with the national average, this city of 95k could provide perfect work-life conditions for a family man.
Could moving cities help encourage millennials to embrace parenthood? 
Birth rates have been declining steadily in the U.S. since 2007. But as the COVID-19 pandemic swept through the world during the first half of 2020, some experts predicted the close quarters of quarantine may inspire a baby boom in late 2020 through early 2021.
As it turns out, a global health crisis and sweeping economic uncertainty were not effective aphrodisiacs for millennials. In fact, the early stages of the pandemic actually resulted in the birthrate declining twice as quickly as it had been in previous years.
What is it going to take?
The answer may lie in financial security and self-actualization.
Compared with adults of all generations who are trepidatious about having kids, millennials are less likely to cite a simple lack of desire for children as a major reason for why they are childless.
However, millennials are more likely than other age groups to cite financial, professional, political, romantic, and environmental anxieties as major reasons for childlessness. In other words, many millennials want to have kids, but feel the circumstances of their lives are not compatible with starting a family.
Methodology
We limited our study to cities with populations higher than 45,000 according to Census Bureau 2019 estimates. Our ranking of the best cities for millennial fathers is based on a composite score (0-1) comprised of metrics in the following five different categories:
Millennial-Dad Friendliness – MDF – 2x weight
Golf courses per capita
Microbreweries per capita
Percentage of population aged 20-49
Kid-Friendliness – KF – 2x weight
High school graduation rate
Childcare centers per capita
State parental leave policies
Health and Safety – H&S – 2x weight
Pollution
Weather
Violent crime
Access to exercise facilities
Food environment index
Health care clinics per capita
Home Value – HV – normal weight
House-rich-cash-poor index (combines median household income, median home value, state tax burden, and regional price parities; read more here).
Career and Income – C&I – normal weight
Unemployment rate
Median household income
Commute times
Scoring
In order to score cities for each metric, raw values were compared against all other cities in the list in order to assign a score between 0 and 1, with  0 being the least desirable score and 1 being the best. For instance, cities with higher concentrations of microbreweries received scores closer to 1 for this category. Similarly, cities with lower average commute times also received scores closer to 1.
The category scores for each city were determined by averaging the scores for individual data points belonging to that category. For instance, six different scores were averaged to arrive at the Health & Safety score for each city.
Each city's five-category scores were averaged, with double weight for three categories, to arrive at a final composite score.
Sources: 2019 American Community Survey, United States Census Bureau, County Health Rankings & Roadmaps, Homeland Infrastructure Foundation-Level Data (HIFLD), FreeGolfTracker.com, and Datafiniti.
Not what you were looking for?
Check out other categories that can help you find the information you need!
See All
Hide All