U-Haul Moving Boxes: The Definitive Review
Are you getting ready to move? Have you thought about how you will pack up all your belongings? It's a daunting task; there's no doubt. One thing that will help you make your move as easy as possible is finding the right boxes.
I've been in the same situation, and I know that the boxes you use make a big difference in the time it takes to pack and the frustration you experience while doing it. U-Haul moving boxes are one alternative it makes sense to explore.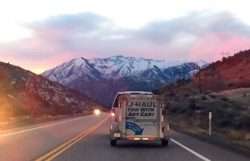 Why do quality moving boxes make a difference?
You should choose boxes based on how you're going to make your move. Your needs will be different depending on whether you're:
Hiring a moving company. Professional movers are typically good at what they do. But they won't be pleased if you present them with boxes of all different sizes and strengths that you liberated from the back of a grocery store. Those types of boxes are difficult to stack in a moving van and often tend to break apart during the trip.
Moving the small stuff in your car. If you're moving locally and can make multiple trips, you may choose to move boxes in your car or pickup. In that situation, it won't matter how well the boxes stack. And you'll know which boxes are a bit worn, so you'll be extra careful with them.
Moving extremely fragile items. If you're moving the porcelain dishes you inherited from your grandmother, you'll want them to arrive at your new house in excellent condition. To accomplish that, you'll need a strong box that will protect fragile items regardless of how you're moving.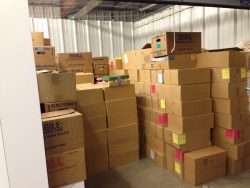 Here's how U-Haul moving boxes can help
U-Haul moving boxes offer a variety of sizes and strengths. They also provide several features that make packing easier.
Pros:
Easy to purchase online, with free shipping in the continental United States
A wide variety of sizes and special-purpose boxes, along with moving kits
You can return unused boxes with a receipt at any U-Haul center in the U.S.
Cons:
Prices for U-Haul moving boxes purchased online and at corporate-owned stores are the same. If you're shopping at an independent dealer's location, they will set their own prices, so check before you buy – shipping is free for online purchases
You'll pay for these boxes, unlike those that you may find at no cost
Boxes could be damaged during shipping
U-Haul moving boxes: features
Do moving boxes actually have features? Yes, they do. Some are fairly standard among boxes you pay for, such as different sizes, but U-Haul also has some features of their boxes and services that are unique.
Box sharing
If you want strong, consistently sized boxes, you may want to look at the box sharing that U-Haul offers. U-Haul company stores and many independent dealers have drop-off locations where customers leave their used boxes for other customers to use for free.
It's U-Haul's way to help keep moving costs down. In addition, reusing the boxes is preferable to recycling them. This will be a great option if you need a few last-minute boxes.
Buyback guarantee
U-Haul will refund your cost for any unused boxes if you return them with the original receipt. That's handy if you're like me. I always prefer to have more boxes than I need rather than run out at the last minute.
Box exchange
The box exchange is called U-Haul Customer Connect. It's a program hosted by U-Haul that lets customers coordinate efforts to buy, sell, or give away used boxes. There are also Armed Forces and College Connections.
Different types and sizes of boxes
U-Haul offers a wide range of box sizes and types. You can get the right box for everything you need to move. Customized boxes help keep your belongings safe. Their size-types include:
Small, Medium, and Large Boxes
Extra Large Boxes
Book Boxes
Wardrobe Boxes – Small, Medium, Large, Laydown, Grand, Shorty
Luggage Boxes
Mirror and Picture Boxes: Regular, Large, Four-Piece
Dish Boxes – Barrel Boxes, Dishsaver Glass Pack Boxes
Wine Shipping Boxes
Television Boxes: Medium and Flat Panel
Lamp Boxes
Electronics – Small, Medium, and Large
Sport Utility Boxes
Box Kits – Apartment, 1-2 Bedroom House, 3-4 Bedroom House, 4+ Bedroom House
U-Haul's moving boxes come in kits that include not only boxes but also the packing materials you'll need. The kits include things such as box tape, bubble wrap, cushion foam, flat-screen TV covers, and more.
Flap locks
If you've ever packed a box with flaps that you close over the top, you can appreciate the value of the flap lock feature. Using the flap lock, the top flaps lay against the box itself, held in place by a connector. You can load the box easily without fighting with the flaps that always seem determined to get in your way.
Handles
Most of the U-Haul moving boxes have handles. It's difficult to carry boxes because even if they're not heavy, they're awkward to pick up and move. You may hire a mover, but trust me–you'll still be hauling a lot of boxes around after the movers have left. Handles can be a lifesaver.
Strength and rain resistance
U-Haul moving boxes are tested extensively, and they prove that with several videos on their blog. For example, you can go inside their test lab to see how durable U-Haul boxes are compared to others. In their tests, the U-Haul boxes come out on top in terms of durability, which is quite impressive.
The other test you can see is how U-Haul moving boxes hold up to getting wet. If you've never moved in the rain or snow, it's only a matter of time before that happens. As you can imagine, soggy boxes don't hold up well. The video showing how the boxes hold up to moisture is very interesting.
U-Haul customers like their moving boxes
U-Haul has many reviews on its website, and the overall rating for their boxes is high. Here are a few examples of the reviews:
Joanne W. left a review on this page, Dish Barrel Moving Box.
Love this product – keeps all your dishes from breaking, it's sturdy, durable – we've used this item about four times now and have never had a broken dish in all our moves!
Sean C. left a review on this page, Large Moving Box.
High quality and durable, as you would expect from U-Haul.
Wayne N. left a review on this page, Large Mirror Box.
Good quality, easy to assemble.
Yvonne A. left a review on this page, Large Electronics Box.
Absolutely awesome. Purchased two. The boxes are as advertised. They are significantly thicker and very strong, with cut-outs for handles.
Joanne W. left a review on this page, Sport Utility Box.
We use these boxes for brooms, ironing boards, larger long items that can't seem to fit in any other size box – love them!
Howard S. left a review on this page, Sport Utility Box.
Was able to fit a full golf club bag and two guitars. Filled in the spaces with foam peanuts. All good.
U-Haul moving boxes: a comparison
There are a number of places to get moving boxes. Here's how U-Haul compares to several other options.
CheapCheapMovingBoxes.com
You'd think that an online supplier calling themselves Cheap! Cheap! Moving Boxes would be the lowest cost place to get new boxes. Interestingly, that's not the case. If you purchase Medium moving boxes on their website, they come in bundles of 20. The cost is $37.99, which comes out to $1.90 each. The shipping is free. The box size is 18″ x 14″ x 12″. You can also purchase CheapCheapMovingBoxes from their Amazon store page.
At U-Haul online, the Medium box is 18″ x 18″ x 16″, which is bigger than the other vendor. The U-Haul boxes cost $1.59 each if you purchase 1-19 boxes and $1.37 each if you purchase 20 or more boxes.
Lowes moving boxes
Lowes also sells a wide range of boxes in-store and online. Their heavy-duty Medium box would be most similar to U-Haul's Medium box. The Lowes cost is $2.44 each. That's $.85 more than U-Haul's 1-19 box price and $1.07 higher than U-Haul's 20 and over price. The Lowes Medium box is the same size as the U-Haul version.
Free boxes
Some people are determined not to spend any money on moving boxes and spend their time searching for free boxes. You could find free boxes at grocery stores, some clothing stores, and liquor stores. Keep in mind that the boxes will be all different sizes, so they'll be difficult to stack. And, if you do stack them, they won't be very stable.
Some people plan ahead and save boxes they receive when they purchase things such as diapers and shipments from Amazon and other online shippers.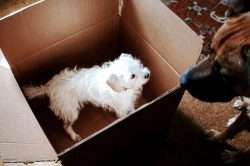 What's your choice?
Go back to considering how to choose moving boxes. If you need sturdy boxes to protect your belongings, U-Haul might be a great alternative. You'll get the following:
The right sizes and strengths
Flap locks
Boxes that will weather humidity and some rain
A buyback guarantee
Shopping at a local outlet or online with free shipping
Handles
Not what you were looking for?
Check out other categories that can help you find the information you need!
See All
Hide All