Advanced Moving and Storage Inc Review
Overall Opinion
Advanced Moving & Storage is an experienced professional moving and storage company that now offers long-distance and international services.
They also have an impressive list of business (commercial) customers and plenty of storage options and availability.
The organization appears committed to customer satisfaction and is an excellent option for full-service moving services, particularly in the greater Chicago region.
There's a reason we have them on our list of the best movers in Chicago.
How do Advanced Moving and Storage compare to other Chicago movers?
| | | | | | |
| --- | --- | --- | --- | --- | --- |
| Company | Price | Vendor Type | Quoting options | Storage | Minimum Move Size |
| Advanced Moving & Storage | $$ | Carrier | Phone/virtual estimate | Yes | 1 bedroom |
| Aaron Bros Moving Systems | $$ | Carrier | Phone/virtual estimate | Yes | 1 bedroom |
| STI Moving and Storage | $$$ | Carrier | Phone/virtual estimate/In-person | Yes | 1 bedroom |
| Bellhop | $ | Carrier | Phone/virtual estimate | Yes | 1 bedroom |
Jump to the Advanced Moving and Storage review section that you're looking for:
About Advanced Moving and Storage


Advanced Moving & Storage, Inc. is a family-owned moving company with more than 25 years of experience with offices near Chicago in Wood Dale and Glendale Heights. They currently report having 20 employees on the staff and boasts of completing roughly 2,000 moves annually.
The organization deploys late-model moving trucks and vans for moving projects of any size that have been thoroughly cleaned and sanitized in response to COVID.
Pros & Cons
In response to the COVID-19 pandemic, they now regularly sanitize all vehicles and supplies
Hire direct employees, not contractors
Has various types of storage options available for large or small residential and commercial customers
They require a deposit
Some long-distance moves experience delays
Advanced Moving and Storage offers a variety of local moving services, including:
Local moving: Advanced Moving services the Chicago area and is one of the top-rated movers in the state. For more local movers, check out our list of the top movers in Chicago.
Long-distance moving: Their services are available for residential customers throughout 48 states. Customers have a designated point of contact, and items are blanket wrapped and inventoried.
Commercial moving: Business relocation and storage services are available. They have experienced in modular furniture assembly, disassembly, installation, and reconfiguration. They take cautionary measures to protect commercial environments, including floor coverings and door jamb protectors. Union movers are available when required. Other specialized services include telephone system relocation, cabling and networking, inventory and equipment decommissioning, and disposal.
Commercial warehouse moving: They can move large inventories of equipment, heavy machinery and disassemble and reassemble racking systems. Short-term warehouse and distribution services are available and will handle incoming shipments on behalf of the client if needed.
Packing services: Optional professional packing and unpacking services are available before a move, which can be complete or partial based on the customer's needs. Special types of packing materials, including wardrobe boxes, are available.
Crating: They will create customized crates for transporting items such as granite tabletops or grandfather clocks. Crating is not included in the base pricing.
International moves: Efficient relocation capabilities are available for destinations worldwide.
Storage: Facilities are secured using ADT alarm and surveillance systems with climate-controlled units available. Wood storage vaults 7′ x 5′ x 7′ are a great small unit option.
How much does Advanced Moving and Storage charge?
The organization doesn't promote itself as the lowest-priced; instead, it emphasizes excellent service and dependability. They do refer to their pricing as "reasonable."
Advanced Moving has a streamlined quote request and moving process.
They calculate long-distance moving quotes on their website according to weight, distance to the new location, and the move date and use a similar process for local moves. Acceptable payment methods include cash, cashier's check, and credit cards including Visa, Mastercard, Discover, and American Express.
To get a free quote from other moving companies across the country, or just to get an idea of who much your move will cost, check out our moving cost calculator.
Customers have great things to say about Advanced Moving and Storage
Past customers report a streamlined and stress-free moving experience when working with Advanced Moving and Storage.
You can use the quick and easy online quote to enter basic information. They will receive a call from a representative regarding an estimate, which they will complete in-home or over the phone.
Use the phone number on their website to talk to one of their experienced moving team staff of Move Coordinators and Relocation Consultants. Representatives are available for customers on Monday through Friday from 8:00 a.m. to 5:00 p.m. and Saturday from 9:00 a.m. to 1:00 p.m.
The organization is accredited with the Better Business Bureau and currently has an overall A rating.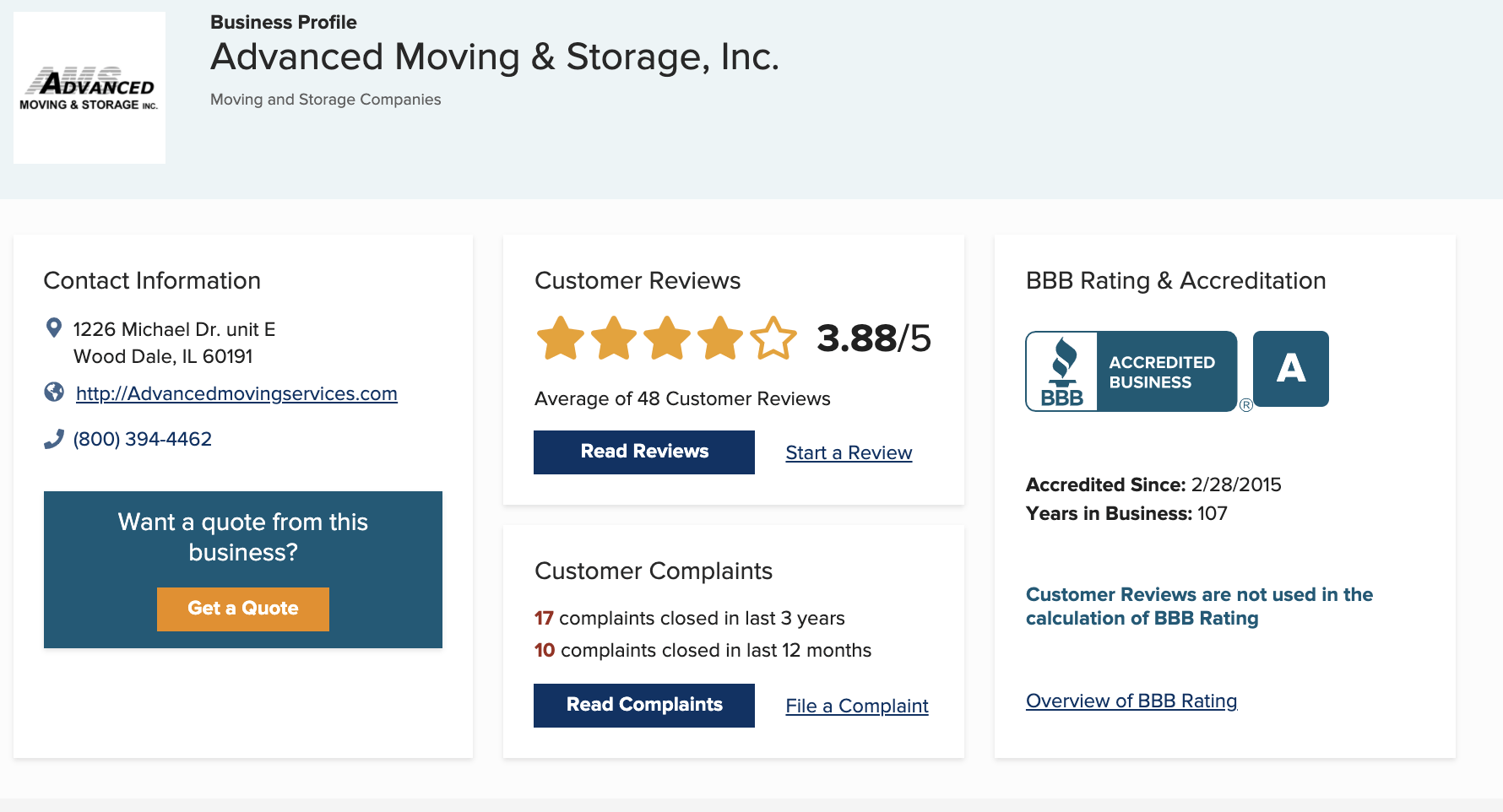 The BBB has received 17 complaints over the last 3 years and 10 over the last 12 months. The chart below is a summary of the categories of complaints received for the 3 years.
The following chart outlines the nature of the complaints received by the BBB.
| | |
| --- | --- |
| Type of Complaint | Number |
| Sales or Advertising | 0 |
| Billing or Collection Activity | 2 |
| Delivery Issues | 4 |
| Related to Warranties or Guarantees | 0 |
| Product or Service Problems | 11 |
Does Advanced Moving and Storage have proper licensing and insurance?
Advanced Moving & Storage Inc. is a licensed carrier (USDOT# 872553) authorized for transporting general freight and household goods.
According to the Federal Motor Carrier Safety Administration, they have zero reported crashes in the last 24 months. The organization maintains $750,000 in bodily injury and property damage insurance and cargo coverage. In 2018, the company had approximately four drivers that traveled an estimated 85,657 miles.
The company is a licensed motor carrier with the Illinois Commerce Commission (ILCC #1035). The ILCC file shows the company maintains property loss, property damage, cargo, and workers compensation insurance coverage. Agency annual report data shows that reported competing 1,180 moves in 2019 and 1,100 moves in 2018. Between May 2018 and May 2021, they received 9 total complaints.
Illinois Complaint Summary
| | | |
| --- | --- | --- |
| Intrastate Complaints (IL) | Interstate Complaints | Subject of Complaint |
| 2 | 0 | Lack of Crew Productivity |
| 2 | 1 | Property Damage |
| 0 | 1 | Holding Goods "Hostage" |
| 1 | 0 | Inadequate Equipment |
| 0 | 1 | Move Not Completed / Moving Day Dispute |
| 1 | 0 | Billing / Overcharges |
| 0 | 1 | Storage Concerns (Losses/Damage) |
Who should use Advanced Moving and Storage?
Advanced Moving & Storage, Inc. is one of the best local movers in the Chicago area providing residential and commercial moving services. The company is fully licensed and insured at the federal and state levels for interstate and intrastate transport.
The organization has a solid online presence, and data shows that they have a relatively low complaint rate for a carrier who completes thousands of moves annually. When you make a complaint, a company representative generally responds to make a genuine effort to resolve the problem or respectfully refute the allegation.
While a locally-based organization, they also complete many long-distance moves and offer international relocation services to a much lesser extent. They have full-service capabilities offering optional packaging, custom crating, and storage.
The company maintains a high-capacity storage facility in Chicago. They also have an impressive history of providing commercial moving and relocation services for businesses in Illinois. Advance Moving & Storage appears to be a good option, particularly for local projects.
If you're looking for a long-distance moving company, check out our list of the best interstate moving companies.
Not what you were looking for?
Check out other categories that can help you find the information you need!