Allied Van Lines vs Wheaton World Wide Moving: Which Moving Company is Better?
Overall Opinion: Allied Van Lines, based in Oakbrook Terrace, Illinois, was founded in 1928 and has since been merged with North American Van Lines to become a leading U.S. carrier. Similarly, Wheaton World Wide Moving, based in Indianapolis, Indiana, acquired Bekins Van Lines in 2012 to form one of the largest U.S. moving companies. As is the case with the Allied/North American merger, Bekins Van Lines operates as a separate brand.
For Allied Van Lines, we love the Allied Express Program, Advantage International Moving Program, Packing Calculator Tool, and the tremendous local agent network. The primary drawback is that they have some local agents with inconsistent quality movers that carelessly load items without regard for potential damage.
For Wheaton World Wide, we love their Priority Relocation Program, many discounts offered, and flexible options for Full Value Coverage.
Wheaton doesn't have the same service coverage area consistency that Allied does with local agents in most major markets.
Compare Allied and Wheaton to the moving companies on our list of best interstate moving companies and the best international movers.
Allied Van Lines vs Wheaton World Wide Moving: Pros and Cons
Allied Van Lines: Pros and Cons
What we love: The Allied Express and the Allied Advantage International Moving Program
Allied Express is a program geared to residential customers with smaller inventories of belongings that are seeking guaranteed delivery scheduling. A team of two to four movers arrives and professionally packs and loads a designated mobile storage container that will be transported to the destination. This portable storage container is comparable to what is offered by competitors including PODS and Pack-Rat. (see image)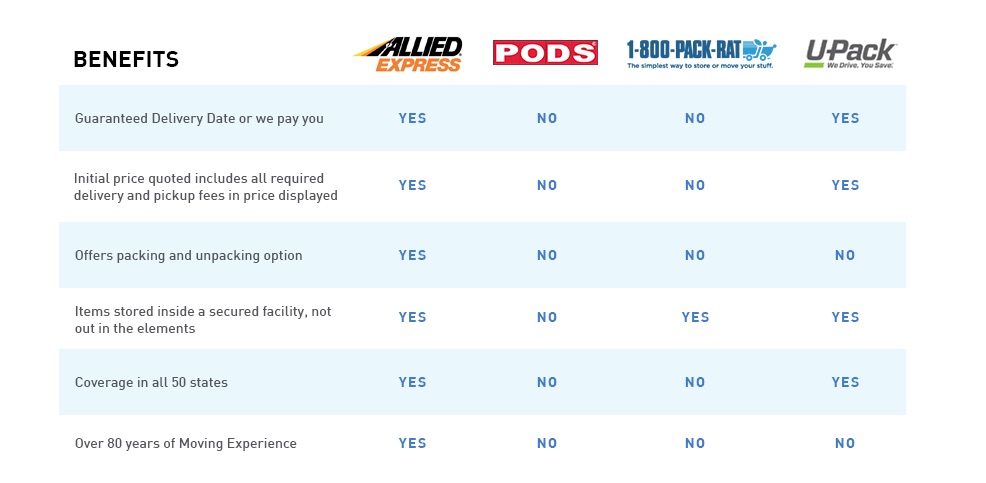 The Allied Advantage International Moving Program shows the organization's commitment to the international moving market. They have 40 countries with franchised locations. Customers are assigned a moving representative that assumes responsibility for ensuring the move is successful. Shipments can be easily tracked in real-time using an electronic tool.
What we don't love: Some local agents struggle with punctuality and have careless movers
Posted reviews from previous customers show that some of the local agents will arrive late for the pickup and some transports get delayed. In some cases, the customer support representatives don't have access to the current status of these delayed shipments.
Other concerns involve movers who fail to act cautiously when moving delicate items. Several complaints involved improperly loading heavier items on top of boxes containing breakable belongings. This results in property damage claims and dissatisfied customers.
Pros
The Allied Packing Calculator is a useful tool that easily allows customers to determine the number of moving boxes needed, whether any specialized containers are needed, and the packaging supplies to get the job done.
Allied has established an expansive network of local agents and has very few metropolitan areas that aren't serviceable.
The Virtual Moving In-Home Estimating tool is used as an alternative to having a representative come to the home or business in-person to provide a quote. In light of the COVID-19 pandemic, this option conforms to recommendations regarding social distancing by using a mobile device to compile an inventory remotely with a service professional.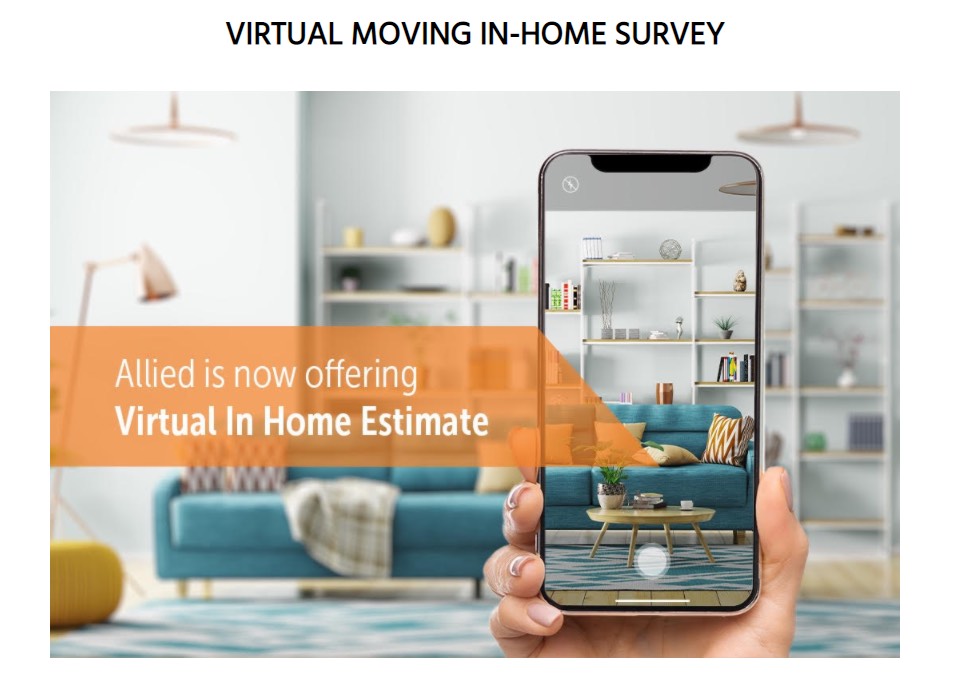 Cons
Rough estimates or ballpark prices are not available online
Storage capabilities across the local agent network are not consistent
Some customers have found the salespeople to be overly persistent (pushy)
Wheaton World Wide Moving: Pros and Cons
What we love: Wheaton's Priority Relocation Service and Many Available Discounts
The Priority Relocation Service is a premium option for smaller residential moves that expedite the transport and ensures security. The maximum size of a qualifying transport is 6,000 pounds. The customer's belongings are transported in a dedicated container and a $150 per day guarantee backs on-time delivery.
Wheaton is among the industry leaders in the number of discounts offered. These include pricing specials for off-season moves, discounts for NASMM members, reduced prices for retired federal employees, and many more.
What we don't love:
Wheaton has some major U.S. markets without a local agent. This can create a need for them to subcontract with third-party movers without an ongoing working relationship with Wheaton who may be of questionable quality. Some of these areas include Nashville, New Orleans, Jacksonville, Cleveland, Pittsburgh, Memphis, Las Vegas, and Louisville.
Pros
Wheaton is designated as a carrier in the General Services Administration Centralized Household Goods Traffic Management Program (CHAMP). The program provides federal civilian agencies to efficiently and affordably moving the households of employees.
Wheaton Logistics Services (WLS) handles specialty moving projects for commercial customers such as to move sensitive medical equipment, large industrial equipment, significant inventories of office furniture, and more.
The Full Replacement Value Protection Price offers a very flexible and straightforward approach to enhanced coverage (see image). Examples include deductible options of $0, $250, $500, and $1,000 with corresponding flat rates.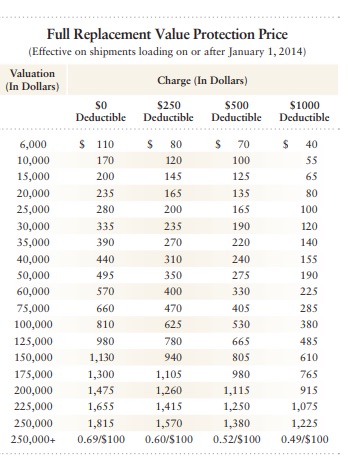 Cons
Some "gaps" exist in domestic coverage in large metro regions where a local agent has not been secured.
The terms of the Full Value Coverage agreement for items held in storage are confusing and seem to expose the customer to potential risks.
Several customers that filed a property damage claim found the process to be slow and complained that this department was not responsive.
Allied Van Lines vs Wheaton World Wide Moving: Service Offering Comparison
| | Allied Van Lines | Wheaton World Wide Moving |
| --- | --- | --- |
| Local Moves | Yes | Yes |
| Long Distance / Cross Country Moves | Yes | Yes |
| International Moves | Yes | Yes |
| Commercial / Corporate Moves | Yes | Yes |
| Military / Government Moves | Yes | Yes |
| Packing / Unpacking Services | Yes | Yes |
| Storage Services | Yes (see Express program) | Yes |
| Vehicle Transport | Yes | Yes |
| Moving / Packaging Supplies | Yes | Yes |
Our opinion: Even
Allied Van Lines vs Wheaton World Wide Moving: Service (Coverage) Area Comparison
Allied has local agents in most major U.S. markets. Wheaton does have some major metropolitan areas without a local agent within 100 miles. Examples in Nashville, New Orleans, Jacksonville, Cleveland, Pittsburgh, Memphis, Las Vegas, and Louisville.
Our opinion: Allied Van Lines has a superior local agent coverage network
Allied Van Lines vs Wheaton World Wide Moving: Pricing Comparison
Wheaton offers only "ballpark" pricing online and Allied requires speaking with a representative for pricing details
Our opinion: N/A
Allied Van Lines vs Wheaton World Wide Moving: Available Discounts Comparison
Allied doesn't currently offer any corporate discounts; however, local agents often do. For example, Coleman Worldwide Moving, a large agent in Alabama, offers discounts for the University of Alabama and Kennesaw State University Alumni Associations, and the employees of Troy University.
Wheaton offers a tremendous volume of discounts. Examples include those offered to the American Association of Nurse Practitioners, National Society of Collegiate Scholars, the New Jersey Business & Industry Association, retired federal employees, etc. Some of the discounts and benefits offered include:
Discounts for storage-in-transit services
Complimentary upgraded Full Replacement Value Protection coverage
Guaranteed arrival times for pickup and delivery
Assistance from a single designated move representative
Our opinion: Wheaton is unrivaled in the realm of discounts!
Summary: Allied Van Lines vs Wheaton World Wide Moving
Both of these organizations are viable full-service moving company options. They have both developed significant networks of local agents in the U.S. and can execute local, long-distance, and international moves. Neither company truly specializes in storage; rather, these capabilities are dependent on the local agent. Both have some clear weaknesses; however, they are well above average in this industry.
Not what you were looking for?
Check out other categories that can help you find the information you need!
See All
Hide All