College Football Stadiums vs. Home Value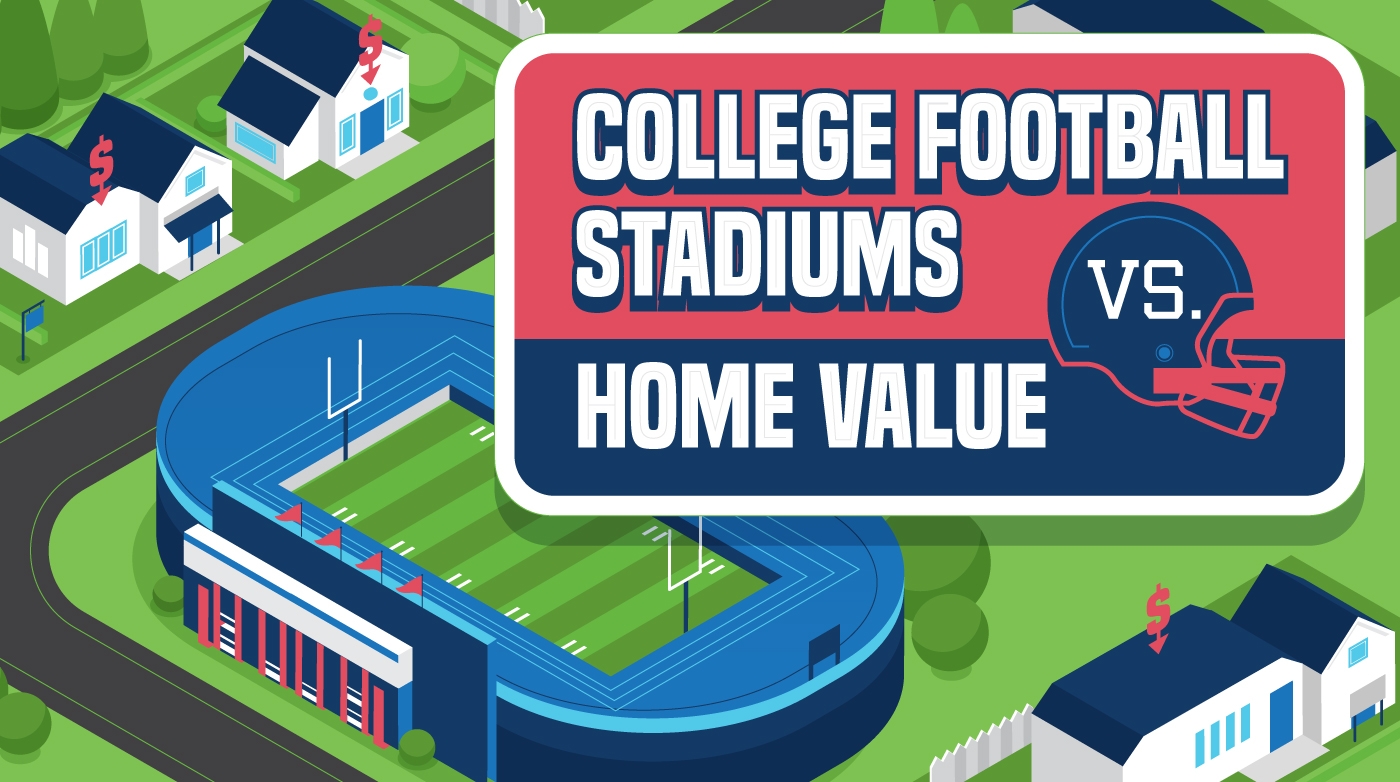 Typical college football game days are beautiful madness: hoards of super-fan tailgaters, team colors splashed over skin and painted onto signs, and inevitable flocks of avid fans piling into college stadiums. Given all the fanfare and money involved in D1 college football games, we wondered, could the presence of local football stadiums impact the value of homes in the area?
On the one hand, college stadiums and campuses are often surrounded by plenty of restaurants, shopping, and entertainment. These neighborhood amenities could easily boost the value of these stadium-area homes. On the other hand, all that football season foot traffic could make for an undesirable (and even unsafe) neighborhood, and a potential decrease in home value. 
According to one recent study, college sports fans are mostly college-educated and 1.6 times more likely than non-fans to have incomes higher than $100K. Furthermore, over half of these fans live within 50 miles of their team's college campus. This puts these particular fans in a great position to consider snagging a home next to their favorite college football team's stadium.
Alternatively, someone interested in investing may find value in acquiring stadium-area properties which they, in turn, rent out.
Whether as a permanent abode or a vacation rental, is owning a home near a college football stadium worth it?
In order to see if there was any impact on neighborhood home value thanks to nearby college football stadiums, we pulled the value of 2-bedroom homes in all of the cities where NCAA D1 college football stadiums are located and within the stadium-area zip code from the Zillow Home Value Index (ZHVI). We then compared home values between the city and the stadium area to uncover if any trends existed.
Click here to see our detailed Methodology.
Big Takeaways
A little party never killed nobody:

If you're worried that high numbers of tailgaters may bring down the value of your home, you can rest assured that college football game

attendance shows little to no correlation to neighboring home values.

In fact, there was an overall

increase

in the value of homes near the top 25 most attended D1 football stadiums. 

The bigger the city the bigger the price tag

:

Colleges in California and New York had a much higher average city home value

(shocker, we know), resulting in the biggest price

drop

in homes near their football stadiums.

Texas loves to show off: Rice University was #1 by a long shot for the highest increase in home value near their stadium with an almost $460,000 jump from the overall average city home value. Rice is in a notably ritzier area of Houston, TX and the numbers clearly reflected that.
Some college towns have neighboring home prices so much higher than the local average that only a superfan could justify such steep home ownership costs. In other towns, fans may jump for joy at the amount of money they're saving purchasing a home near the football stadium.
We dive into all the college towns that are winning in more than football.
Football Fanatics Take Over
It's one thing to live near a college football stadium, and it's an entirely other thing to live near a college football stadium with some of the most notoriously wild fans in the nation. Some college football fans are even considered to be downright annoying if you are in the area and not participating in the fun and games. 
To further explore the value of homes in seemingly-wild college towns, we pulled out the top 25 college football stadiums with the highest average attendance to take a closer look at what it costs to live near the heart of the action.
There seems to be no actual trend in the ZHVI difference in the cities of these highly-attended football stadiums, with both extreme positive and extreme negative spikes in the data.
There is, however, a very slight skew towards stadium-area homes having a higher value than the city average ($49,819.83 overall increase in stadium home value for the top 25 most-attended college game towns), but the numbers are pretty much all over the place.
For those who live for gameday madness and who wouldn't dream of missing their favorite team's home games, owning a house near the football stadium may be the dream. Superfans of the Texas A&M Aggies, LSU Tigers, and Nebraska Cornhuskers will be happy to know that owning a home near the stadium could pay off financially.
Whereas, it might be a better bet to guard a reasonable distance from the footballing action and stay away from homes near Ohio State University and the University of Alabama. These areas are great for what may be some of the country's wildest tailgates, but area homeowners will be paying more to be there.
The University of Michigan is #1
When it comes to average home game attendance, that is. An average of 111,459 fierce fans shows up each home game to cheer on the Wolverines. 
Homes surrounding the Michigan Stadium, or  "The Big House" as locals call it, cost $15,214.25 less than Ann Arbor's city average. This is great news for Wolverines fans looking to buy nearby. Living near the stadium could both save time (no more circling around in your car searching for parking), and money.
Fun football fact: Michigan Stadium AKA "The Big House" only has a seating capacity of 107,601 despite the average game attendance being 111,459. How's that? Game attendance counts more than just tickets sold; it also includes passes granted to stadium staff, players, coaches, journalists, and band members. 
The largest attended game reached a crowd of 115,107 on Sept. 7, 2013 against Notre Dame. (The Wolverines won 41-30. Our guess is home-field advantage.)
Why are homes around USC valued so low?
The University of Southern California (USC) in the heart of Los Angeles ranked the 23rd highest average home game attendance but has a significant price drop in the home value near the stadium compared to the LA city average. 
Homes near USC's football stadium are valued at nearly $225,000 less than the rest of the city! LA is already a buzzing city, so it can't be the noise of football crowds pushing the area's home value down. 
Not only is USC located in the 2nd biggest city in the country, but it's also in a part of LA's urban downtown with a reputation for being unsafe. However, that may just be perception.
For instance, in 2019 following an officer-involved shooting in Skid Row, the college newspaper, The Daily Trojan, posted an article explaining how USC needs to better educate its students on the local area they live in. They pointed out that though it is easy to label the surrounding areas off as "sketchy", many USC students likely have a predisposition of the community based on their parents' biases developed from riots that happened in DTLA in the 90s. This reputation follows the area surrounding USC and might contribute to the much lower ZHVI.
College town tip: 51% of USC students come from families in the top 10% of the wealth in the United States according to one New York Times study.
The 10 Most and Least Affordable College Towns
To dive deeper, we examined which college towns have the biggest differences between the home values near the stadium and the rest of the city.

Higher Value: These stadium-area homes cost more.
Homes near Rice University have the biggest jump in value compared to the city average with a $459,733 difference. However, Rice's football team may not be the reason why. This area is the 3rd richest neighborhood in all of Houston, TX, and has been ranked as one of the best cities to live in by 24/7 Wall St.and even featured as one of the top suburbs for the Young and Wealthy.
Stanford University, a mecca for higher learning came out far above the rest with the most expensive homes of the 254 schools on our list. Whether it's the historical and prestigious university or the tech moguls in the region putting down roots, 2-bedroom homes in the stadium zip code average a hefty $1,660,615.
If you're a football fan intent on having a home near your favorite team, a Stanford fan may find it more worth it to change teams rather than invest in a house near this stadium.
Lower Value: These stadium-area homes cost less.
On the flip side, the cost of homes plummets for those situated around Fordham University in the Bronx, NY. The average home value in "The Big Apple" is $785,684, while houses near Fordham University's Jack Coffey Field run around $276,814. That's a half-million-dollar drop in price for living closer to the Fordham football field. 
This year, New York City reclaimed its number one spot from San Francisco as the city with the most expensive rent in the US. Right now, the average monthly rent for a one-bedroom apartment in the city is running at $3,825. This makes the extreme discrepancies from neighborhood to neighborhood within NYC all the more interesting.
It seems that this significant negative drop in home value near Fordham University is due to a situation similar to that which follows USC. New York is the largest populated city in the US and is the epitome of an urban jungle. With this urbanism ultimately comes more areas being labeled as "unsafe" due to events that have occurred over past years.
Neighborhoods in the Bronx have had a bad reputation for decades. While a private school, the neighborhood in which Fordham is located specifically was listed as the 10th most dangerous neighborhood in all of NYC. 
The University of Arkansas – Pine Bluff has the least expensive nearby homes valued at only $20,689. It's common knowledge that cost-of-living differs from state to state, but it is pretty shocking to see the numbers laid out.
Methodology
🏈 Football Stadiums
Using the

NCAA's yearly report from 2019

(the most recent year for which there is complete football season data), we compiled a list of all

D1 FBS (Football Bowl Subdivision) and FCS (Football Championship Subdivision) teams

and their average home game attendance.

We then pulled the zip code for each corresponding football stadium using the address provided. 
🏠 Home Value
Home Value:

2-bedroom homes by zip code

using the

Zillow Home Value Index (ZHVI)

.

We used the data from 2019 as this is the year our NCAA football data was from.

For our analysis, we computed the average ZHVI in each city where a D1 college football stadium is located. We then subtracted the city average ZHVI from the ZHVI in

only

the zip code where the football stadiums are.

(ZHVI in stadium zip code) – (Average ZHVI in the city) = DIFFERENCE

There were a handful of football stadiums with no 2-bedroom homes within the same zip code and therefore no data. In this case, we used

Zipdatamaps

to find the next-closest zip code to the football stadiums.

Ex: Army West Point is a military base so it has its own zip code – there are no homes for sale within the same zip code.
Not what you were looking for?
Check out other categories that can help you find the information you need!
See All
Hide All