What is the cost of living in Washington DC?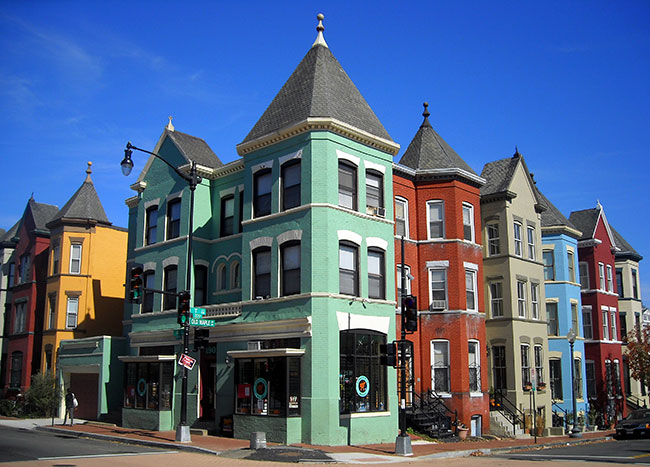 Here's the situation:
Washington DC is the 3rd most expensive city in North America according to Expatistan.com's cost of living calculator.
Comparing it to similarly populated cities, DC's high cost becomes even more apparent.
Based off out graph, you can see that DC is a whopping 57% more expensive than Nashville, 50% more expensive than Milwaukee, 37% more expensive than Denver, and about 5% more expensive than Seattle.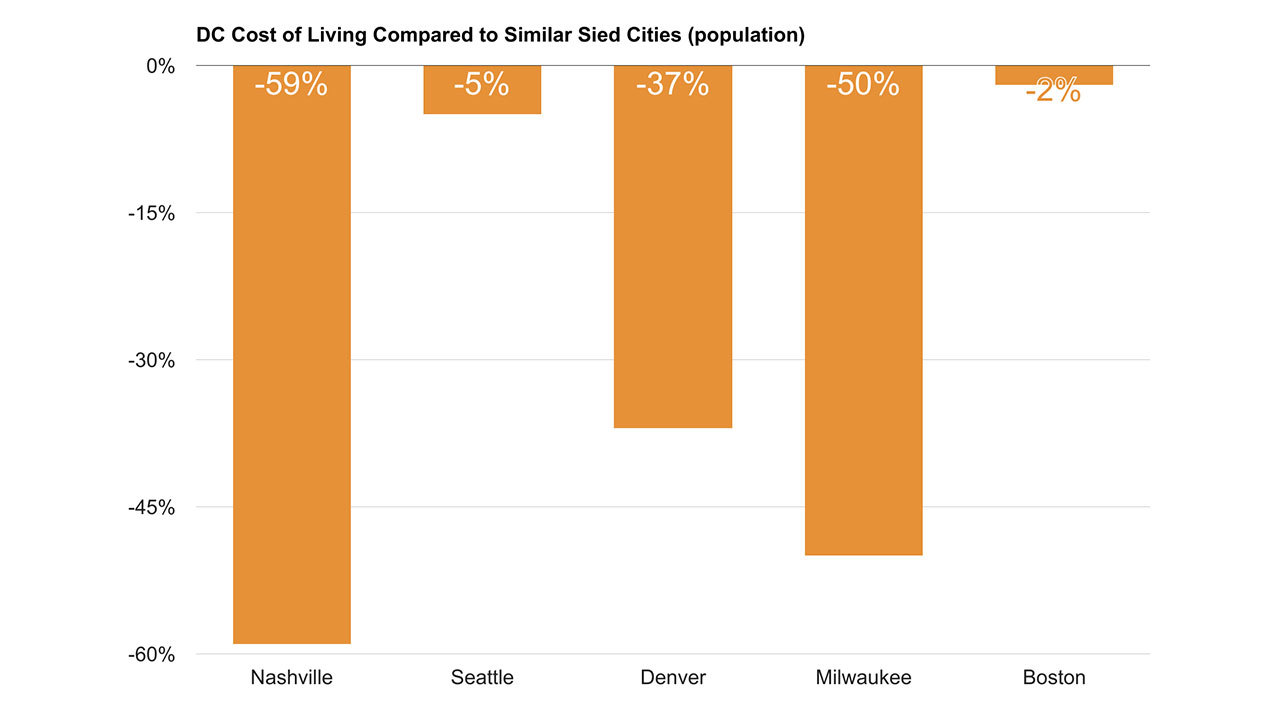 As you can see, the only similarly sized city that comes even close to improving on DC's cost of living is Boston, which is only 2% cheaper. But Boston's infested with Afflecks and Wahlburgers, so that small of a difference may not be worth it…
These stats are further reinforced when you look at costs of specific expenses compared to their national averages.
While the margins aren't staggering, almost everything (particularly housing) is more expensive in DC.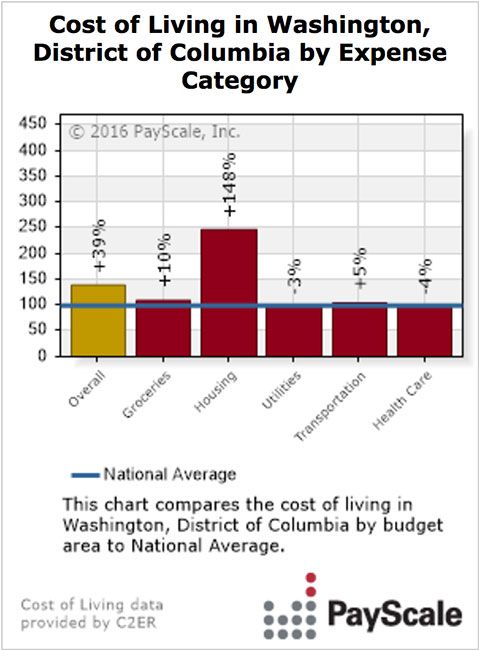 So yeah, DC's pretty pricey but it's good to remember that high averages don't mean affordable options aren't available.
Keep in mind, the Northeastern US is already a pretty expensive place to live. The high base costs of the Northeast combined with being in one of the nation's largest metropolitan areas create the perfect storm of living expenses.
You get pretty similar results when you compare DC to nearby major cities. The only city more expensive than DC in the area is New York City.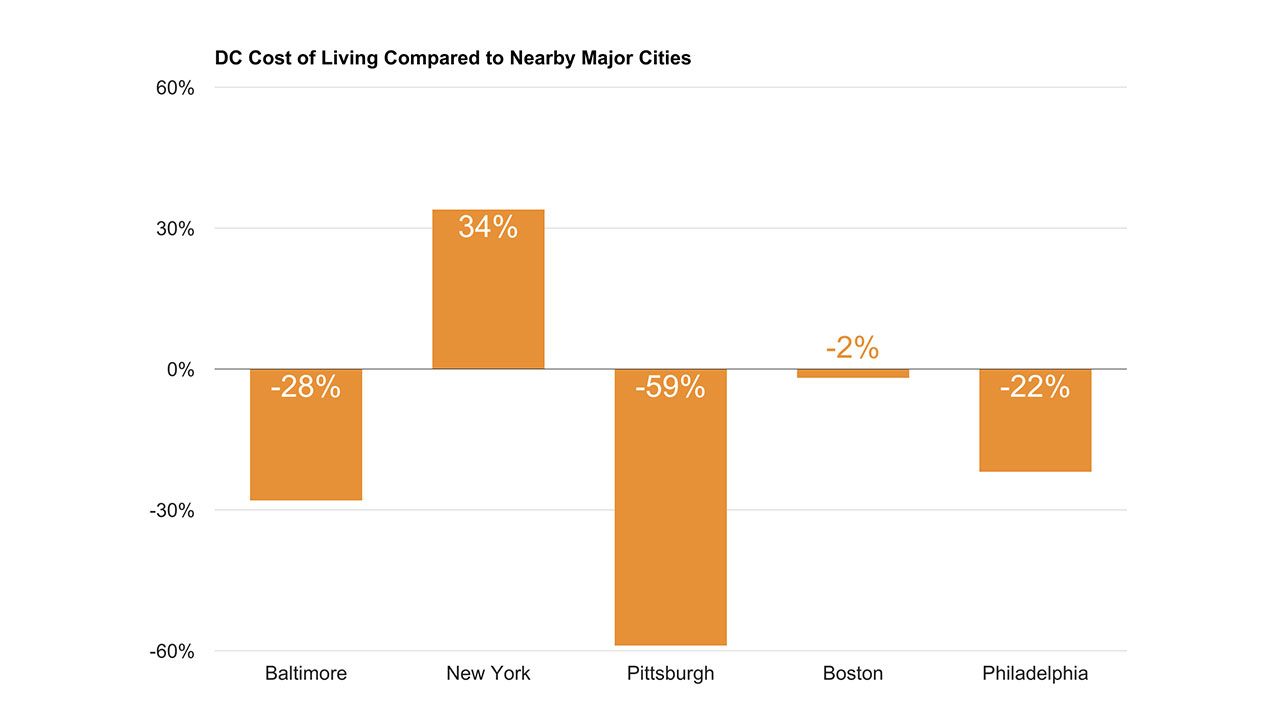 Pretty much any of the nearby major cities besides New York City are going to be cheaper options.
Okay, we get it, DC is expensive. But how much are we talking?
Here's a detailed breakdown of the cost of living in Washington DC
Now that we've established the big picture, let's get to the core of exactly how much you're going to be spending on a monthly basis to live in DC.
Short answer: You're gonna be spending around $1,683 to $2,890 depending on your lifestyle.
Now let's take a bit of a deeper dive into the numbers.
Housing: $1,400 – $2,727 per month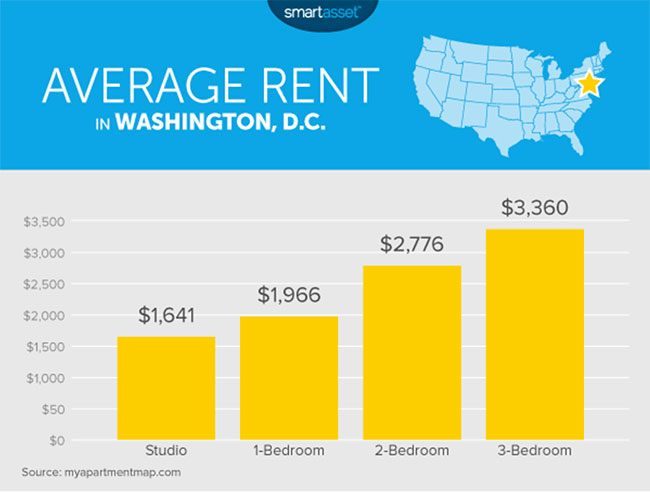 Your rent's gonna run around $1,641 if you plan on living alone and (an only slightly better) $1,400 with roommates.
These prices are pretty high, even for an area of the country with famously high cost of living. In fact, NUMBEO has DC listed as having the 9th most expensive one-bedroom and the 4th most expensive three-bedroom rent in the country.
Pretty much anywhere you look in the Northeast is going to be more reasonably priced: DC's $2,200 average is easily beaten by Philadelphia ($1,445), and Baltimore ($1,200).
Not only is DC's rent comparatively high, but it's rising faster than anywhere else in the country.
Check out our DC neighborhood guide if you want help finding a spot to live in the city.
Utilities: $95 – $163 per month
Living in the Northeast, the weather is not going to be your friend. When it's cold, it's cold. When it's hot, it's hot. You're gonna be running your heat and air conditioning for the majority of the year and that's going to lead to some high utility bills.
Internet: $27 – $67 per month
Being a hub of business and politics, internet access is absolutely vital to DC. Because of the high demand, DC has the 3rd most expensive internet in the country. Fortunately, there's a wide range of options that makes finding someting affordable at least somewhat possible.
Groceries: $380 – $430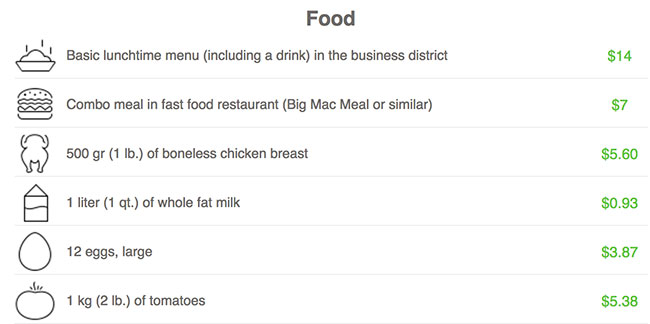 According to Smart Asset, the mimimim you should be expecting to spend on groceries in DC each month is $380. This isn't too outrageous, but DC does have the 3rd most expensive groceries in the country.
Numbeo has a pretty great breakdown of what your basic monthly grocery expenses will look like too. And here's a recent study from Washington's Consumer Checkbook detailing each local grocery store's price and quality rankings.
Transportation: $165 – $380 per month
You'll begin to notice a theme developing here when we tell you that DC has the most expensive public transportation in the country. Still, that high price does get you a pretty good public transit system and a downtown that's very walkable.

Recently, the Metrorail has taken steps towards decreasing these transportation costs as well, offering a new SelectPass program that gives members free and discounted rides with plans costing $81 or $135 per month, with the option to pay an additional $45 for free bus rides.
Bottom Line: You'll probably be spending somewhere between $1,683 to $2,890 on basic living expenses in Washington DC
It's also extremely important to be aware of your area's tax laws. Washington DC's sales tax is 5.75%, and they have a five-stage bracketed system for income tax ranging from 4% to 8.75%.
Besides taxes, your costs and earnings can vary wildly depending on your current lifestyle situation. Whether you're single, living with roommates, or have a family, the MIT living wage calculator will do a great job of helping you figure out exactly what your expenses are going to be.
If you're looking to live in one of the busiest, most influential cities in the country, moving to Washington DC should be an obvious choice! Particularly when other major metro areas like NYC and Philly are an afternoon's drive away…
And if you're trying to budget for a move within the city, be sure to check out our Cost of Moving in Washington DC Guide.
---