COWs Mobile Storage Company Review
Overall Opinion of COWs Mobile Storage: The COWs brand is colorfully promoted and they have had success rapidly establishing franchises across the country. Overall customer satisfaction levels are good.
The containers are delivered and parked for loading. The customer may load the unit themselves or have assistance from COWs before a driver will return to pick up the container. After picking up the container it may be stored at a COWs facility or brought to a destination.
Jump to the COWs Mobile Storage review section that you're looking for:
COWs Mobile Storage: Moving Services Available:
Container On Wheels (COWs) Moving and Storage was founded in 2009 and is headquartered in Homestead, Florida, which is also where its portable storage containers are manufactured. The organization was already producing marine storage containers for commercial usage before entering this market. The company now has more than 100 franchise locations across the U.S. that serve residential and business customers.
Local Moves: Typically, a 16-foot container is used for moves within the same (local) region. The initial estimate will typically include a flat-rate delivery fee that includes 25 miles and a per-mile fee applies for additional distance.
Long-Distance Moves: An eight-foot container is used for long-distance and cross-country moves. Customers can contact their representatives for updates during the transport process. Loading, unloading, and other optional services are also available for long-distance moves.
Commercial Moves: Larger businesses may request multiple containers if needed. A representative from COWs offers personal services for commercial customers that are customized based on their specific needs and circumstances. The company also promotes its employee relocation services and assists active military members.
Do-It-Yourself (DIY): When (DIY) service is selected, the customer is responsible for all loading and unloading of the container. Containers are always transported exclusively by a driver provided by COWs.
Hybrid Service: The customer will load or unload the container with some assistance from COWs staff. Many customers will choose to use hired labor for moving large and heavy items.
Full Service: When the full-service option is chosen, all labor for loading and unloading is provided by COWS team members.
Storage Service: COWs will pick up a storage container that has been loaded and safely place it in a secured indoor storage facility. Storage services are available for both short or long-term needs.
Remediation & Restoration: COWs has been actively establishing local relationships with companies that offer recovery and restoration services for residential and business customers. Customers who suffer property damage from fires, storms, and mold often will use portable containers to store belongings while remediation work is underway.
Home Staging: Homeowners who are preparing to sell their property may use a portable storage container to declutter their homes. In some cases, realtors will recommend staging the home in ways that are appealing for photos and other marketing activities.
Two Sizes of Containers Available
COWs currently offer only 8 and 16-foot long container options. Both types are 8-feet tall with the wheels attached and are 80 inches wide. The 8-foot option is mostly used for one-way and long-distance moves.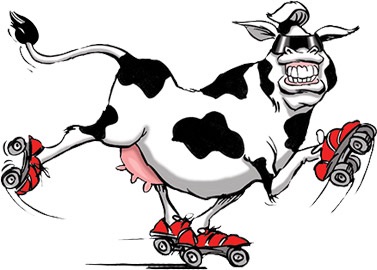 The Good: Affordable Pricing and Good-Quality Containers
Customer feedback suggests they are very competitively priced, particularly in projects with local destinations. COWs manufacturers its containers in Florida, which are sold or leased to franchisees. The translucent roof that is used allows for natural light is both a unique and useful feature. The company boasts that the frames of the container are constructed using durable steel.
The Bad: Inconsistent Service Options and Customer Service Among Franchise Locations
Since 2009, COWs have added many franchise locations across the U.S. each year. While this growth shows that they have a solid business model, the quality of the staff and customer service is sometimes mediocre. Some of the local franchises also offer a wider variety of additional services than others.
---
Pros:
Unlike some of their competitors, the containers feature sturdy steel construction and are mounted on polyurethane wheels that won't harm most surfaces
The storage units have translucent roofs that allow for natural sunlight to enhance daytime visibility and reduce the need for external sources of lighting
Same-day drop-off and pickup service is often available
Customers have the option of adding a variety of services including assistance with loading or unloading the storage units
The organization began a COWs Cares program that supports various charities in local communities
Cons:
Prices and service offerings aren't consistent among different franchises throughout the county
This is a relatively new company that is going to experience some "growing pains."
The currently don't have franchises in Alabama, Alaska, Connecticut, Idaho, Iowa, Maine, Minnesota, Missouri, Mississippi, Montana, Nebraska, Nevada, New Hampshire, North Dakota, South Dakota, South Carolina, Tennessee, Washington, West Virginia, and Wyoming
Online estimates often require a call back from a local representative; however, some locations do calculate immediate quotes (see COWs of Delaware price quote below)
Obtaining an instant online quote is possible through some of the local webpages of COWs franchises. The following quote was obtained from COWs of Delaware:
| | |
| --- | --- |
| Monthly Rental of a 16-Foot Portable Storage Unit | $229.00 |
| Delivery to a Location Within 25 Miles | $79.00 |
| Additional Delivery Cost Per Mile (exceeding 25) | $4.00 |
Some locations will offer daily and weekly rentals of portable storage units in addition to monthly plans.
Insurance Coverage
Many of the local franchises have insurance programs available for purchase in the event of burglary, vandalism, fire, etc. For example, the Orlando, Florida location offers simple monthly costs and deductibles as follows:
| Coverage Limit | Monthly Payment | Deductible Amount |
| --- | --- | --- |
| $2,000 | $12.00 | $100 |
| $3,000 | $16.00 | $250 |
| $5,000 | $22.00 | $250 |
| $10,000 | $39.00 | $250 |
| $15,000 | $55.00 | $500 |
Customer Reviews & Feedback
The headquarters branch in Homestead, Florida has a rating of 3.6 of 5 on Google. The primary complaint involved poorly communicating with customers regarding the specific time when the container will be delivered and picked up.
The Cows of Abilene, Texas location has a rating of 3.8 of 5 based on customer feedback. The majority of reviews were positive for the exception of a delay in service when the franchise was transitioning to new ownership. Customers praised the staff by name for their responsiveness and excellent customer service.
The location in Homestead, Florida has some critical customer feedback on its Better Business Bureau (BBB) page. One customer explained that he rented a storage container for four months that was placed in a grassy area that was damp and muddy. When the items were removed, several of them had developed mold from prolonged exposure to moisture. In response to the problem, the location manager gave the customer two of the four months for free.
Should You Consider COWs Mobile Storage for a Move?
COWs added the majority of their locations recently; therefore, customer reviews and feedback are few and far between. They maintain their manufacturing operation of the portable storage containers and appear committed to using quality materials and construction. The organization is rapidly emerging as an industry leader that is a good overall option.
Not what you were looking for?
Check out other categories that can help you find the information you need!
See All
Hide All