Cuffing Season: 25 Cities to Find Your Very Own Winter Cuddle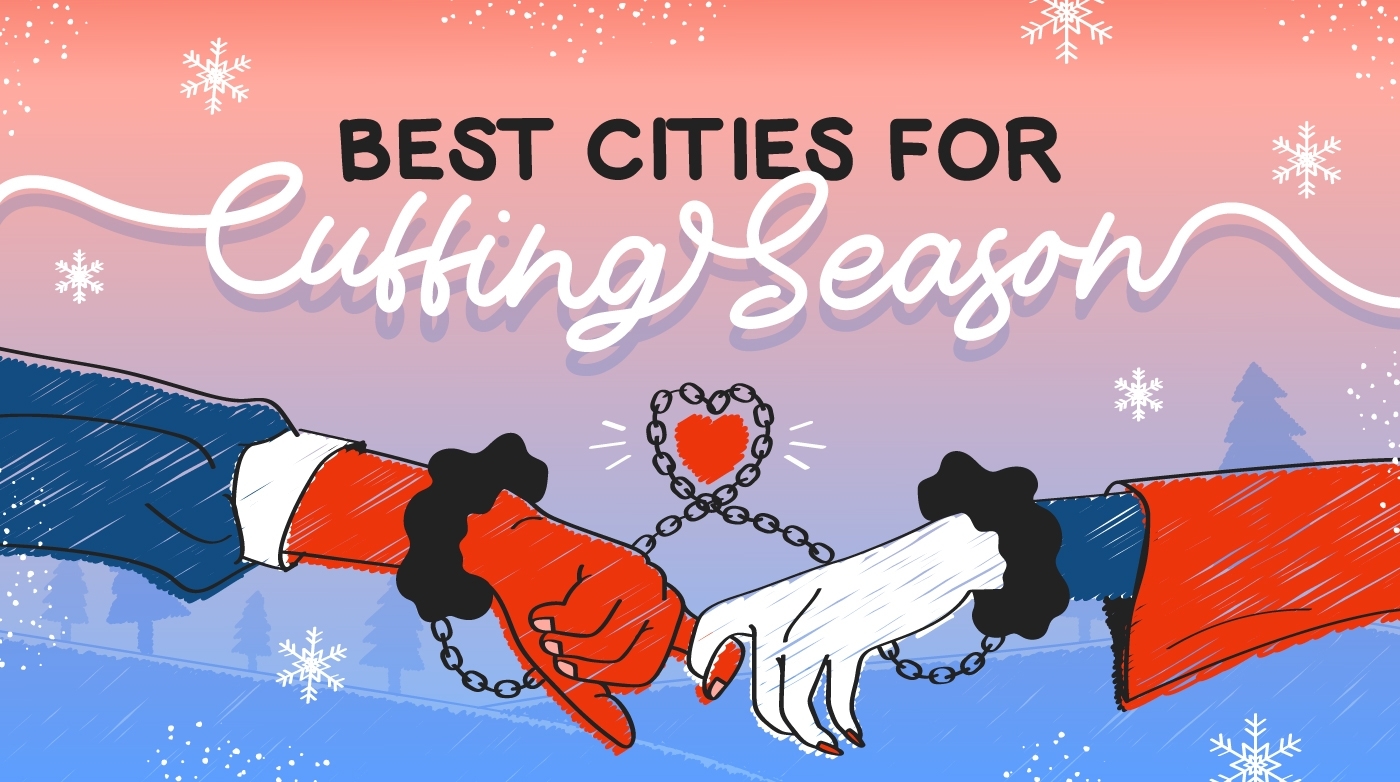 With the holidays upon us, Cuffing Season is now in full swing.
October to Valentine's Day is the time of year when even the most fiercely independent singles may start to long for the comfort and warmth that a romantic partner can provide – even if it's just to tide them over 'til spring.
While Cuffing Season is not a scientific term, there are a few studies that can help explain why players and hermits alike may seem uncharacteristically eager to couple up come winter. Research suggests that cold weather causes us to feel lonelier, and film studios have long understood that. Especially after nearly two years of pandemic-imposed social isolation, cuffing has never seemed comfier.
We wanted to know: where do cold weather, a young population, and ample activities combine to make for a seasonal boom in the dating market?
If you're young, vaxxed, single, and ready to mingle this Cuffing Season, here are the top cities where you're most likely to find someone to cuddle with through the long winter nights.

Key Takeaways
College towns near or above 40° of latitude are the places where summer singles may be most eager to form a cold-weather couple. Our top 10 cities all fit this description.
Ann Arbor, MI is the #1 city for coupling up this winter. Not only is nearly half of the population aged 18-34, but Ann Arbor has over 193 restaurants and 25 museums per 100k residents, meaning you'll have plenty of places to pick between for date night. Here, the odds are especially in favor of single girls seeking single guys: the population is 48.5% female to 51.5% male.
Syracuse, NY is the best place to be a single guy seeking a single girl this winter. In addition to being rated the #5 best city for Cuffing Season, here the population is 53% female to 47% male. Ladies seeking a gentleman friend this winter will find the odds are in their favor in Salt Lake City, UT, where 53% of the population is male.
If you prioritize compliance with COVID-19 protocol in a partner, Madison, WI is the best place for you to let a new love interest into your social bubble this winter. In addition to being ranked #4 on our list of Cuffing Season cities, over 87% of the adult population in Madison is fully vaccinated.
The Stuff of the Cuff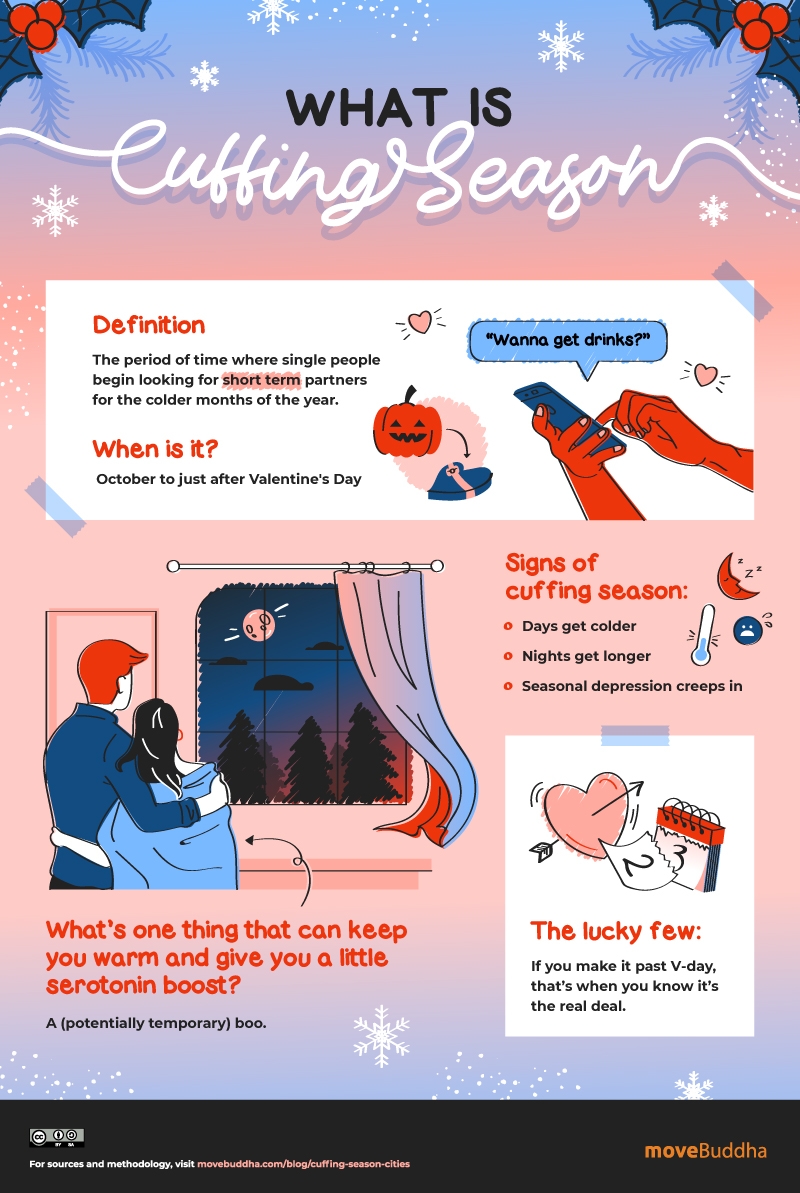 Cuffing Season: What We Analyzed
To determine which locations are ideal for quickly finding someone to smooch under the mistletoe, we analyzed American cities with populations over 100k for the following criteria:
1.     Where is it cold af?
Cuddling is a survival mechanism for people living in places with low average winter temperatures and high annual snowfall.
2.     Where are there plentiful date night activities?
Looking to finally meet up with the cutie you've been chatting with on Tinder? We analyzed which cities have the highest densities of coffee shops, restaurants, and museums, as well as the average price for a three-course meal.
3.     Where are the demographics favorable for young singles?
We scored cities according to the concentration of young people (ages 18-34), as well as the gender balance and the number of young singles living on their own.
4.     Where are there high rates of vaccination?
For those who are looking to catch feelings and not COVID this winter, we scored cities based on regional vaccination rates.
Read more about our methodology and sources here.
The 25 Best Cities: Get mingling in the Midwest
If you're feeling cold and lonely in the Midwest this winter, you're not alone.
And your chances of quickly locking in a New Year's kiss may be better than you think.
Our analysis shows a distinct cuffing cluster of 18 cities between Omaha, NE and Syracuse, NY. In particular, each of Ohio's six most populous cities appears in our top 25.

Campus cuddle buddies
College towns fare especially well in our ranking of the best cities for Cuffing Season. In fact, nearly every city in our top 25 is home to a major university.
For instance, Ann Arbor, MI is not only the top city on our list, it is also home to the University of Michigan and well-known as America's best college town. Joining it in the ranks are other cold-weather college towns such as Rochester, NY (University of Rochester);  Buffalo, NY (SUNY Buffalo); Madison, WI (University of Wisconsin-Madison); Syracuse, NY (Syracuse University); and Minneapolis, MN (University of Minnesota).
Looking for love from snowy Syracuse to balmy Berkley
Syracuse, NY is the most wintery location in our top 25, with winter temperatures averaging between 30° and 37°F and annual snowfall exceeding nine feet – among the snowiest places in the USA. If you're going to spend multiple months of the year snowed in, you may as well have some company.
On the other end of the spectrum is Berkley, CA, where wintertime temperatures linger between a brisk 47° and mild 59°F and snow is the stuff of urban legends. Berkley made it into our top 25 by way of its strong Couple Activity and Cuffing Demographic scores as well as its above-average vaccination rate.
Doing date night right
The mention of Dayton, OH may not conjure up romantic fantasies in the way that Paris or New York can, but it's actually an excellent place for a date. Ohio's sixth-largest city has a whopping 118 coffee shops and 174 restaurants per 100k residents (the list averages are just 70 and 109, respectively), so you can be confident that you can always find a romantic table by the window. On top of that, a three-course restaurant meal for two in Dayton only costs $50, whereas the list average is $62. So it may not set you back too bad if you grab the check in order to impress your date.
Among our top 25, Boston, MA ranks the most poorly in terms of couple activities. While Beantown abounds with eateries and museums, their density relative to the population is quite low, making for large crowds. And furthermore, it may be best to go dutch when dining in Boston; here, a three-course meal (for two) costs an average of $90.
Cuffable dating pools
In terms of cuffing demographics, Denver, CO is the best city for young singles to find a boy- or girlfriend by the holidays. Not only is 31% of the population of the Mile High City between the ages of 18-34 (the national average is 23%), but nearly half of them are single and living on their own. Furthermore, Denver has a nearly even split of men and women, making your chances of scoring a date good no matter which team you bat for.
If you're looking to find a girlfriend, your best shot is Syracuse, NY. But if it's a boyfriend you're after, Salt Lake City, UT is the place to be. Both of these cities have comparatively high gender disparities: 53% of the population in Syracuse is female, whereas 53% of the population in Salt Lake City is male.
Flirty, fab, and jabbed
Dating in a pandemic is hard. But it might be a bit easier in Madison, WI, the #4 best ranked city for Cuffing Season as well as the most highly-vaccinated among our top 25. Dane County boasts Wisconsin's highest vaccination rate: over 87% of the adult population.
Those who are COVID-conscientious and dating in Dayton, OH, however, should be extra-vigilant when it comes to asking about the vaccination status of their potential love interests. Here, only 62% of the adult population is fully vaccinated, which lags significantly behind the national average of 72%.
Methodology
We limited our analysis to cities with populations exceeding 100,000 according to 2020  estimates.
We analyzed four categories of data: Wintery Weather, Couple Activities, Cuffing Demographics, and Vaccination Rates. For each category, cities were assigned a relative score of 0-10. Final rankings were determined by averaging the scores from all four categories.
Only cities for which we could obtain complete datasets were included in the final ranking.
Not what you were looking for?
Check out other categories that can help you find the information you need!
See All
Hide All