Moving Experience: Hitesh's Move with Dumbo Moving and Storage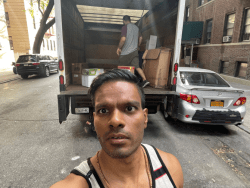 After years of living in New York, Hitesh and his partner were ready for a change. Luckily, Hitesh's new job allowed him to work remotely, so the pair set their sights on Denver, Colorado.
While doing pre-move research, Hitesh used our moving cost calculator to prepare a budget and compare highly rated long-distance moving companies, but in the end, he chose NYC-based Dumbo Moving and Storage.
The company came through with a quote that was thousands lower than the competition, and Hitesh liked that they were active in the community and accredited with the Better Business Bureau (BBB).  That said, going with Dumbo was a bit of a leap of faith because the company is primarily a local mover.
To take advantage of a $500 relocation stipend and help anyone planning a move like his, Hitesh participated in our Better Moves Project by documenting his experiences. So did Dumbo deliver, or did Hitesh regret not going with another company?
In this post, we'll look at what went well on his move (spoiler alert: he had a positive experience), what didn't go so well, and what he learned along the way.
Move day takeaways for Dumbo Moving and Storage customers
Communication: There were a few minor misunderstandings on Hitesh's move, but he gave the company four out of five stars for communication
Pricing accuracy and transparency: Hitesh underestimated the number of boxes he'd have and had to pay for a

shuttle

in Colorado, but his final move cost was just a few hundred dollars more than the original estimate
Timeliness: Dumbo delivered Hitesh's household items in just eight days. This is a surprisingly quick turnaround time on a small, long-distance move during the

peak summer season

Professionalism: Hitesh was generally pleased with the experience, helpfulness, and professionalism of the company's office staff and movers
Loss and damage: Only a few items were damaged (it was minor), and nothing got lost on Hitesh's move
Would Hitesh use Dumbo again? Yes, Hitesh would consider using Dumbo again if he moved in the future
Hitesh needed a change of scenery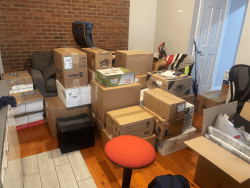 Hitesh and his partner had been dreaming of distant horizons for months before their move, and Denver seemed like the perfect remedy for their Big Apple blues.
Their move was relatively straightforward, but they were moving nearly 1,800 miles in the summer when most moving companies are stretched to their absolute limits. Price was an issue, but they were determined to work with an experienced company that communicated effectively and had transparent pricing. They were also concerned about loss and damage, pick-up and delivery delays, and how they'd live without their "stuff" while it was in transit between New York and Denver.
Hitesh's move at a glance
| | |
| --- | --- |
| Move date | August 29, 2022 |
| Moved from | New York, New York |
| Moved to | Denver, Colorado |
| Distance | About 1,800 miles |
| Move size | 1.5 bedroom apartment |
| Moving company | Dumbo Moving and Storage |
| Moving quote | $3,550 |
| Actual cost | $3,793 (Hitesh had more boxes than expected and had to pay for a shuttle in Denver) |
Hitesh also gave the movers a $400 cash tip (cha-ching!) for a job well done.
Hitesh liked Dumbo's positive reviews and low quote
Hitesh knew about his move nearly four months in advance, but he was able to find his mover of choice in just a week.
He relied heavily on moveBuddha while searching for suitable long-distance movers because it was the easiest place to compare ratings and reviews without jumping from site to site. Hitesh's two other quotes were significantly higher than Dumbo's, and he was impressed with the company's positive reviews, overall professionalism, and the care his customer service representative took while preparing an inventory during their video survey.
Here's how Hitesh's quotes looked:
| Moving company | Move type | Estimated cost |
| --- | --- | --- |
| Dumbo Moving and Storage | Full-service | $3,550 |
| Piece of Cake Moving and Storage | Full-service | $5,500 |
| American Van Lines | Full-service | $7,000 |
Dumbo's quote included loading and unloading labor, transportation from New York to Colorado, a fuel surcharge, and basic released-value coverage of .60 cents per pound per item. Instead of purchasing full-value replacement coverage through Dumbo, Hitesh bought a supplemental policy through third-party insurer MovingInsurance.com.
With his move date rapidly approaching, Hitesh didn't waste any time booking his move and paying a 50% deposit by credit card. Once he'd signed on the dotted line, Dumbo confirmed his move details, told him what to expect on move day, and provided information on how to pack boxes to avoid damage. This was especially helpful since Hitesh and his partner were doing their own packing to save money.
They prepared by getting organized, packing a few boxes at a time, and creating an Excel spreadsheet to keep track of each carton and its contents to make delivery and unpacking as efficient as possible. Their only specialty item was a synthesizer keyboard that Hitesh wrapped in bubble wrap and repacked in its original box.
Moving day was quick and easy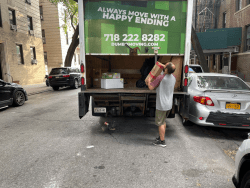 Hitesh got a text on moving day (August 29th) informing him that his crew was on the way. They showed up promptly at 8 AM, took a quick look around, and got down to business by disassembling tables and beds and wrapping loose items and furniture in moving blankets. While they worked, Hitesh and his partner packed a few last-minute things, answered their questions, and helped move a few boxes to make extra space in the apartment.
The only slight hiccup was that the driver's box count was nearly double what Hitesh had estimated. Hitesh thought he'd have about 20 cartons, but the actual number was closer to 40. This wasn't a huge deal, but the higher volume slightly increased Hitesh's final cost. Other than that, nearly everything went according to plan. It took the crew just four hours to load the truck, and Hitesh paid the remaining balance in cash before they left.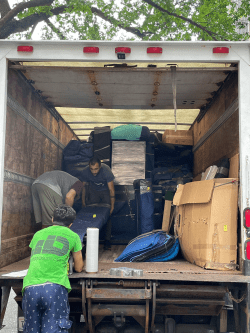 There were a few minor issues on delivery day
Dumbo provided Hitesh with a helpful shipment tracking link so he always knew where his things were. Hitesh was pleased with the truck's westward progress, but he still thought he'd have to wait a few weeks before his items were delivered based on the distance (1,800 miles) and timing of his move.
Then, seven days after his things had been picked up in New York, he got a text informing him that the movers would arrive at his new place the following day. This was a welcome surprise, but Hitesh also learned that he'd have to pay an additional shuttle fee because the parking lot at his new apartment complex wasn't big enough to accommodate the moving van.
Shuttles are common when moving into and out of apartment buildings. Still, Hitesh wasn't expecting the last-minute notification or additional charges because he'd shared his new address with Dumbo a month in advance. Thankfully the shuttle fee was minimal, and the crew worked quickly and carefully. Unloading took just a few hours, but a few items had been damaged between New York and Colorado. A few days after settling in, Hitesh emailed pictures of the damage to Dumbo and submitted a separate claim with MovingInsurance.com.
Did Dumbo Moving and Storage make the grade on Hitesh's move?
In general, Hitesh's move went as expected.
To recap, Dumbo came through with the following:
Effective communication
An ultra-fast delivery time of just eight days (this is exceptional on a small 1,800-mile move during the peak moving season)
No loss and only minimal damage
A low quote that saved Hitesh thousands of dollars over the competition
If he could change anything, Hitesh would have liked to know about the shuttle charge in advance, and it would have been nice to be able to update the box count on his inventory online to see how the increased volume affected his moving cost.
Despite these issues, Hitesh felt like he got his money's worth on his long-distance move. He and his partner plan on being in Denver for the foreseeable future, but if they move again, they'll consider using Dumbo Moving and Storage.
Hitesh's advice to anyone planning a move like his
Hitesh recommends estimating cartons as accurately as possible for anyone planning a long-distance move like his. It's usually not a big deal if you have more than expected, but it's always a good idea to notify your mover by phone, text, or email and ask for an updated quote to avoid surprises on moving day.
Hitesh was also happy that he found moveBuddha because it allowed him to research and compare movers quickly in one convenient location.
In the end, moveBuddha saved Hitesh a ton of time, some of which he used for one of his favorite pre-move activities…drinking wine.
Before signing off, check out these helpful posts:
Not what you were looking for?
Check out other categories that can help you find the information you need!
See All
Hide All