Home Depot Moving Boxes – The Definitive Review
I've never met anyone who enjoyed moving. Sure, choosing a new place to live is fun, but then you actually have to move there. Packing takes more time than anything else during a move. Your first question is usually, "What will I put everything in?"
If you don't plan ahead, you could end up like me, carrying your dishes one armload at a time.
There are a lot of ways to pack, from Home Depot moving boxes to boxes you liberate from the grocery store. These tips will help you choose the alternative that's right for you.
Things to think about before you choose
You have alternatives for how to pack your belongings. However, Home Depot moving boxes are sturdy and offer a range of sizes and boxes for specific items. They're great for many people, but probably not everyone. Here's what you need to think about:
If you're moving long distance and/or hiring a moving company to drive, you will need sturdy boxes to survive the trip.
If you have heirlooms or delicate belongings, they'll reach your destination in much better shape in a new box.
If you're using a friend's pickup to move, you'll most likely be taking small loads, and you may be able to get away without buying boxes.
If you're using your car to move everything but the furniture, you may be able to move successfully without real packing boxes.
If you're planning to use a moving truck (Home Depot Truck Rental is a good alternative to U-Haul), be sure to use heavy-duty boxes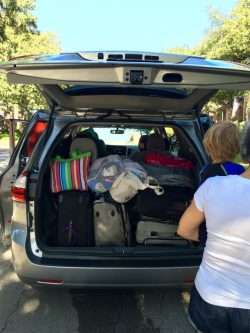 In short, you need to consider how safe you want your belongings to be during the move. A Home Depot box will stand up much better to movers who may not be as careful as you would be. And if you have things you don't want even to chance getting broken or if you're moving a long way, those are two other good reasons to purchase boxes.
What you'll get with Home Depot moving boxes
When you purchase Home Depot moving boxes, you're getting boxes that come in various sizes and strengths to hold anything you need to move. Boxes come in standard or heavy-duty construction and are typically made from recycled material. If you want security when packing, Home Depot moving boxes fit the bill.
Pros:
Easy to purchase at any Home Depot store
You can choose the exact sizes you need
You can return boxes you don't use to any Home Depot store with a receipt
Cons:
You will pay for these boxes, as opposed to others that you might find for free
The standard moving box may not be strong enough to use for shipping
If you have the boxes shipped to you, there's a chance they could be damaged
Key features
You may think that a box is just a box. But, when you buy Home Depot moving boxes, you'll find that there are features that will make packing just a bit easier.
Many different sizes
Think about what would happen if you had only one size box. You might be able to fit one comforter in a box but dozens of books. The comforter would travel well, but you'd break your back trying to lift or move the same size box full of books.
Home Depot offers small boxes for books, medium-sized boxes for pots, pans, and other household items, and large boxes that you can use for large and/or bulky items such as bedding, toys, lamps, and more. There are also boxes made just for your television or large picture.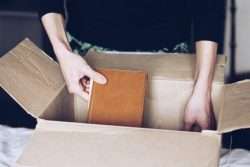 You can also get long boxes for those awkwardly shaped items and wardrobe boxes. Wardrobe boxes are convenient. They come with a metal bar for hanging up your clothes and handles to make them easy to move. Your clothes will arrive at your destination in perfect shape compared to packing them in regular boxes.
One of the advantages of buying from Home Depot is that you can choose the box sizes you need. You can ensure that the items you're packing will be well protected and the boxes easy to handle.
Different strengths
Home Depot moving boxes come in two strengths. Boxes are typically rated according to The Edge Crush Test (ECT). This test measures how much weight the box can handle on the edges. It indicates how strong the box is when stacked. For example, a 32 ECT box can withstand 32 pounds stacked on top of it without crushing.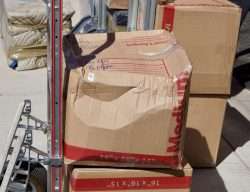 Home Depot's standard moving boxes are rated at 32 ECT. Their Heavy-Duty boxes are rated at 42 ECT. The Heavy-Duty boxes are made to hold heavy items because of their extra strength.
For example, Home Depot's Medium boxes are 18 in. x 18 in. by 16 in. The standard Medium box will hold up to 65 pounds. The Heavy-Duty box will hold up to 80 pounds. They can also be used for breakable items such as dishes or glass vases. Those items may not weigh anywhere near 80 pounds, but the extra strength will keep them safe.
Handles
Carrying Home Depot moving boxes that aren't very heavy is relatively easy. Although you may find carrying any box can be tricky because even if they aren't heavy, they're still an awkward shape. That is an even bigger problem when a box is heavy.
The Heavy-Duty boxes at Home Depot all have handles. Handles help you to lift and move the boxes much more easily.
Moving box kits
Trying to decide what types and sizes of boxes you need can be a chore. Home Depot helps reduce that effort by offering moving box kits.
There are kits that have everything you need to pack a kitchen, bathroom, living room, dining room, bedroom, master bedroom, closet, or garage. However, if your garage is anything like mine, you'd probably need more than the 14-box kit.
The kits give you a place to start for practically every room in the house. Depending on the kit, you'll get a selection of heavy-duty and regular moving boxes in the right sizes, packing paper, bubble wrap, materials for dishes, stretch wrap, electronics bubble cushions, mattress bags, wardrobe boxes, packing tape, and markers.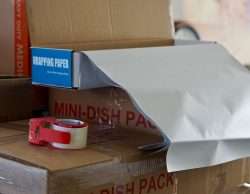 If you're packing dishes without a kitchen kit, one of the Heavy-Duty boxes will work well. But you can make packing even easier with the Dish Packing Kit. The kit consists of box dividers and foam envelopes. You can pack an eight-piece place setting so that each piece is separate and protected.
The moving kits make planning for your move even easier.
The return guarantee
It doesn't matter if you purchased a kit or individual moving boxes; you can return any unused boxes, with a receipt, to any Home Depot near you.
You won't need to worry about getting too many boxes because you can return any extras. When packing, too many boxes are always better than too few.
And if you don't have time to return the extras before you move, you take them with you and return them to the Home Depot closest to your new home.
On the other hand, you can also use spare boxes for storage or save them for your next move.
Recycled material
If you're concerned about the environment, like I am, you'll be glad to know that the Home Depot moving boxes are made from 100 percent recycled material.
What do others say about Home Depot moving boxes?
People generally seem happy with their boxes and packing materials. Here's what a few customers had to say:
Referring to the Kitchen Moving Box Kit, Yvette said,
"This was a perfect set. Foam and inserts were great for packing my plates. Package came fast. This greatly improved my move!"
Referring to one of the Heavy-Duty Large Moving Boxes, Carolina said,
"After comparing other companies [sic] moving boxes, I found the Home Depot's heavy-duty boxes to be extremely durable, strong, and well made. Also well-priced. Not to mention the great customer service while ordering online and picking them up within two hours of ordering."
Referring to the Medium Moving Box, Luna said,
"Well, it's a box, so there isn't anything fancy to say, but it is a nice quality of cardboard, sturdy and a perfect size for moving or storage. I was able to fit a lot of books and knickknacks in each box and still lift and stack it easily. This would work well for holiday storage too. You could probably fit an entire tree's worth of garland, lights, and ornaments in just one box. Seems to be very popular size since our store runs out. Price is cheaper than other stores in our area."
Referring to the Closet Moving Box Kit, Cindy said,
"This Box Moving Set was exactly what I needed. Truly an awesome set at a decent price. I honestly just needed the wardrobe boxes, and it came with three perfect-sized wardrobe boxes as well as a few other regular smaller boxes, two rolls of moving tape, a dispenser, and a black marker. HIGHLY RECOMMEND!"
How do Home Depot moving boxes compare?
There are other places to get moving boxes. Here is a comparison of Home Depot's boxes vs. three other alternatives.
UsedCardboardBoxes.com
You might think that getting used cardboard boxes online would be cheaper than shopping at Home Depot. But that's not necessarily the case. Consider the medium-sized boxes at UsedCardboardBoxes:
Medium boxes come in stacks of 20 cartons of various dimensions, all of which have approximately 1.5 to 2.49 cubic feet of space. The price is $41.00 or $2.05 each.
Shipping is free.
If you want to return the boxes, the order must be unopened, and you pay for the return shipping.
Returned orders are subject to a 20 percent stocking fee.
Medium boxes at Home Depot are all the same size: 18 in. x 18 in. x 16 in. for a total of 3 cubic feet. They cost $1.38 each, or you can buy 15 or more for $1.24 each. You can return any number of unused boxes as you wish, as long as you have a receipt, and there is no restocking fee.
Medium Heavy-Duty boxes at Home Depot are the same size as their regular boxes. They cost $2.48 each or 15 or more for $2.23 each.
There is no description of the strength of the used boxes. If you're looking for a deal and the used boxes are as strong as the Home Depot boxes, you could pay less. However, you can't return just a few of the used boxes, and if you want to look at them before you use them, you can't unwrap them to gauge their strength.
Lowes
Lowes is a direct competitor to Home Depot. They carry standard and heavy-duty boxes, although they don't display the ECT rating on their website.
Lowes' standard Medium moving box is the same size and cost as Home Depot. However, the website doesn't mention a bulk price.
Lowes' Medium Heavy-Duty moving box costs $2.44 each, or four cents cheaper than Home Depot's single box price and 21 cents more than their bulk pricing. No bulk pricing is mentioned for this box at Lowes.
Free boxes
If you are more concerned about cost than condition, you can always get boxes from grocery stores. Unfortunately, you would end up with boxes of all sizes, which are difficult to stack in a moving truck or pickup. And the boxes may not always be in good condition. You may also be able to round up some boxes from friends. Or, you could take the approach a friend of mine used. He knew he'd be moving at some point, so he saved diaper boxes for two years to prepare.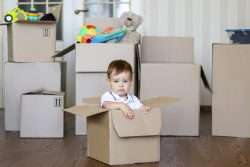 If you have the time to search out free boxes or to save boxes over an extended period of time, free boxes will be easier on your wallet.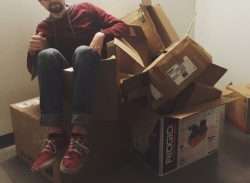 The bottom line?
If you're moving, you need to plan how you will acquire moving boxes, or you may end up scrounging for boxes or wrapping your belongings in towels and bed sheets at the last minute.
The Home Depot moving boxes are the best way to solve that problem because:
You can choose the sizes and strengths for the boxes you purchase
You can save money and simplify your purchase with Home Depot's moving kits
The pricing is very competitive, and you can take advantage of bulk pricing
You can shop at the store or online
You can return unused boxes with a receipt
Buyers have many good things to say about the Home Depot boxes
If you want more information, click here to look at all the options Home Depot offers.
Not what you were looking for?
Check out other categories that can help you find the information you need!
See All
Hide All