Moving Experience: Suresh's Experience with International Van Lines
Suresh's work asked him to relocate from Columbus, Ohio to Plano, Texas. In the spring of 2023. Suresh moved his family 1,050 miles to the Lone Star State, but he needed a reputable mover to transport two bedrooms' worth of stuff across state lines.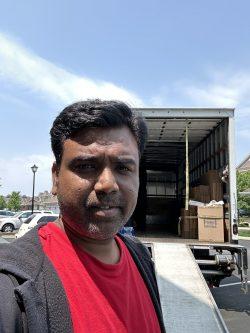 Suresh sourced three quotes for his move, but ultimately went with International Van Lines. They had a great reputation — and it didn't hurt that Suresh had a friend who used IVL in the past and had an excellent experience.
To take advantage of our $500 moving stipend, Suresh signed up for the Better Moves Project to share his firsthand experience moving with International Van Lines. 
Thanks to International Van Lines' professionalism and proactive communication, Suresh had a fairytale of a move. Everything arrived safely at his new home, and the movers' professionalism blew him away. The final cost was just $600 off, which caught Suresh off guard, but is still incredibly accurate by industry standards.
If you're looking for a real account of what it's like to move with IVL, Suresh's experience is a textbook case of what you can expect from professional moving services. Check out this guide to see what Suresh thought about IVL and if he would recommend this service to other people planning a relocation.
89% of users select this mover
Move day takeaways for International Van Lines customers
Communication: International Van Lines reached out to Suresh regularly and kept him updated every step of the way
Pricing accuracy and transparency: Suresh's move cost just $600 more than estimated, which is well within the 10% industry average
Professionalism: International Van Lines' team of movers was professional, friendly, and knowledgeable
Timeliness: International Van Lines arrived on time during their scheduled time slots
Loss and damage: Suresh transported a few tricky items — including glassware — but International Van Lines transported everything without incident
Would Suresh use International Van Lines again? Yes, Suresh would happily hire International Van Lines again
Suresh needed help moving from Columbus, Ohio to Plano, Texas
Suresh needed to move the contents of a two-bedroom, two-bath home, plus the contents of a kitchen and a living room.
Suresh prioritized safety for this move. He wanted to hire movers that would treat his belongings with professional care. The last thing he wanted was damage to big, expensive items like his bed or dining room table.
The challenge? Suresh had just 25 days total to plan the entire move, so he had to act quickly. But he didn't want to make rash decisions, so he gave himself two weeks to research movers and gather quotes.
Suresh's move at a glance
| | |
| --- | --- |
| Move date | May 22, 2023 |
| Moved from | Columbus, Ohio |
| Moved to | Plano, Texas |
| Distance | 1,050 miles |
| Move size | Two-bedroom, two-bathroom home |
| Moving company | International Van Lines |
| Moving quote | $3,916 |
| Actual cost | $4,500 |
Suresh got quotes from 3 moving companies
To kick off his search, Suresh first searched Google and Quora for mover recommendations. During his search, he stumbled upon moveBuddha.
He liked that moveBuddha provided comprehensive comparisons between different moving companies. Suresh read several blogs and even used the Moving Cost Calculator to understand how much he should budget for the move.
To gather quotes, Suresh reached out to three companies via their online web forms. Here's how his quotes compared:
| | | |
| --- | --- | --- |
| Company | Estimated volume/weight | Estimated cost |
| Universal Relocations | 4,900 pounds (700 cubic feet) | $5,500 |
| Midwestern Movers | 3,570 pounds (510 cubic feet) | $4,322 |
| International Van Lines | 4,000 pounds (572 cubic feet) | $3,916 |
Suresh chose International Van Lines for their quality reputation

Licensed
Insured
Price
rating
4.45 / 5
Get A Quote
(855) 929-4120
93% of users select this mover
At A Glance
10% discount for veterans and seniors
Very competitive rates due to their national coverage
Services local, long-distance, and international moves
Can service most domestic moves within 48 hours
24/7 customer service
read our full review
Get A Quote
(855) 929-4120
93% of users select this mover
Not only was it the most affordable option, but Suresh chose International Van Lines because of its stellar reputation. The company had dozens of positive reviews gushing about its professionalism. Suresh also had a friend who used International Van Lines and recommended them.
Suresh reached out to IVL online and submitted a request for a quote. IVL called him to confirm his inventory. During their chat, he realized he left off a few items, so they updated the estimate. All in all, International Van Lines spent 30 minutes on the phone with Suresh to generate the most accurate quote.
IVL quoted him $3,916 for 4,000 pounds of belongings. This was right in line with what he expected, although he admits he felt surprised that the movers didn't include packing in the quote. But Suresh knew he could handle packing on his own, which helped him keep the costs low.
Suresh also purchased basic liability insurance to protect his stuff during the 1,000-plus-mile journey.
Moving day was easy as pie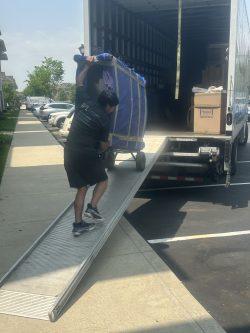 In preparation for moving day, International Van Lines gave Suresh instructions for boxing his belongings. They consistently stayed in touch with him about instructions and next steps.
Suresh bought moving boxes from Walmart and began the packing process. Instead of frantically tossing his belongings into random boxes, Suresh took the time to categorize items before packing. This sped up the packing process — and he knew it would make unpacking easier, too.
Two days before the move, IVL sent Suresh an email confirmation. They also had a few phone calls to update the inventory list and estimate. 
On moving day, International Van Lines called Suresh an hour before arriving, informing him of the delivery window as well as the name of the driver. International Van Lines arrived right on schedule on May 23 at 9:45 AM.
International Van Lines' professionalism blew Suresh away. He loved how they cared for his belongings; they even offered suggestions to improve the packing and loading process, which Suresh appreciated. Suresh oversaw packing and dismantling, but enjoyed chatting with the movers, too.
All in all, it took five hours to load everything.
Delivery was efficient and quick
It took four days for Suresh's belongings to arrive at his doorstep in Texas. In the meantime, International Van Lines updated Suresh once daily. The truck arrived with his belongings right on time.
IVL used a huge truck to move everything, but they parked very carefully. A team of four movers efficiently unloaded the truck, checking off items as they went to account for everything.
Suresh worried that the move would damage his items, but he felt instant relief upon realizing that there wasn't so much as a scratch. Even Suresh's box of glassware arrived safely.
Our take on the move
Suresh's experience with International Van Lines is the ideal experience that every mover deserves. IVL offered professional guidance every step of the way and stayed in constant contact with Suresh during the move.
Suresh's knack for organization and leadership also helped. Efficiently packing kept his costs as low as possible, and being present during the loading and unloading process gave him a greater degree of control.
The only hiccup in Suresh's entire move was the final price. The move cost $4,500, which is a $600 increase over the $3,916 estimate. Suresh added a large suitcase, more boxes, and a few specialty items to the move, which accounts for the difference. Even then, a $600 difference is well within the industry standard. 
All in all, International Van Lines hit this one out of the park.
The verdict
89% of users select this mover
International Van Lines ticked all of the boxes for Suresh. Everything arrived safely and the team was professional through and through.
Suresh admits the estimate process confused him, so he recommends future movers familiarize themselves with how the moving estimate process works. 
Suresh is from a different country, so he had to familiarize himself with moving customs in the United States. He didn't realize that U.S. movers offer packing as an add-on service only. It would have been nice to get packing help included in the price, but Suresh didn't mind a DIY pack job to save more money.
Suresh would definitely hire International Van Lines again. He thought they were incredibly professional and a great value for the money.
Here's how Suresh rated International Van Lines' performance on a scale of 1 to 5:
Communication – 5
Timeliness – 5
Quote accuracy – 4
Overall experience – 5
Do you have an upcoming move? Share your moving story with the Better Moves Project to earn a $500 stipend. Sign up now.
Check out these helpful resources before signing off:
Not what you were looking for?
Check out other categories that can help you find the information you need!
See All
Hide All