Tips On Moving To Milwaukee, WI: Ultimate Relocation Guide
Everything about relocating to Milwaukee
And if you're looking for more info on moving to Milwaukee, check out our Milwaukee move cost guide.

Milwaukee is the 30th most populous city in the United States as of 2021, with a population of 594,548.

With an average 1-bedroom rent in Milwaukee price of $1,254 per month, Milwaukee has the 78th highest rent amongst major cities in the United States.
In Milwaukee, $1,100-$1,300 would be a sweet spot for your target budget.
A few tips for finding your perfect Milwaukee neighborhood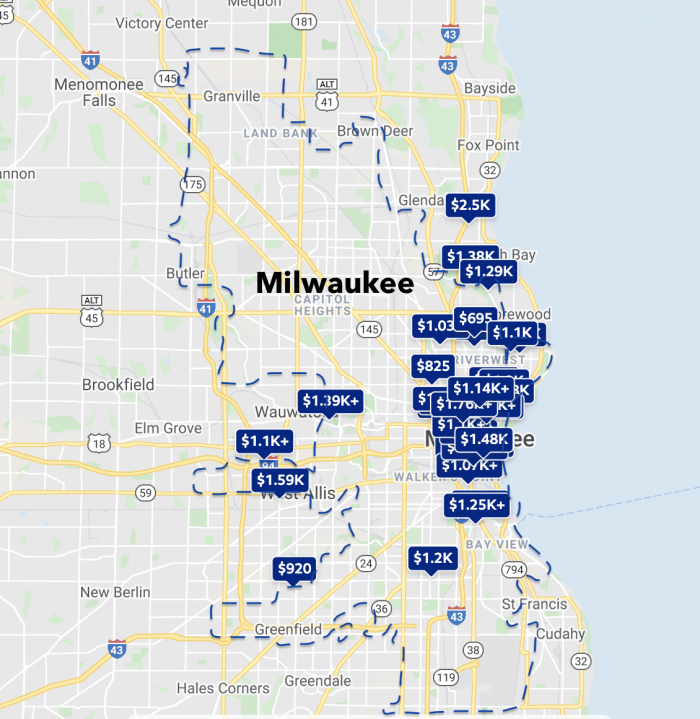 Milwaukee has 13 main neighborhoods, and it's sometimes referred to as the "Big City of Little Neighborhoods." Like in all cities, each neighborhood has its own vibe and character, along with its own rental prices. This website does a really great job of describing each neighborhood.
To help you budget for a Milwaukee apartment, we've compiled data from Trulia to demonstrate how much each region will run you.
For example:
In the Historic Third Ward, East Town, and Riverside Park you're looking at spending between $1,300 to $1,600.
Bay View and Riverwest would be less per bedroom, around $1,100-$1,300.
The farthest neighborhoods from the Third Ward and Milwaukee Bay—Mount Olivet, Menomonee River Parkway and Midtown are places where you can find an apartment for $900 to $1,100.
Where are people like me living?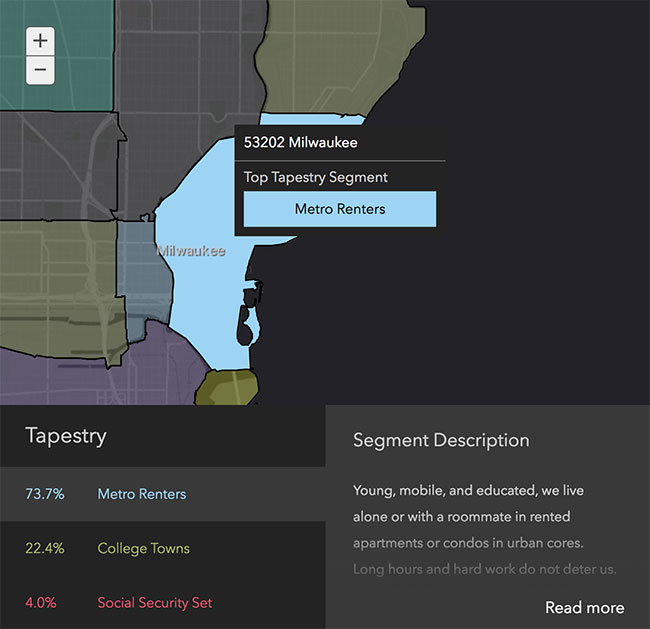 Everyone wants to live near people they have things in common with. Esri.com makes finding those places easy with their zip Tapestry tool, showing you the dominant demographic groups of any neighborhood.
For instance, plugging in the zip for the Historic Third Ward (53202) shows you a cross-section of the three largest demographic groups in the area. It's pretty amazing.
Next: consider your commute to work
That perfect neighborhood could have a horrible commute. Be sure to figure out how you'll get to work before you sign a lease (or a mortgage!)
Here's a breakdown of what it's like getting around the city:
If you want to have a car…
Milwaukee is super accessible by car. Due to its well-planned and maintained roads and two interstates, travel is easy for Milwaukeeans.
The average commute time is 22 minutes, which is the THIRD LOWEST of America's metro areas. By comparison, Atlanta is more than a half-hour!
As usual, peak rush hour times are between 7 and 8:30 a.m. for traffic headed into the city and from 4 to 5:30 p.m. for traffic leaving downtown. But don't forget, the Milwaukee area is known for being a city of festivals, so first-time visitors should check to see if there's anything going on before heading out.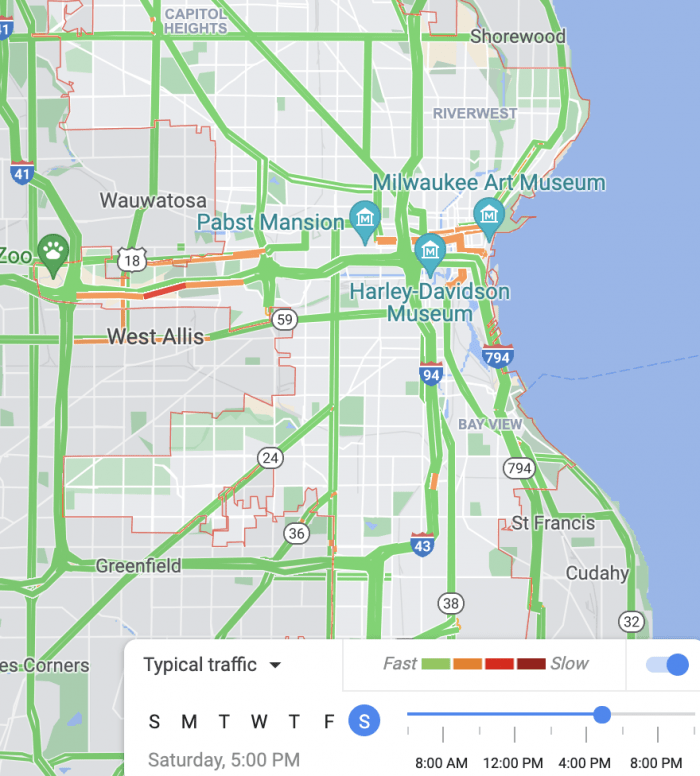 Below are some of the major choke points throughout metropolitan Milwaukee:
The Marquette Interchange (I-94 and I-43 downtown)
The Stadium Interchange (U.S. 41 and I-94, 5 miles west of downtown)
The Zoo Interchange (I-894 and I-94, 8 miles west of downtown)
The Hale Interchange (I-894 and I-43, 11 miles southwest of downtown)
The Layton Interchange (I-894 and I-94, 5 miles south of downtown)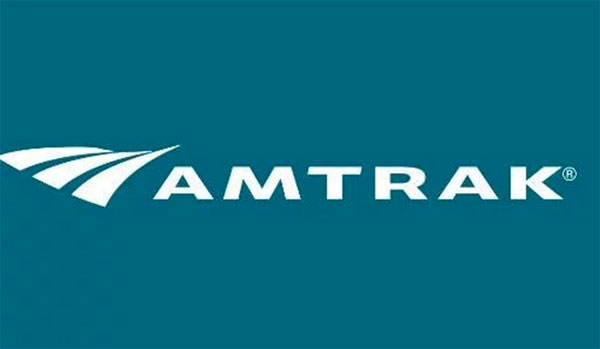 Public transportation
Though it doesn't have its own subway system like New York, Milwaukee does have an extensive bus network.
Below is a snapshot of Milwaukee's bus map. For instance, if you live near Marquette University and need to get to the US Bank Center downtown, you could take the 30 bus on a straight shot! Here is a huge guide and full map of Milwaukee's public transit system.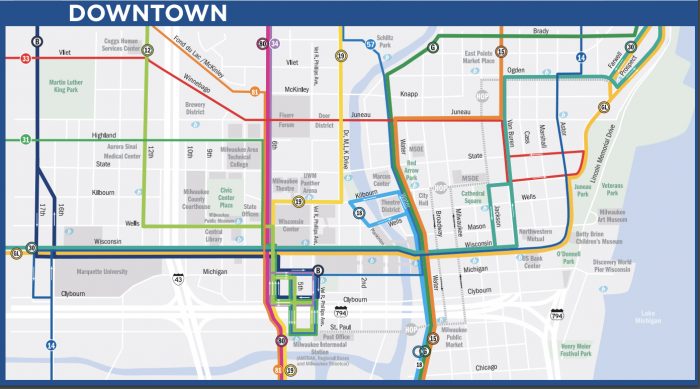 If you plan on commuting to Chicago, it's about a 90-minute Amtrak train from Milwaukee. The Amtrak station is located right in the middle of downtown at the Milwaukee Intermodal, so it's super convenient.
Bottom line: with a transit score of 48, the public transportation system is good, but still not great. It can get you almost anywhere inside the city within an hour. If you're not planning on having a car, you'd better get used to taking the bus, because you'll be taking it to lots of places.
Why take the bus when you can walk?
In terms of walkability, Milwaukee is pretty good! With a walk score of 63, it's a bit better to walk than it is to take public transportation.
Downtown Milwaukee is very walkable, from the Upper East Side down to the Historic Third Ward.
Below is a walk score map, similar to the rent price heat map we talked about earlier. The greener the better. If you don't like walking, stay away from the yellow when looking for neighborhoods to live in. The good thing for you is that Milwaukee doesn't have any red zones!
Things to do in Milwaukee
The Harley-Davidson Museum. This place was built to thrill you with the history of life in the fast lane.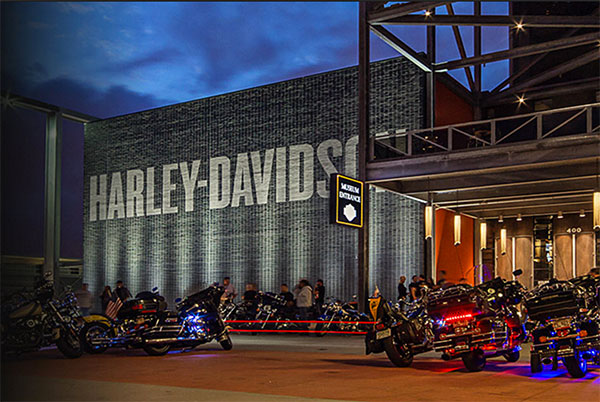 Miller Park is the home of the Milwaukee Brewers, and also some of the best beer and brats in town. You can also ride down Bernie Brewer's slide in the outfield! Yeah, it's just as much fun as it sounds.
Milwaukee's beer-broiled nightlife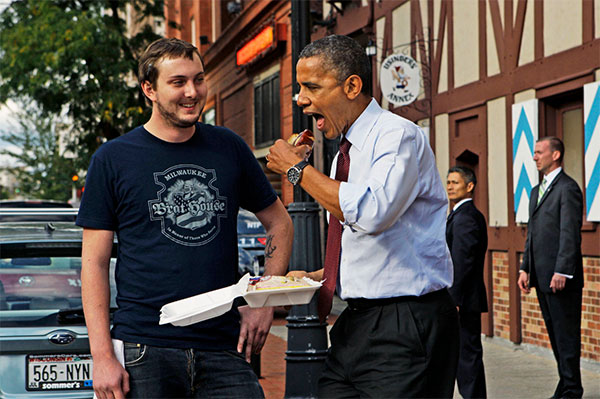 We've talked about Milwaukee's beer and brats. If you're downtown and looking for a good time, check out Milwaukee Brat House, between Avenues West and the Lower East Side. They're so good, The President had to try some!
And if you're in the mood for a cocktail, check out Bryant's Cocktail Lounge. Remember: What happens in the Velvet Lounge, stays in the Velvet Lounge.
So beer has lots of calories right? If only there were a way to burn off those pesky pounds while you drink! Well, look no further than Milwaukee's Pedal Tavern. It's a 16-person bicycle-powered party on wheels! If you're into craft beer and biking, this is for you.

Milwaukee is a great place to be for foodies. With the Friday night fish fry honored at many restaurants in the city and in greater Milwaukee, ice cream from the dairy-loving capital of America, and all types of cuisines served during the many cultural and ethnic festivals throughout the year.
Finding the safest Milwaukee neighborhood
Milwaukee scores 8 on the crime index. For reference, 100 is the best.
Here's a crime hotspot map: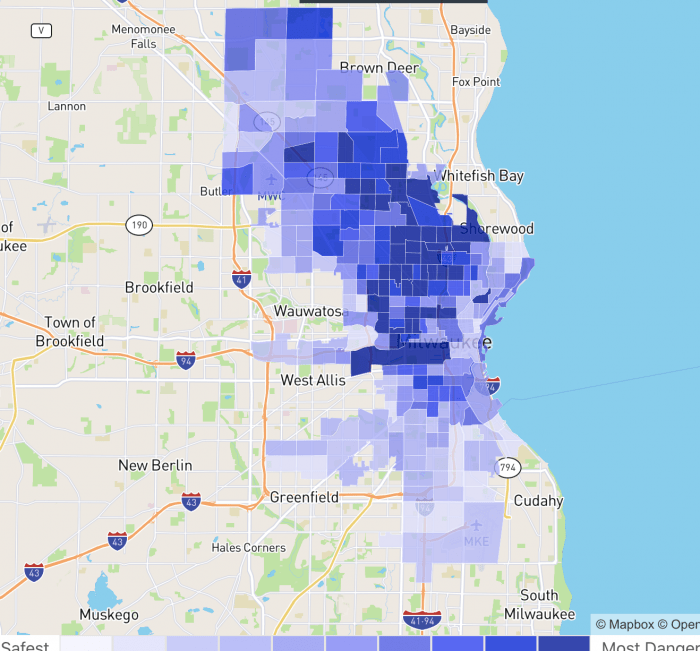 Consistently safer areas include Bay View, Eastside, and the Third Ward.
The Fifth Ward/Walker's Point are areas to be a little more vigilant, especially at night.
Like any city, Milwaukee has its crime issues but it's a relatively safe city. As long as you don't go seeking trouble, you should be fine.
Milwaukee apartment hunting
Must-haves: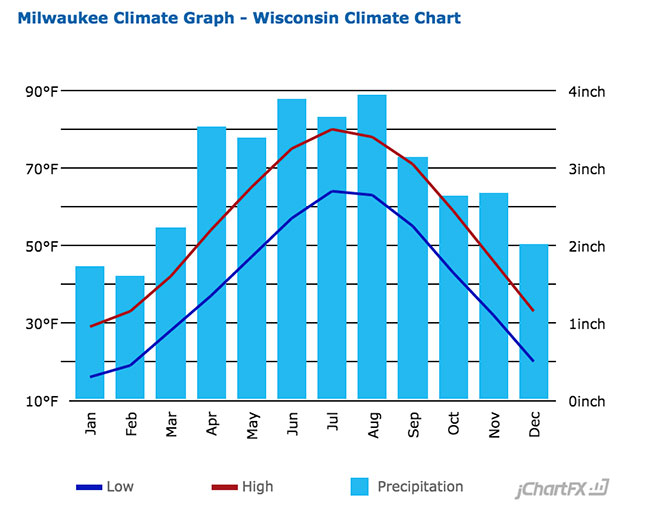 Yeah, it gets cold. In January the 24-hour average temperature will be 22 degrees.
In fact, Milwaukee has the second-coldest average annual temperature of the 50 largest cities in the United States–so you'll definitely need a heated apartment.
Surprisingly, the highs in July can get above 90 degrees! You should probably look into a place with AC, though it isn't as vital as heating.
Laundromats aren't hard to come by, but if you're planning on going without a car, a washer/dryer is a must-have. You don't want to be walking around the neighborhood carrying dirty undies.
When budgeting for an apartment, you'll want to think about what your average gas bill will be for heating your home.
Where to look for apartments in Milwaukee
Here are some good websites to find apartments. Use the sort functionality to drill down on your desired number of bedrooms, cost of living, etc.
It might surprise you, but Craigslist is actually a very useful site for finding apartments.
Note: This DOES NOT mean you should trust Craigslist implicitly. Here's their own guide on how to recognize potential scammers.
Wisconsin rental law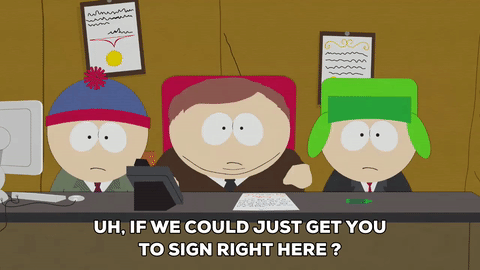 Here are some links to things you should know before moving so that a landlord can't hoodwink you.
Finding an apartment in Milwaukee is very competitive
Milwaukee's rental market is just about as competitive as it is throughout the country.
The Average rent in Milwaukee has hovered just around $1,200 from 2018 to 2021. In the past year, Milwaukee's vacancy rate fell half a percent to 3.66%, compared to 6.32% for the nation as a whole.
Essentially, Milwaukee rent is high and not lowering fast, but an influx of new developments is helping to increase vacancy and lower prices.
Planning your move
There's a couple of things to keep in mind when managing your time while finding an apartment. Leases usually begin on the first day of the month, so at the very latest you should start looking two weeks before the start of the month you'd like to move in.
Milwaukee is home to Marquette University, so leases in the Avenues West area will be ending in the spring, probably May 31st. If you can, the ideal time to start looking for apartments there is in April or early May, and be ready for a June 1st move-in.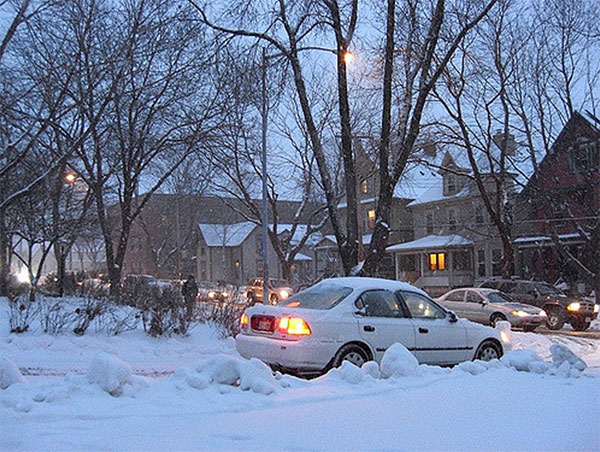 Additionally, Milwaukee's winters are very cold and bring lots of snow. Try to avoid moving during the winter or you might get snowed out.
At the same time, beware of a spring move-in: potholes will be everywhere because of the melting snow.
Finding a house near Milwaukee
Just in case the city life is too much fun for you.
The nicest suburb of Milwaukee is Whitefish Bay. It's about a 15-minute drive from the city, but keep in mind that this trip can be longer during rush hour.
Like most fancy suburbs, it has beautiful Tudor-style homes and large yards. It's also technically a "village," so that's pretty neat.
You can look for homes in Whitefish Bay here.


How to get all your stuff moved
Now for the real fun–moving!
If you want to get an idea of the cost of different moving services, check out our moving cost calculator. If you're moving pretty far, you also may want to have a glance at our moving out of state guide.
A few other things you'll want to keep in mind.
Moving Permits: moving to the city is always difficult because of thin roads, sidewalks, and constricted space.
Make it easier on yourself and get single-day parking permission. It's free, you just have to call 414-286-8350.
For a moving van, you must provide an RPP permit number, the street address where the van is to be parked, the license plate number of the vehicle, the state of issuance, and a description of the vehicle.
If you're moving outside of the city limits, check with your local town hall or parking authority for street parking requirements.
Everything you need to do post-move
That's about it! Let us know down in the comments how your move to Milwaukee goes.
Not what you were looking for?
Check out other categories that can help you find the information you need!
See All
Hide All