What is the cost to move in Milwaukee?
Milwaukee is a pretty affordable city and there are certainly ways to move on the cheap in the Brew City.
You basically have 3 options when moving locally in Milwaukee.
Hire a moving company (most expensive)
Rent a truck (least expensive but the most work)
Rent a portable container (good if you need some short-term storage)
Below we compare all pricing on all three.
Oh, and if you're moving from another state, try starting with our moving to Milwuakee post and use the calculator for moving costs to see long distance move pricing.
Alright, let's look at some prices for local moves.
Average cost to hire a moving company in Milwaukee
Hiring a moving company is certainly the best option in terms of convenience, but you should really look at what exactly it's gonna cost you not to have to do the heavy lifting.
Let's examine the costs of an average Milwaukee moving company.
| Home Size | # of Movers | Base Cost (2hrs) | Cost/Hour | # Hours | Avg. Total |
| --- | --- | --- | --- | --- | --- |
| Studio | 2 movers | $365 | $80/hr | 3 hours | $445 |
| 1 Bedroom | 2 movers | $365 | $80/hr | 4 hours | $525 |
| 2 Bedroom | 3 movers | $456 | $102/hr | 6 hours | $866 |
| 3 Bedroom | 4 movers | $570 | $131/hr | 7 hours | $1226 |
| 4 Bedroom | 4 movers | $570 | $131/hr | 9 hours | $1488 |
| 5 Bedroom+ | 5 movers | $713 | $168/hr | 12 hours | $2391 |
Now, these are still just averages. You won't know your full cost until you factor in when and where within the city you're moving.
Pulling something like a refrigerator up five flights of stairs will also add to your bill when all's said and done.
You should also be aware that things like high-rises and managed apartments often require the moving company to provide a copy of their insurance.
You'll want to get this cleared up before the move so your movers don't lose any time by scrambling for their insurance card in the middle of the process.
The steep prices of hiring a moving company might be enough to scare some away. Fortunately, that's why rental trucks exist.
Average cost to rent a moving truck in Milwaukee
It's definitely a more hands-on option, but renting a moving truck is a more cost-effective option.
Here are the prices you'll be looking at:
Base Cost: $20 – $65 per day
Mileage Fee: $0.39 – $0.99 per mile
Fuel Cost: Dependent on driving distance.
Truck Coverage: $15 – $100 based on coverage level
Parking Permit (if necessary): $25 per day
Equipment Costs (optional): Dolly, straps, blankets
The standard, small, one bedroom apartment should end up costing between $40 and $65 to rent a truck to move within 15 miles.
A larger space of around 5 bedrooms you should plan on spending closer to $145 – $180 to rent your truck.
Those in need of a little extra muscle can find some great moving labor help at HireaHelper.com.
Where to Rent a Truck in Milwaukee
Average cost to rent a moving container in Milwaukee
So yeah, these things are basically just mobile storage sheds.
Before you commit to this method, you'll want to make sure you apply for a permit through the city of Milwaukee so you actually have a place to park it.
The city's website has the application form.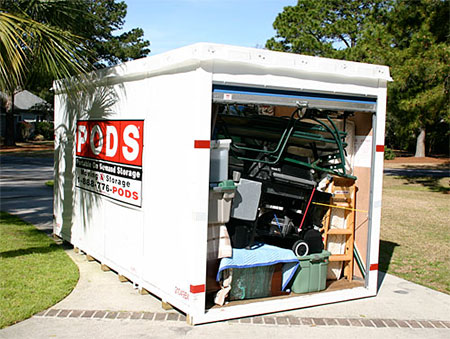 The container is delivered to your current home, you load it up, the company takes it back, and they hold onto it until you're ready to unload it at your new place.
The big advantage here is going to be storage. These are a particularly useful solution if you have an unavoidable gap in your leases.
Let's see what kind of prices we're looking at:
Storage Fee: $104 – $345 per 30 days
Initial Delivery: $85 – $115
Final Delivery Fee: $85 – $115
Damage Coverage: $10 – $350 based on coverage level
Parking Permit (if necessary): $30 per day
Door Lock (if necessary): $10 – $15
Equipment Costs (if necessary: Dolly, straps, blankets (optional)
A full month of storage for a 1 bedroom apartment will end up costing you somewhere near $260 between drop-off and pickup, not including labor.
A standard large container fits around 3 bedrooms before it's at capacity. If you end up needing more containers, be prepared for your cost to pretty much double with each one.
If you get your container and still feel like you need help, hit up HireaHelper.com to get some expert moving labor help.
Where to rent a moving container in Milwaukee
For more information and resources, check out our portable storage container guide.