Home Sweet (New) Homes: Ranking the Top 20 U.S. Cities for New Home Construction
With housing prices up like a rocket over the last few years in most metro areas, it's a boom time for home builders.
Consumer demand has been pent up for years in the wake of the great recession, with many home builders hitting hard times or going bankrupt during the 2010s. Now, the strongest home builders are on a bull run, building in the Southeast and anywhere the financials make sense.
As pandemic migrations fueled the flight to the suburbs and exurbs in metro areas and crossing state boundaries into the West, Southeast, and Southwest, this new phase builds on the past and looks to the future.
We pulled data from the U.S. Census Bureau, Department of Housing and Urban Development (HUD), and moveBuddha's internal moving data to calculate where people are moving the most.
Unlike other reports measuring the raw number of housing units, we've focused on where the growth is the highest, relative to population. This shows a more accurate picture of where the highest growth rates are. Los Angeles, for example, has a lot of units under construction, but it's not nearly enough to help the housing crisis for the millions in the metro area.
Mapping the Top 20 Cities
Looking at the top 20 cities, we see a striking trend with most new home construction happening in the Southeast and the Sun Belt.
Big Takeaways
Myrtle Beach building boom. Myrtle Beach, SC, took the #1 spot as the best city for new home construction thanks to its small population. The city may not be building the most new homes in raw numbers, but ranked by most per 100,000 residents, it is far and away #1.
Florida is a new home paradise. Six Florida cities ranked in the top 20 for new home construction, including #2 North Port, #3 Lakeland, #4 Orlando, and #7 Tampa. The Sunshine State is the top place to be in America if you're looking for a new home.
Texas-sized new homebuilding. In terms of raw numbers, #17 Houston and #10 Dallas are by far building the most new homes in 2023 - even more than New York City. #15 Austin is also building a slew of new homes.
New home cookin' down South. The South dominated the top 20 list of best cities for new home construction, claiming 14 spots, including cities in Texas, Florida, North Carolina, and South Carolina. The only Northeastern city to make the list was #16 Washington, D.C.
#20 Seattle, WA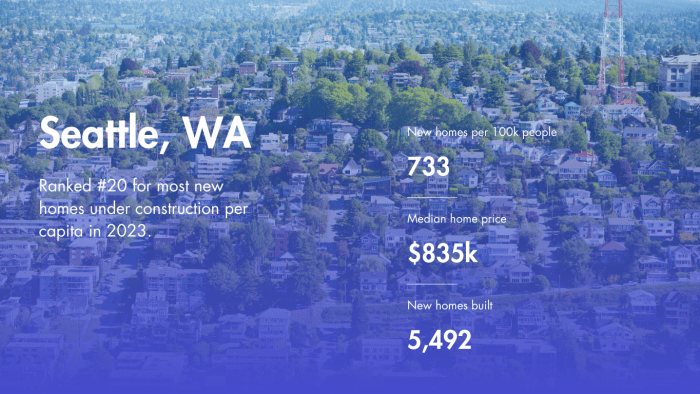 It's quite surprising to see the Seattle metro area in the top 20 for new home construction, given how big and successful it's become already. In addition, the NIMBYs that dominate West Coast cities can really slow down new home construction in the main metro areas.
Despite this, Seattle continues to build and is actually seeing a YoY decline in average home prices, according to Zillow. With return-to-office from tech giants like Microsoft and Amazon in effect, we can expect to see local demand continue.
ddfdf
#19 Phoenix, AZ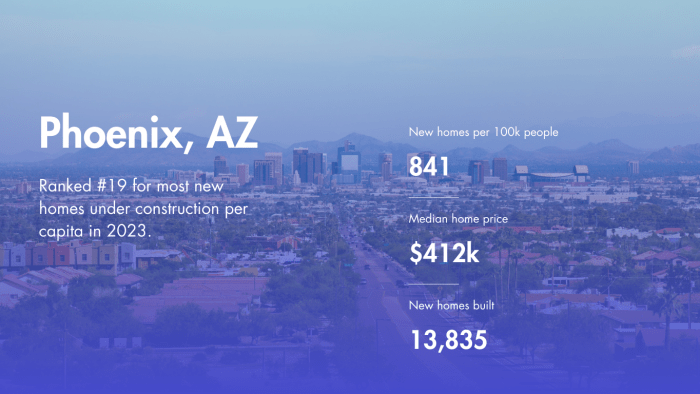 Phoenix has been a new home construction growth story for decades. Along with other Southwestern boom towns and Southern California, they've redefined the speed and scope of suburban development like no one else, constructing beautiful golf courses and elaborate lakes in spite of Cadillac Desert warnings.
Now with recent limitations on home building due to water availability, the phenomenal growth rate may be slowing down, but there are no signs of them being completely out of the race.
While prices have been increasing in the Valley the last few years, the average home prices can be 30-50% cheaper than comparable areas of California - where many residents come from.
#18 Denver, CO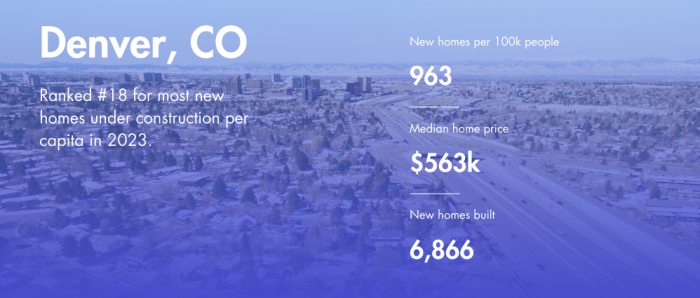 This Rocky Mountain capital has been a big destination for millennials looking to stay in the West, but are priced out of
Anecdotally I have scores of family and friends who have left California for the foothills of the Rockies.
With stronger water access than other states, and enough empty farmland to build all the way to Kansas, there's no real reason Denver can't continue to build new homes on the prairies for years.
#17 Houston, TX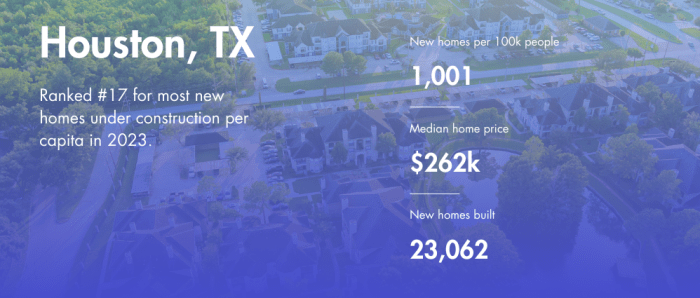 By the raw numbers alone, Houston is building the most out of the 20 cities on this list.
But with just 1,000 homes built per 100k people, it's significantly lower per capita than Myrtle Beach's 10k per 100k.
Houston famously has almost no zoning rules in the city, so they let the home construction companies build baby buildings.
With an average home price of just $260k, it remains one of the most affordable top 10 metro areas in the country. Houston has a vitally important energy industry and will likely be a growth story for many more years.
#16 Washington, D.C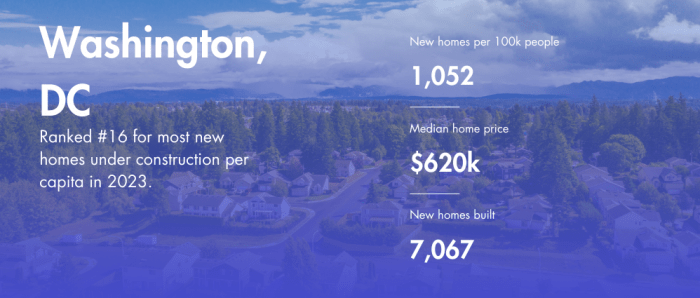 With 7,000+ new homes built in 2023, the nation's capital surprisingly comes in #16 on the list.
This may be surprising for such an old city like D.C., and somehow between the barriers of market regulation and city planning, 7,067 new homes managed to be constructed - a blend of single-family homes and multi-unit residential homes- 3,591 and 3,476 respectively.
For a city with an estimated population of 672,000, this calculates new home construction of about 1,052 per 100,000 people, one of the most in the nation.
However, it's noteworthy to mention that Washington, D.C.'s 2023 Zillow Home Value Index (ZHVI) dropped to $620,162, a 4.6% decrease YoY. In spite of its growing building sector, the city's population declined 2.6% between 2020-2022.
#15 Austin, TX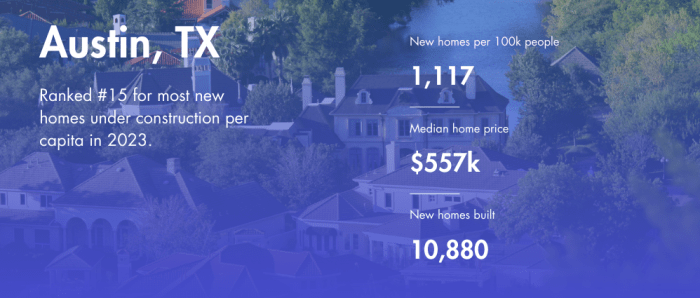 The growth of Austin has been all over the headlines for years. Originally seen as a liberal haven in deep-red Texas, this feature is now present in all major Texas metros. What draws citizens from Texas and beyond is the continued 20+ year trend: a growing amount of tech jobs, vibrant music and food scene, and the overall weirdness that is Texas.
Look to the surrounding suburbs and exurbs north and south of Austin. The I-35 corridor between Austin and San Antonio is growing fast in its own right, likewise north of Round Rock up to Temple, Waco, and everything in between.
#14 Charlotte, NC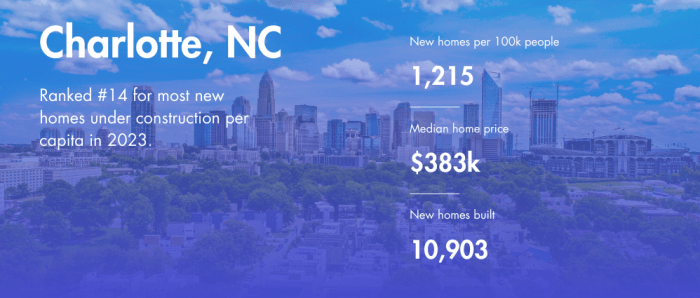 With 10,900 new homes being built in 2023, Charlotte is on a new construction tear.
Charlotte is a secondary financial hub and a mid-Atlantic alternative to New York City. Unlike NYC, home prices are much more affordable and there's much more room to expand.
"Charlotte has obviously positioned itself as one of the major banking headquarters in the U.S., and banking today fuels so much economic growth across the entire Charlotte Region," said Jeffrey Brown, CEO of Ally Financial.
#13 Minneapolis, MN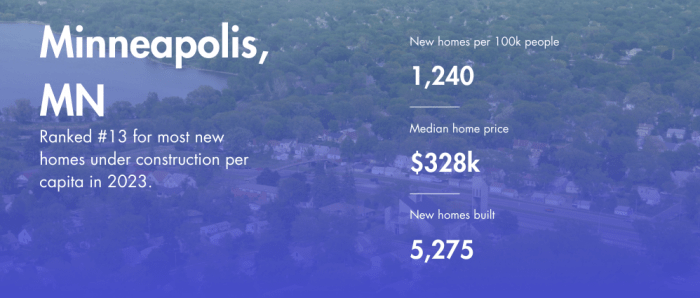 Known for the Mall of America and endless lakes, Minneapolis is building over 1,200 homes for every 100k residents this year. This midwestern city draws residents beyond the mall with a vibrant art scene and bustling economy.
The population does seem to be on a slight overall decline, with a negative outbound move ratio. When most are moving to the South, Minneapolis is standing strong in the north.
#12 Nashville, TN
Nashvegas has been a popular Millennial destination in recent years, and a common alternative to cities like Austin, TX, and Denver, CO.
For such a hot destination, the average home price is still fairly affordable. Its central location to the East Coast, South, and Midwest puts it within range of tens of millions of Americans looking for a new place to put down roots.
Although its population has declined slightly, the 2023 in-to-out moving ratio is pretty high, with 38% more people moving in this year than out, according to our estimates.
#11 Raleigh, NC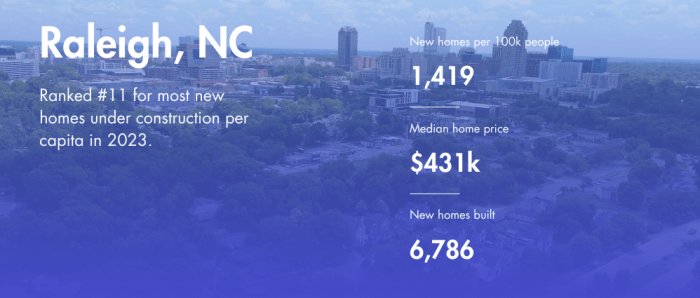 The Raleigh, Durham, and Chapel Hill, NC, area is known for tech genius, college banter, and an irresistible lure of quality life and steady jobs. This popular "Triangle" is a magnet for fun-loving, diverse, and bright minds who have a penchant for local cuisines and craft beer debates in microbreweries.
These cities are also thriving cultural hubs. They feature serene parks, a growing art scene stirred by monthly gallery tours, family-oriented museums, and summer concerts.
Growth in Raleigh, NC looks promising, with a positive population growth of 1.9% from 2020 to 2022. Although the home values experienced a slight dip of -2%, bringing the July 2023 ZHVI to $431,344, the city's extremely positive move ratio of 1.76 signals optimism.
#10 Dallas-Fort Worth, TX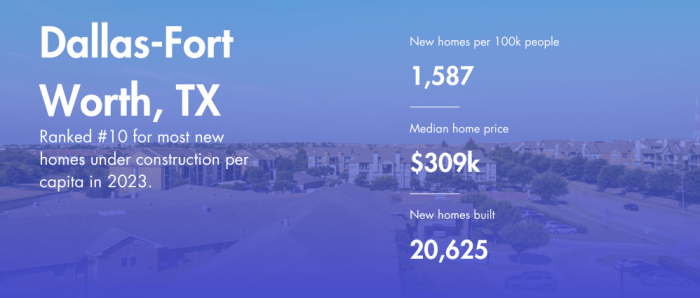 Welcome to Dallas-Fort Worth, TX! The city that's got the perfect mix of skyscrapers, cowboy hats, sports thrills, and a shot of tequila with your neighbors at the local Tex-Mex joint. Dallas offers retail therapy and swanky watering holes while Fort Worth keeps the cowboy charm alive.
The Dallas-Fort Worth metro area in Texas shows steady construction growth with an average of 5,156 permits issued per month, indicating a dynamic housing sector. However, this impressive number belies a slight population decline of 0.4% from 2020-2022. The city maintains a strong pull, boasting a move ratio of 1.12 for 2023 - a mark of a healthy housing market on the move.
While traditionally Dallas-Fort Worth has seen significant numbers of single-family homes being built - 12,738 in fact - the Metroplex is also witnessing a rise in multi-residential units, with a total of 7,887 being permitted. In comparison to the population, this constitutes a rate of 1587.1 new homes per 100,000 residents, showing a strong construction boom. Although the average house prices declined 2%, this area remains robust.
#9 Miami, FL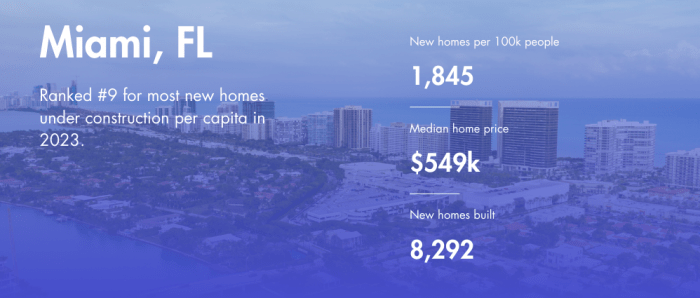 Miami has been one of the hottest little things since the pandemic. For a few years there, big tech allowed workers to spread their wings across the country, while they project managed from the pool.
We chronicled the Miami phenomenon when it was first bubbling up in early 2021, boosted by venture capitalists and Mayor Suarez himself. In addition, Miami became one of the de facto crypto capitals of the U.S. While the long-term transformation to another Silicon Valley is yet to be seen, Miami remains a global destination that's eager to grow and build. Miami, the vibrant "Magic City," is fast becoming a top global business hub. This city isn't all business, though - young professionals flock there, the phrase "work hard, play hard" apparently taking form!
Meanwhile, families settle in the serene suburbs of Key Biscayne, Coral Gables, and Doral, making the city a truly magical mix. The party-hard reputation of Miami is normally underpinned by relaxing beach vibes and enjoyment of local places like Biscayne National Park and the Everglades. Dull moments in Miami? Clearly an oxymoron!
#8 Cape Coral, FL
With an astonishing 11.9% population growth, Cape Coral is one of the new "it" towns of Florida. Like the rest of smaller Florida towns seeing huge growth, there are wild fluctuations year-to-year in economic numbers.
However, with an average home under $400k this year, and a drop of close to 9% YoY, Cape Coral's future is yet to be fully determined, but we'll see how the next few years continue to trend.
With its stunning beaches and plethora of water activities, it's a seaside haven. Plus, camping is allowed in the local mangroves, where you can count the many migrant bird species as neighbors. Don't worry about the gas price; you'll be too busy boating around the numerous, man-made canals to care.
A decent income will get you a long way in this city, with living costs just slightly above U.S. average and home prices below the Floridian norm. But the real catch? The crime rate, lower than a starfish's belly. Now we can't ignore the storms and risk of flood, but hey, It's not a party until something gets wet, right? And then there is the magnificent seafood, which can make even a landlubber's mouth water. Though young adults might find it eerily quiet, the city's immense natural beauty and safety level will have them floating on cloud nine.
#7 Tampa, FL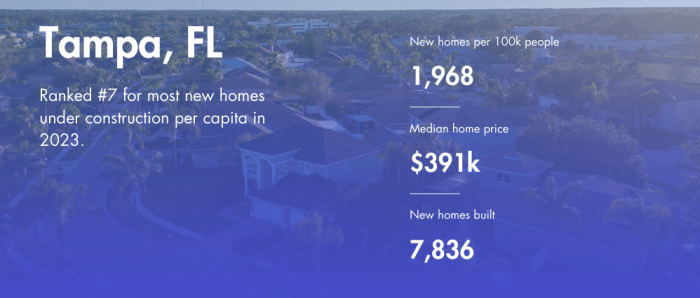 Tampa, FL, is on a promising path with a positive population growth of 3.5% from 2020 to 2022, and a slight decrease in home values, which stands at $390,746 as of July 2023. With an impressive move ratio of 1.92, the city is predicted to blossom further, riding on its coastal charm and growing economy. Prospective residents can anticipate a dynamic living environment where innovation meets recreation, making Tampa a prospective hub for holistic living in the coming years.
#6 Riverside, CA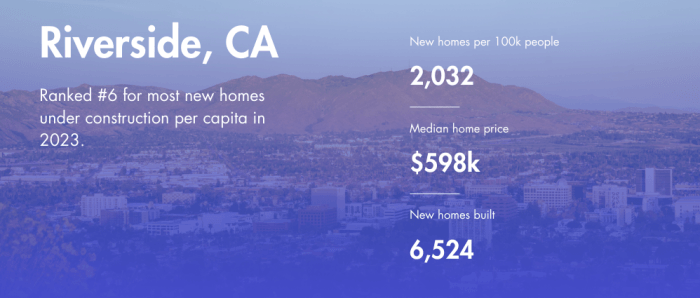 While shocking to see a California metro area actually building substantial new housing, the Riverside metro area has been on a building tear for decades. Legions of Southern Californians cooped up in small Los Angeles neighborhoods have decamped for the sprawling suburbs of the Inland Empire.
With evidently less red tape than dealing with cities under the watchful eye of the California Coastal Commission, there is virtually unlimited demand in California for new housing that builders are happy to satisfy.
As the Inland Empire itself has become a logistics and warehousing hub for the likes of Amazon and Walmart, it's grown into its own to become a regional force, less dependent on direct commutes through the gnarly Los Angeles freeways.
#5 Atlanta, GA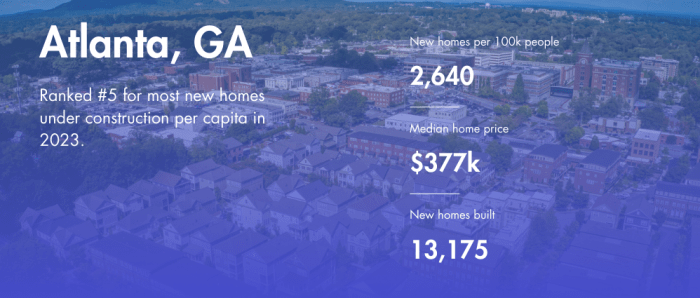 Atlanta, a city deeply entrenched in the annals of American history, continues to redefine itself in the modern era. The city's architectural panorama is ever-changing, with a surge of new homes sprouting in various neighborhoods. Despite a marginal dip in the home value index, the Peach State's capital holds a promising future, as new constructions pave the way for an urban renaissance. Offering a vibrant culture, business opportunities, and a diverse food scene, Atlanta remains an attractive destination for new residents, promising an amalgamation of history and contemporary lifestyle.
#4 Orlando, FL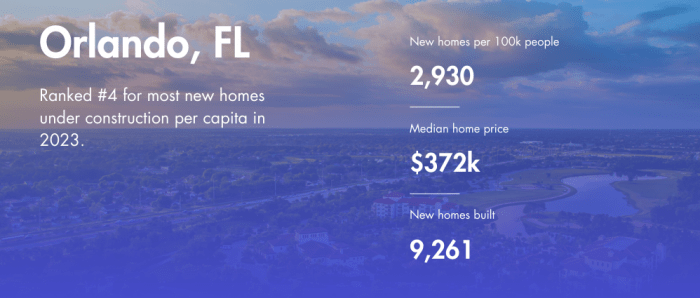 Orlando, universally recognized for its world-famous theme parks, is not just a tourist paradise but has also emerged as a hotspot for homebuyers. The city is witnessing a steady growth in the housing sector, bolstered by a slight appreciation in home values over the last year. Its sustained population growth underscores the magnetic allure Orlando holds, promising not just thrilling adventures but also blossoming opportunities for work and life. As the sun sets beyond the horizons of Disney's castles, it rises upon neighborhoods bustling with newfound vibrancy and growth, showcasing Orlando as a city of dreams in more ways than one.
#3 Lakeland, FL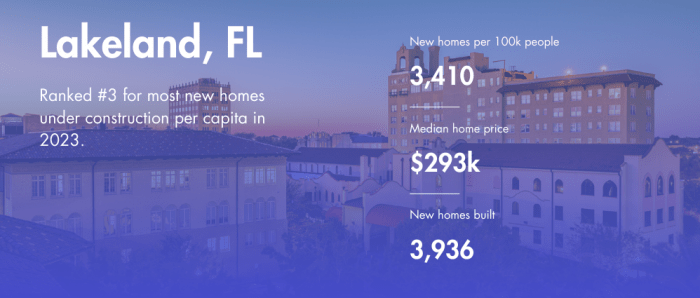 Nestled between Tampa and Orlando, Lakeland is emerging as Florida's newest gem in the housing sector. Lakeland, FL, is an oasis sprinkled with 38 captivating lakes and brushed with a touch of old-world charm. The city is witnessing substantial growth in new home constructions, attracting residents with its blend of natural beauty and urban conveniences. Even with a slight decrease in home values, the substantial move ratio indicates a growing preference for the quiet charm and affordability that Lakeland offers. As more people discover its allure, Lakeland seems poised to transition from a quaint city into a thriving urban hub.
Despite the cooling in the overall housing market, Lakeland's expansion drive is still in full swing. The construction of single-family and multi-unit homes flourished, indicating a healthy demand. The city populace has also witnessed an upswing, suggesting that the migratory influx adds to its appeal.
#2 North Port, FL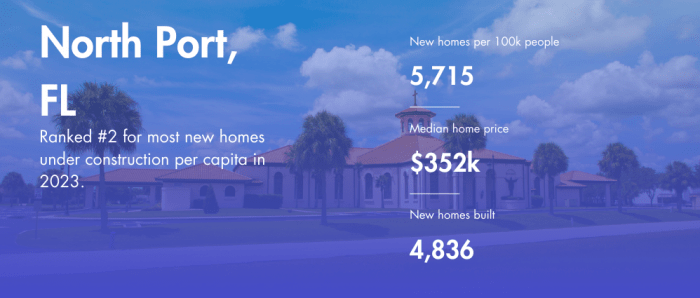 Halfway between Tampa and Fort Myers sits North Port, Florida - a growing Southwest Florida community in Sarasota County. While the city itself isn't on the coast, it's a short drive to world-famous Sarasota white sand beaches. Jimmy Buffet ParrotHeads is the ideal buyer here.
A large portion of these homes are in the Gran Paradiso community, a once-defunct development that was put on pause due to the Great Recession housing bust. Lennar took it over in 2013 and is still building new homes there this year.
With a 2023 move ratio of 0.78, however, our internal estimates project 78 people moving out for every 100 moving in. We could see much more muted growth numbers once 2023 is over.
#1 Myrtle Beach, SC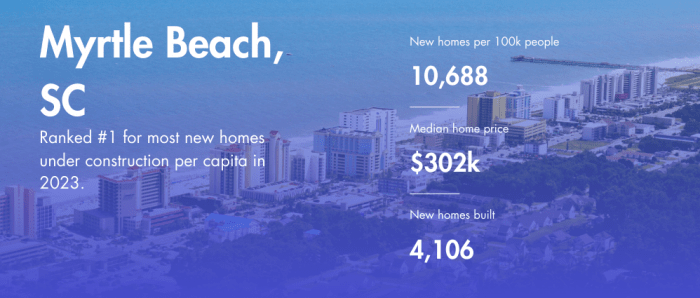 Ranked as the #1 fastest-growing place for three years in a row by U.S. News, it's no surprise that the new homes are cranking in Myrtle Beach, SC.
The pandemic showcased long-standing vacation destinations as hot spots for movers. Myrtle Beach is perfectly emblematic of this concept.
10,000+ new homes built for every 100,000 people is no joke. That's double the #2 metro area and 3x the #3 ranking. There's something in the warm waters of Myrtle Beach that is attracting new residents and home-building like bees to South Carolina honey.
Not what you were looking for?
Check out other categories that can help you find the information you need!
See All
Hide All