Can you share moving truck space?
We get this question all the time:"Can you share moving truck space to get a lower price?"
If you're asking this, you likely have a small move and want to save some money. The truth is that long-distance moving companies already plan to load multiple moves into the truck.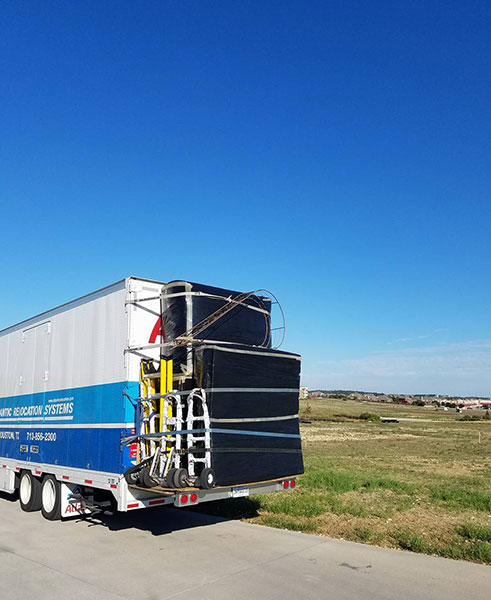 Any interstate mover not sharing truck space or "piggybacking" loads would have very high prices or go out of business. So the prices you see from most moving services almost always include discounts for truck sharing.
Here, we'll show you the different options to share a moving truck. We'll go over backhauling and backloading — industry terms for moving truck shares — and show you the pros and cons of sharing a moving truck.
Not using an entire moving truck?
If you're not using an entire truck, you can share some cubic feet of the moving truck space with another family or individual. Many companies offer shared-truck and peer-to-peer services where two or more people can rent a single truck to split the rental cost.
When you use this option, it's important to:
Ensure all parties have a signed agreement so everyone knows what they are responsible for and how the rental costs will be split. Getting a detailed moving quote instead of a ballpark figure is essential.
Before committing to the shared truck rental, you should also discuss who will take care of fuel, tolls, and any other additional fees associated with the move, especially if it's a cross-country move.
When considering sharing a moving truck, it's important to remember that not all movers offer this option and that some companies may require an additional fee if two or more people use their truck.
Research different companies and review their policies before deciding which one is right for a shared moving truck.
Additionally, to ensure the safety of yourself and your belongings, it's important to get comprehensive insurance coverage when renting a moving truck – no matter who is renting it.
Sharing a truck can be a great way to save money and make your move more economical, but it's important to consider all the pros and cons before deciding, especially when working with long distance movers.
With careful research and preparation, you can find the best option to ensure a smooth transition of your household goods into your new home, whether short- or long-distance relocation.
Affordable truck sharing
There are still several ways to make smaller long-distance moves affordable.
There are several more affordable alternatives for interstate moves.
Find the best options for small moves and determine what works best. Regardless of your choice, research and work with a reputable company that provides comprehensive insurance coverage.
And remember that while shared truck space can be an affordable way to move, it's important to read all the logistics beforehand, stay organized, and communicate with everyone involved. This will help ensure your moving experience is as stress-free as possible.
Every move is different, and no obvious solution will be the cheapest for your move. The best way to ensure you save as much as possible on your move is to compare as many moving options as possible.
If you want to hire a professional mover, try to find a backhaul
"Backhaul" is the moving industry term for a return load, and it's a great way to save money. Many movers offer discounted rates for backhaul trips, which can add significant savings to your move.
It may also be worth checking whether any moving companies you're considering offer discounts if you request a shared truck rental with another customer.
By comparing your options for moving truck rentals and being flexible with your plans and moving date, you should be able to find the best solution for your budget and needs.
Let me explain:
When a New York-based moving company performs a move out to California, one of its biggest expenses is getting that empty trailer back to New York.
This is where backhaul or backloading comes into play.
Haulers often offer significant discounts on return trips to fill up empty pickup truck space.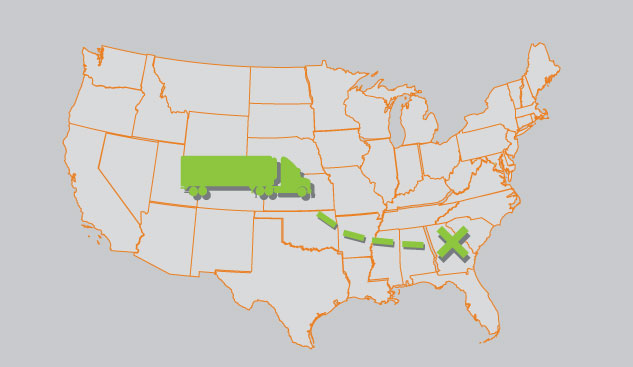 But how do you find backhaul situations?
This is the tricky part.
Many companies claiming to have backhaul rates are moving brokers who tend to offer low-ball estimates and work with very low-quality moving companies.
We recommend avoiding these guys.
The best way to find a backhaul opportunity is to contact moving companies directly and ask if they offer backhauling state-to-state services. Many do, and you can often take advantage of their discounted rates.
You can also use online directories to compare the cost estimates of multiple moving companies at once and ensure you get the best deal possible to get your pieces of furniture to the new location.
Did I mention we have a list of our highest-rated long-distance moving companies…
You can also be more flexible around your pick-up and delivery dates to increase the chances of another move coming your way. The wider the dates and the more companies you contact, the better your odds of finding a cheap backhaul moving rate.
In addition, it's worth checking whether any moving companies you're considering offer discounts if you request a shared truck rental with another customer.
This could save money on both ends by splitting the moving costs between two parties rather than having each one rent an entire truck for themselves.
Is backloading the same as backhauling?
The two terms are often used interchangeably, but technically they're not the same. Backloading refers to loading items onto a truck and transporting them in one direction only. The truck would be empty on its return trip. Hence the term "backload."
Backhauling, on the other hand, is more like a typical moving job where both pick-up and delivery are required. The goods may also have to be unloaded at an intermediate stop before being loaded again for delivery.
This type of moving service typically involves multiple customers and a larger amount of goods than backloading.
Finally, when securing insurance coverage for your move, read all the fine print carefully to understand your rights and responsibilities. It's always a good idea to ask questions if anything is unclear, as it could affect the coverage you receive in the event of an incident.
By taking these steps, you should be able to find the best solution for your budget and needs to save money on your move without sacrificing quality.
Pros and cons of sharing a moving truck
Pros
The primary benefit of sharing a moving truck with another customer is that it can significantly reduce the cost of your move. You only pay for the portion of the truck you use, meaning you don't have to foot the bill for an entire trailer rental.
Another advantage is that sharing a single truck reduces carbon emissions since fewer vehicles are on the road. This makes it an eco-friendly choice and helps protect the environment.
Cons
One potential downside of sharing a truck is that you may experience delays if something goes wrong or one customer takes longer than expected to load their items onto the truck.
Additionally, there's no guarantee that your belongings won't be damaged during transit due to rough handling by other customers or inexperienced haulers.
Overall, sharing a moving truck is an excellent way to save money and reduce your environmental footprint – but consider the pros and cons before deciding.
Get moving and share a moving truck space
Backhauls are great options for those looking to move on a budget while guaranteeing quality service.
It's important to remember that finding backhaul opportunities can be tricky, so it's essential to research and contact multiple companies before committing to one.
Additionally, consider whether backloading or backhauling would be more suitable for your needs, and check carefully for any insurance coverage details before signing up for a service.
With these tips in mind, you should have no problem finding the best solution for saving money on your move!
FAQs
How do I share my moving truck?
If you're moving out of state and your move is quite small, chances are, the professional mover is already planning on sharing your truck space with another move. That being said, the mover you pick wants your service. Ask them what you can do to lower your price. If you have flexibility on your dates, this can help.
What is the cheapest way to move one way?
The upfront cost of a self-service truck rental is the lowest. However, other options may be worth considering when you factor in labor, hotels, gas, and drop-off charges for a long-distance move.
See the cheapest ways to move.
How much does it cost to hire a local mover?<
Local moves of a one-bedroom home can cost roughly $400.
The range for a two-three bedroom home is $900 – $1,400.
For 4+ bedroom homes, local moves may cost from $1,800 – $3,000
Not what you were looking for?
Check out other categories that can help you find the information you need!
See All
Hide All