Simply Self Storage [2022 Review]
Overall Opinion: Simply Self Storage has a well-established presence in more than 25 U.S. states. They offer on-site management, high-quality site security, affordable prices, and various unit sizes, which makes them a viable option.If you're considering storage, here are some other links that might be helpful:
Top Moving Container Companies: If you need storage for a longer period of time or want to transport your items, consider a moving container.
Storage Units vs. Moving Containers: Unsure if you need a storage unit or container? Learn the difference between the two.
Moving Cost Calculator: If you're moving soon and want to find out the best options for moving, storing, or transporting your items, get a free cost breakdown of your options based on the date of your move.
Pros

Cons

In response to the Covid-19 pandemic, they designed a "contactless" process for the safety of all customers.
They have a user-friendly online process for ordering a rental unit
Offers specialized units for storing wine
Competitively priced

A one-time administrative fee of approximately $24 applies to all new rental agreements
The organization has considerably fewer locations compared to the leading national competitors
The company lacks any national discounts; however, individual locations often promote various specials
How does Simply Storage compare to other self-storage companies?
| | | | | | |
| --- | --- | --- | --- | --- | --- |
| Company | BBB Rating  | # of U.S. States | Total U.S. Facilities  | | Total Square Feet Owned  |
| Simply Self Storage  | D- | 23 | 101 | | 8,515,059 |
| Public Storage | A+ | 39 | 2,700+ | | 183,000,000 |
| Life Storage | A+ | 26 | 563 | | 40,390,216 |
| CubeSmart Self Storage | D- | 25 | 524 | | 36,735,000 |
Jump to the Simply Self Storage review section that you're looking for:
About Simply Self Storage

Founded in 2003 in Orlando, Florida, Simply Self Storage now has more than 100 locations spanning approximately 23 states (see image). The company was recently acquired by Blackstone Real Estate Income Trust, Inc. ("BREIT") in 2020. BREIT boasts of currently has roughly $174 billion in investor capital under management.
The majority of the organization's facilities are self-owned; however, they also manage self-storage facilities on behalf of others. The company leaders describe their storage facilities as "clean, safe, and stress-free." Simply Self Storage employs a team of Certified Trainers that regularly visit the sites for ongoing training efforts.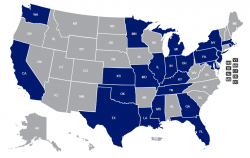 Simply Self Storage offers a broad range of services
Personal self-storage: The company offers short and long-term storage in various sizes and configurations on a month-to-month basis. Customers must purchase a lock. Most locations will accept package deliveries on behalf of customers. Office hours
Business self-storage: Simply Self Storage invites commercial customers who represent both small or large organizations.  Some of the most commonly stored items include trade-show displays, equipment, inventory, office furniture, and self-storage, which offers tremendous affordability compared to other options. In addition, many contractors such as painters, landscapers, or roofers use self-storage space for tools, materials, and supplies.
Mini Storage: The mini-units consist of those 5′ x 5′ or smaller, similar to a large closet. Mini units will accommodate both short and long-term rentals. College students represent a large segment of the customers who rent these and those needing "overflow" space to supplement existing storage locations, including attics, basements, and garages.
Vehicle storage: Renters looking for space to accommodate a car, van, truck, or RV are in luck. Many of these units store classic cars for collectors seeking protection from adverse weather conditions, vandals, rodents, and other risks. The units are generally categorized as either outdoor, covered, or indoor, based on the needs of the customer and unit availability. Outdoor units typically serve as the most economical option, and customers should consider acquiring a good-quality car cover that will protect the vehicle from sun, moisture, etc.
Boat Storage: Boats present another type of item that might need short or long-term storage, and availability exists in indoor and outdoor spaces.  Certain requirements include draining all fuel, adding a fuel stabilizer product, and placing baking soda inside the unit to limit mold or mildew development.
Climate-controlled units: Many renters will choose a climate-controlled option for protecting belongings with susceptibility when facing extreme temperatures. Common examples include wooden furniture, leather, expensive art, and written documents that often will turn yellow and become unreadable.
Moving Supplies: Customers may opt for purchasing moving supplies such as tape, boxes, locks, bubble wrap, and other packing materials (at the location only–no online ordering)
Wine storage units: Specialized 3 x 3′ climate-controlled units for wine storage
Insurance coverage: The Safeguard Program offers renters $2,000 in coverage, and most facilities promote this form of coverage for a low monthly rate.
Simply Storage Unit Size Guide
Smaller Storage Units
5×5 (25 Sq. Ft.): A closet-sized unit for stacked boxes, appliances, and small furniture.
5×10 (50 Sq. Ft.): A good option for those with belongings from a one-bedroom apartment
5×15 (75 Sq. Ft.): Appropriate for large one-bedroom apartments with oversized furniture
Larger Storage Units
10×10 (100 Sq. Ft.): A good option for those with belongings from a two-bedroom apartment
10×15 (150 Sq. Ft.): Appropriate for those with belongings from a small home
10×25 (250 Sq. Ft.): Capable of holding the belongings contained in a typical 2 to 3 bedroom home
10×30 (300 Sq. Ft.): A good option for accommodating a larger 3 bedroom home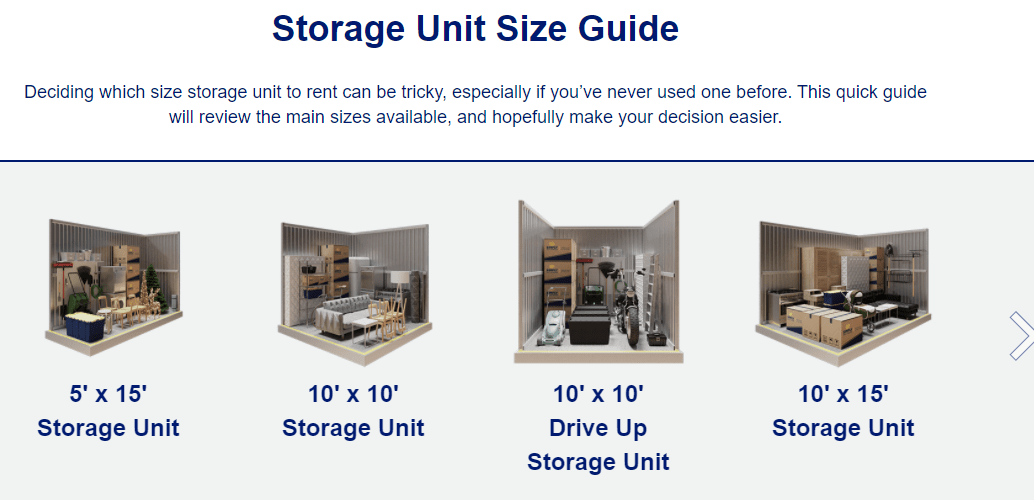 How much does Simply Self Storage charge?
The company markets its mini storage units as an excellent low-cost option, differentiating them from competitors who often price small-sized units similarly to regular unit sizes. In addition, the Simply Rewards Program provides a $30 rent credit for customers who refer a new customer to Simply Self Storage.Online Pricing By Location 
Seattle, WA: 5 x 5′: $65/mo; 10 x 10′ (heated): $212/mo; parking 8 x 15′: $302/mo.
Cypress, CA: 5 x 10′ (climate controlled): $21/mo; 10 x 10′ (climate controlled): $188/mo; 10 x 30′: $418/mo.
Orlando, FL: 5 x 10′: $61/mo; 10 x 10′: $160/mo; parking 10 x 45′: $162/mo.
Allentown, PA: 5 x 5′: $74/mo; 8 x 10′: $203/mo; 10 x 15′ $198/mo.
A one-time administrative fee of $24.00 applies when any rental agreement begins.
Renters may provide their own lock, or SSS will furnish a lock and impose a $17.63 fee.
Renters that prefer receiving a paper invoice instead of opting for electronic billing must pay a $1.00 invoice fee.
They accept most major credit cards.
Safeguard Insurance Pricing:
$2,000 of coverage: $8.71/mo.
$3,000 of coverage: $13.55/mo.
$5,000 of coverage: $21.29/mo.
If six days pass without paying the monthly rent, the unit becomes "overlocked" and thus inaccessible until receipt of payment and a $20.00 overlock fee.
Renters who leave behind any items or trash (after moving out) will incur a $50.00 "cleanout" fee.
Posted feedback suggests that the online pricing represents the lowest available, with walk-in rates being slightly higher.
What is Simply Self Storage's Customer Service Like?
The website allows for seamless navigation and making of an online reservation.
Customers may enroll in an automatic monthly option for paying their bills each month.
The company explains how certain types of items are inappropriate for storage, including explosives, weapons or ammunition, perishable materials, unregistered cars, and more.
The majority of locations maintain excellent security standards, including indoor and outdoor lighting, surveillance cameras, keypad access control, and exterior fencing.
Does Simply Self Storage have a good online reputation?
Simply Self Storage is currently not accredited with the Better Business Bureau (BBB) and maintains an overall rating of D-. The BBB received 11 complaints over the past three years and one complaint over the past one year. The following is a summary of the categories (nature) of the complaints received.
| | |
| --- | --- |
| BBB Complaint Types | Number |
| Sales or Advertising | 0 |
| Collections or Billing | 1 |
| Deliver-Related Concerns | 0 |
| Warranty or Guarantee | 0 |
| Product or Service Problems | 10 |
The majority of each individual Simply Self Storage location maintains a Google and Yelp business page.
According to the ISS Buyers Guide, Simply Self Storage ranked 15th overall in storage capacity in the U.S. (see image)
Should You Consider Simply Self Storage for a Move?
Simply Self Storage is a good overall option. The units are available in a variety of sizes and have competitive pricing.
Looking for more storage options? Check out some of our other personal storage reviews:
Not what you were looking for?
Check out other categories that can help you find the information you need!
See All
Hide All