UsedCardBoardBoxes.com – The Definitive Review
Whether you're moving across town or across the country, the boxes you choose will play an integral role in getting your stuff to its final destination securely. Choose cheap boxes, and you'll find them to be flimsy and easily damaged, potentially harming the contents. But, if your budget is already tight, you might think twice before dropping money on cardboard. So, are the supplies from UsedCardboardBoxes.com worth the money? Let's compare.
Choosing the right boxes
UsedCardboardBoxes.com is favored for its ability to recycle sturdy shipping boxes for moving purposes. While each box varies in its capacity and weight rating, you can trust them all to be sturdy, reliable, and in good condition.
Of course, one of the biggest things you'll need to decide on is just how big and sturdy your moving boxes need to be.
Here are some pointers:
If you're packing fragile items, the boxes should be small, easy to tote, and sturdy to keep the contents safe.
If you're just making a short move in the back of your car or a pickup, you probably won't be stacking boxes, so you can get away with cheaper ones.
If you're making a long move and/or using a moving truck, sturdier and stackable boxes will be necessary to get things to their destination un-damaged.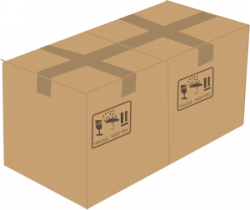 Keep size in mind, too, because you don't want to overpack a large box with heavy items and then be unable to easily lift, move, or carry it.
What to expect from UsedCardboardBoxes.com
UsedCardboardBoxes.com takes used packaging from warehouses and other sources and then re-sells it to consumers for moving purposes. All of the boxes are in fantastic condition, and it helps save trees since you're recycling.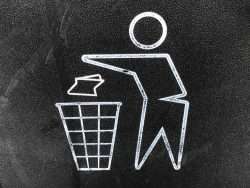 The boxes tend to be very sturdy and range in size depending on their original purpose and contents. They also sell a range of brand-new moving boxes that have never been used before. Usually, they have brand-new boxes available when they are low on used boxes of a specific size–that means you can always find the size you need on this site.
Pros
There is a wide selection of box sizes and types to choose from
Both used and new boxes are available to fit just about any budget
Shipping is fast and free for most products
They also sell tape, markers, bubble wrap, and other essential packing supplies
Cons
You will have to purchase these boxes, but they'll likely be stronger than what you can get for free
For moving boxes (either new or used), you'll pay between $1.80 and $2.50 per box, depending on the size
In addition to the above, you should also note that this site offers specialty boxes, like TV boxes, dish boxes, file boxes, and so on, which can be hard to find elsewhere.
Key features
Before you begin packing, think about these key features to help you determine where it's best to get your boxes.
Multiple box sizes
At any given time, you can go to the Moving Boxes section of the website to locate a range of sizes. When they do not have used boxes available of a particular size, they offer new boxes in a similar size as an alternative. That means if you have to go back and re-order, you don't have to worry about them being out-of-stock on anything.
Specialty boxes
From packing up your wardrobe to carefully transporting dishes, files, picture frames, mirrors, and even your flatscreen television, UsedCardboardBoxes.com is one of the few places where you'll find a number of specialty boxes in one place to make your move just a little bit easier.
Moving kits
Most people won't just be buying one size box. That's why UsedCardboardBoxes.com has assembled some moving kits to help you get everything in order with just one click. The moving kits come with a range of different box sizes along with supplies.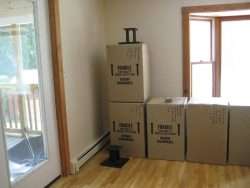 Deciding which moving kit you need is easy because they sell them based on the number of rooms you are packing up. For instance, the "1 Studio/Dorm" kit includes nine medium boxes, five large boxes, two extra large boxes, 3 lbs of paper, one tape roll, one marker, and one box cutter. That's everything you'd need to pack up your dorm in a single kit, and it sells for just $38.00.
They also have a "pack rat" version of each kit available, which comes with more than double the boxes and extra tape in case you have more stuff than the average packer.
Comparing UsedCardboardBoxes.com
When comparing UsedCardboardBoxes.com to other websites, there are some things to keep in mind.
Lowes
It's no surprise that buying things locally is often cheaper than purchasing online. So, if you have a Lowes nearby and you have the time to buy your boxes one by one, you will save some money. Lowes' medium boxes average about $1.38, while UsedCardboardBoxes.com averages about $2.05 each. Of course, this is based on store availability, and your Lowes may not be close enough or offer a good selection.
U-Haul
Similar to the above, if you have a U-Haul location nearby, it may be worth heading over to check out their selection of moving supplies. The medium box at U-Haul is 18″x18″x16″ in size and costs $1.49 each. The great news? U-Haul will buy back your used boxes (given that they're in good condition) as long as you keep your receipt.
Home Depot
While the prices of Home Depot's boxes will vary from one store to the next, if you have a Home Depot in your area, it might just be worth looking at their selection. The reason being is that Home Depot is unique in how it sells its moving boxes.
If you're packing heavy and/or traveling a long distance and need to know you can rely on the stability of your boxes, Home Depot will bring you peace of mind because they actually offer a strength rating for all of their boxes. You'll generally find three different strengths for each size.
You will pay a little more for the specificity, but if you have a Home Depot locally and don't mind going to pick some boxes up, this could definitely pay off. Just be sure you take advantage of the bulk purchase options.
Free boxes
Most towns have a few places where you can go to get boxes for free. It might be on the corner of the road where a family just finished unpacking or at your local grocery store. Whatever the case may be, free boxes are great for short moves, un-fragile items, and to supplement your other moving boxes.
The main reason why you probably don't want to base your entire move around free boxes is that they're hard to find. In addition, they will range greatly in size, and some won't come with lids at all, which can make stacking difficult. Not to mention strengths and conditions will vary.
The bottom line
UsedCardboardBoxes.com is a convenient online source for moving boxes and supplies with a range of kits available. If you are going to buy from here, you'll get your money's worth by selecting the sizes and strengths that work best for your house. When in doubt, get extra!
One of the primary perks of buying from UsedCardboardBoxes.com is that the boxes will be shipped directly to your door. In fact, it's this convenience factor that will have you paying a few cents more per box over some other options that may or may not be local to your area (i.e., U-Haul or Lowes).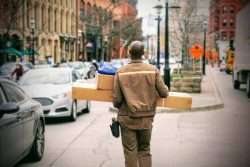 Home delivery of moving boxes is a great way to save time!
With that said, you'll likely be able to appreciate that UsedCardboardBoxes.com offers used and recycled materials that would have otherwise been put to waste, and that's great for the environment. Plus, with all the sizes listed right on the site, picking out the boxes you need is a breeze, and it might be worth it to you so that you can skip the line and hassle locally.
They're free, and fast shipping just adds to the ease of it all. In a matter of days, you could be packing up and on your way.
Not what you were looking for?
Check out other categories that can help you find the information you need!