ATL Parks and Recreation: The Best Parks in Atlanta
Photo Credit: Flickr user Mike
Most people don't consider the outdoors when moving to Atlanta but parks are some of the most common social gathering spots across the metro Atlanta area.
From sprawling green fields in Piedmont Park to miles of trails in Kennesaw Mountain National Battlefield Park in Marietta, outdoor fun is never too far away.
This post will cover top picks for scratching that outdoor itch of yours. We'll look at options for parks ITP and parks OTP.
As a bonus, we'll also cover a few nearby day or weekend trip locations.
Thinking about making ATL your new home? Be sure to hire one of the best Atlanta movers.
Atlanta Parks – ITP (Inside the Perimeter)
Finding relaxing nature spots takes little effort in the city of Atlanta, thanks to its abundant and well-maintained options.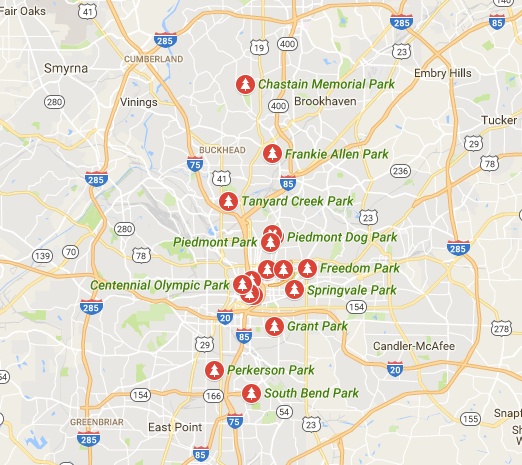 Piedmont Park
Probably the biggest green space ITP, Piedmont Park attracts tons of visitors with its regular lively events & festivals, dog park, and attached Botanical Gardens.
Nestled in Midtown and along the Beltline trail, Piedmont Park draws large crowds. For fitness enthusiasts, there's an exercise area with pull up bars, a running track, soccer nets, and more.
(Red pandas make exercise look fun. Just saying.)
The Botanical Gardens has some particularly beautiful art displays, like this one below.Their winter light designs also rock.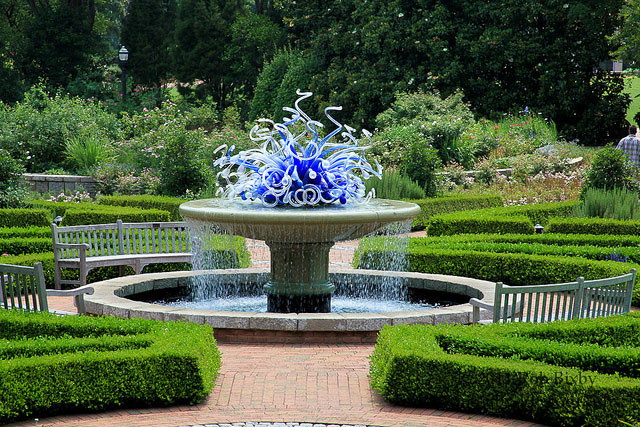 Tennis courts, swimming pools, and a kid's play place are also sprinkled across the park.
Heads up: Piedmont is reasonably close to MARTA stations–good to know, because parking in Midtown can be pricey & hard to find.
Centennial Olympic Park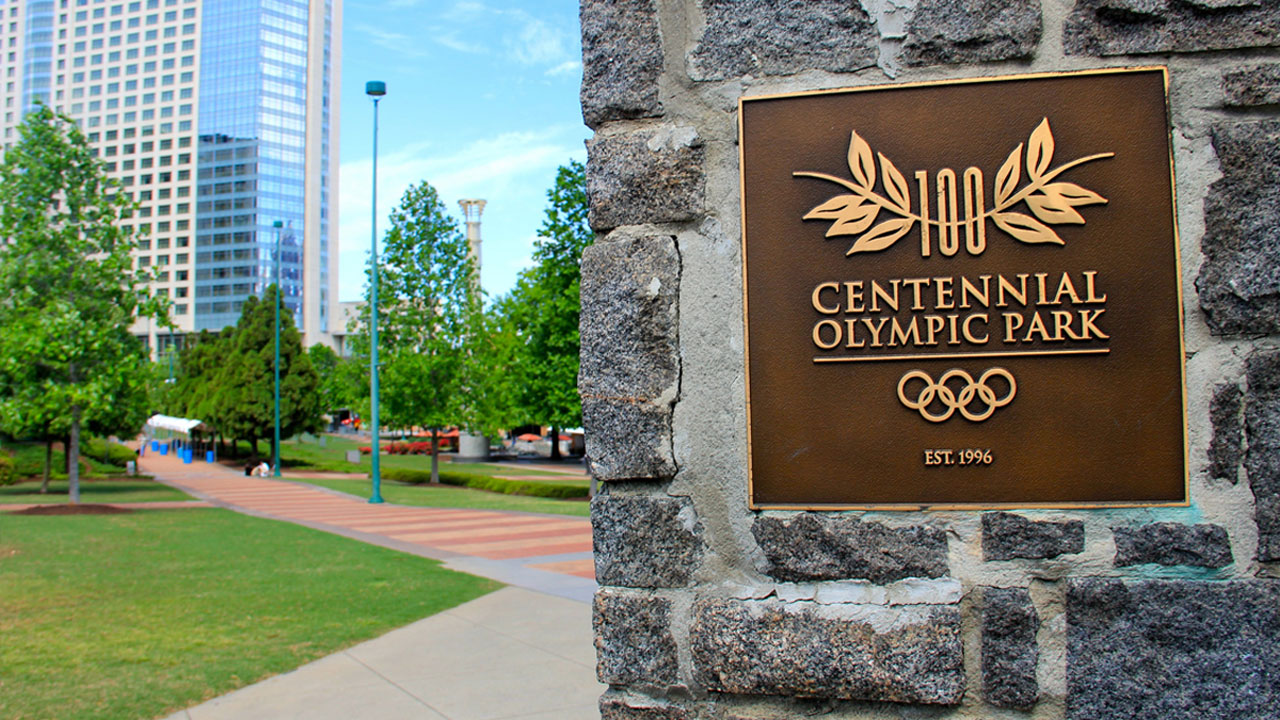 Next: Centennial Olympic Park. Named (appropriately) for hosting the 1996 Olympics before evolving into a park.
Located Downtown near Peachtree Center, Centennial Park is encircled by the World of Coke, the Georgia Aquarium, the Tabernacle, and other major Atlanta attractions.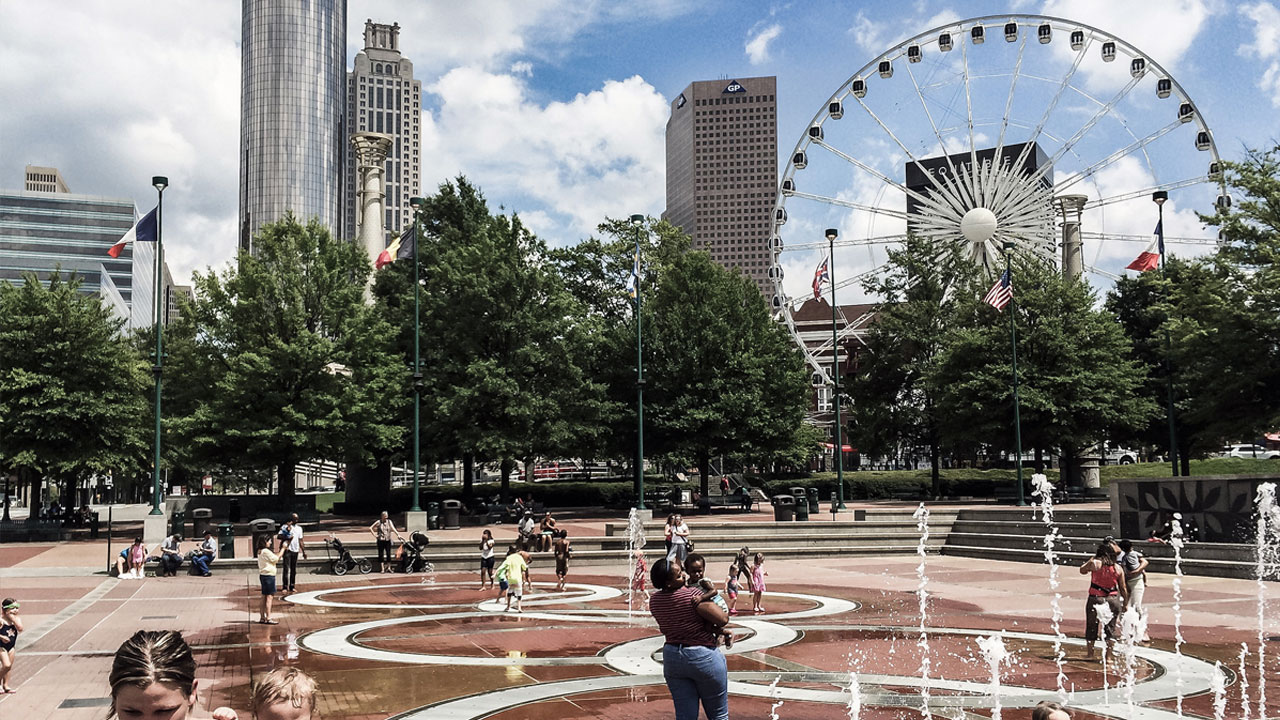 Also conveniently located near MARTA, Centennial Park is small compared to Piedmont Park. But, Centennial offers special events along with the fountain of rings shows and the Skyview ferris wheel.
Woodruff Park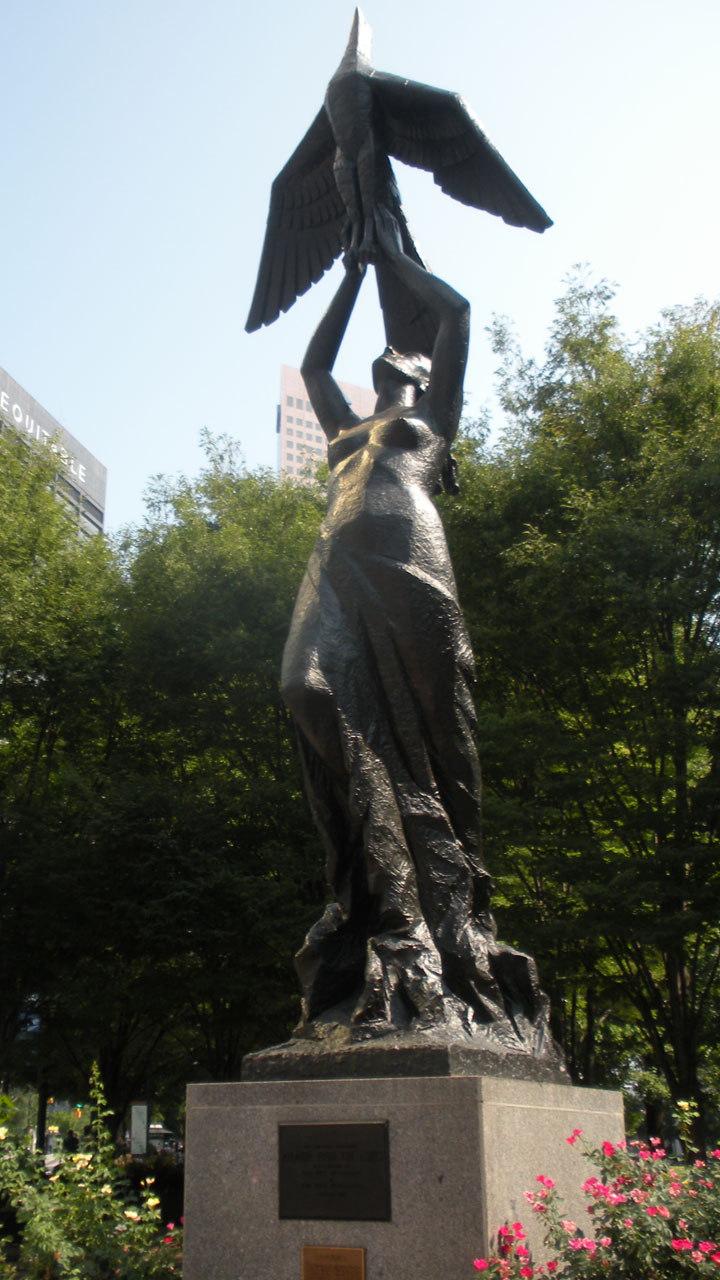 Another popular Downtown Atlanta spot for families and visitors, Woodruff Park honors Atlanta's history with a unique sculpture…
The Phoenix
The Phoenix represents Atlanta's rebirth after the Civil War, when Union soldiers burned much of the city down.
Although it's on the small side, Woodruff Park includes two fountains and some interesting monuments.
Plus, Woodruff's a short walk from Centennial Olympic Park, so you could easily visit both in an afternoon.
Grant Park
Both the name of a popular Atlanta neighborhood as well as the name for the city's oldest park, Grant Park is a treasured recreation area surrounded by charming Victorian homes.
Offering Atlanta visitors and residents a selection of restaurants, playgrounds, and tennis courts, as well as a beloved farmer's market and Zoo, Grant Park is an essential ATL destination for many.
Zoo Atlanta–no, not Atlanta Zoo–is home to about 1,500 animals of 220 different species. If you're feeling blue, take a gander at Zoo Atlanta's live panda cam to brighten your day.
Chastain Park
In North Buckhead, Chastain Park stands out as the largest city park in ATL.
Chastain Park offers jogging paths, playgrounds, and a horse park.
The park's amphitheater hosts legends like Ray Charles, Janet Jackson, Bob Dylan, and the Backstreet Boys.
It's true. BSB were there.
But there's more!
Chastain also has a large walking track, several areas for sports – tennis courts, a swimming pool, and a golf course.
Lake Claire Land Trust
This secluded sanctuary's less well-known than others. That gives it an intrigue that bigger parks like Piedmont don't have.

From exotic animals and communal gardens to drum circles, Atlanta's Lake Claire Land Trust stands out. By the way, those drum circles have been around for 20+ years.
Maybe after visiting, you'll be inspired to build a land trust, too.
LCLT gives off relaxed vibes with beautiful artwork and even Buddha statues. We definitely approve!
Historic Fourth Ward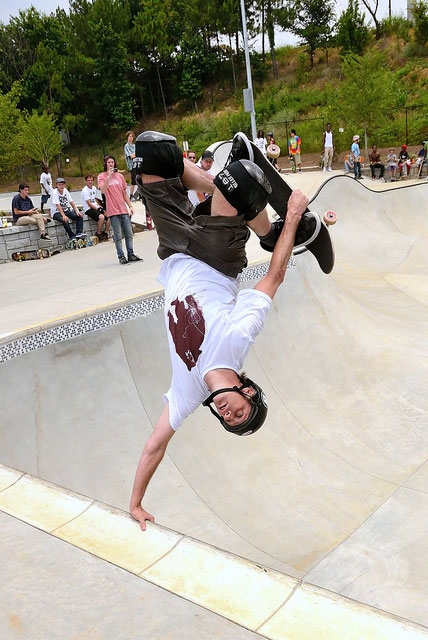 The Historic Fourth Ward Park in Old Fourth Ward can be easy to miss for first-time visitors.
However, it offers amenities like a killer outdoor theater and lake with a fountain.
Did we mention this park even has a skatepark? Tony Hawk (left) made an appearance there.
For the foodies – H4W park's conveniently located near several great bars and eateries, too. For example, locals love King of Pops near Ponce City Market.
Bring the kids to play on the playground and a splash pad.
Last but not least, what's bringing many of these parks together?
The Beltline
While not a park exactly, the Beltline's great for connecting multiple parks along its path.
Formerly a rail line, the Beltline's being developed into a multipurpose hiking, biking, and walking trail.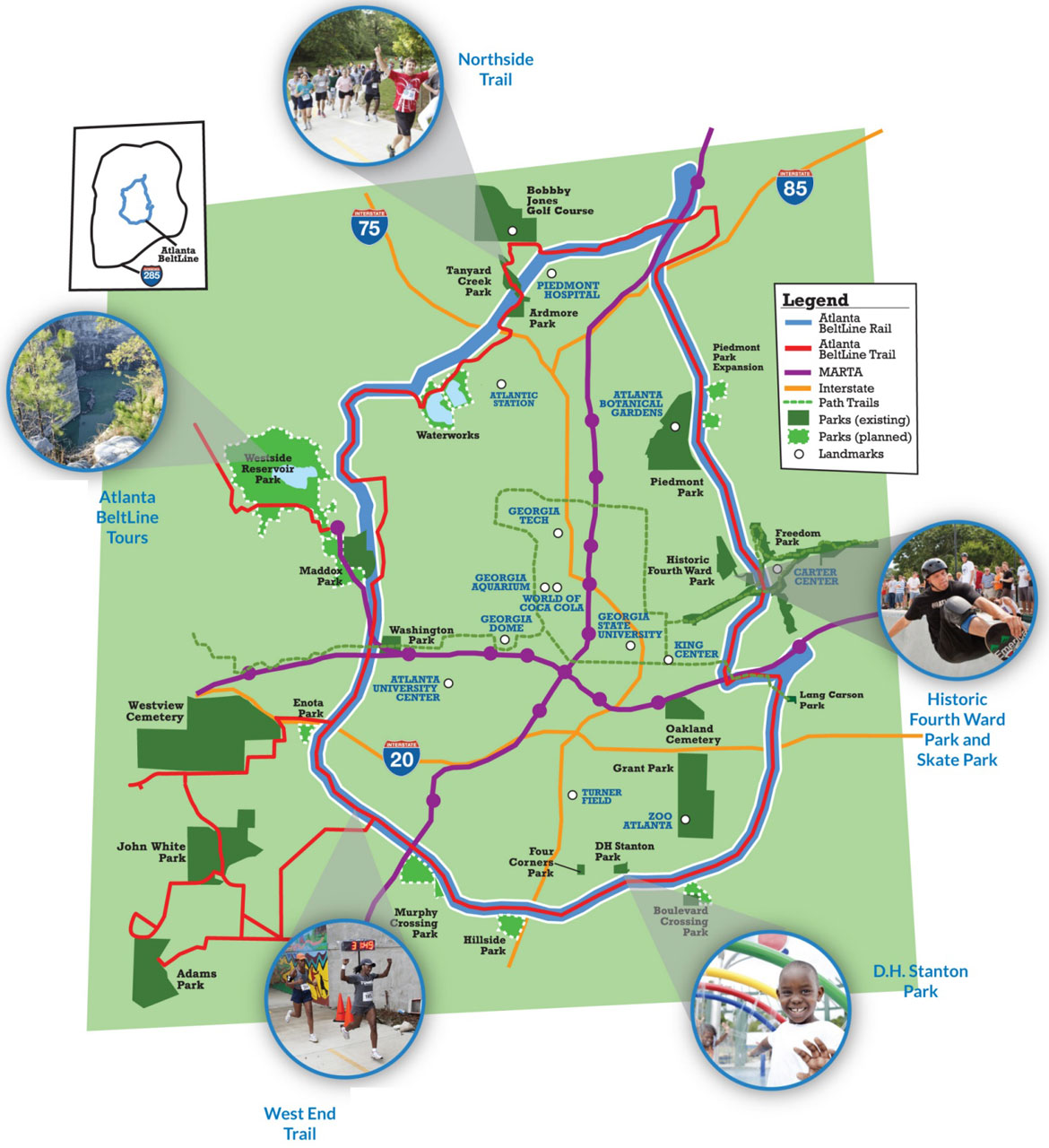 Next, let's branch out from the city and explore parks OTP…
Atlanta Parks – OTP (Outside the Perimeter)
If you're living in the city, these parks can feel far away.
But, if you're already living it up in the 'burbs & don't want to fight city traffic – check these out first.
Westside Park
Just outside the perimeter actually, is one of the most exciting new urban parks in the country. Westside Park!
Westside Park will be the largest planned greenspace in Atlanta and will certainly become a new favorite for locals and visitors alike.
Connected to the Atlanta Beltline, this park will also serve as a water reservoir. Be sure to be one of the first to check out this exciting new park.
Kennesaw Mountain National Battlefield
First of all, yes that's a really long name. Just call it Kennesaw Mountain.
Northwest of Atlanta, the mountain has great hiking trails and an excellent view from the mountaintop.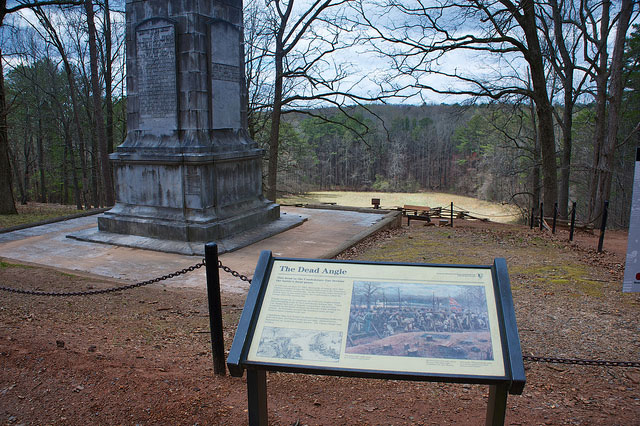 The long trails make Kennesaw Mountain a popular training spot for runners.
Before hiking, visitors can check out the visitor center museum or enjoy a relaxing picnic.
Sweetwater Creek
West of Atlanta in Lithia Springs, you can find another fun park – Sweetwater Creek.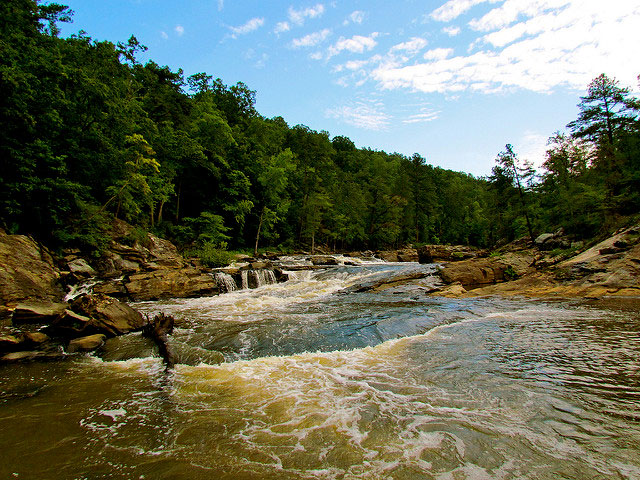 Hikers can follow the main trail to old ruins and continue on to find great views of the creek's rapids.
Like much of Atlanta, the mill was burned down during the Civil War.
Stone Mountain
East of Atlanta past Tucker, massive 3,200 acre Stone Mountain attracts visiting families and fitness enthusiasts.
The mountain offers a fun, challenging hike. Another fun option – take a summit skyride to the top.
Note on Stone Mountain visits: parking comes at a price, but visitors can purchase an annual parking pass to save money.
If visiting more than twice per year, the annual pass saves you money.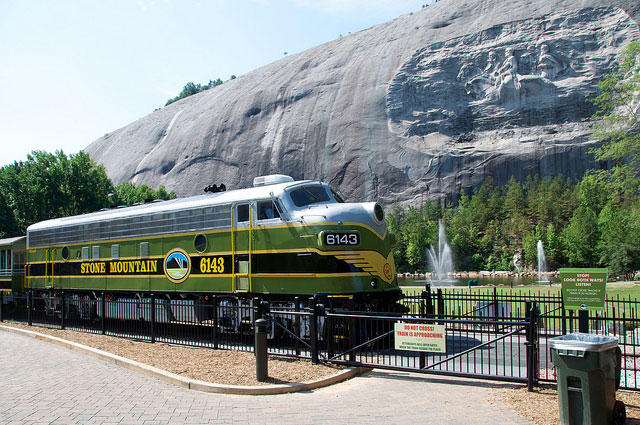 Atlanta's nearby nature spots
If you love hiking, you can drive about two hours up to Springer Mountain to get started on the Appalachian Mountains.
Here you can climb and hike to your heart's content.
But don't worry, we won't judge you if you decide not to hike the 2,000+ mile stretch to Maine.
Or, check out GA's best waterfall – Amicalola Falls State Park.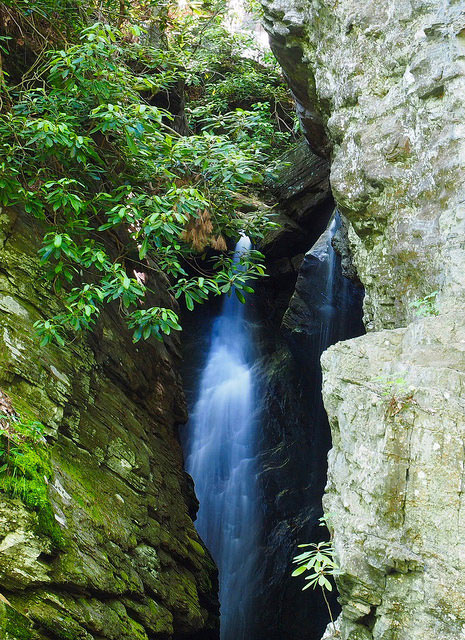 If mountains aren't your jam and you prefer sticking to water, take a day trip and explore activities on and around the Chattahoochee River.
For some international culture, visit Helen, GA and nearby Raven Cliff Falls (pictured on the right). As the name suggests, this spot features a waterfall.
Helen's a distinctly German-influenced town, with unique German-style buildings and a strong Oktoberfest presence.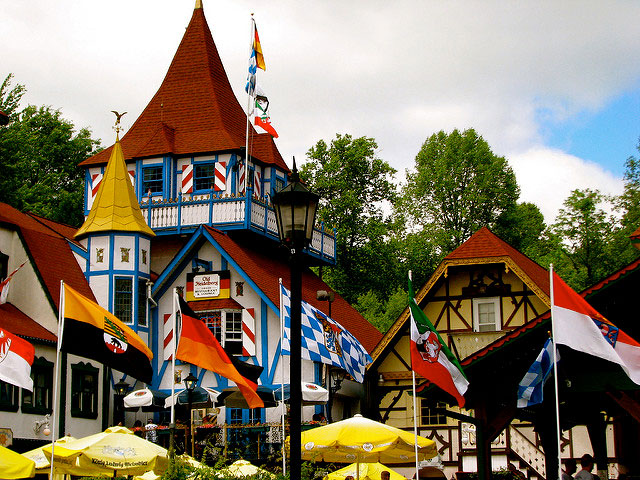 Get some pretzels with mustard while you're there!
Now that you've gotten to know the beautiful parks this green city has, you'll want to make sure you book one of the best Atlanta movers for your relocation to the ATL.
Not what you were looking for?
Check out other categories that can help you find the information you need!
See All
Hide All