Best Atlanta Movers of 2022
After looking at verified customer reviews, state and federal licensing and insurance, industry reputation, among other factors, these are the best moving companies in Atlanta.
The top 4 Atlanta movers in 2022 are...
Best for Local Moves

Quick quote
Fast, easy, no commitment
(678) 567-6683
Best for Local Moves
Top Dawg Moving, (USDOT# 3219978), is a young Atlanta moving company that has set out to do things right from the start. Striving to offer a refreshing, transparent experience, Top Dawg Moving is a great option for your next local Atlanta move.
Quick quote
Fast, easy, no commitment
(678) 567-6683

Quick Quote
Services
Professional Drivers
Packing & Unpacking
Loading & Unloading
Moving Supplies
Moving Insurance
Storage
The Good
Charges start and end at your home
They charge by the minute (they don't round up to the next hour)
Great customer reviews across platforms
Highly qualified moving crew members
The Bad
Only available for moves within 40 miles of Roswell, Georgia
Won't move pool tables, hot tubs, refrigerators, or pianos
moveBuddha Review
If you were to ask us 10 words that describe the moving industry, the word "transparency" probably isn't going to make it.
This is why coming across companies like Top Dawg Moving is so refreshing. They will tell you upfront how much everything is going to cost, how they calculate their cost, and everything that they can do for your move.
Here's the part that I most enjoyed, however: They also tell you what they won't do. After reviewing dozens of moving companies that overpromise and underdeliver, customers should rejoice at this rare case of transparency.
If you're moving within 40 miles of Roswell, Top Dawg Moving should be one of your top options.
Best Customer Service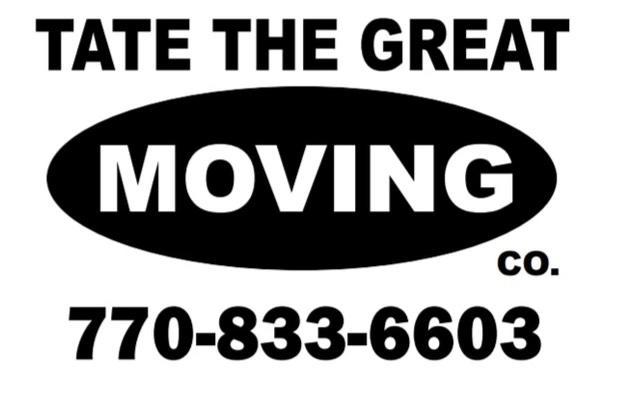 Quick quote
Fast, easy, no commitment
(770) 833-6603
Best Customer Service
Tate the Greate Moving Company, (USDOT# 1878918), is an Atlanta area mover that has surprised customers again and again with its wonderful and professional customer service. Founded in 2007 by a U.S Navy Veteran, you'll enjoy a 10% senior, veteran, and military discount!
Quick quote
Fast, easy, no commitment
(770) 833-6603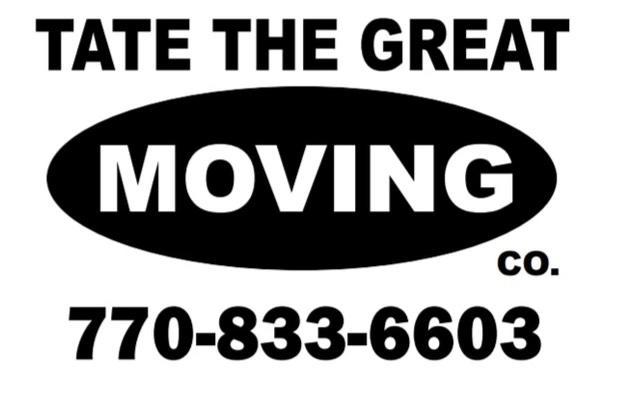 Quick Quote
Services
Professional Drivers
Packing & Unpacking
Loading & Unloading
Moving Supplies
Moving Insurance
Storage
The Good
Transparent and competitive pricing
Offers 10% discount for students, veterans, military, and seniors
Handles furniture and appliance deliveries
Great customer satisfaction
The Bad
Not an option for interstate moves
Requires a $100 deposit
moveBuddha Review
Moving to/from anywhere within 200 miles of Atlanta? Tate the Great Moving is an excellent option for you!
Perhaps due to their military background, this company has ensured that they offer exceptional customer service, not only in friendliness but also in professionalism and discipline.
Aside from their automatic discounts for students, military, veterans, and seniors, customers have enjoyed their reasonable pricing and the lack of last-minute changes/charges.
If you're looking for local movers with fair prices and great customer service. We recommend Tate the Great Moving
Best Storage Option

Quick quote
Fast, easy, no commitment
(770) 799-2596
Best Storage Option
Zip Moving & Storage, (USDOT# 2586700), is a local moving company that offers every moving service you could need for local moves. They especially stand out for their offering of long-term, short-term storage options at their large and secure facilities right in metro Atlanta. Although they won't offer the lowest rate in the market, you can rest assured that you are working with quality movers when you book with Zip Moving & Storage.
Quick quote
Fast, easy, no commitment
(770) 799-2596

Quick Quote
Services
Professional Drivers
Packing & Unpacking
Loading & Unloading
Moving Supplies
Moving Insurance
Storage
The Good
Offers long-distance moves
Deposit is 100% refundable
Offers storage for long term or short term
The Bad
Deposit required
Limited Long-Distance Moving Options
moveBuddha Review
Whether you're moving in the Atlanta area, elsewhere in Georgia, or even out of state, Zip Moving and Storage is an option for you.
Zip Moving and Storage especially excels when it comes to storage. With their large and secure storage facilities, transparent pricing, and climate-controlled options, you can rest assured that if your move requires storage, with Zip, you're good to go.
Best Overall
Quick quote
Fast, easy, no commitment
(866) 939-4119
Best Overall
Bellhop, (USDOT# 3296538), has renewed the scene for local moving across the country and in Chicago, it's no different. They offer services that range from hourly labor to long-distance moves. Given their "Uber-like" technology and vast experience over the last decade, Bellhop is our top choice for Chicago moves.
Quick quote
Fast, easy, no commitment
(866) 939-4119
Quick Quote
Services
Professional Drivers
Packing & Unpacking
Loading & Unloading
Moving Supplies
Moving Insurance
Storage
The Good
Pricing is transparent and straightforward
Modern organization in a heavily outdated industry
Exceptional customer satisfaction
Ability to manage the entire experience online
The Bad
moveBuddha Review
Imagine bringing all of the best things about tech companies to moving. Without compromising customer service and quality, Bellhop has disrupted the industry in the best way.
No longer do you have to worry about pushy salespeople, sketchy ads, and scammy companies. With Bellhop, booking your move is as easy as possible and you know you're dealing with one of the top companies of the last few years.
Basically, whatever the type of move you need done in the Chicago area or nationwide, Bellhop will help you out. From moving your couch downstairs to moving a large home to another state.
Due to this and much more, we can confidently recommend Bellhop for your next move.
How Much Will It Cost to Move to (or Within) Atlanta?
Although we have a detailed breakdown of the cost to move in Atlanta, the following pricing table shows ballpark costs for local moves within the Atlanta area and its suburbs depending on the side of your new home.
But keep in mind that they're only averages based on a number of factors.
Getting free personalized quotes based on your particular situation is the only way to get an accurate idea of how much your move will cost. This is exactly what the moving cost calculator does.
| Home Size | # of Movers | Cost/Hour | Base Cost (2hrs) | # Hours | Avg. Total |
| --- | --- | --- | --- | --- | --- |
| Studio | 2 movers | $75/hour | $150 | 3 hours | $225 |
| 1 Bedroom | 2 | $75 | $150 | 4 | $300 |
| 2 Bedrooms | 3 | $100 | $200 | 6 | $600 |
| 3 Bedrooms | 4 | $120 | $240 | 7 | $840 |
| 4 Bedrooms | 4 | $120 | $240 | 9 | $1080 |
| 5+ Bedrooms | 5 movers | $145 | $290 | 12 | $1740 |
**Estimated rates are for labor only and do not include travel time, fuel surcharge, packing services, unpacking, accessorial charges (like shuttles), or insurance.
What does a good moving company look like?
First off, whether you're moving to Buckhead, Roswell, Norcross, or Atlanta propper, going with the lowest moving quote is usually a really bad idea.
Though dollars and cents are important, you'll also want to consider things like value, peace of mind, and the benefits of having a no-hassle stress-free residential moving experience.
And remember, just because a company gives you an enticingly low free quote doesn't mean the actual cost won't be higher…sometimes much higher.
It's called the "lowball" estimate, and for less than reputable movers, it's the oldest trick in the book.
In short, using vetted professional movers with verified customer reviews is the way to go.
In the industry, the best moving companies are –
Punctual and professional
Have high a fleet of professional moving trucks
Happy to do the heavy lifting so their customers don't have to
Honor pick up and delivery dates and other commitments
Keep communication lines open at all times
Protect their customer's residences and handle and transport their items with care
Offer additional moving services like packing, crating, unpacking, and furniture disassembly/reassembly
Offer pre-planned and last-minute storage services if the need arises unexpectedly
Do Atlanta movers offer storage?
Yes, depending on your storage needs most moving companies in Atlanta do offer both short and long-term storage.
However, while some have their own storage facilities, others don't, in which case they may store your items at a third-party warehouse.
Since storage often rears its ugly head when you least expect it, it's always worth asking about storage facilities and getting quotes when screening prospective movers early on in the moving process.
If professional movers are too expensive and you only need a small or medium size storage unit, Full-Service Storage is a convenient and affordable option that's worth checking out.
What else do I need to know about moving to Atlanta?
In downtown Atlanta, there are often large construction projects and traffic jams.
Parking can be tricky too, and if you're moving into a commercial building like a high-rise apartment complex your movers will be required to submit a proof of insurance certificate to property management before moving you in or out.
You may also need to reserve parking spots, elevators, and loading docks for the movers.
These tend to go quickly especially during the peak season between June and August, so book them well in advance of moving day.
To reserve parking on public streets, you may need to apply for a permit with the police department or Department of Public Safety.
How can I make sure that my movers are properly licensed?
All long-distance interstate moving companies are required to have a USDOT number, and many have MC (Motor Carrier) numbers as well.
Checking the DOT and MC numbers of moving companies you're considering using is a great way to weed out nefarious players.
Did You Know?
Due to its proximity to other large cities like Jacksonville, Florida, and Columbia, South Carolina, most Atlanta moving companies offer both local and long-distance moving services.
Frequently Asked Questions – FAQs
What are commercial moves?
In the moving industry, commercial moving refers to business and office relocations. There are some moving companies that cater specifically to commercial moving services while others handle both commercial and residential moves.
How will the COVID-19 pandemic affect my move?
It can vary drastically between companies, cities, and states, so contact prospective movers directly and ask about restrictions and precautions.
For a full breakdown of our thoughts on COVID-19 and the moving industry, check out our post, How Will Coronavirus Affect Your Move?
Where should I buy packing supplies?
Depending on your moving needs, you can buy packing materials from home improvement centers, mover's supply houses, and online retailers like Amazon and Uboxes.
Are some local moving companies associated with national van lines?
Yes, many local moving companies are affiliated with large national van lines and cross-country movers, which means they're good options for local and long-distance moves.
What's there to do in Atlanta?
From the Atlanta Botanical Garden and Georgia Aquarium to the Martin Luther King Jr. National Historic Site and sporting events featuring the Falcons, Braves, ATL United, and Hawks, there's plenty to do in and around the Atlanta area.
Helpful Atlanta Resources
Helpful guides for interstate moves leaving Atlanta
Other top moving companies
Not what you were looking for?
Check out other categories that can help you find the information you need!