101 Most Popular Mid-Size Cities for Movers in 2021
When it comes to cities, is medium the new big? Big, medium, or small, moving to one means you'll have to calculate the costs, so might as well do it for free.
We wanted to see if proprietary data from moveBuddha had any insights to offer about the growth of mid-size cities in 2020. Reviewing data from the more than 400,000 moves we assisted with in the last year, we uncovered a list of 101 mid-size cities (population 50-100k), each of which experienced more inbound than outbound moves in 2020.
Our own moving data can't claim to be a comprehensive survey of American migration patterns. But as a snapshot of trending mid-size cities, our data does provide some context about what may be motivating movers in the current market.
There is an abundance of anecdotal evidence in the form of Tweets and op-eds, declaring cities like New York and San Francisco to be punishing, unlivable hellholes that must be escaped at all costs. On the other hand, sites like Zillow report that all the country's largest metropolitan areas saw normal YoY increases in activity among their listings. So, the jury is still out as to whether 2020 marked a mass exodus out of major urban areas.
Even still, studies show that mid-size cities have been steadily growing for several years now, fueled in part by millennials looking to buy their first homes in less cut-throat housing markets.
So, to gather more insight we crossed our list with data from the U.S. Census and County Health Rankings. We wanted to uncover any patterns and trends that might shed some light on the growth of mid-size cities during the COVID-19 pandemic.
Key takeaways
Florida (18), Texas (15), and North Carolina (8) were the most represented states among our list of 101 growing mid-sized cities. The prevalence of FL and TX suggests movers favor states without state income taxes.
46 of 101 growing mid-size cities saw at least 50% more inbound than outbound moves in 2020.
Booming big cities like Austin, Seattle, Phoenix, and Atlanta are fueling the growth of the surrounding suburbs. The growth of many mid-size cities may be attributable to their larger neighbors.
When all median values are averaged, the median home in one of these 101 mid-size cities costs 400% the median household income. This ratio is greater in the top 20 cities, where the median home costs 450% the median income.
Growing mid-size cities are younger than the rest of the USA. The composite median age across these 101 cities is 35.6 years-old compared to the national median of 38.1 years-old. Only a third of the cities on our list had a median age higher than the national median.
Mid-size cities in Texas dominate in terms of County Health Rankings. Texas cities occupied the 4 out of 5 top five slots for quality of life ratings and social and economic scores. Texas cities also swept all top 5 slots for physical environment rankings.
These mid-size cities saw more inbound than outbound moves in 2020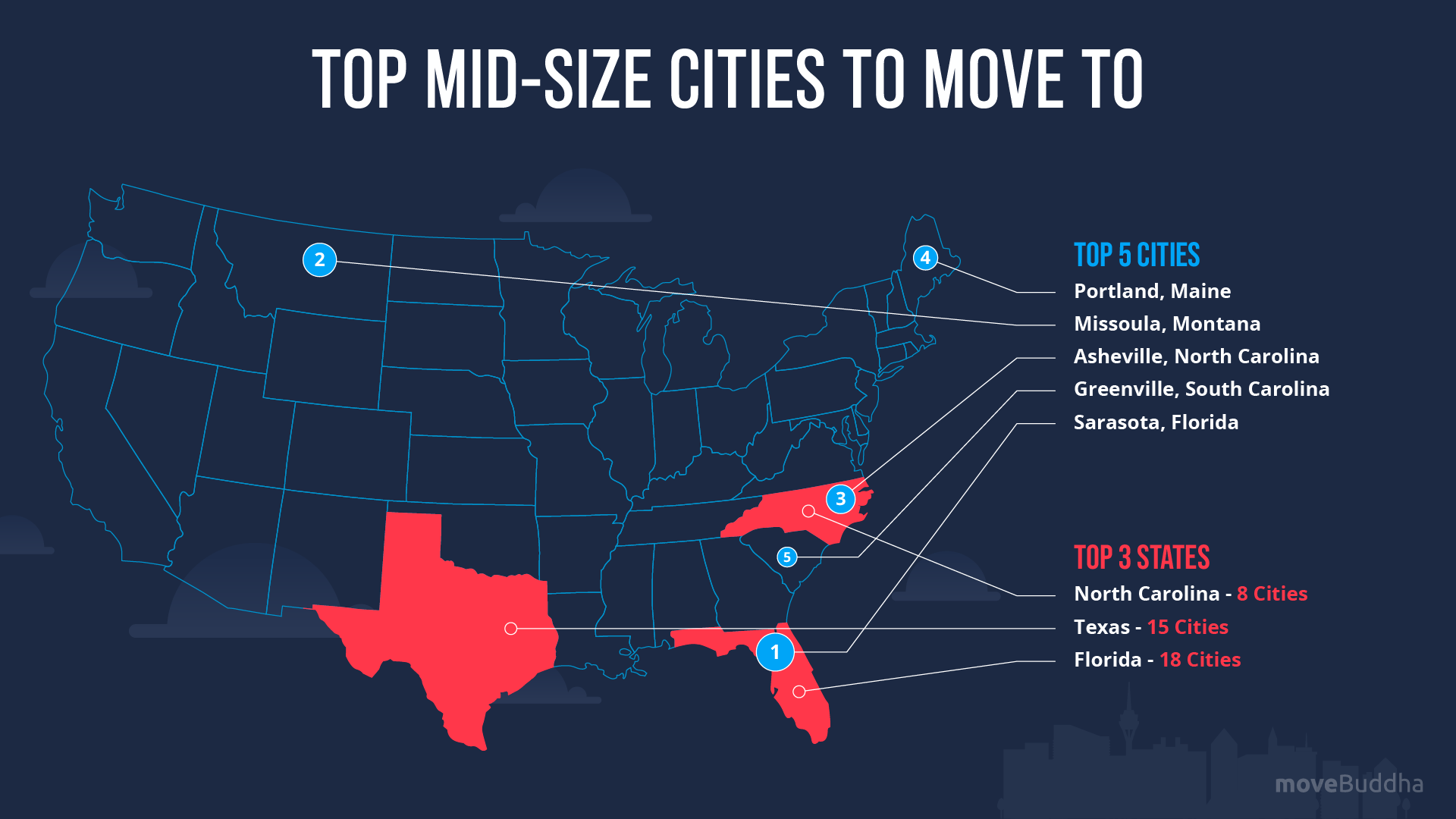 From sunny Ocala, FL to rustic Idaho Falls, ID to quirky Asheville, NC — in 2020 moveBuddha helped increasing numbers of movers make their way to mid-size cities across the USA.
Many of our findings reflect well-established trends in migration.
Sarasota, FL sits at the very top of our list and was also named as the single most popular destination for movers in 2020 by Zillow.
The gulf-side city is home to Florida's fourth-largest concentration of retirement age people, who make up 34.4% of the local population. But local journalists attribute the growing number of Sarasotans not only to retirees fleeing the cold but also to the city's booming service sector and comparatively low cost of living.
Our data also confirms that Idaho is a major up-and-comer in the U.S. housing market. Home to just half a percent of the U.S. population, the humble state of Idaho had 5 cities appear on our list.
The Gem State has been appearing on many a list for millennial movers on the lookout for beautiful nature and low cost of living. Boise was the U.S.'s fastest-growing city in 2022, priming Idaho's mid-size cities to see sustained growth through 2020.
Here are a few other trends we noticed about the growth of these Goldilocks cities.
The Southeast and Southwest are booming
Though there are exceptions, a majority of fast-growing mid-size cities are located in the Southwest and the Southeast. The Midwest is virtually missing from our list, and relative to its population density, the Northeast is severely underrepresented.
Temperate weather year-round may be contributing to the growth of mid-size cities in the lower half of the U.S., where the brutal winters of the East Coast and Midwest may be less appealing to movers in 2020.
On a state-by-state basis, there may also be a connection to state income tax rates. Florida and Texas, the two best-represented states on our list, have no state income tax.
Overflow from bigger cities is leading to growth in the suburbs
What do the three Washington cities that appear in our list have in common? Bellingham, Olympia, and Redmond are all increasingly coming to be known as "suburbs" of Seattle.
What about Georgetown, Leander, New Braunfels, Pflugerville, and San Marcos? These mid-size Texas cities are all suburbs of Austin.
Maricopa, Queen Creek, Avondale, and Buckeye? All suburbs of Phoenix.
Alpharetta and Marietta? Yup, you guessed it: suburbs of Atlanta.
Are you sensing a trend here? Many of the growing mid-size cities on our list correspond with the fastest-growing urban areas in the USA.
These cases suggest that, for many movers, it may not be the magnetism of the mid-size city itself that is prompting them to relocate. Rather, these mid-size cities are simply in the orbit of rapidly expanding metropoles.
The outliers: Missoula, MT and Portland, ME
Missoula, MT and Portland, ME occupy the 2nd and 4th spots on our list of 101 growing mid-size cities. These cities don't align neatly with common-sense assumptions about motivations for movers: neither city is located within a larger area undergoing a marked boom, both locales have harsh winters, and neither Montana nor Maine offer particularly appealing state tax rates.
But these mid-size cities have a few powerful forces on their side: their economies and their natural resources.
Portland's median household income grew an astonishing 10.8% between 2017 and 2018, and as of May 2021, Missoula's unemployment rate is more than a point and a half below the national average.
Furthermore, these two cities offer the best of both worlds in terms of urban development and natural wonder. For movers wanting to get closer to nature, both regions are home to long histories of homesteading, powerful agricultural sectors, and proximity to stunning wilderness.
Age, Wage, Home Value: What's motivating moves to mid-size cities?
What makes mid-size cities attractive to so many movers? We evaluated regional medians for age, household income, and home value to better understand what may be attracting movers.
Is homeownership actually more viable in mid-size cities?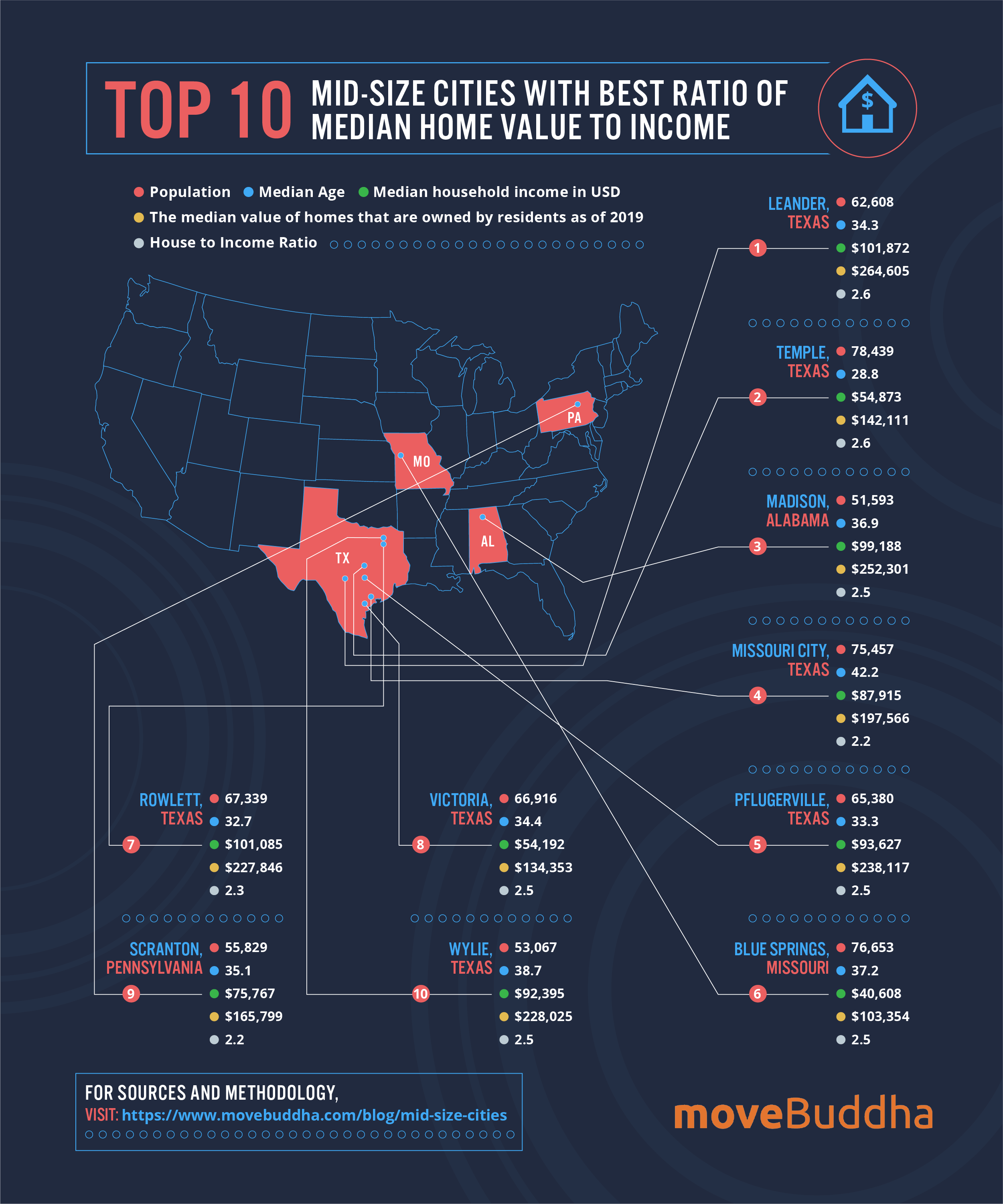 The short answer is yes.
For all 101 mid-size cities on our list, it would take a homebuyer an average of 4 years' worth of median household income to purchase the median house.
This number is far below that of America's major metropolis. In Los Angeles, for instance, the median house would take 9.6 years of median household income to pay off. New York, Seattle, Denver, Boston, and Miami all have figures between 5 and 6.
But there is more to the story.
In many larger cities in the Midwest, including Cincinnati, Pittsburgh, and Buffalo, the median house costs between just 2 and 3 years' worth of median household income. Only 22 mid-size cities on our list have the income-to-home-value ratios within this range.
Furthermore, the top mid-size cities on our list are not particularly competitive in this arena – the top five cities had income-to-home-value ratios between 4.8 and 5.9.
The answer really depends on the individual city. An affordable housing market may be a motivating factor for some who decide to head to mid-size city Scranton, PA. But housing costs in Boca Raton, FL, for example, aren't much better or worse than in Miami proper.
Are mid-size cities magnets for millennials, retirees, or both?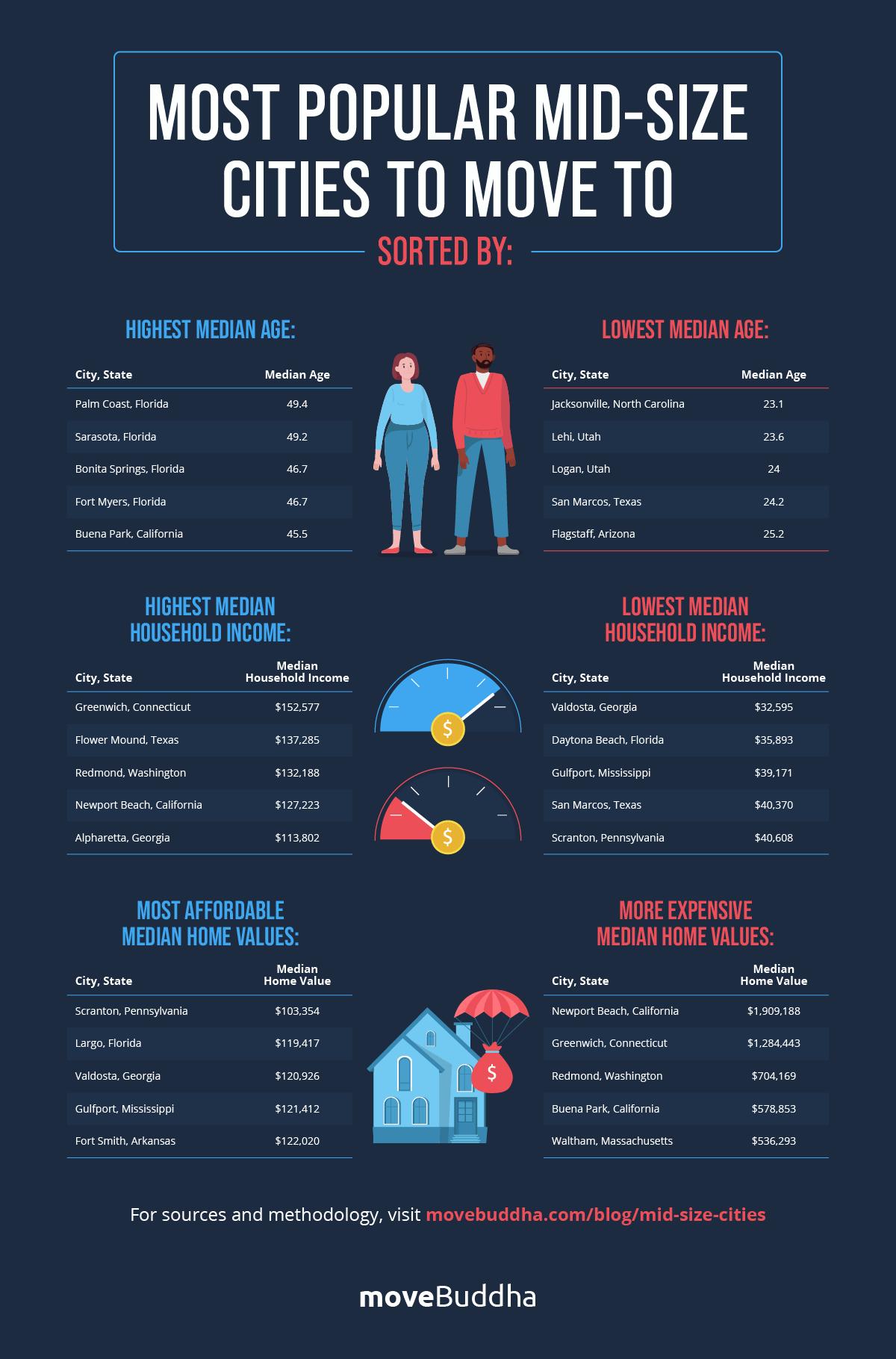 Could millennials, now in prime home-buying age and on the market for an affordable house, be driving the growth of mid-size cities across America? Or is it the baby boomers, now seeking to retire in warm and affordable locations, who are heading to mid-size cities en masse?
Of the 101 mid-size cities in our list, 69 had a median population age below the nationwide median of 38.1. The remaining 32 had median population ages above the national median. This would make our list of mid-size cities decidedly younger than the nation as a whole.
Which age group is moving to which mid-size city seems to come down to location.
Our top city, Sarasota, has a median age 11 years higher than the national medium – another figure in support of Florida's general appeal to retirees. All the while, our second-ranked city, Missoula, has a median age 5 years lower than the national median – a statistic partly attributable to its being home to the University of Montana.
Our theory: with Baby Boomers retiring and Millennials starting to have families, both generational cohorts are likely to have moved in 2020. Mid-size cities in general offer a number of benefits that appeal to both groups. But  Millennials are more likely to favor the likes of San Marcos, TX or Alpharetta, GA, where Boomers are more likely to settle down in Santa Fe, NM, or Palm Coast, FL.
Meaningful migrations: prioritizing quality of life amid a pandemic 
The COVID-19 pandemic forced society to reckon with a number of mounting challenges. Could changing attitudes about quality of life, larger socioeconomic conditions, and our physical environments be fueling moves to mid-size cities?
We analyzed the County Health Rankings of the mid-size cities to glean a better understanding of how their safety, socioeconomic, and environmental conditions may or may not be attracting movers.
Within our list of 101 mid-sized cities, Texas cities dominated every measure of regional health rankings. From medical health outcomes to educational attainment, to poverty rates, to crime rates, to air pollution, to commute times – the likes of Longview, Rowlett, Victora, Temple, and Texas City, TX topped list after list.
However, only a handful of the top 20 healthiest mid-size cities overlapped with the top 20 mid-size cities for inbound moves: Ocala, FL; Portland, Maine; Chapel Hill, NC; and Alpharetta, GA;
While it doesn't seem like a safe and healthy community is motivating hordes of movers to head to the likes of Longview, TX; Roanoke, VA; or Blue Springs, MO, these healthful cities do seem to offer the ideal living conditions for maintaining a thriving community of residents. Each of the three aforementioned cities sees annual population growth around 0.5% – so roughly half the current global rate of 1.1%. As such, these communities don't stagnate or overstrain their infrastructure.
Methodology
The overall rankings use proprietary data from our own moveBuddha Moving Cost Calculator. Comparing YoY data, we were able to determine which cities in the U.S. were most searched as moving destinations in 2020. Our overall ranking system for this report is based on these findings.
Economic, Population, & Demographic Data
To understand the income to home value ratio, we used median household income compared to the median value of homes owned by residents as of 2019 to compute a simple ratio. This data was sourced from the 2019 American Community Survey run by the United States Census Bureau. We also collected the population counts and median age from the US Census Bureau.
Healthy Community Data
For understanding Quality of Life issues that may be of interest to movers headed to mid-size cities, we used pre-scored rankings from the County Health Rankings & Roadmaps program. They have modeled out a system that measures community health using standardized and scientifically defined methods. (You can learn more about their methods here.)
Our team focused on three primary measures to score each city that may be correlated to reasons movers are looking to move to mid-size cities.
Quality of Life: This measurement is meant to reflect the level of health a person feels throughout their life. Factors included are birth outcomes, health reports for physical and mental health, as well as overall community health indicators like diabetes and HIV prevalence.
Social & Economic Factors: This includes a wide range of factors including education, employment, income, family & social support, as well as community safety. Strong scores suggest communities that are empowered with the social network and monetary assets to make healthy choices.
Physical Environment: Clean air, safe water, and an overall look at housing and transit can provide indications of the ability to live long and healthy lives.
Not what you were looking for?
Check out other categories that can help you find the information you need!
See All
Hide All