Tips on Moving to Seattle, WA: Relocation Guide
Everything about relocating to Seattle
And if you're looking for more info on moving to Seattle, check out our Seattle move cost guide.

Quick Emerald City Snapshot
Seattle is the 18th most populated city in the United States, with a population of 704,352.
The average rent in Seattle as of the beginnign of 2018 was $1.949 per month, ranking as the 13th highest rent in the US.
Seattle has the 11th highest cost of living in the United States.
Before we jump into the finer details, check out this aerial view of Seattle to get a feel for the city's landscape.
Seattle: A City of Neighborhoods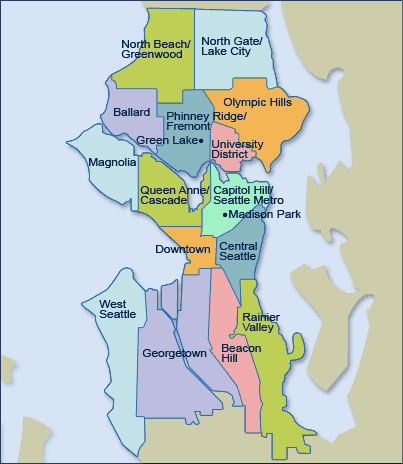 The districts and neighborhoods of Seattle can be hard to define. With many areas having overlapping boundaries and multiple names.
Because neighborhood names can be somewhat fluid, it's easier to break the city down into its larger districts to get an idea of what each part of the city has to offer.
Generally, the city can be separated into five basic geographic districts: North Seattle, Central Seattle, East Seattle, South Seattle, and West Seattle. Each of these areas contain multiple neighborhoods and districts of their own.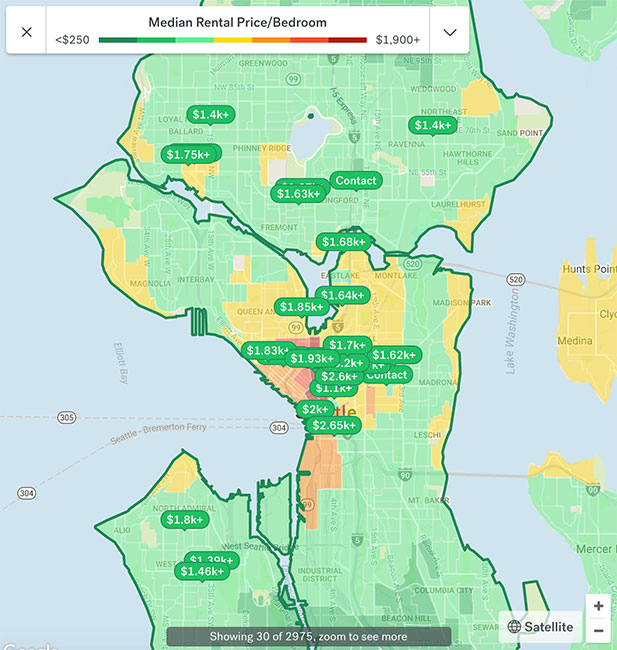 Based off Trulia's Rental Hotspot Map, you can see rent prices are consistent throughout the South and East districts and tend to go up throughout the North, Central, and West regions.
Here's how the rent prices in Seattle shake out:
For apartments on the lower end of the rental price range, you'll be looking at areas like Riverview, Briar Hill, Highpoint, and Briar Lake which should all have average rents between $1,000 to $1,500 per month.
Highland Park, Magnolia, University District, Greenwood, and other nearby neighborhoods have monthly rent between $1,500 to $2,000.
And if you're willing to pay anywhere from $2,000 to $3,000 monthly, then you can find the city's more expensive rentals in places like Columbia City, Westlake, Capitol Hill, and Downtown.
Once you've figured out where you can afford, it's time to make sure you'll love your neighbors.
Where are people like me living in Seattle?
Esri has made the process of finding the right community within a city incredibly simple with its Zip Tapestry Tool.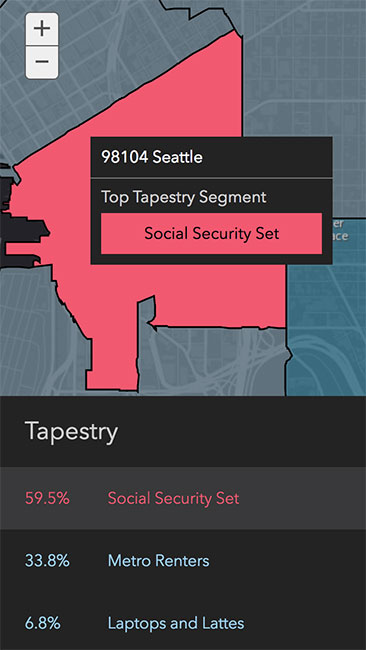 To demonstrate, we've plugged in the zip code for Downtown Seattle (98104) and the site has displayed its three most common demographic subsets. Can't get much easier than that!

But that's only part of the equation. Before you commit to anything, it's a good idea to ensure you'll be able to make it work easily from where you're living.
Seattle Commutes are Growing
Commuting in the Emerald City can be a downright journey.
In fact, a recent study claims Seattle has the 10th worst commute in the entire United States.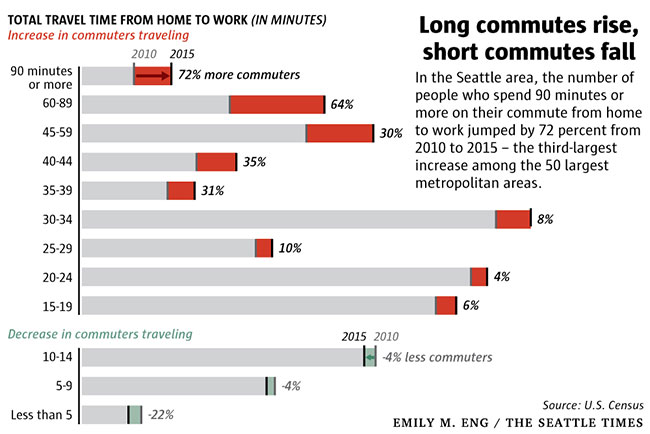 On top of overall commutes not being great, the number of people designated as mega-commuters (people with one-way commutes lasting 90+ minutes) has drastically increased within the past decade.
This is largely due to Seattle's rising real estate prices pushing people out to areas like Olympia and Tacoma.
So yeah, you might want to consider either living closer to work or alternatives to driving in the city.
Seattle is Very Accommodating to Non-Drivers
Seattle is pretty great for walking, has solid mass transit, and is a pretty good city in terms of bike transportation infrastructure.

A walk score of 73 is great! Not only is a large portion of Seattle easily accessible on foot, but it also ranks as the 8th most walkable large city in the country.
A major factor in this is organizations like Commute Seattle which provide information and resources to help and encourage residents navigating Seattle without a car.
Between buses and railways, Seattle has you covered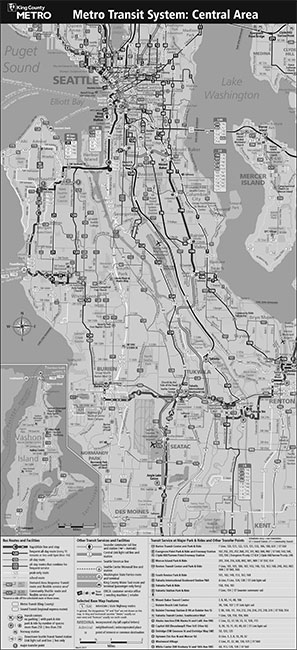 The bus score of 57 means that public transportation in Seattle may not be great, but it (usually) gets the job done.
Seattle's busses are handled by King County Metro Transit which offers a wide variety of specialized busses and routes.
There are over 200 bus routes running throughout Seattle, providing a decent amount of coverage to most areas of the city.
Many busses also extend their coverage by connecting with various other public transit methods like SoundTransit and Link light rails.
On top of all that…
Seattle is pretty bikeable too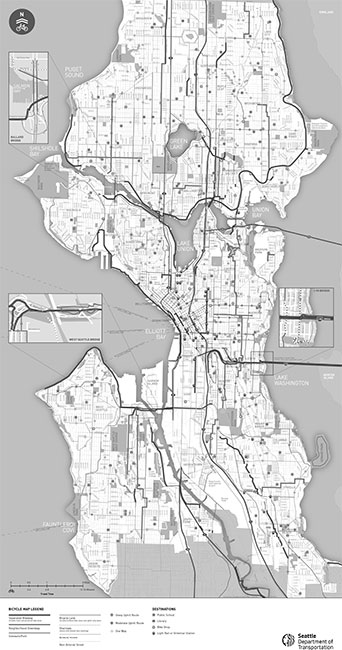 Seattle is serious about their bicycle infrastructure, as evidenced by their Bicycle Master Plan and bike score of 63.
To help make biking a more appealing means of transportation, many of Seattle's public transit systems like Sound Transit and King Country Metro have taken steps to integrate accommodations for cyclists within their systems.
There are also plenty of useful resources available online for Seattle cyclists including an interactive bike route map and the Seattle Bike Blog which offers updates on bike infrastructure and other general tips for cycling.
Now that you like your neighbors and can get to work on time, let's make sure you stay safe.
Yeah… On paper, crime in Seattle doesn't look so good.
Neighborhood Scout has given Seattle a crime score of 3/100 (with 100 being the safest possible score) which is pretty low, even for a city of its size.
While that number isn't ideal, it isn't quite as scary as it looks.
Breaking down the numbers, of the city's total reported crimes only 10% are violent. And, in general, crime in Seattle is trending down.
Seattle doesn't have any specific areas to avoid, generally, the city is very clean and safe.
Alright, let's actually get a roof over your head now.
When looking for an apartment, the first factor to consider is what amenities you'll need
Located in the Pacific Northwest, Seattle has a fairly temperate climate, with mild summers and winters.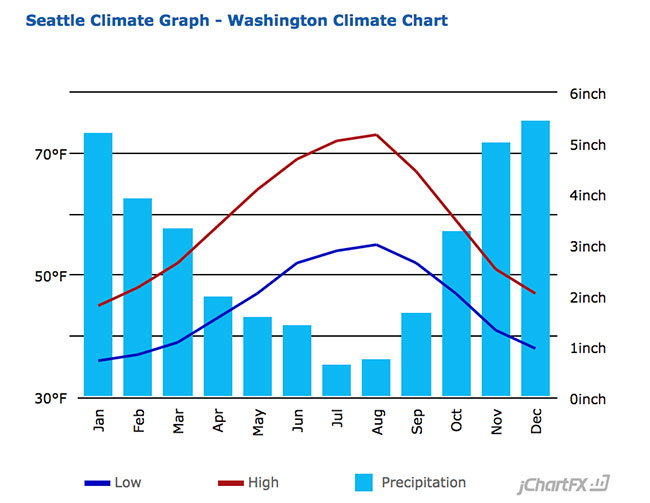 There aren't really many aspects of seasonal weather in Seattle that will serve as a major inconvenience aside from a few hot weeks in the summer and some chilly winter nights.
You may not need it much, but it'll be a good idea to look for a place with heat and air conditioning to deal with the highest highs and lowest lows.
When searching for a Seattle apartment you can afford, you'll want to think about certain utilities like the average phone bill per month to make sure you'll be able to afford necessities along with rent.
And unless you're living somewhere within walking distance to a laundromat, you'll also want your apartment to have a washer/dryer.
Finding an apartment in Seattle
Seattle has a fairly competitive rental market, so you'll want to use every resource at your disposal to get the best place you can.
Here are a few of our favorite places for finding apartments in Seattle.
Seattle's rental market is on the cusp of a surge
While the 2018 rental market in Seattle isn't great, new developments could help things out.
Throughout the first few months of 2018, the average rent in Seattle has decreased by 1.45%.

This is likely due to the swell of people moving to the city and a low vacancy rate.
Fortunately, there are many apartments being built though it's questionable how much that will help in the short-term.
Bottom Line: finding a place in Seattle is hard.
Washington Rental Law
With a rental market this competitive, you'll want to do everything you can to avoid being taken advantage of by some opportunistic landlord.
Here's a list of some important things to know about your rights as a tenant in Washington:
And if you're in search of something a bit more permanent, we've got you covered there too.
Seattle Suburbs and Commuter Cities
While Seattle is primarily known for its downtown area, it's surrounded by plenty of small towns and suburbs for people looking to settle down with a family or those who want a bit of a quieter lifestyle.
At the tail-end of 2017, the median home value in Seattle was sitting at $690,200, which was a 14.3% increase from the 2016 median.
With home prices rising as interest in Seattle increases, it might be a good idea to look at some of the smaller towns and suburbs outside of the city (as long as you can handle the commute).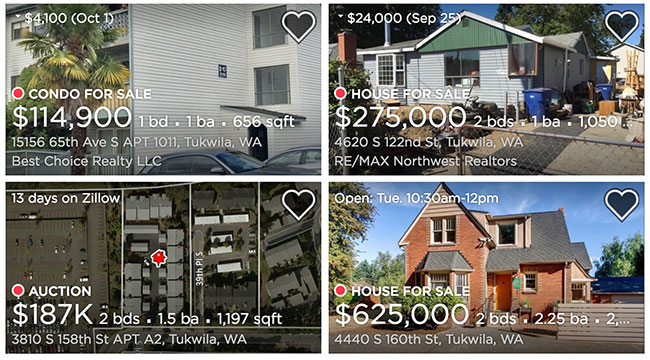 Tukwila
The city of Tukwila is an excellent option for people looking for a home in an area that's more affordable than Seattle, but still within commuting distance. Tukwila offers residents a wide variety of home styles as well as plenty of ameneties like parks and libraries.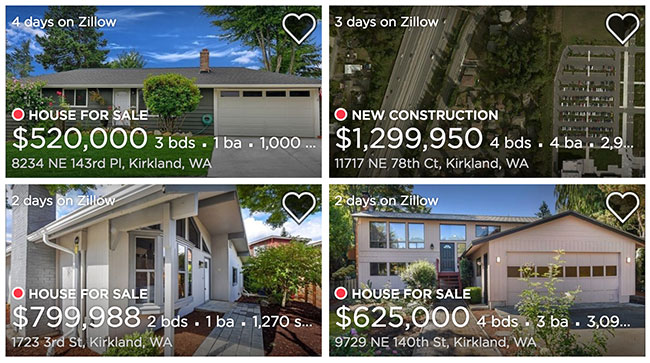 Kirkland
Kirkland is a higher-end suburb located on the fringes of Seattle which offers pricier homes but also has a rich cultural scene that includes dining, theater, and nightlife. The city of Kirkland is full of great city parks and is within a reasonable commuting distance of Seattle.
Now that you're ready to move to Seattle…
Use our moving cost calculator to estimate your moving costs to Seattle.
Also, if you are coming from out of state, be sure to have a look at our state-state moving guide for more info and tips.
Parking Permits for Moving Vehicles in Seattle
You'll also want to make sure to know where you're permitted to park moving trucks and storage containers before you finalize your moving plans.
Fortunately, the city has created this document of Seattle moving truck and container guidelines.
A few last things before you finish your Seattle move…
Okay, you're at the finish line! But before you kick back and bask in your great moving accomplishment, make sure you've taken care of the last finishing touches.
Not what you were looking for?
Check out other categories that can help you find the information you need!
See All
Hide All