Will A Moving Company Move A Single Piece of Furniture?
Sales and customer service staff at moving companies hear it all the time.Potential customers call and ask…"I only need to move one item. Can you do it?"After a nanosecond of quiet reflection, their answers generally run the gamut from probably, maybe, and it depends, to yes, no, and I'll have to call you back.

It seems odd for such a simple request, doesn't it?

That's because there are so many variables involved.

To answer the question succinctly, yes, most moving services can move one item, BUT we don't recommend hiring a full-service, professional moving company for this project.

It makes more sense to use a company like MiniMoves, which specializes in moving individual items and can save you money along the way. 

Now, let's break down each of the options you have regarding moving individual items.

Jump to the section that makes the most sense for you: 
Moving one item long-distance
Moving one item locally
---
Options for moving individual items, long-distance
1. MiniMoves – The easiest way to move one item long distance
MiniMoves is an interstate moving company specializing in smaller moves and single-item moves. They make it easy to ship one thing at a time or smaller moves like a single room or studio.
They offer free quotes over the phone and have great customer service to help you figure out the best option for your move.
MiniMoves also has packing options if you want a professional to come to help you pack your item (or a whole room). They don't have any minimum weight or shipment size requirements, so you only pay for what you move. You don't have to fill an entire truck or container like you would with a traditional moving company.
And even though they specialize in smaller moves, they still consider themselves a full-service moving company which means they'll do all of the loading, transportation, and unloading in the new home.
Check out their website for a free moving quote on your item(s). 
2. ShipSmart – A convenient long-distance shipping option
ShipSmart also specializes in smaller, cross country moves. They consider themselves an excellent choice in between a delivery service and a full-service moving company.
They are a particularly convenient option for furniture moving or shipping more oversized items, like an armoire, and other heavy furniture that can be costly when shipping using traditional mail services. Their packing and shipping experts custom wrap and box all furniture items to make sure they arrive safely. This is especially helpful when you don't want to deal with carrying your own furniture up or down stairs.
If you're looking to move rare or expensive pieces, they also have several insurance options to choose from to give you peace of mind when shipping valuable pieces.
To get a cost estimate call ShipSmart (866) 333-8018. Mention moveBuddha to get a 10% discount!
3. U-Ship – An online shipping marketplace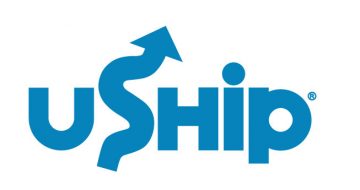 The internet is full of websites that help connect customers with independent contractors who specialize in moving small shipments.
The operators of these websites don't own their own trucks but instead act as intermediaries or brokers.
All that competition can drive down prices.
But there are downsides too.
Since the actual movers aren't employees, the potential for poor service and unexpected headaches is higher.
Many customers do have great experiences with these companies, but it's important to do your research and check references carefully before scheduling a move.
That's why we recommend uShip. They provide reviews and a verified vendor system, still though, be sure to pick a good vendor.
These services are geared toward long-distance moves, but they may not be great options when moving fragile or high-value items.
---
Options for moving individual items, locally
1. Moving Labor Services

Day-laborers can be a good option for those in need of labor.
HireAHelper is a marketplace where you can hire movers to help you on an hourly basis. Apps like HireAHelper come in handy for a variety of things in addition to small moves. You can also find services like furniture assembly (a lifesaver when dealing with things like IKEA furniture) or even get help with rearranging your furniture.
Unless you choose to hire professional interstate movers, you're probably going to need some help either with packing or heavy lifting.
This is a great option to go with a cheaper alternative without taking on a load of moving a large item yourself.
We especially recommend hiring moving labor services over full service local movers for in-home and local moves.
Additionally, have a look at our article on the best moving labor companies here!
2. On-Demand Movers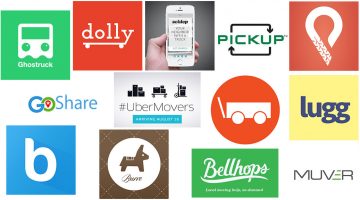 On-demand movers have been making big waves in the relocation business in recent years.
They're generally smaller and have less overhead than their larger competitors, making them less expensive and more flexible.
They also specialize in last-minute shipments.
That's great for those who prefer to skip the drawn-out planning associated with larger moves.
On-demand movers are typically better options for in-home and local moves, but some of them offer interstate service as well.
While they're not specifically furniture movers only, they're popular with customers who've purchased a bulky item from a discount furniture warehouse or thrift shop and have no way to get it home.
So go ahead and make that impulse buy!
3. Moving Truck Rental
If you've got ample time, hearty muscles, and an adventurous spirit, you can always move a heavy item yourself by securing a rental truck for the day.
But for some, that's just not an option.
For others, however, renting an inexpensive moving truck for an hour or two is an easy and cost-effective way to get a small job done on the cheap.
It becomes less feasible, however, if your item needs to go a long way.
If a road trip isn't out of the question, the options include renting a van or a trailer you can tow behind your car or truck.
But be sure to consider what you'll be moving before reserving your equipment.
An antique sideboard needs to be inside an enclosed, waterproof space during transit.
If you're moving a motorcycle, a flatbed trailer and tarp may suffice.
Not what you were looking for?
Check out other categories that can help you find the information you need!
See All
Hide All