Why is "Uber for Moving" So Popular?
"Uber for Moving" apps have been popping up in cities all over the US as an alternative to the hassle of renting a moving truck. Filling a much-needed micro-move service gap, you basically use these apps to find local people (vetted through the app service provider) to help you with a small move.
We estimate
$70 million
has been raised in the Uber for moving space over the past 3 years alone.
The idea of startups uberizing all corners of the economy is nothing new. The internet is full of articles on how meaningless the comparison, "Uber for x" has become. The formula looks something like:
on-demand app + startup = "Uber for x"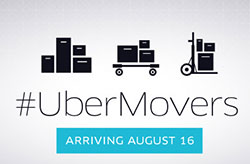 If the failure of "Uber for home cleaning" tells us anything, it's that applying the Uber formula to any service doesn't always work out. Uber themselves briefly offered a moving service with UberMovers in 2014 and has not made plans to revive it.
So while you may be able to use Uber XL for a big shopping haul, Uber does not offer moving services. And Uber drivers are not required to help you move any items.
At moveBuddha, we focus on helping people find the best way to move. While Uber won't help you with your move, there are several uber for moving apps that may be an option for a DIY move. Here, we'll cover some of the company options and help you discern if it's a good option for your move.
Finding a Dude with a Truck
If you've ever lived in a major city you know the pain involved in getting that Craigslist couch you bought across town delivered.
When I was living in LA, we had a "dude with a truck" named Charlie who we would hire for delivery help and small moves. He charged about $50 dollars per hour and could get a couch up a flight of stairs with one arm. The experience with Charlie was much better than renting a box truck – and cheaper.
Enter, on-demand moving services. 
You download a web app to your iPhone or Android device, and hire locals who own a truck or cargo van to help you move. The services aim at micro-moves – moving a studio apartment or a single item like a couch or dresser. Costs range from $50-$60 per hour, and the companies usually take a 20% cut off the top.
Since micro-moves are unavailable in many cities, entrepreneurs are targeting the market because of the low barrier to entry and price edge over the competition.
The Competition
If you're trying to do a small move in a major city, you basically have 3 options: 
Rent a truck

Know somebody with a truck who is willing to help.
Moving companies want larger jobs where they can make real money. They aren't likely to be threatened by services focusing on micro-moves. 
Many movers have a minimum size and time requirement. They see small moves only as a way to plug scheduling gaps. Movers aren't thrilled with new competition, but it's unlikely they will feel much pain.
Rental truck companies like U-Haul and Budget are likely to feel a sting, although it's unclear how much of their business is micro-moves. Many of these apps are positioning themselves as a cheaper and easier alternative to renting a truck. They make a great case and it will be interesting to see how the U-Haul behemoth responds to this competition. 
While existing solutions don't pose much of a threat, there is always the looming chance Uber decides to revive UberMovers. Moving seems like an unnecessary distraction given Uber's global ambitions, but I wouldn't rule them out completely.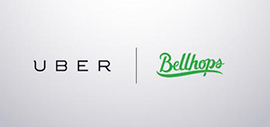 A more likely competitor would be BellHops, a well-established and highly-rated platform that can help with small-scale moves. They were also the official UberMovers test-run partner. With a presence in more than 100 cities, BellHops is one of the largest players in the market.
Big Money in Moving?
Moving has never been the sexiest industry and certainly not the most profitable. To acquire and retain customers is notoriously tricky – moves are much less frequent than cab rides. Venture capitalists (VCs) clearly see a major opportunity given their large bets in the sector recently, but how big is it?
We could try and get some numbers from the estimated $15B moving industry or $18B truck rental industry, but those figures don't capture the gray area market of pickup truck moves.
If we take a bottom-up approach, roughly 16 million households move in the US each year. Let's say 10% of those moves represent a micro-move in a major city, so roughly 1.6 million micro-moves. If the average ticket size is around $70 per move, we end up with a total market just north of $110 million. Not bad for the average F-150 owner, but why is there VC interest around such a small market?
Many of these companies are striking up deals with partners like Ikea and Target to do furniture and bulky item delivery. People don't move often. Getting a consistent flow of jobs from the likes of Ikea represents a much more attractive customer base than moving. Add in Craigslist purchases, thrift shops, yard sales, and junk removal and it's obvious why investors are rushing in.
However, delivery is a completely different industry with another long list of competitors. While a full discussion is beyond this post, it seems that given their price point and level of service, these apps will be competitive.
Who Didn't Make the Cut
Making sure that the Uber for moving service you hire is reputable is an important part of the moving process. Ghostruck, once tapped to be the next great moving app, went out of business after the Washington State Utilities and Transportation Commission filed more than $730,000 in penalties against them for operating as a mover without the proper permits.
Other Uber for moving apps that have kicked the bucket include: BuddyTruck, FleetZen, GetBurro, Haulzi, LigitApp, Muver, NextMover, Pikkup, Tote App, Wagon, and LigitApp. While hiring a moving app or an independent contractor to move is tempting, make sure they are covered by an insurance policy and do your homework before clicking with the promise of a cheap move. 
Final Thoughts
Uber for moving type services aren't going to dramatically change the moving industry quite yet, but they do offer an excellent solution for micro-moves. 
As usual, we'll be keeping a close eye on all the players in this market to keep you up-to-date on who offers the most compelling service. Stay tuned.
Found an inaccuracy or want to suggest a change, please email me: Ryan at moveBuddha or leave it in the comments.
Not what you were looking for?
Check out other categories that can help you find the information you need!
See All
Hide All