Tips on Moving to Colorado Springs, CO: Relocation Guide
Pikes Peak, Olympians, Thin Air and so many other distinguishing factors are making Colorado springs a very popular city.
If you'd like to always have a view of America's Mountain, want to see where the best athletes in the nation train, and don't mind a little high altitude, you'll absolutely love moving to Colorado Springs.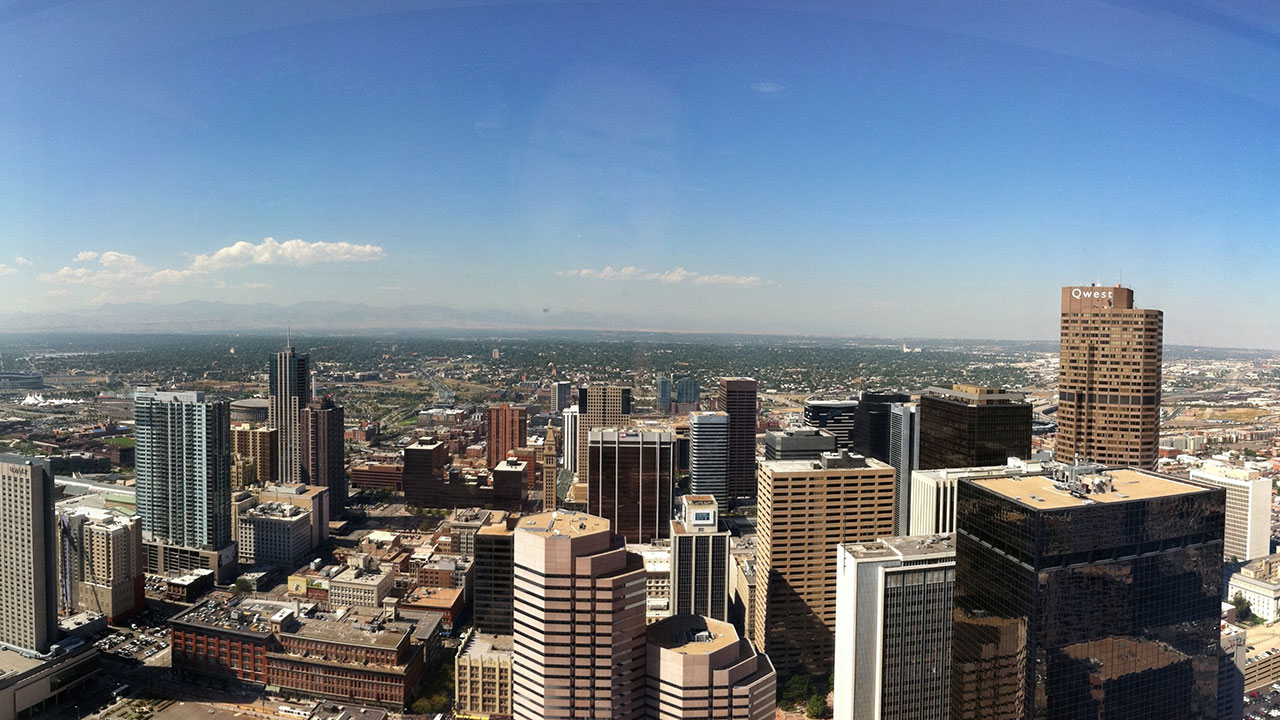 Photo Credit: Tomasz Stasiuk
Colorado Springs is a relatively affordable city with plenty to offer for just about anyone. From nature lovers looking to experience the Garden of the Gods, to cadets attending the U.S. Air Force Academy, and those excited to take advantage of Colorado's legalized marijuana.
Whether it's people coming for the natural beauty, the booming industry around marijuana legalization, or to be around one of the most fitness-focused cities in the country, it's clear that Colorado Springs has a lot to love.
To help you make sense of each aspect of the city and feel prepared before making the move, we've put together a comprehensive guide with all the most vital information you'll need.

Everything about relocating to Colorado Springs
And if you're looking for more info on moving to Colorado Springs, check out our Colorado Springs move cost guide.

The population in Colorado Springs is 455,101, making it the 40th highest populated city in the United States.
The 2019 average monthly rent in Colorado Springs is $1,165 and it sits as the 463rd most expensive rent in the US.
The Springs is relatively affordable for a city of its size, ranking as the 64th most expensive city in a list of US cities' cost of living.
And to get an idea of some of the beautiful scenery The Springs has to offer, check out this sweet drone footage
Neighborhoods in Colorado Springs
Colorado Springs is a city with over 100 neighborhoods, which means it has a very wide variety of areas to fit almost anyone's specific needs.
To better look at the city, it helps to divide it into basic regions (Southwest, South/Southeast, West, Northwest, Northeast, North, Powers, East, and Central) as seen in the map below.
When selecting an area to buy or rent, it's important to like the vibe but the most important aspect of a neighborhood is going to be whether or not you can actually afford it.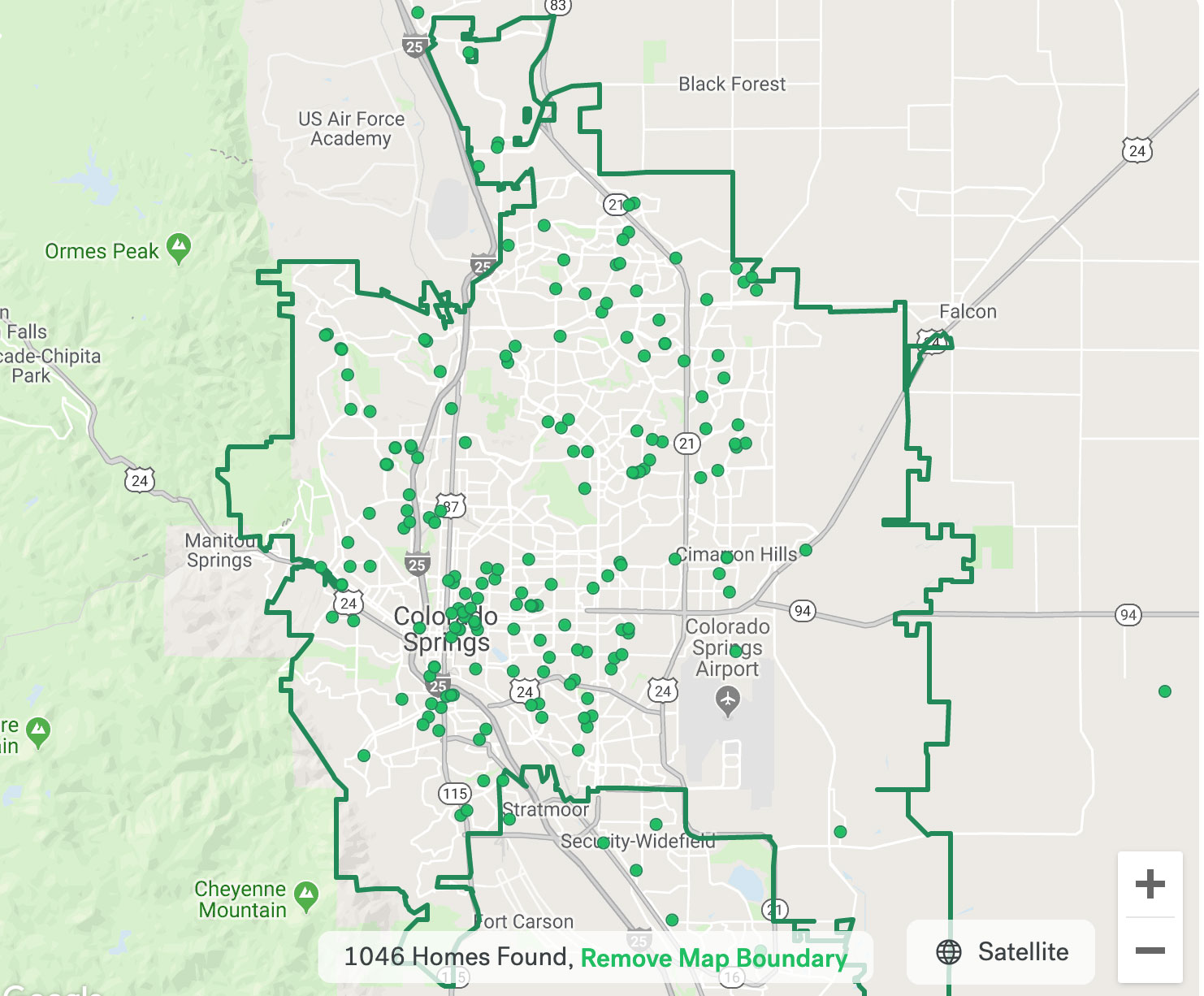 The above rental hotspot map from Truila shows that, generally, rent in The Springs is more expensive in the more centralized regions and gets less expensive as you move further from the center of the city.
The less expensive areas in the city are going to be places like Venetian Village, East Colorado Springs, Village Seven, and Stratton Meadows which will have rents in the $850-$950 range.
Places like Skyway, Northeast Colorado Springs, and Southeast Colorado Springs fall more into a middle price-range meaning that rent here will run around $950 to $1,100 per month.
And if you want to live in a higher-end area of town, rent is going to run $1,100 and higher in areas like Central Colorado Springs, Briargate, Interquest, and Northgate.
And now that you know where you will and won't be able to afford, you can look into whether or not you actually like these places.
Where are people like me living in Colorado Springs?
When trying to decide where to live, it's difficult to know exactly what an area's vibe is. Fortunately, Esri has developed their Zip Tapestry tool for doing just that!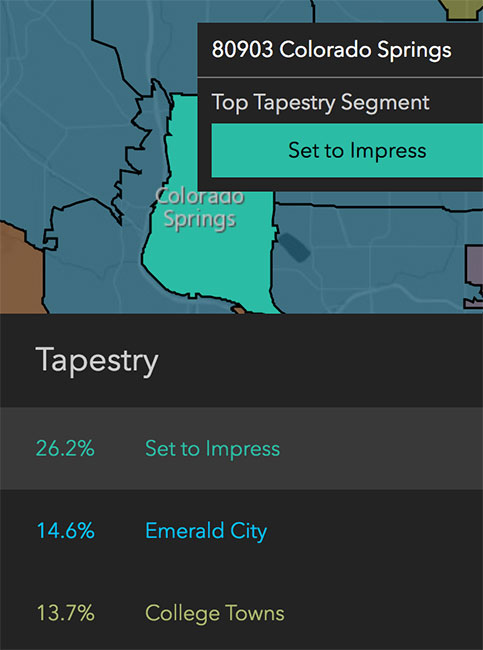 It's incredibly intuitive. To demonstrate, we've searched the zip code for Downtown Colorado Springs (80903) and Esri pulled up the three largest demographic sections in the area along with a ton of other useful info.

So, once you've decided you like a place, you'll also want to figure out how feasible it'll be to get from there to work every day.
As with many cities of this size, most people in The Springs are going to be getting around primarily by car, but that isn't necessarily a bad thing.
The state of Colorado has some pretty horrible commutes, but Colorado Springs only ranked 34 of 66 on a list of Colorado's worst commutes.

In general, commute times in Colorado Springs are pretty great, clocking in with a 22 minute average which is approximately 3 minutes shorter than the national average.
Even though roughly 88% of residents drive, Colorado Springs has a decent selection of alternative commuting options to choose from as well.
Walking, Biking, and Riding Around The Springs
Colorado Springs is sort of walkable, has decent biking infrastructure, and has very weak public transportation options.
The Springs has a 36 walk score which isn't the worst, but it's fairly weak compared to many major metropolitan areas.
Fortunately, efforts are underway to improve pedestrian and cyclist safety throughout the downtown area which should improve the city's overall walkability.
And speaking of cyclists…
The Springs is bike-friendly
Of all its alternative transportation options, Colorado Springs bikers are in the best position with a bike score of 46.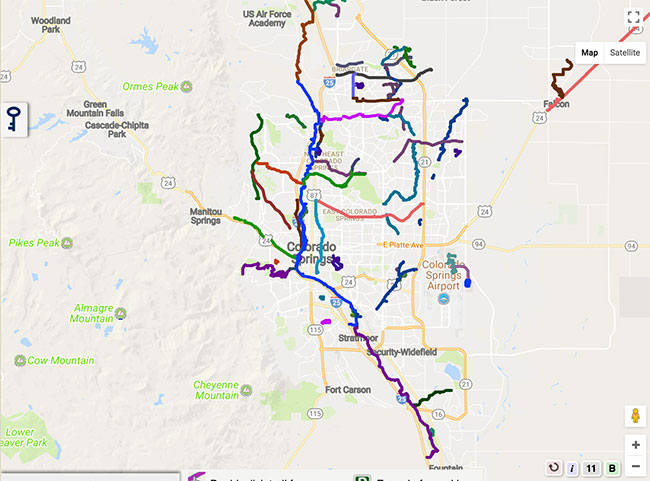 Aside from the aforementioned infrastructure improvements, the city does a lot to encourage biking in Colorado Springs like hosting Bike to Work Day and the Mayor's Community Bike Ride as part of Bike Month in June.
Colorado Springs is also in the process of updating its bicycle master plan which will help to further encourage two-wheeled transportation throughout the city.
Unfortunately, the busses don't fare quite as well…
Public Transportation in The Springs is Pretty Weak
The bus system in Colorado Springs isn't great… Scoring a meager 18 bus score.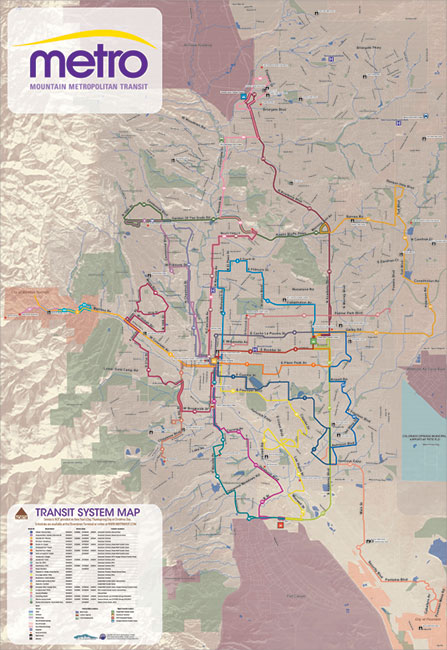 The primary source of public transportation in The Springs is handled by Mountain Metro which offers bus services throughout downtown and the surrounding suburbs but doesn't really extend into residential areas.
To their credit, Mountain Metro does offer assistance with other alternative commuting options such as bike lockers, bike-to-bus services, and park and ride options.
Mountain Metro also offers a comprehensive table of bus routes and resources for keeping track of specific busses.
So, now that you know what getting around the city's going to look like, it's time to look at its crime rates.
Crime in Colorado Springs
At first, the crime situation doesn't look super promising…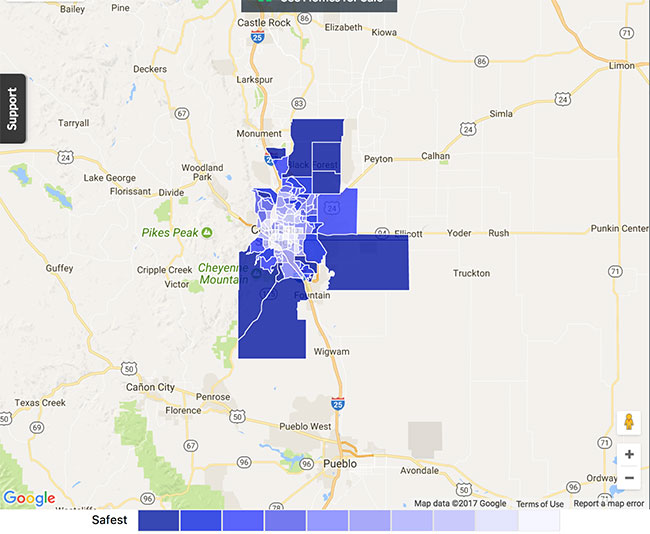 According to NeighborhoodScout, The Springs has a crime score of 11 out of 100 (with 100 being the safest possible score).
That might seem fairly low, but it's actually on par with other cities of similar sizes.
Things seem a bit better if you look a little deeper into the data and notice that the total crime rate is only 11% violent crime. So although the rate is high, it doesn't necessarily mean it's highly dangerous.
Generally, residents of Colorado Springs consider it a pretty safe place.
And now that you have a baseline understanding of the city, it's time to find a place to put all your stuff.
Apartment Hunting in The Springs
Step one when looking for apartments is determining what amenities you'll need.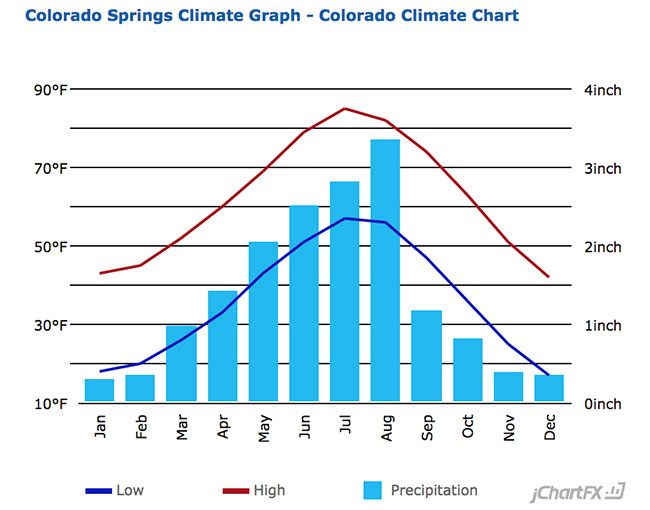 Due to its high altitude, Colorado Springs definitely experiences a fair amount of chilly weather, although things get toasty in the summer too.
In order to contend with the very cold winter and the couple months of heat, you'll definitely want to be renting a place with heat and air conditioning.
When thinking about heating and cooling needs, also consider your monthly electricity cost so that you can adequately budget for your apartment's utilities.
And due to low walkability, it'd be a good idea to make sure you have a washer/dryer somewhere in-unit or nearby.
Where to find apartments in Colorado Springs
Apartment hunting can be a pain no matter where you're looking, so it's best to use every resource at your disposal to make sure you find the best possible fit for your needs.
We've gathered a few solid sites that we think serve as good jumping-off points for finding apartments in the Springs.
Colorado Springs Rental Market
The 2019 rental market in Colorado Springs isn't great for renters…
On top of average rents increasing 2.23% within the last six months, prices in Colorado Springs have reached record highs along with increasing faster than the US average.

Also, Colorado Springs vacancy rates have decreased by 1.66% as of the last recorded data, which is substantially lower than the national average.
Colorado Rental Law
Renting in The Springs is expensive enough the way it is. To avoid paying any more than you need to or getting swindled by an opportunistic landlord, brush up on your rights as a renter in Colorado.
Here are some of the most useful laws for renters to keep in mind:
Now, if you want to settle down in an area that's a bit more suburban, The Springs has plenty to offer.
House Hunting in Colorado Springs
Colorado Springs has a ton of natural beauty, which makes finding a picturesque suburb to settle down in incredibly easy.
The 2017 median home value in Colorado Springs is $258,500 which is a 9.5% increase from the previous year and is expected to increase by 3.7% within the next year.
To give you an idea of what's out there, here are a couple suburbs in The Springs that stood out to us: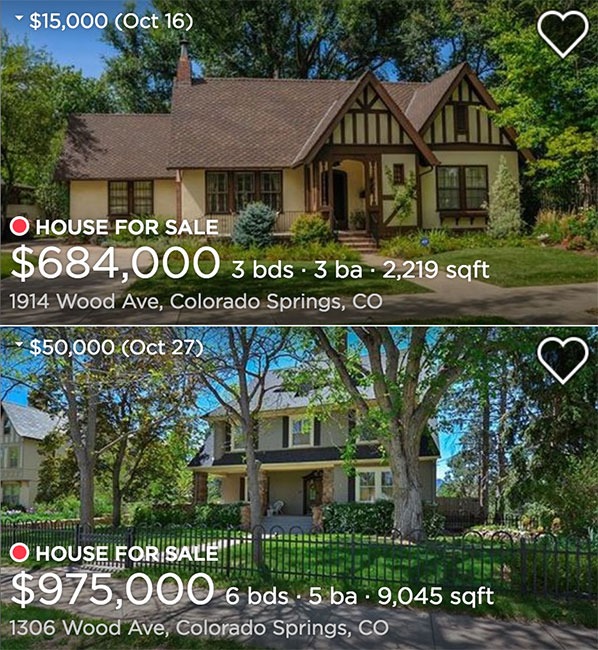 Old North End
Located just north of Downtown, the Old North End is one of the trendier areas of town featuring a ton of historic homes both large and small. Primarily appealing to established families, doctors, professors, and lawyers, the Old North End's charm comes at a relatively high price.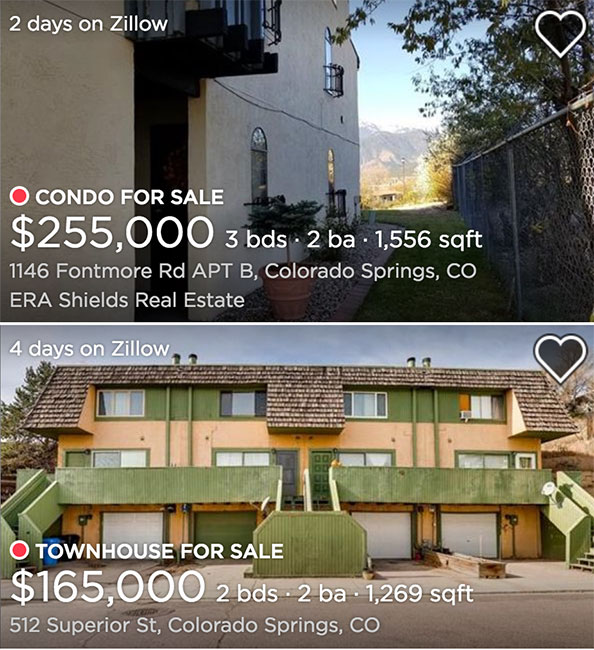 Pleasant Valley
People wanting to be somewhat removed from the city will find a lot to love in Pleasant Valley. What was once one of the most expensive neighborhoods in The Springs has become fairly affordable. The area is particularly attractive to new families who are drawn to its ranch-style homes and proximity to the Garden of the Gods.
Now that you're ready to move to Colorado Springs…
Use our moving cost calculator to estimate your moving costs to Colorado Springs.
Also, if you are coming from out of state, be sure to have a look at our state-state moving guide for more info and tips.
Parking Permits for Moving Vehicles in Colorado Springs
You'll also want to figure out whether or not you need special permission to park moving vehicles or containers near your house before making your move.
Colorado Springs has a thorough Oversize/Overweight Load Permits page with the info you'll need.
A few things to take care of before you get settled in to Colorado Springs
The laborious moving process is so close to being over! All that's left to do is take care of a few last logistical matters and you'll be able to officially call The Springs your home.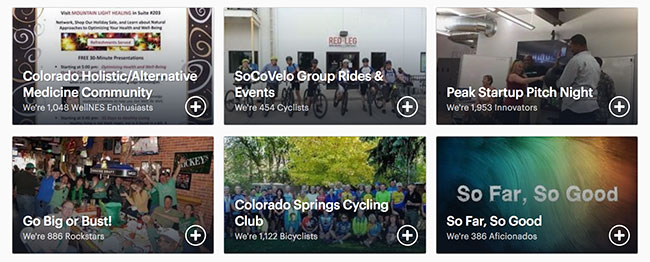 Things to Do in The Springs
When getting a feel for a new city, sometimes the best place to start is their official website. Colorado Springs has a pretty solid site devoted to sharing info on upcoming events and general things to do around town.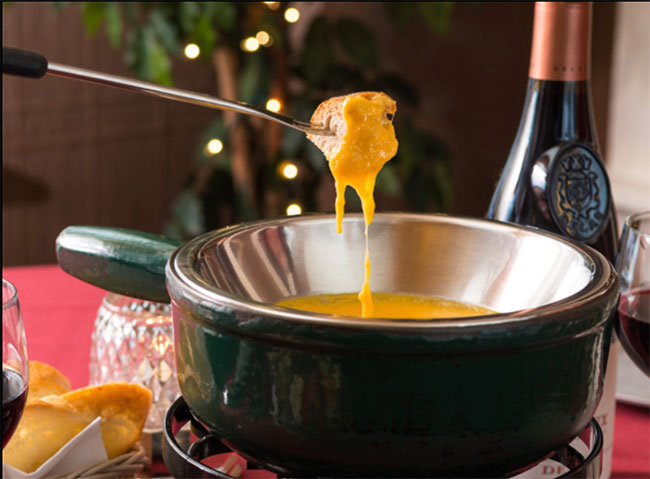 The Springs also sports a pretty rich culinary scene supporting a wide range of cuisines from the casual Amanda's Cantina to fancy fondue at The Mona Lisa.
Those in search of places to unwind won't be disappointed by the selection of bars and distilleries in Colorado Springs like Axe and the Oak Whiskey House, Goat Patch Brewing Company, and 719 Gastropub.
And as we stated earlier, The Springs is a haven for nature-lovers with many Parks, Trails, and Open Spaces that will provide any outdoorsy types with fresh air and beautivul vistas.