PODS vs U-Box: Which Container Moving Company is the best?
Overall opinion: This is one of the closest head-to-heads we've seen, but we think that PODS just barely edges out U-Box. They both have a ton of great features, including flexibility, easy-to-navigate websites, and competitive pricing. But because its containers are so much higher quality, we would be more likely to book a move with PODS than with U-Box.Want even more options? Check out our list of the best moving pod companies to see how we rate a number of different container moving solutions.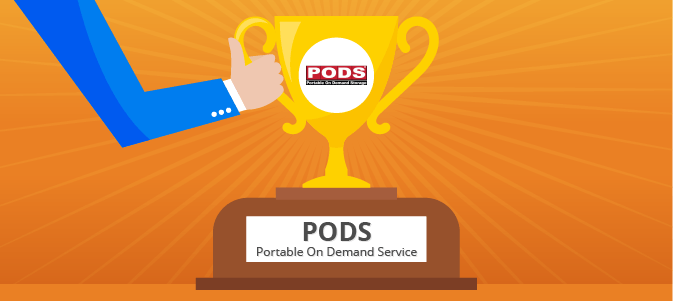 This is a showdown between the two companies that dominate the DIY moving landscape. They're both pioneers. They both made innovations in the field. They're both well-known and super reliable. To say this was a close one would be an understatement.
U-Box is a product of U-Haul, which is arguably the best known moving company in the world. After WWII, U-Haul answered the problem of military families wanting to start new lives in new cities by building a fleet of trucks that could be rented by movers who wanted to pack up their stuff and move it on a budget.
That means U-Haul has literally generations of experience in the moving industry, and U-Box, their entry into the field of container movers, has all that experience behind it, too.
Meanwhile, PODS was the pioneer that created container moving and storage. The company hasn't been in business as long as U-Haul, but it's been offering container moves since 1998—the first company to do so. It created this type of move, and you can bet that experience counts for something.
Comparing these two is like crowning the king of container moving. It's not easy to choose one over the other, which is why we've gathered up as much information as we can about both companies to help you determine which one is the best fit for your own moving needs.
Read on to see how PODS and U-Box compare in their services offered, prices, containers, and more.
PODS vs U-Box: Pros and Cons
Before we get into the real specifics, let's get an overview of each of these companies, as well as their pros and cons. Here are the things we love, the things we hate, and other pros and cons of both PODS and U-Box.
PODS Pros and Cons
Check out our comprehensive review of PODS here.
What we love: PODS makes moving way more flexible process than a lot of other companies. For one, you can modify or cancel your booking up to the day your containers are scheduled to be delivered and still get a full refund. That's a lot of peace of mind in case your plans change, as they often do during a major life event like moving. Also, PODS offers minimum 30-day rentals and lets you take as much time as you need to pack and unpack your containers. It's moving with as little stress as possible.
What we don't love: PODS is a victim of its own success, and by that we mean, the company is so popular, PODS often sell out far in advance. You may have to book up to six months ahead of your move in order to get a reservation, and not very many people are planning a move that far out. If you're moving on short notice, there may not even be any available PODS to rent, which is a big bummer.
PODS Pros
PODS Cons

Container moves are generally less expensive than full-service
Flexible change and cancelation policy with full refunds available
30-day minimum moving window that can be extended as needed
Both moving and storage offered
Onsite storage available
Multiple container sizes available.
You pack and someone else drives
Great nationwide coverage, and some international availability

Website is missing some important information
Not all moves can get a price quote online
For long distance moves, there's no option to book online — you have to do it over the phone
Advance reservations are necessary because PODS often sell out
U-Haul U-Box Pros and Cons
Check out our comprehensive review of U-Haul U-Box here.
What we love: With U-Box, it's easy to customize your move to make it exactly what you want. You can easily book your move online, and there are options to add all kinds of extra products and services — from packing and loading help, to moving supplies, to extra storage time. Plus, the pricing is really transparent. You'll be able to see exactly how your quote breaks down and how much each add-on adds to the final cost.
What we don't love: U-Box has some of the worst containers out of any moving company we've reviewed. They only come in one size: Small. They're made of plywood, instead of metal like most of their competitors', so they're not as sturdy, durable, or weatherproof as what's offered by most other container moving companies. Some reviewers have even noted that they've broken or fallen apart in transit. Not great.
U-Box Pros
U-Box Cons

Container moves are generally less expensive than full-service
You can have a pro drive, or you can do it yourself with a provided trailer
U-Haul is a huge, trusted, and well-known moving brand
You can order as many containers as you want, and just pay for the ones you use
You can save money on delivery and  pickup fees by packing and unpacking at a U-Haul facility
Easy-to-use website with instant online quotes
U-Haul reservations can be easily made online
International moves available

Only one container size available: Small!
Containers are made of plywood instead of metal, so we're not sure how sturdy or weatherproof they'd be
Online customer services leaves a little to be desired — we had to wait 20 minutes to be connected with an agent on their live chat
PODS vs U-Box: Services and Availability
PODS and U-Box are both container moving and storage companies, which means on a basic level they offer pretty much the same thing. They'll deliver moving containers to you. You pack the containers. Someone picks them up and drives them to your new home (or puts them in a storage facility if that's what you need). You unpack them. Someone picks up the now-empty containers and your move is complete.
Easy peasy, right? That's why container moves are so popular — they're generally cheaper than full-service moves, but you won't have to haul a trailer or drive a big, rented moving truck; unless you want to.
Both PODS and U-Box offer the basic moving pod service, plus a lot of other small tweaks. There are add-on services you can get with both companies, and ways you can customize your move to get exactly what you want within your budget.
Here's how services offered by PODS and U-Box compare.
PODS
U-Box
Moving
✔
✔
Storage at a Facility
✔
✔
Storage on Your Property
✔
✔
Storage Between Destinations During a Move
✔
✔
Delivery and Pickup of Containers
✔
Optional. You can also choose to pack and unpack at a U-Haul facility to save even more on the cost of your move
You Pack the Containers
✔
✔
Professionals Pack the Containers
Available as an add-on service
Unlimited Time to Pack Containers
✔
✔
Shipment of Containers to New Address
✔
✔
Insurance Available to Purchase
✔
✔
Free Cancelation or Modification
✔

(Up to the day before your move)

✔

(Up to the day of your move)
PODS vs U-Box: Where Are Services Available?
PODS and U-Box are two of the largest moving companies in the country, which means it's pretty likely that they'll be able to service your move as long as your location isn't extremely rural.
But U-Box has better availability than PODS for several different reasons: It operates in all 50 states, compared to PODS' 44 states, and you can ship a U-Box practically anywhere in the world.
Here's how availability for PODS and U-Box compares.
| | | |
| --- | --- | --- |
| | PODS | U-Box |
| Available in the U.S.? | In 44 states | All 50 states |
| Available in Canada? | Yes | Yes |
| Available internationally? | Yes, in Australia | Yes — you can ship a U-Box to almost any international port |
PODS vs U-Box: Which Containers Reign Supreme?
While U-Box has better availability, PODS has better containers, hands down. The container is where you're packing up your belongings for transport. You have to feel like they're going to be safe in there, and with U-Box's plywood containers and users that say they've had containers break during transit, we just don't feel that way about U-Box. Plus, if you're wondering how much can you fit in a U-Box, the answer is a king-size bed and not much more — the company only offers one, small container size.
PODS, on the other hand, offers three sizes of containers that all meet the industry standard of sturdy metal rather than wood. That's why we feel like PODS is the clear winner in the container specs category.
When it comes to other questions, like PODS weight limit and U-Box dimensions we've got the details. Here's how their sizes and other specs stack up.
PODS
U-Box
How many container sizes available?
3
1
What are the container sizes?
7-foot

12-foot

16-foot

8-foot
Storage available for all container sizes?
Yes
Yes
Cubic footage available?
390-1,008 cf
280 cf
Container material?
Metal
Treated plywood
PODS vs U-Box: What Will This Move Cost?
We get it — moving is expensive. You have to take the cost into consideration, and getting a good deal is a high priority for many movers. Let us caution you, though, when it comes to moving pods, cheapest is not always best.
It's also important to note that the only way you can get an accurate idea of how much a certain company will charge for your move is to get a personalized quote from them. We have some average prices for PODS and U-Box below, but they're just starting points and may not reflect what your move will cost at all.
You should get quotes from both companies — and as many others as possible — so you know what you're working with when you book your move.
Have a look at our moving cost calculator for a better idea on pricing.
We also have a full breakdown of pods prices.
Cost for a Local Move
| | | |
| --- | --- | --- |
| | PODS cost | U-Box cost |
| 1 bedroom | $200 – $400 | $150 – $600 |
| 2-3 bedrooms | $300 – $650 | $300 – $700 |
| 4-5 bedrooms | $300 – $800 | $300 – $800 |
Cost for a Move < 250 Miles
| | | |
| --- | --- | --- |
| | PODS cost | U-Box cost |
| 1 bedroom | $450 – $800 | $450 – $1,000 |
| 2-3 bedrooms | $750 – $1,900 | $700 – $2,000 |
| 4-5 bedrooms | $900 – $2,100 | $800 – $3,000 |
Cost for a Cross-Country Move
| | | |
| --- | --- | --- |
| | PODS cost | U-Box cost |
| 1 bedroom | $2,000 – $4,000 | $1,200 – $3,500 |
| 2-3 bedrooms | $3,000 – $4,900 | $2,500 – $4,500 |
| 4-5 bedrooms | $5,500 – $7,600 | $4,000 – $7,000 |
PODS vs U-Box: Which Container Moving Company Is Right For You?
These two companies really give each other a run for their money. While we think PODS is the better choice in most cases, we can't speak for you or your circumstances. We feel great about recommending both of these companies, and you should get quotes from both and carefully consider both of them before making a decision.
There are a ton of options out there for solid, trustworthy moving container companies, and you should look into as many as possible so you know you have the best fit for your move.
To compare PODS vs U-Pack, Zippy Shell, and more container companies, as well as full-service and DIY movers, head to moveBuddha to start your search with instant quotes from multiple moving companies you can trust.
Not what you were looking for?
Check out other categories that can help you find the information you need!
See All
Hide All