U-Haul vs Home Depot: Which Moving Company is Better?
Overall Opinion:
Both U-Haul and the Home Depot truck rental center are good options for moving truck rentals.
Each has slightly different offerings for a DIY move. For instance, U-Haul offers some storage options that Home Depot doesn't, such as
self-storage
and
U-Box mobile storage containers
. Home Depot offers a
"Load 'N Go"
program where you can rent a pickup truck or cargo van quickly and cheaply for a local move (based on availability).
Truck rental costs can beat out hiring a full-service moving company if you are willing to do it yourself. In this post, we'll go over the pros and cons of each company's rental services so you can make an informed decision for your move.
Before any move, you should use a moving cost calculator and you can also compare U-Haul and Home Depot's rental prices to our list of top U-Haul Competitors.
U-Haul vs Home Dept: Pros and Cons
U-Haul: Pros and Cons
What we love: Competitive pricing plus additional moving-related services
U-Haul offers low base rates for truck rentals that are affordable enough for most DIY movers. They also offer a host of additional services, including trailers for towing your vehicle behind the truck, U-Box mobile storage containers, secured self-storage units, and moving boxes and supplies. 
What we don't love: The quality of customer service is inconsistent 
U-Haul customer reviews make it painfully obvious that most of their locations tend to be understaffed. Customers are often left waiting 30 minutes or more for reservations to be processed. This is likely the result of staff members having to answer phones while simultaneously being required to leave the desk area to handle propane refills. The result is tremendous inefficiency and feelings of frustration being expressed by both customers and employees.
---
Pros
U-Box program:

This is U-Haul's version of the mobile on-site storage containers offered by PODS, SMARTBOX, U-Pack and others. U-Haul containers are delivered to you, and you rent them for a monthly fee of around $59 to -$79.

These units are offered in only one size, the interior of which is 7' 11" by 4' 8", or roughly the contents of a one-bedroom apartment.

 

All U-Haul truck rentals come with good standard features including EZ-Load ramps, air conditioning, seating for 2-3 individuals, and roadside assistance.

Their tremendous coverage area with more than 20,000 U.S. locations makes U-Haul a convenient option for most customers.
U-Haul offers one-way truck rentals for long-distance moves, and can even set you up with moving services if you need help loading and unloading.
Cons
In the past, U-Haul has been criticized for failing to guarantee truck rental reservations. They now offer a $50 "reservation guarantee." This policy states that if U-Haul fails to satisfy the "time, place, and equipment size" in the reservation, they will pay $50 to the customer.

This guarantee does not include dollies or moving blankets.

 

When making a reservation, a deposit amount is charged to the customer's debit or credit card as a "hold." If the reservation is canceled, the deposit amount often takes several days to be credited back to the card account, which limits available funds in the meantime.

Customers who incur parking tickets using a rental vehicle are charged an extra administrative fee of $30 and an extra $1.00 for toll-roads.
Home Depot: Pros and Cons
What we love: The Load 'N Go Vehicle Rental Program
Home Depot rental centers offer a unique and affordable program that allows customers to rent different types of trucks for a flat rate. You can rent their flatbed and pickup trucks, cargo vans, and box trucks for just $19.95 for the first 75 minutes — with no additional mileage fees. 
This can save money on quick-moving projects such as one sofa or small in-town moves. Load N' Go rentals also offer 24-hour and weekly rental packages with unlimited mileage. 
What we don't love: No advanced reservation option for local Home Depot vehicle rentals
One drawback to the Load N' Go truck rental program is that the rentals are generally "first-come, first-serve" and advanced reservations are not permitted. (Note: This does not apply to their Penske truck rental option which provides their moving trucks and box trucks). 
---
Pros
The tool-rental program is extensive and provides access to anything a customer might need for completing most moving-related projects

The website has a moving calculator tool that is useful and extremely easy to use for determining the size of the truck and moving supplies necessary to complete your specific move. (see image below).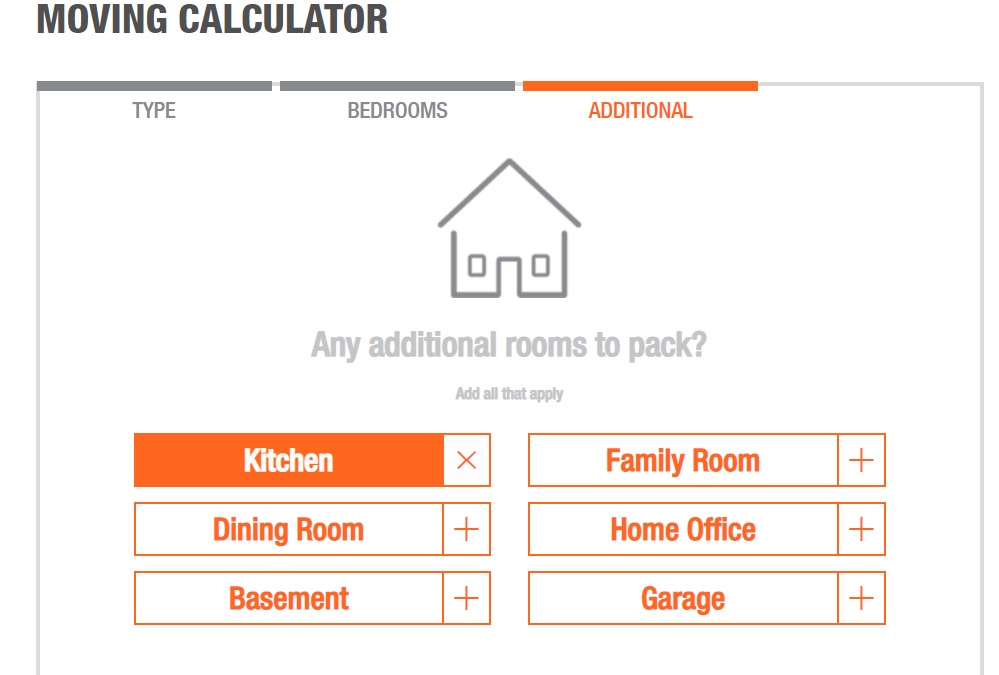 Cons
One-way rentals are typically not available on the Home Depot truck or cargo van models.

You will have to drop off the vehicle to the same location where it was rented.

Automobile towing is not available with the Home Depot truck or cargo van models (this does not apply to Penske's larger truck rentals).

A $150 deposit is required for most rentals that must be charged to a credit card.

The truck rental you need may not be available.
U-Haul vs Home Depot: Service Offering Comparison
U-Haul vs Home Depot: Vehicle Options
Our opinion: They come out pretty even. Although they have some slight variations in size in the 10' to 26' range of moving trucks, both U-Haul and Home Depot (with Penske) offer a complete fleet of pickups, cargo vans, and various truck sizes.
U-Haul vs Home Depot: Service (Coverage) Area Comparison
Our opinion: U-Haul has the edge here. Truck rentals are U-Haul's primary offerings and they have more than 20,000 locations allowing for excellent availability. Home Depot stores focus on the retail home improvement business so there are fewer locations to rent from.
U-Haul vs Home Depot: Pricing Comparison
| Model | Location | U-Haul | Home Depot |
| --- | --- | --- | --- |
| Cargo Van | Dallas, TX | $19.95 + .59 mile | $19 for 75 mins or $129 per day (unlimited miles) |
| 26' Truck | Dallas, TX | $39.95 + .79 mile | $199 per day + .99 mile |
| Cargo Van | Chicago, IL | $19.95 + .59 mile | $19 for 75 mins or $129 per day (unlimited miles) |
| 26' Truck | Chicago, IL | $39.95 + .79 mile | $299 per day + 1.29 mile |
| Cargo Van | Boston, MA | $19.95 + .89 mile | $19 for 75 mins or $129 per day (unlimited miles) |
| 26' Truck | Boston, MA | $39.95 + 1.09 mile | $299 per day + 1.29 mile |
Of course, these prices are estimates and can change depending on where you plan to drop off the truck, and how many days you plan on renting it.
Our opinion: It depends. Both organizations offer competitive pricing, but costs are calculated differently. Cargo vans from the Home Depot Rental Center are a good choice if you can complete the project within 75 minutes, or if you will be traveling 20 miles or more. U-Haul is the better option for cross-country or one-way moves.
U-Haul vs Home Depot: Available Discounts Comparison
U-Haul
Some U-Haul locations offer one month of free self-storage with a truck rental. Free shipping is available in the US and Canada on moving boxes and supplies with a minimum order of $99. Customers may also qualify for discounted rates at Choice Hotels for 15% and Wyndham for 10%.
Home Depot
Discounts are available on Penske truck rentals for military (10%), college students (10%), and AAA members are eligible for 12% off of truck rentals and supply purchases. 
Our opinion: Home Depot (Penske) wins this one. U-Haul discounts generally apply to purchases with companies that they partner with. Home Depot more clearly promotes its discount offers
Choosing U-Haul vs Home Depot for Your Move
Home Depot Rental Center is an excellent option for small, local, and same-day moving projects that can be completed with a flatbed truck or cargo van. All of their large 12' to 26' moving trucks are provided exclusively through Penske. U-Haul has more than 20,000 U.S. locations and is a good option for long-distance one-way rentals. 
Both companies are competitively priced and offer a variety of types of trucks; however, they structure their prices differently and customers are encouraged to compare the two to determine which provides them a better value.
A DIY move with a rental truck doesn't have to break the bank. Take a look at the best moving truck rental companies for availability in your area so you can make the best choice for your move.