What's the Cost of Living in Atlanta, GA?
Atlanta actually falls in line with national averages. But, compared to the rest of the Southeast ATL is a bit on the pricey side.

Here's the deal:
Atlanta is ranked in the top 30 most expensive cities in North America, according to Expatistan.com.
The city also made Forbes list of best places for business and careers. Forbes lists ATL's median household income at $58,000.
To get a better idea on just how much it will cost to live in Atlanta, let's first see how the city stacks up to other major cities in the US.
Comparing Atlanta to Other Major Cities
If we compare Atlanta to other US cities with similar sized populations, it's kind of a toss-up.
A Note on City Comparisons: We used NerdWallet's cost of living calculator to compare each city.
First of all, we see Atlanta's right around 6% more expensive than Colorado Springs, Raleigh, and Omaha.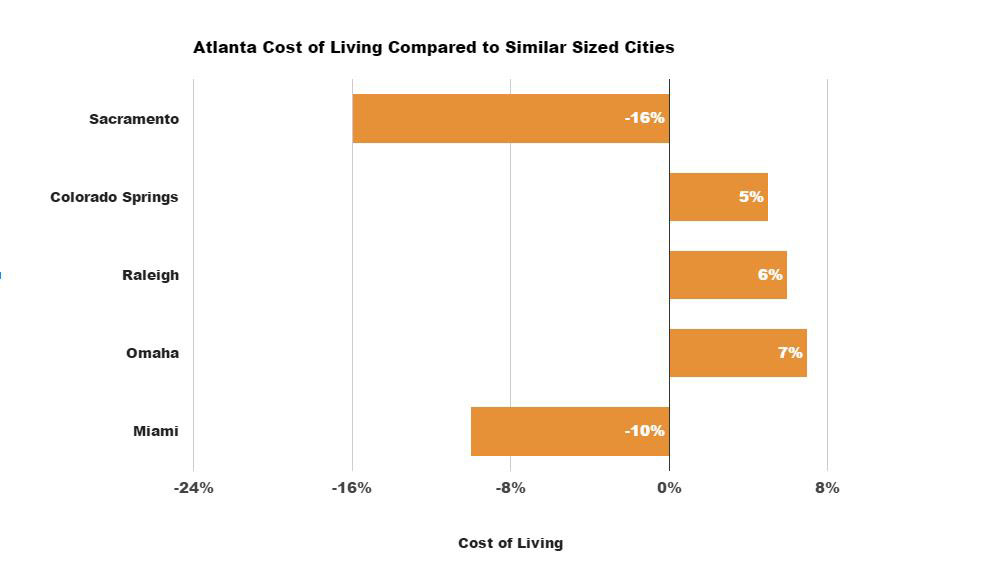 Yet, comparing Atlanta to Sacramento or Miami, it's actually a pretty sweet deal. Atlanta's 16% or 10% less expensive, respectively.
Cost of Living in Atlanta, Georgia by Expense Type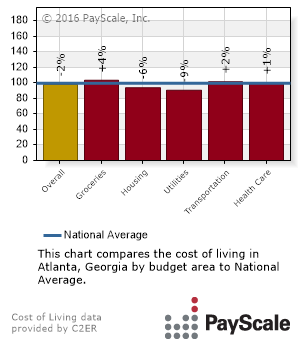 If we look at cost of living in Atlanta compared to national averages, according to Payscale.com we see that Atlanta's actually… pretty average.
Utilities in Atlanta are almost 10% lower than the national average. But with slightly higher grocery and transportation costs, it comes in at just 2% less expensive than the national average.
The above data comes from Payscale. Forbes puts Atlanta's cost of living at: "0.6% above nat'l avg". Either way, Atlanta's right around the median.
National averages are one thing, but how does Atlanta compare to the rest of the Southeast?
Comparing Atlanta to Nearby Major Cities
The South has a reputation as generally cheaper than the Northeast or West and Atlanta definitely holds this trend.
But, when you compare ATL to its neighbors, it doesn't fare quite as well.
Atlanta is 5-10% more expensive than Nashville and Savannah. It's also more expensive than Charlotte (by 3%) and Jacksonville (by 2%).
Of the major nearby cities we looked at, Charleston was the only pricier one, costing 6% more than Atlanta.
But, do these cities offer the same global status, booming film industry, and diversity of Atlanta? Here's looking at you, Hollywood of the South.
For being the 3rd largest metro area in the Southeast, Atlanta ain't a bad deal.
How much does it cost to live in Atlanta?
Finally, let's look at how much you can expect to pay every month for the basics in Atlanta. We said basics, so this won't cover how much you might spend on a fun night out.
Overview: Somewhere around $1211 to $2555 depending on your lifestyle.
Breaking these down to see what each category looks like…
Housing:
$650 – $1600+ per month
RentJungle and Apartmentlist both reported average rents in Atlanta to be around $1350 for a one bedroom and $1680 for a two bedroom.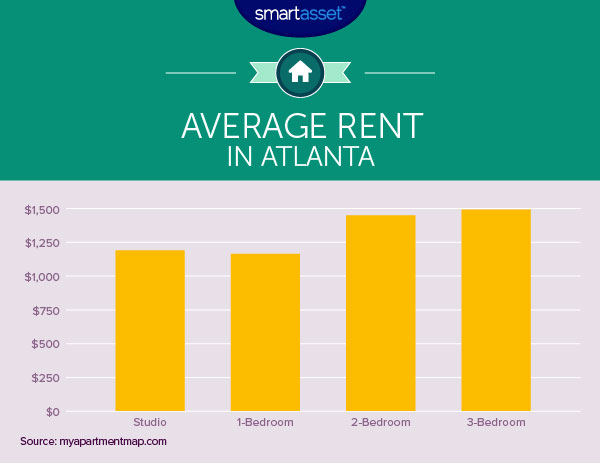 Looking at actual apartment listings in Atlanta, you'll see you can expect to pay $650-$1000 per month with roommates. Living alone? Expect to pay $1,100-$1,600 instead.
You can probably find places to live that won't fall in line with the above numbers. On the lower range, be selective. On the higher range, be sure you're comfortable setting aside a larger part of your income on housing.
Sample your top picks before renting to make sure you find the best fit.
Atlanta has an average rent of $1,554 that puts it on the upper mid-range. This is still far less than similar, bigger cities like Los Angeles ($2601) and Miami ($2,218) – based on data from RentJungle.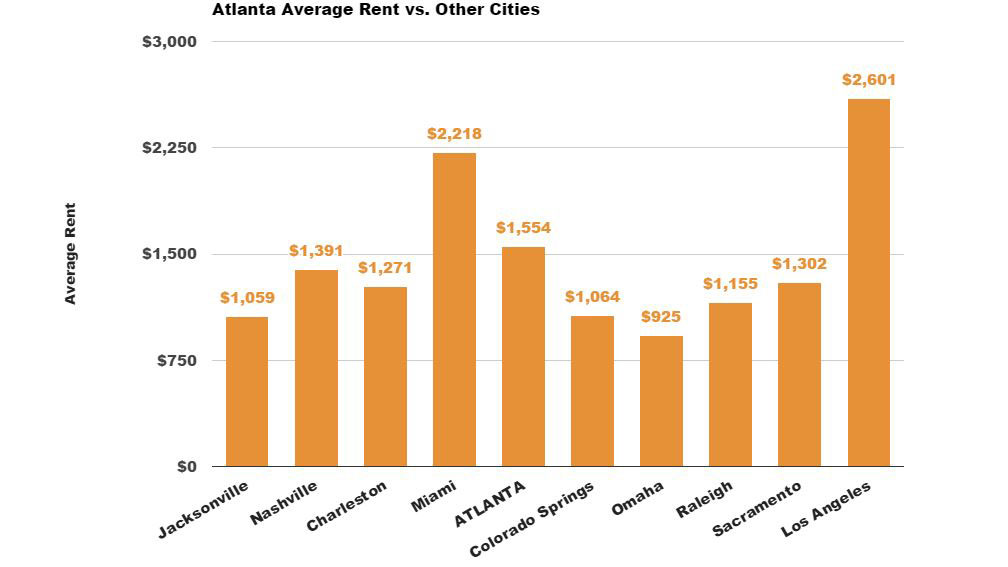 We've covered housing costs. Finally, we'll look at other expenses
Utilities:
$123 – $195 per month, from Expatistan
Winters in Atlanta can get cold and have rare snowfall. On the other hand, summers are hot and humid, with temperatures in the 90's.
So, your AC will be your friend here. Expect to use it throughout the year. The utility bill will reflect that.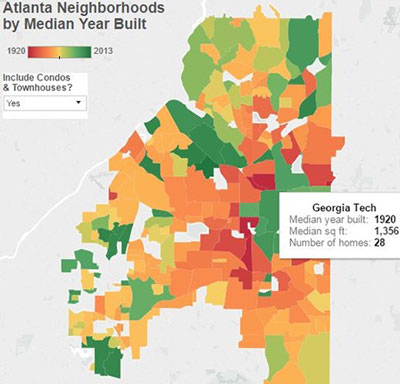 Side note – older buildings tend to have worse insulation and may have older AC units. Translation: they could end up costing a lot more in the monthly utility bill. So, ask about this before signing that lease.
Also, check out this map from NumbersBox showing median home age by neighborhood.
Cool, right? It helps give a quick idea of age. Red areas are oldest, green newest. Ages before 1920 are approximate, but it still gives an interesting perspective on the city.
Internet:
$43 – $60 per month, from Expatistan
Unfortunately, Americans pay more for internet than people in other countries. That's according to the Verge and PBS.
How does Atlanta fare? Again, pretty average.
Internet providers love their bundles, so you can find options ranging from $19.99 up to $80+. Comcast, Earthlink, and Google Fiber are all options, depending on which area you choose.
Groceries:
$300 – $400 per month , from BLS and Expatistan
Let's look at the Bureau of Labor Statistics report for a minute.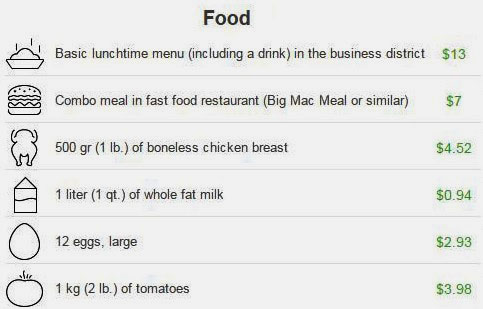 The $3,448 (BLS average again) spent on food at home comes out to around $280/month. In addition – $2,444 spent on food away from home equals about $200/month.
Expect to pay around $300 – $400 per month on groceries. That's common for living in the city.
Do keep in mind that this does not account for frequent eating out, which can really increase monthly expenses.
Transportation:
$95 – $300 per month, from MARTA and Expatistan
Atlanta's public transit will run you $95 for a monthly pass and can get you around a lot of the city. Ubers and taxis are available in most areas as well.
Only 16.9% of Atlanta households own no vehicle, according to data from Governing.com. Gas prices are usually cheaper than the national average.
A note on personalizing costs to your situation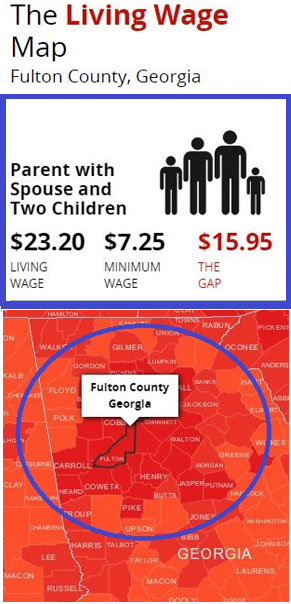 Your living situation can really affect living costs. Single vs family, or family of 3 vs family of 5, are all different.
Use MIT's living wage calculator here to look at estimates for Atlanta's:
Living wage.
Typical expenses & required annual income for different family sizes.
Typical annual salaries for various professions.
Love data and want more visuals? Esri's interactive map on the right uses data from MIT's wage calculator.
Another great tool for exploring cost of living is CareerTrends' overview here.
Bottom line: budget anywhere from $1,211 to $2555 to cover your common expenses living in Atlanta.
Also, consider taxes…
Atlanta's individual income tax rate maxes out at 6% for incomes over $7,000 per year. State sales tax rates are 4%. However, each county can increase that – most are 6-8%, including the 4% default.
Again, if you're heading South, you will probably pay a bit more in Atlanta than in nearby places.
If you just have to live in a big city, Atlanta's a great choice for you. It's hard to beat moving to Atlanta! Few places combine the modern city feel with that good 'ole southern charm.
And if you're looking to save some money while moving in Atlanta, be sure to read our Moving in Atlanta Cost guide for some insights on where to find solid, cheap moving services.
---