Idaho, The Place to Go: The moveBuddha 2021-2022 Idaho Migration Report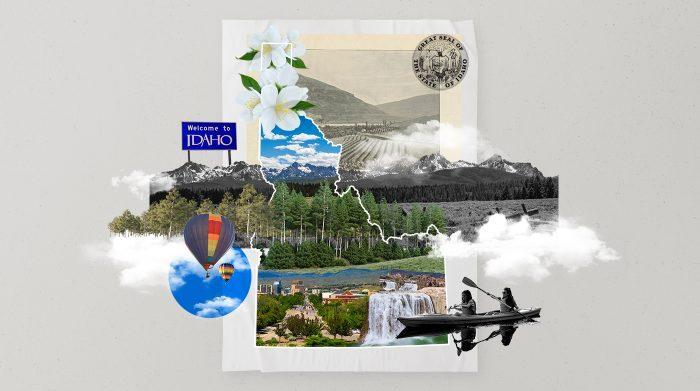 Big takeaways
• 1 in 3 moves in are coming from California in 2022, according to moveBuddha's data.
• #1 Coeur d'Alene is the city in Idaho seeing the most inflow in 2022, to date. Data shows there are over 223 moves in for every 100 moves out. Other popular cities to move to include #2 Eagle (176 to 100), #3 Twin Falls (136 to 100), #4 Lewiston (132 to 100) and #5 Boise (124 to 100).
• One solitary city has seen massive exits in 2022: Rexburg, ID.
• Inflow into Idaho slowing down: moveBuddha data shows that in 2020, Idaho saw 320 moves into the state for every 100 moves out. That inflow has since slowed considerably in 2021 and 2022, this year the state is seeing about 123 moves in for every 100 out — a 61.6% decrease in inflow, the largest drop in the nation.
Are people still moving to Idaho in 2022?
It looks like the secret's out on Idaho. From 2020-2021, Idaho led the nation in growth and remained a top state for move-ins. It's no wonder people are moving to The Gem State; Idaho clearly has a lot to offer. Affordable housing, incredible nature, safe cities and towns, and good schools make it a great place to live.
Renowned for its natural beauty, Idaho is home to many national parks, forests, preserves, and trails. Its wildlife and geologic features are true treasures of The Gem State.
The pandemic propelled Idaho to top the charts in 2020-2021 as people searched for ways to exit big cities and rediscovered the need for places to connect with nature.
This report digs deep into moveBuddha's data on all things Idaho – where exactly people are coming from, what cities are the most popular to move to, and insights from real locals on why they love living in Idaho.
Table of Contents
I. Moving to Idaho: Statewide trends from the last decade and into 2022
II. 2022 Forecast: Which Idaho cities are surging in popularity and which are losing residents?
III. Real Insights: We asked, why move to Idaho?
IV. Sources and Methodology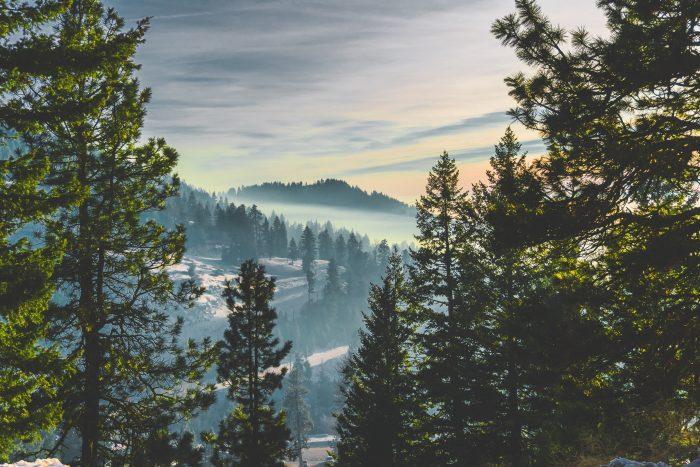 I. Inflow into Idaho
For the last five years, Idaho has led the nation in new residents moving in. An explosion of new residents came after April 2020, with an increase of 3.4% come July 2021 in Idaho's total population.
What lures people to Idaho?
So why pack up and head to The Gem State? Newcomers cited work and political climate as two main reasons for moving to Idaho in a statewide survey. But those aren't the only reasons.
1. Bountiful Employment Opportunities: 31 Idaho businesses made Inc. Magazine's 2022 list of 5,000 fastest growing businesses. Local Lease End saw an explosion of +3000% in revenue (providing solutions for those at the end of their vehicle lease) and Tractor Beverage saw 2,520% (supplying organic, sustainable drinks for restaurants, now available at Chipotle).
Expansions for major projects were announced throughout 2021 including Scentsy and Amazon. Boise alone saw at least 27 new businesses in 2022.
2. Political Climate: Political climate was one of the top reasons newbies gave for choosing The Gem State. As one of the most Republican states, the electorate hasn't supported a Democratic President since Lyndon B. Johnson in 1964. Significant moves come from blue states like California, Washington, and Oregon.
3. Nature and Wide Open Spaces: Back in the days of social distancing, people were fleeing big cities, seeking outdoor adventures, working remotely, and looking for affordable lifestyles. Many mountain west communities see this inpouring of residents coming from not only dense cities but more expensive markets where incoming buyers have more purchasing power to invest in more spacious properties.
4. Approachable Housing Market (for some): In 2021, Idaho saw the fastest rise in home prices in any state across the nation in 2021 — a 29% jump. Even still, the housing situation may still provide more affordable homes to those exiting costly markets (mentioned above). Typical home prices in Idaho have risen to $467,883, about $100K more than the national average. With many new residents coming from states like California, Washington, and Oregon, home prices in Idaho are still well below the average home costs in those other states. (Average home costs come from Zillow Home Value Index, August 2022) 
The demand for homes in Idaho is high and the market has been extremely competitive. Current inventory and new housing developments are struggling to keep up with the demand.
Where are New Residents Coming From?
Even though Idaho has dropped down the list for move-ins since 2020, it remains in the top 20 of the nation.
moveBuddha data shows California dominates the influx of new residents, with nearly 34% of Idaho's new moves in hailing from the Golden State. Next in line is Washington, which accounts for just over 10%. Three states are responsible for around 6% of new residents, Arizona (6.0%), Texas (5.8%), and Oregon (5.4%).
| | | |
| --- | --- | --- |
| Rank | Moving to Idaho | % of Moves |
| 1 | California | 33.9% |
| 2 | Washington | 10.1% |
| 3 | Arizona | 6.0% |
| 4 | Texas | 5.8% |
| 5 | Oregon | 5.4% |
A Slow in the Flow
Our Moving Trends Report reported a waning interest in moving to Idaho. In 2020 Idaho was the #3 state for highest inflow. Now in 2022, the state has fallen to the #20 spot for inflow.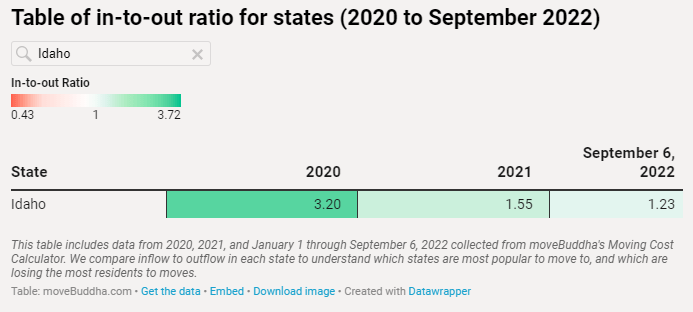 2020 moves were pouring into the state of Idaho with 320 moves in for every 100 out. Today, with a massive decrease of 61.6% the ratio of inflow is down to 123 moves in for every 100 out. This is the most profound decrease of inflow of any state in the nation.
| | | | |
| --- | --- | --- | --- |
| State | 2020 In-to Out Ratio | 2022 In-to-Out Ratio  | % Change of In-to-Out ratio from 2020 to 2022 |
| Idaho | 3.20 | 1.23 | -61.60% |
| South Dakota | 3.21 | 1.33 | -58.52% |
| Utah | 1.41 | 0.71 | -49.63% |
| Montana | 3.72 | 2.11 | -43.31% |
| Oregon | 1.50 | 1.00 | -33.13% |
In 2022, Idaho continues to see more moves in than out. However, the rate has slowed dramatically since the surge in 2020.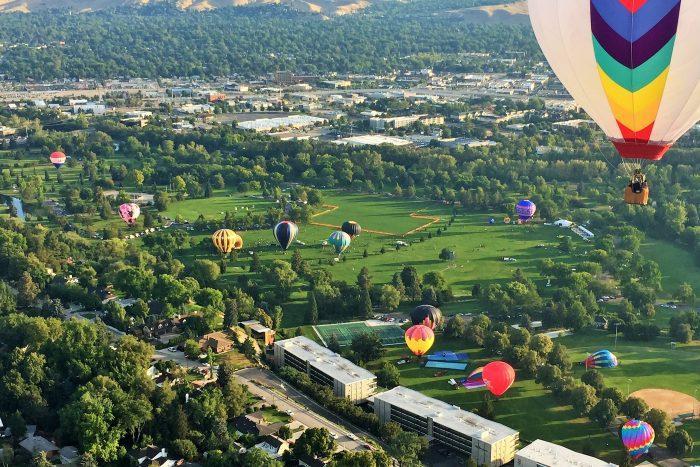 II. 2022 Forecast: Which Idaho cities are the most popular to move to and out of in 2022 according to moveBuddha data?
Where are people looking to move? moveBuddha's data points to which cities in Idaho people are looking to move to and which cities they're hoping to leave. Only the cities with at least 25 searches to move in and 25 searches to move out were considered. Idaho had 14 total cities in moveBuddha's data within these parameters.
11 out of the 14 cities within the search parameters had higher inflow than outflow.
What cities in Idaho are the most people searching moveBuddha to move into? The cities with positive move ratios are #1 Coeur d'Alene (223 to 100), #2 Eagle (176 to 100), and #3 Twin Falls (136 to 100).
Three cities in our data had negative inflow-to-outflow ratios, or more moves out than in: Rexburg (49 to 100), Caldwell (90 to 100), and Idaho Falls (95 to 100).
Spacious Cities, Beautiful Nature
Since westward expansion, Idaho has drawn people looking for space to carve a life amongst pristine wilderness. The trend continues today as the top cities people are moving to offer both beautiful views and space to thrive.
Idaho, as a state has a low population density with just 1.75 million residents. The cities reflect this population distribution. Boise, the largest city in the state, is home to just over 237K residents and ranks as just the 97th largest city in the US.
Cities in Idaho attracting the most moves all offer proximity to beautiful nature and outdoor adventuring. Plus, cities in Idaho are typically built with space in mind.  They offer all the conveniences of a small city without feeling overcrowded.
Other top cities with high move in searches are coveted for their small-town feel. Lewiston (34K population), Twin Falls (53K), Eagle (32K) and Coeur d'Alene (56K) are small enough to feel a strong sense of community yet large enough to offer a rich selection of restaurants, shops, and other small city amenities.
Idaho's Cooling Inflow
While overall the move-in searches into Idaho are still higher than move-out searches, moveBuddha's data shows that the rates are cooling for some cities from last year.
High Inflow Cities

Percentage Decrease
of In-to-Out Ratio
from 2021 to 2022

Eagle, Idaho

-56%

Boise Idaho

-27%

Coeur d'Alene, Idaho

-12%

Twin Falls, Idaho

-4%
This cooling trend reflects the statewide drop in searches for moving into Idaho from 2020 to 2022.
Top 5 Cities to Move to in Idaho:
#1 Coeur d'Alene, ID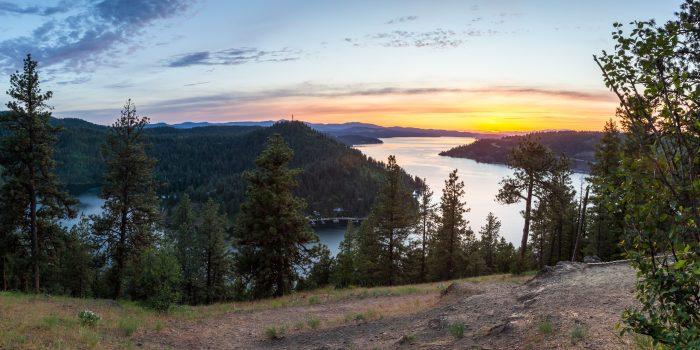 CBSA: Coeur d'Alene, ID
Census Population (2021): 55,904
Average Home Value: $580,383
Median Rent: $1,037
Median Income: $54,763
Median Age: 37.3
College Education or Higher: 27.7%
Unemployment Rate: 3.7%
Coeur d'Alene offers all of the amenities of a small city with pristine nature. People love to enjoy watersports on Lake Coeur d'Alene. Gorgeous hiking trails located in Canfield Mountain Natural Area and Coeur d'Alene National Forest are a big draw. People are moving to this resort-like town because of the lower home prices than other states (almost $200K less than typical California homes) lower taxes, and conservative values. With new highrise condos and homes being built, a thriving downtown, and proximity to Spokane, Coeur d'Alene has a lot drawing in new residents.
#2 Eagle, ID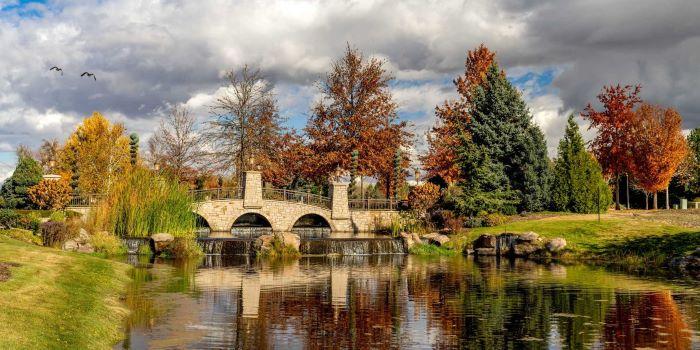 CBSA: Boise City, ID
Census Population (2021): 32,100
Average Home Value: $905,930
Median Rent: $1,275
Median Income: $91,414
Median Age: 46.1
College Education or Higher: 47.4%
Unemployment Rate: 1.5%
Eagle is an affluent Boise suburb with median household incomes at $91,414 (over $32,000 higher than median household incomes for Idaho). People flock to Eagle for its golf courses, spas, and natural places like Eagle Island State Park. Many choose Eagle for its small-town feel, excellent schools, and location — just 10 miles from Boise.
#3 Twin Falls, ID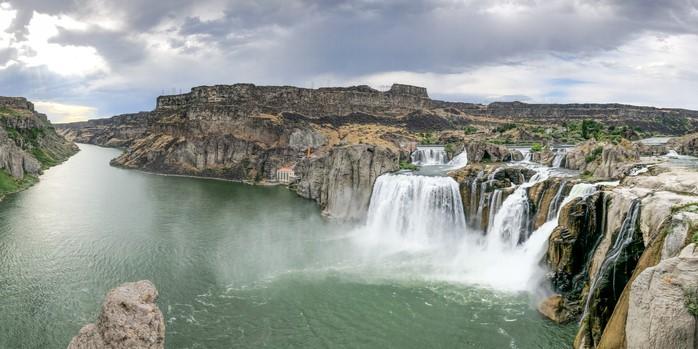 CBSA: Twin Falls, ID
Census Population (2021): 53,213
Average Home Value: $383,702
Median Rent: $841
Median Income: $50,839
Median Age: 33.6
College Education or Higher: 23.3%
Unemployment Rate: 2.9%
Twin Falls is a southern Idaho gem and the gateway to Snake River Canyon. With low unemployment, low cost of living, and exceptional views, Twin Falls is a no-brainer for millennials looking to get a piece of the good life.
#4 Lewiston, ID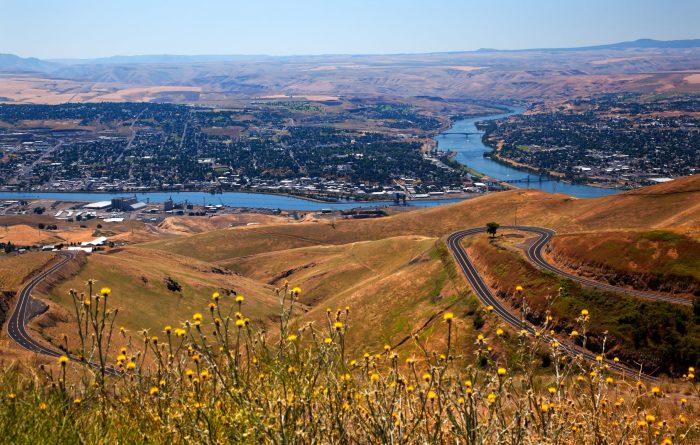 CBSA: Lewiston, ID-WA
Census Population (2021): 34,447
Average Home Value: $376,953
Median Rent: $724
Median Income: $54,912
Median Age: 39.8
College Education or Higher: 24.7%
Unemployment Rate: 3.3%
Lewiston boasts the only seaport in the entire state and is home to Hells Gate State Park. People love its small-town feel, burgeoning wine culture, and exquisite natural beauty. Affordable home prices and low rent also make it an attractive city.
#5 Boise, Idaho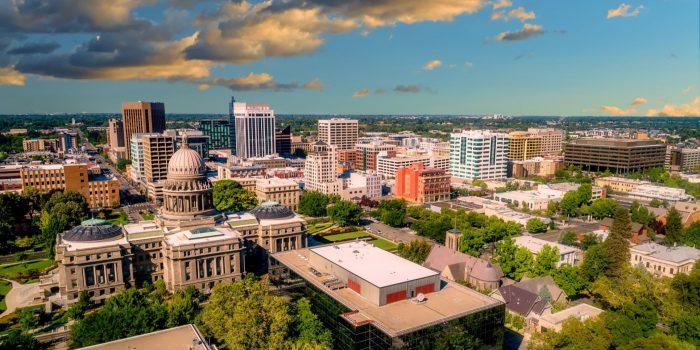 CBSA: Boise City, ID
Census Population (2021): 237,446
Average Home Value: $529,528
Median Rent: $1,009
Median Income: $63,778
Median Age: 37.5
College Education or Higher: 42.6%
Unemployment Rate: 4.7%
Boise is Idaho's state capital and the state's largest city. People leave other states for Boise because of the relatively low housing costs and excellent job opportunities. But many long-time residents of Boise are facing skyrocketing home prices. Boise leads the nation for the most significant percentage increase in home prices, a whopping 66.73%. Even still, with a low crime rate and many local outdoor activities, it's a great place to raise a family.
Major Exits from Rexburg
Rexburg, Idaho

CBSA: Rexburg, ID
Census Population (2021): 35,300
Average Home Value: $431,2830
Median Rent: $765
Median Income: $33,278
Median Age: 23.1
College Education or Higher: 43.3%
Unemployment Rate: 8.3%
With an unemployment rate higher than the rest of the state, it's easy to see why people may be packing up. Seasonal moves into and out of Rexburg are natural with the city's proximity to BYU-Idaho. So, while Rexburg is a good place to settle in while getting your degree, it may not be the best place to use it once you've graduated.
III. Stories from locals - Why did you move to Idaho?
To learn a bit more about why many are choosing to move to Idaho, we reached out to people who've either lived in the state or currently live there.
Here's what they had to say:
Jobs, family, and entrepreneurial environment: My sister had been recruited by Hewlett Packard a decade earlier. For me, the cost of living was similar (at the time) to where I already lived. Many others who have moved here, though, have done so because neighboring states have a higher cost of living. — The cost of living in Garden City is lower than in Boise itself, plus I am right next to the river with its Greenbelt. The district is friendly to artists and small businesses. I have worked for myself for 17 years, and my business office is the front of my house. Neighborhoods that allow this are hard to find these days. — Angela moved from Wisconsin to Garden City, ID
Healing nature for mental fatigue: With the increasingly complicated way that the world is going, it makes total sense that more people would want to live somewhere peaceful and close to the earth like Idaho. It's one of the few places I've been where I could actually walk for miles without seeing anyone. I know a lot of people struggling with a kind of mental fatigue, and I'm a big believer in the idea that if you're becoming overwhelmed with life, you might just need to lie in some grass for a little while and watch the clouds–Idaho is great for that. — Jason Dempsey previously lived in Mountain Home, ID.
Family-friendly and the great outdoors: People have been moving to Idaho for decades but with the pandemic, the opportunity to live anywhere made it even more attractive. The cost of living is on the rise but still below most major markets. It's a family-friendly city with access to great outdoors, parks and a beautiful river that runs through the city. — Lila Eidi lives in Boise, Idaho.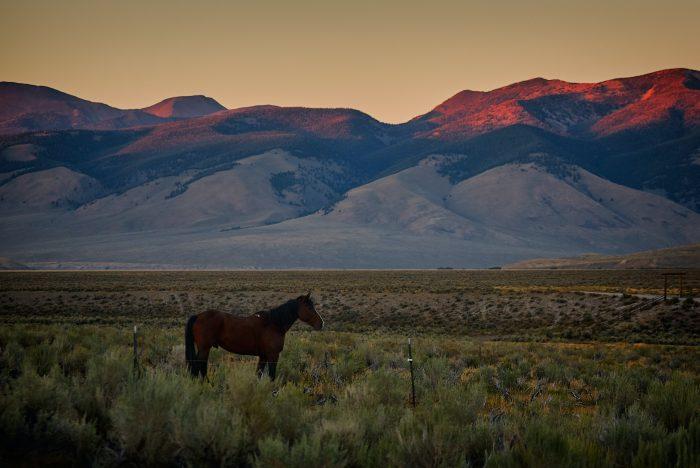 Idyllic Idaho, Still the Place to Go
Rugged beauty, space to explore, and economic opportunity brought settlers to Idaho 180 years ago during the peak of westward expansion. Today, people come to Idaho for the same reasons.
Idaho is a beautiful state with a low population and space to expand. It remains near the top of the list of states with higher move-in numbers than move-out numbers.
This trend has played out across the country. The pandemic sent people looking for fresh air to breathe and more space at home. However, skyrocketing home prices have made it difficult for long-time Idaho residents and even new residents looking to buy a home. Contractors are putting up houses as fast as they can to meet the demand. Rising mortgage rates seem to be just enough to start cooling the ever-rising prices but demand continues to be high for homes in The Gem State. Treasure Valley, alone, needs 24,000 new homes to meet the current demand.
While the huge inrush of 2020 seems to be slowing, many people still recognize the beautiful combination of work and play that Idaho cities embrace. The word is out on Idaho's charm as it continues to draw new residents from other states.
Planning a move to Idaho
If you've got an ID move on the horizon, these pages will help you:
Best Idaho Movers Pretty straight forward, we looked at hundreds of movers across the state and these are the best ones in Idaho.
Find your Idaho moving route Want detailed help for your move? Pick where you're moving to and from in Idaho, and we'll help you find out costs and movers
IV. Sources and Methodology
This report primarily uses data sourced from moveBuddha's Moving Cost Calculator with supplemental city-specific details from the U.S. Census Bureau. To understand the cost of area homes, we use Zillow's Home Value Index.
moveBuddha proprietary data
This data was collected from January 1, 2022 through September 6, 2022, capturing 298,566 searches across the nation by individuals who were either planning to move themselves or hire a moving company throughout 2022.
More information about our move data and in-to-out ratio equation can be found in our Migration Report.
U.S. Census Bureau data
Zillow — Zillow Home Value Index city data
The Zillow Home Value Index or ZHVI provides us with the typical single-family home value within each city at a given period of time.
Not what you were looking for?
Check out other categories that can help you find the information you need!
See All
Hide All