Overall Opinion: Finding a good location to house your belongings is almost as difficult as finding a new home. This is where websites like Neighbor Storage come into play.Neighbor Storage is a popular storage app aimed at movers and people who want to turn their extra space into storage units. Let's take a look at the Neighbor Storage app review and see what it can offer your next move.

But first, if you are moving here are some links that might come in handy:
Moving Cost Calculator: Get a free, personalized, and instant estimate of your move. Just enter the date, size, and where you're moving to/from, and we'll instantly tell you how much your move should cost.
Best Moving Companies: Avoid the horror stories of shady movers by hiring verified and reputable moving companies. These are our picks.
Best Moving Containers: Sometimes, handling the move yourself is the way to go. You take care of the packing and loading. These companies manage driving. Here are the top options.
What Is Neighbor?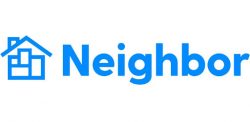 Neighbor Storage is a storage app dedicated to reviewing storage options across the country to help people find the safest and most affordable solutions. Not only that, they help establish new storage units through their Neighbor Host system.
When you need to find a reputable storage unit for your belongings, Neighbor Storage could become your go-to resource. The website is a compendium of storage units across the United States, separated into sections including:
Self-storage
Car storage
Boat storage
RV storage
Trailer storage
Inventory storage
How Does Neighbor Work?
From unused sheds to spacious garages, Neighbor Storage connects movers and sellers together under one handy umbrella.
Convenience is the name of the game with Neighbor Storage. Paperwork is non-existent, and the site handles much of the administration, such as determining pricing and availability. The business places a special emphasis on storage options close by so interested parties can reduce their commute. Think of it like Airbnb, but for storage unit options.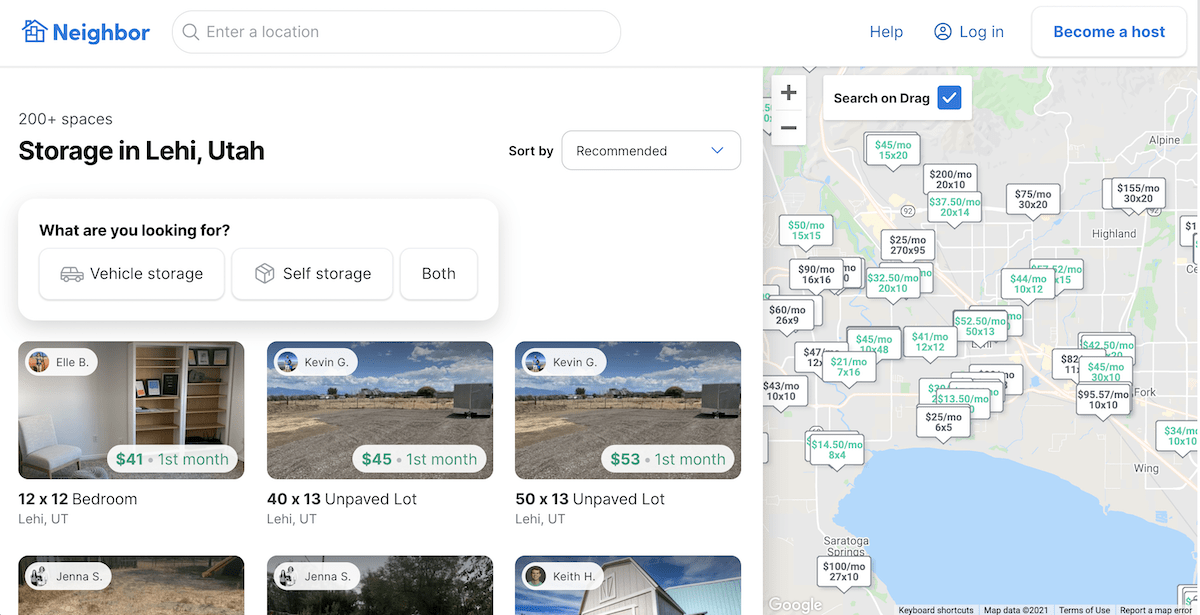 For people seeking out storage options (aka 'Neighbors'), getting started is as simple as typing in a designated city in the search bar. The options are sliced out by usage types, such as self-storage or boat storage. Each search is further whittled down into sticker price, current discounts, and monthly payment plans. The business prides itself on a 'no paperwork' model to reduce friction.
For those that want to turn their unused spaces into storage units (aka 'Hosts'), they provide a step-by-step process right on the website. Creating an account is free, and hosts can screen renters before being allowed to rent a unit.
Who is Behind the Neighbor's App?
Neighbor Storage is a start-up based in Utah, founded by Colton Gardner, Preston Alder, and Joseph Woodbury.
They're a well-known resource that has been featured in Forbes, WSJ, and Business Insider, just to name a few.
The Benefits of Using Neighbor
Neighbor Storage provides access to low-cost and close-by storage units in your neighborhood. Like any other public marketplace, however, you have to be responsible for vetting risks using Neighbor app reviews.
If you've ever used Craigslist or Facebook Marketplace, you're already aware of some of the pros and cons. This includes operating heavily on word-of-mouth from past customers and the omnipresent risk of a lackluster experience.
Services Offered
It's understandable to worry about how reliable these storage units are, especially if you're used to working with larger companies. Neighbor Storage regularly provides verified feedback and supplements every last unit with personal vouches from other users. They also promise useful features such as:
Month-to-month contracts without surprise charges
Secure, automatic payments
Swift responses (typically within the same day)
No paperwork
A frictionless experience for both buyers and renters
One of their most appealing qualities is the level of protection they offer both parties. These include:
Renter's protection up to $25,000
Host liability protection up to $1,000,000
Identity verification services
How Does the App Work?
Neighbor Storage operates as a middleman to reduce the friction from the hosting and renting process.
Becoming a Host is as easy as making a free account and putting up your rental space in their listing. Likewise, renting out a space just means browsing the search engine and contacting an appealing property.
Pricing
How Much Does Neight Cost?
The Host determines the prices and posts it on their profile with additional details such as the service fee and average response time. Prices range from as low as $25 per month to as high as $2,000 per month.
How Does it Compare to Other Storage Facilities?
The trade-off for convenience and variety means less predictability on key features. Unlike more established moving companies like Public Storage and U-Haul, storage units on Neighbor Storage may not feature qualities like:
Climate controlled units
Alarms
Vehicle storage
Can You Make Money With the Neighbor App?
When you become a Host, you can make passive income by renting out your empty space to people in your city or town. This month-to-month model uses consistent fees, no paperwork, and oversight measures like legal identity protection.
How Much Can You Make on the Neighbor App?
The amount of money you make per month depends on how much you rent your space, minus the service fee.
Customer Experience
The goal of Neighbor Storage is to reduce the friction that comes with renting out spaces for both parties. When over 30 million Americans moved in 2019, it's not hard to see why this service is so popular.
As a Host, you can expect the opportunity to generate passive income for your unused garage, shed, or storage unit. Stated benefits include no paperwork, flexible pricing options, and direct deposit options.
As a Neighbor, you can expect the opportunity to browse a variety of locally owned storage unit options and rent them at your leisure. Prices and response times are highly varied and provide a degree of flexibility not found in national storage unit chains.
Reputation and Online Presence
Vetting a business is pretty straightforward these days: just type their name into Google and see what their first impression offers you. The Neighbor Storage app reviews online range from positive to generally mixed.
What is the BBB Rating?
The BBB (Better Business Bureau) provides oversight and accreditation on businesses in a variety of niches.
Neighbor Storage currently doesn't have BBB accreditation and has a D+ rating. Past customer complaints include struggling to receive responses on canceled accounts and not receiving refunds. The business has closed four complaints in the past twelve months.
What is Their Overall Google Play Rating?
While they don't have a Google My Business, Neighbor Storage is found on Google Play and boasts an average of four and a half stars out of five.
Neighbor Storage app reviews are generally positive, though sometimes mixed. Some customers have struggled to receive responses in a reasonable amount of time, with a few claiming multiple messages sent with no response.
What is Their Overall Yelp Rating?
The average rating for Neighborhood Storage on Yelp is three stars out of five.
Their stated highlights on the website stress eco-friendliness, budget-conscious prices, and around-the-clock availability.
Past customers have stated difficulties properly verifying renters, with alleged disagreements on behavior and recurring pricing models. Neighbor Storage has responded to multiple Yelp reviews answering questions and concerns.
Do They Have a Social Media Presence?
You can find neighbor Storage on Twitter, Facebook, and Instagram.
Final Thoughts
From hosting to renting, our Neighbor Storage app review has determined the site as a flexible storage unit app that helps both parties meet halfway.
To learn more about Neighbor and how to get started, check out their website. 
The Neighbor Storage app is a useful resource for renters who need more pricing and storage options. It's also a viable option for people that want to generate passive income and have storage space they're not using. Neighbor Storage offers free liability protection and legal identity verification for both Hosts and Neighbors.
On the other hand, there is less reliability in storage unit features (such as climate-controlled spaces) and mixed responses from customers seeking fast response times. When searching for storage unit options, make sure to weigh the pros and cons before committing carefully.
If you're still looking for more options to pad out your next move alongside the Neighbor app review, check out our list of the five best interstate moving companies. If you need to start budgeting, try out our handy Moving Cost Calculator.
Not what you were looking for?
Check out other categories that can help you find the information you need!
See All
Hide All