Silver State Surge: The moveBuddha 2023 Nevada Migration Report

2023 has been good for Nevada so far regarding moving trends. New moveBuddha data shows that for every 100 residents moving out of Silver State, 134 are interested in moving in (1.34 ratio).
Nevada ranks #13 out of 51 nationally

(including Washington, D.C.) in 2023 in terms of moving interest in the moveBuddha Move Calculator.

South Carolina ranks #1 overall with a ratio of 2.12, while California ranks dead last at #51 with an 0.57 ratio.
Nevada stacks up well against neighboring states, too. The Silver State ranks #1 compared to the five states it shares borders with. 
Arizona

is the #2 most popular state for movers in Nevada's region, with a 1.23 in-to-out ratio, while

Idaho

ranks at #3 (1.14).

Unsurprisingly, California ranks last at #6 in Nevada's region, while Utah ranks at #5 (0.75) and Oregon is at the #4 spot (1.03).
Table of Contents:
I. Nevada Moving Trends Since 2020
II. What States are Moving into Nevada in 2023?
III. What Nevada Cities Are the Most Popular in 2023?
IV. What Will Las Vegas Look Like in 2100?
V. Why is Nevada Doing so Well in 2023?
VI. Methodology & Sources
Nevada Timeline: Nothing But Positive Moving Trends Since the Pandemic
Moving interest in Nevada has ebbed and flowed since 2020, but the ratio has been positive every year.
Nevada's moving ratio of 1.25 in 2020 ranked #22 nationally

, possibly helped by pandemic moves from remote workers and people fleeing big cities during the early months of the COVID crisis.
Moving interest in Nevada waned in 2021 and 2022. Nevada ranked #23 nationally in 2021 with a 1.10 ratio and #27 in 2022 with a 1.02 ratio.
The moving interest in Nevada in 2023 so far is promising, though. Nevada's 1.34 ratio through June 8, 2023, is a 7.1% increase from 2020.
Here come the Californians: Where else are new Nevada residents coming from?
No shocker here: Californians are flocking to Nevada in droves.
The Golden State has accounted for a staggering 29.72% of all moving interest in Nevada so far in 2023. Consider that the next state on the list - Texas - only accounts for 8.43% of moving interest in Nevada.
The other top states with residents interested in moving to Nevada include

Florida

(6.48%),

Washington

(4.82%), and

New York

(4.37%).
Nevada is mostly trading residents with top states, though. This is evident in most moveBuddha Migration Reports - and it's no different for Nevada.
The top states Nevada residents want to move to are some of the same ones that are sending new residents to the Silver State.
The top 5 states Nevada residents are interested in moving to are:
California (13.04%)

Texas (11.83%)

Florida (11.09%)

Washington (5.51%)

Arizona (4.77%)
Which Nevada Cities Are Popular and Which Are Losing Residents?
Overall, Nevada's top cities are doing well regarding moving interest in 2023. The state's biggest city, Las Vegas, is seeing strong moving interest.
Las Vegas has a 1.48 in-to-out ratio

, which is the best in Nevada in 2023. That means for every 100 people who want to move out of Las Vegas, 148 people are interested in moving into the city.
Three of the five Nevada cities we studied had a positive moving interest ratio, including #2 Sparks (1.31) and #3 Henderson (1.27).
The two cities that fared the worst were

#4 Reno (0.81)

and

#5 North Las Vegas (0.58)

.
What will Las Vegas look like in 2100?
The Las Vegas MSA is growing fast, and the future bodes well for the city - unless the effects of global warming throw it off track.
moveBuddha estimates the Las Vegas MSA will rise from #29 most populous in the U.S. in 2022 to #17 in 2100

and could possibly boast more than 9 million residents by then (

see this moveBuddha report to dive deeper

).

The Las Vegas MSA's growth rate between 2010 and 2020 was a robust 18.61%

. That put it in the top 25 fastest-growing MSAs in America and on par with other rapidly growing cities like Houston, Dallas, and Phoenix.
Las Vegas is also a top destination for residents that are leaving one big U.S. city - San Francisco. Las Vegas is the #2 destination for departing SF and Bay Area residents in 2023, behind only Austin, Texas, according to MoveBuddha.
Interestingly,

Reno is the #3 destination for departing San Francisco residents in 2023

, as well.
Obviously, much can change between now and 2100. And one of the biggest concerns for Las Vegas and all of Nevada will be global warming.
Las Vegas is the fastest-warming city in the U.S

., with temperatures having risen 5.76 degrees F since 1970.

Without significant action to mitigate climate change, one report warns that

Las Vegas could experience 96 days of heat above 100 degrees F by the end of the century

. 
Las Vegas is already super-hot - just imagine it getting hotter.
Why is Nevada Doing so Well in 2023?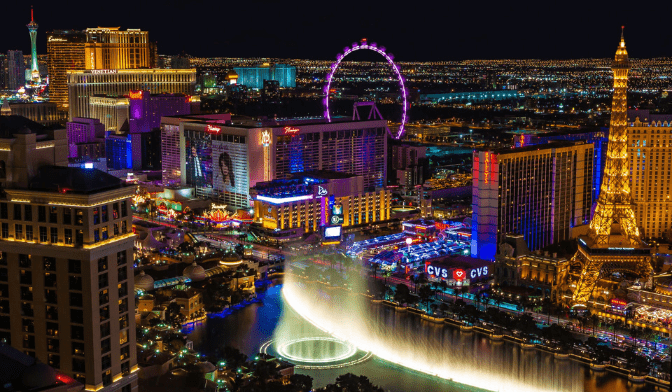 Nevada has been a top destination for American movers for a while, and this trend doesn't seem to be slowing down.
A Tax Foundation study recently found that Nevada had a 1.3% population gain between April 2020 and July 2021

. This tied Nevada with Texas at #7 in the top 10 most desirable states to move to in that time period.

The population of Clark County (home to Las Vegas) rose 16.1% between 2010 and 2020 to 2.2 million, according to 2020 Census data.
There are numerous reasons Americans are flocking to Nevada - but the main one might be the business-friendly policies and low tax burden.
Nevada is one of nine states with no income tax

, which is partly why so many companies, sports teams, and professionals are moving to the state.

Elon Musk recently moved Twitter's corporate headquarters from Delaware to Nevada to seek friendlier jurisdiction for investor lawsuits and cheaper fees, which is part of a growing corporate trend.

The median property tax rate per $100,000 of assessed home value in Nevada is $533,

one of the lowest in the entire U.S.

There's also no estate tax or inheritance tax in Nevada.
Nevada has plenty going for it, including new sports teams like the NFL's Raiders and NHL's Golden Knights. And Las Vegas is a city that has grown beyond nightlife in re-developing itself and its downtown.
But if you're looking for the top reason Americans are moving to Nevada, we'd say it's because it makes dollars and sense.
Sources & Methodology
This data was collected from January 1, 2020, through June 8, 2023, and includes searches nationwide by individuals who were either planning to move or hire a moving company throughout 2023.
More information about our move data and in-to-out ratio equation can be found in our annual Migration Report.
This report also uses data sourced from the U.S. Census Bureau and the moveBuddha 2100 Population Projections report. 
We examined all U.S. metropolitan areas with more than 250,000 residents and calculated their annual compound population growth rates between 2010 and 2020. We also calculated the 10-year population growth rate. 
We extrapolated the annual compound growth rates for all cities from 2020 to 2100 to estimate the total metropolitan area populations for 2100. This is how the population projections for Las Vegas were calculated.
U.S. Census Bureau data
Unless otherwise indicated, city-specific data was sourced from:
U.S. Census Population Data: Population data
Not what you were looking for?
Check out other categories that can help you find the information you need!
See All
Hide All