101 Most Popular Large Cities People Moved To Last Year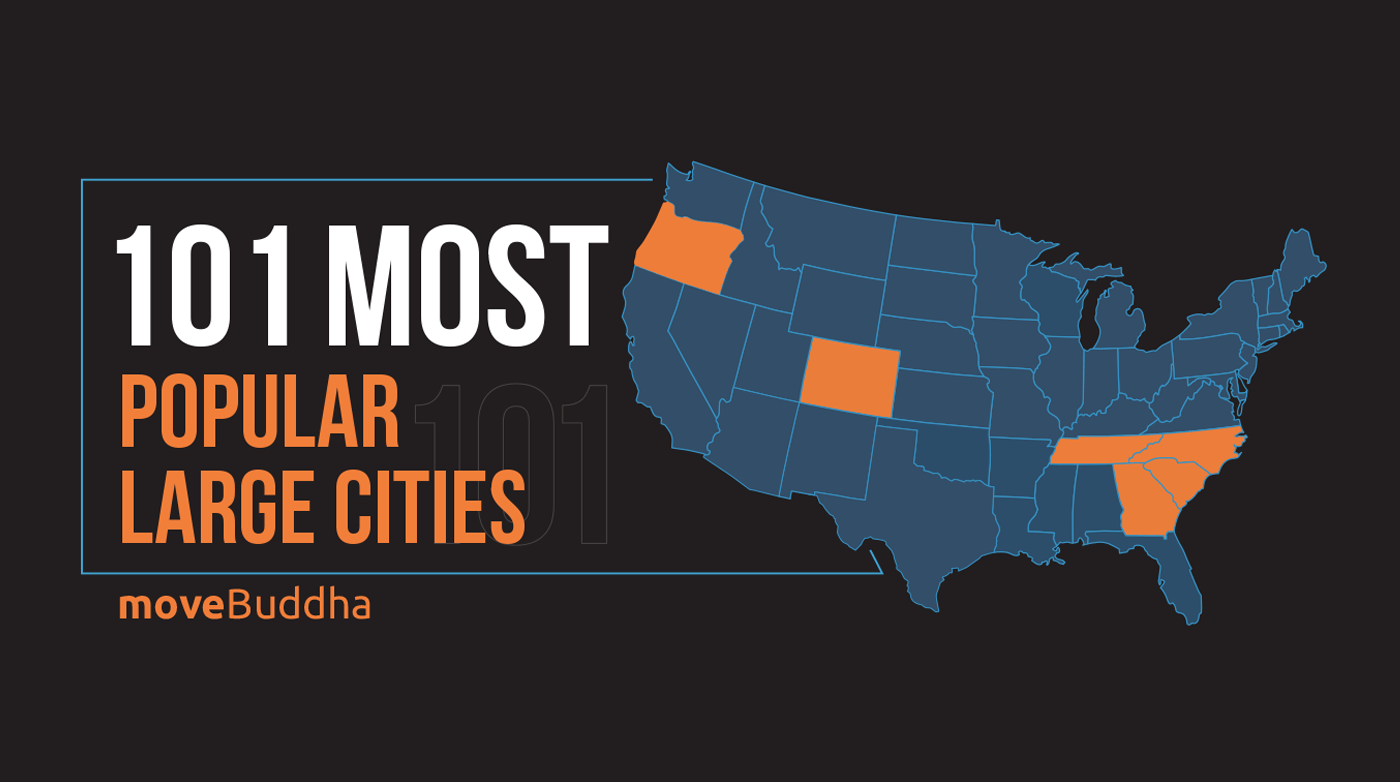 In the last year, there were hushed fears of "the death of the city," worldwide. However, now with almost half of the US population having received at least one dose of the COVID-19 vaccine, the idea of a return to normalcy state-side is in full bloom.
Even still, cities will have to change. Issues like job competition, live-work-play balance, economic growth, entertainment, retail, and more are all top concerns for experts in city planning. Changing city design and lifestyle in massive metropolitan cities of over 1 million is a huge feat. However, in comfortably large cities the opportunities for quick community pivoting and collaborative progress might be more feasible.
Our team wanted to uncover which large cities might be buzzing with new residents ready to bring some of the urban life into these comparatively smaller metropoles. Taking proprietary data from over 400,000 moves moveBuddha assisted with in the last year, we were able to uncover the 101 most popular large cities people moved to in 2020. Many used our Moving Cost Calculator for free, or just did their own research on the top movers and best container companies.
To gather more insights about these large cities with populations between 100-200,000, we overlapped the move data with U.S. Census data to uncover trends that may be driving moves to these large cities.
Here's the full data.
Key takeaways
The Southeast region is as popular as ever with large cities in the Carolinas, Tennessee, and Georgia drawing in hundreds and hundreds of inbound moves.
Tech incentives and remote opportunities may be drawing in movers to cities like Savannah, GA; Chattanooga, TN; and Bend, OR.
Mellow and mountainous states like Oregon and Colorado stand out from the crowd, perhaps due to COVID-related reasons like access to plentiful outdoor activities.
Of the cities with the best home value to income ratio, the fastest-growing were divided evenly between either suburbs of major cities (like Sugarland, TX and Lakeland, FL) and charming large cities (such as Knoxville, TN or Savannah, GA).
According to the most recent reports, the US unemployment rate is 6.1% (April 2021). Do large cities offer an ample number of jobs for these new residents? 66 of the 101 cities on our list have unemployment rates below this margin and 25% of the list had unemployment rates of 4.1% or less.
The most popular large cities to move to in 2020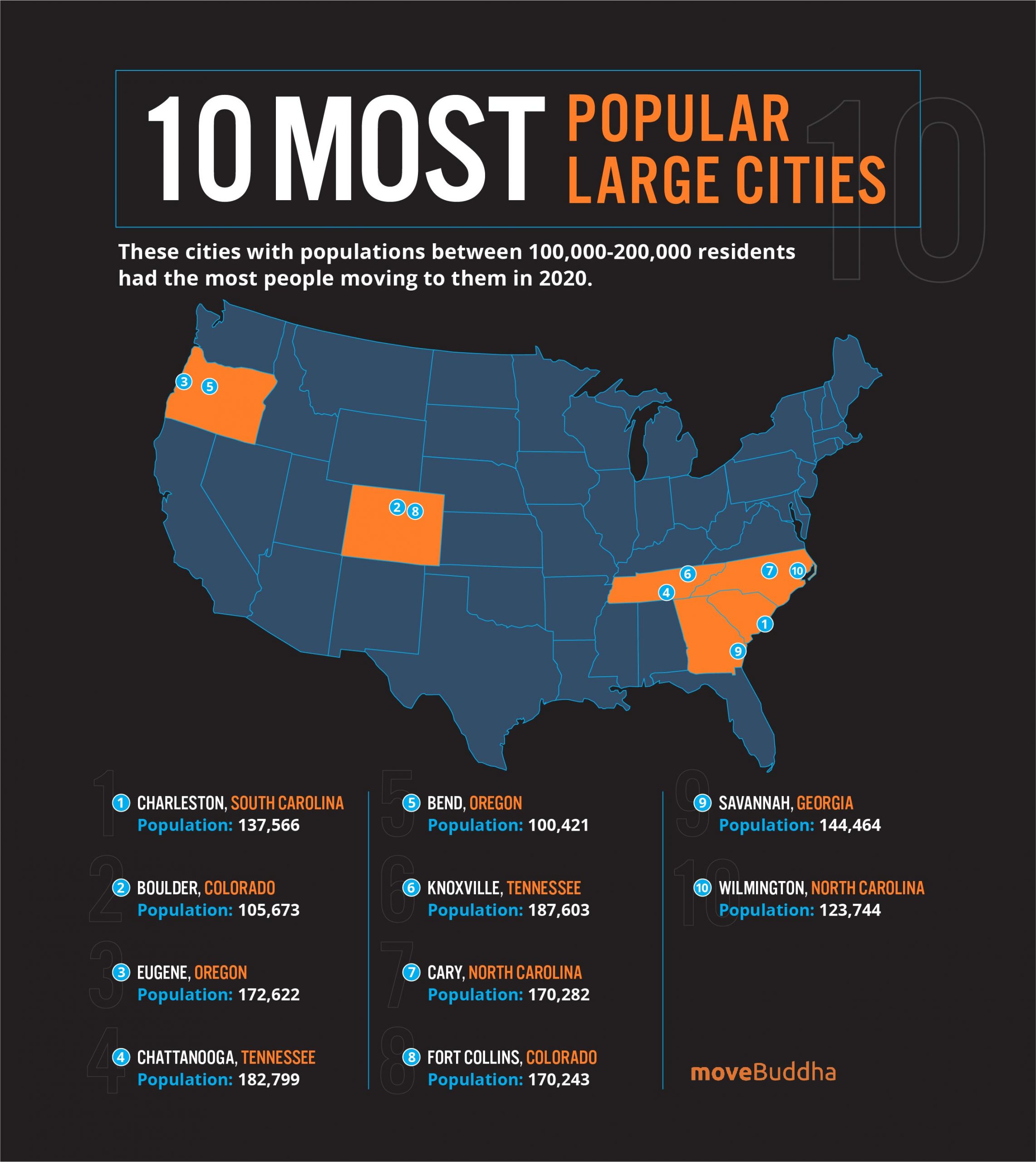 Not to sound like a broken record, but Southbound moves, particularly in the southeastern states of South Carolina, Tennessee, Georgia, and North Carolina, were popular as ever.
South Carolina was recently recognized for being the #2 state for inbound moves in a study from United Van Lines, which also featured North Carolina (#6) and Tennessee (#7). Whereas other reports feature Tennessee in the number one spot for migration growth.
So what could be attracting moves to large cities in these states?
Temporary escape or permanent change?
Those who moved during the pandemic were both interested in temporary and permanent moves. In fact, there was a 27% increase in temporary change of address requests from 2019 to 2020 (and only a 1.94% increase for permanent change requests).
Either way, it's clear people were on the move.
It's difficult to determine whether moves to large cities were permanent or temporary. It really depends on which city you look at.
On one hand, in cities like Bend, OR the average residential home price was up in October 2020 by 17% from the year before, a clear indication of the demand for area housing. In Charleston, SC year to date sales from April 2021 showed a 32% increase.
Then there's the other side of the story. For example, in terms of growth, Boulder, CO may have seen an increase in interest but it is one of the most expensive large cities to buy a home. So, home buying here is not one of the major drivers of moving into the city. Instead, the growth may be thanks to a large increase in renters moving in, particularly Gen Z students who don't necessarily stick around.
Another recent study on rent found popular large city Knoxville, TN's rental market as the 9th "hottest" or most competitive, alongside Eugene, OR ranking even higher at #6.
Looking for tech, remote work opportunity in large cities
Cities like Chattanooga, also known by local techies as the Gig City, may be drawing in startups, remote workers, and others migrating away from Silicon Valley.
Chattanooga and Savannah both are offering relocation incentives for those in the tech industries. In Chattanooga, they call it the "GeekMove" program. Applications are currently closed, but the program offers computer developers 10 relocation packages that include $10,000 towards a mortgage and up to $1250 in reimbursement for relocation expenses.
Other cities like Eugene and Bend in Oregon have long been popular for those looking to escape Silicon Valley (despite the 10-hour drive).
Drawing in skilled workers helps to boost the economic potential of large cities and can help small, local businesses thrive. Plus, it typically lowers the overall population age and increases the level of education.
Cities like Knoxville, TN are already seeing signs of growth despite the pandemic hardships with multi-family housing in high demand and incoming business bringing in new jobs.
Moves to cities like beautiful and outdoorsy Bend (a city some LOVE to hate, emphasis on the love) may also be in part due to its ability to transform into a destination Zoom town.
Oregon and Colorado: Lifestyle & outdoor activities
When we talk about Colorado and Oregon our thoughts drift to mountainous landscapes and fresh air. Hiking, skiing, and general outdoorsy activities are rampant in these parts.
It's worth noting that both Oregon and Colorado permit recreational and medical cannabis usage, which was determined an "essential" business during lockdowns. This may have been an attractive local feature for some.
More recently, both Colorado and Oregon are two of the several states offering a vaccine lottery for those who choose to get vaccinated. In either case, the maximum winning amount is $1 million.
Fastest growing cities with the best home value to income ratio
Large cities are attractive for both businesses and homebuyers. So, we were wondering which large cities on our list are not only growing the fastest but also are hot spots for those looking to buy a home?
Using a ratio of median household income and median home value partnered with the highest percentage increase in moves we found the top 10 best high-growth cities.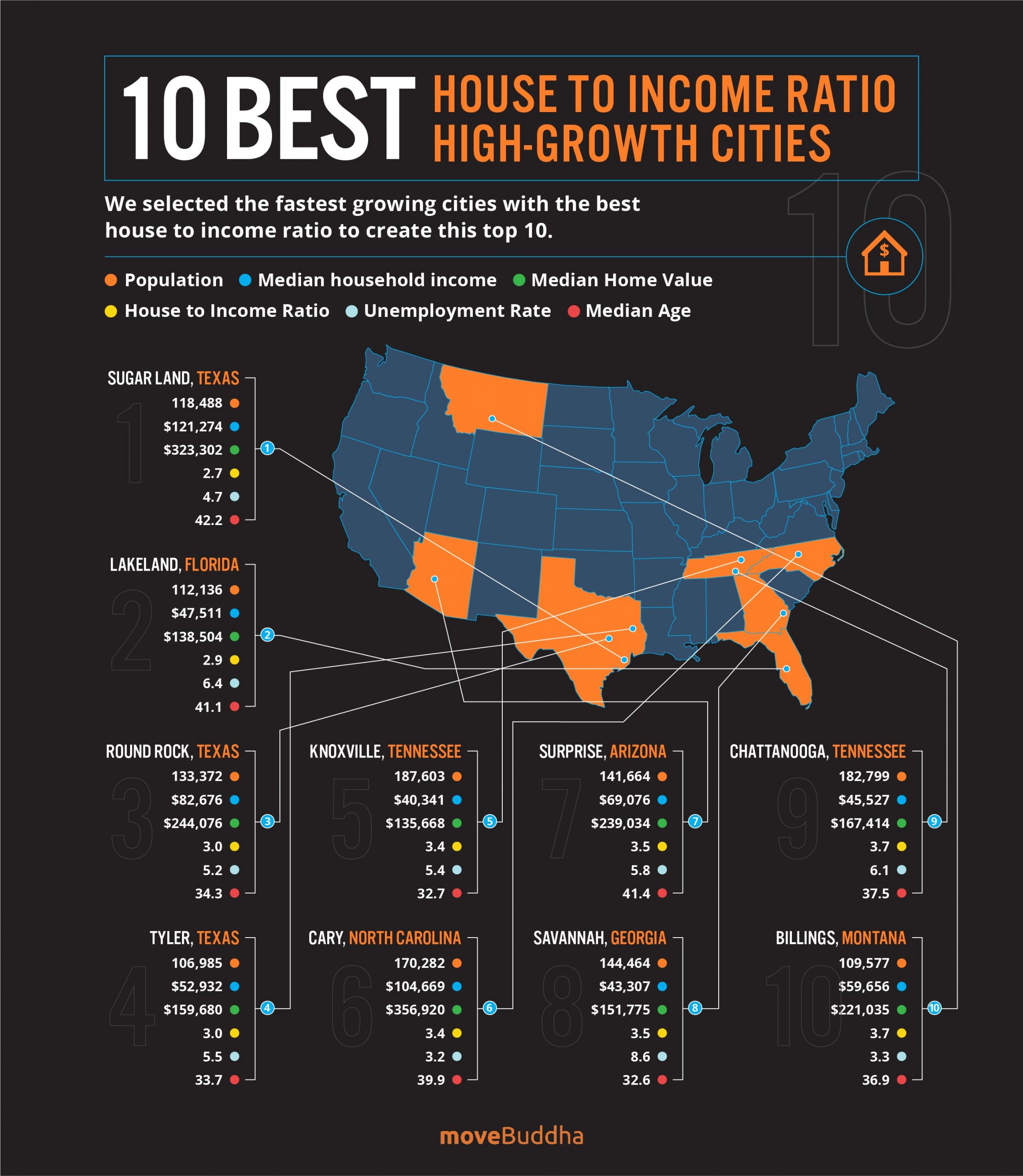 Large suburban cities more attractive than ever thanks to affordability
For many, the costs of city living were worth it when balanced out with the proximity to work, urban amenities, and overall social opportunities.
However, with lockdowns, everything changed.
So, it might be that 30-something millennials and even Gen Zers started looking at the opportunities that may come with living further away from the city center. According to Danielle Hale an economist at Realtor.com, "The suburbs are attractive to a lot of people because, in general, the price per square foot is lower." That means that many moving away from the city center can get more square footage, usually at a lower cost.
5 of the most popular large-size cities on our list with the best median home value to median income ratio were all within 45 minutes of a major city: Sugarland to Houston, Lakeland to Tampa, Round Rock to Austin, Cary to Raleigh, and Surprise to Phoenix.
Of these suburbs, Sugar Land, TX was the most affordable and fastest-growing large-city suburb on the list. With a home value to income ratio of 2.7, that means area residents earning household incomes of $121,274 will take about 2.7 years at this median salary to purchase a median-value home in the area ($323,302).
We noticed that many suburban cities have started to incorporate more arts and culture. A huge draw for those exiting cities.
For example, Sugar Land has its own Art Museum, Lakeland is home to 3,000 sq/ft history and culture center, and Cary is home to the Koka Booth Amphitheatre which hosts an annual Chinese lantern festival.
Charming, independent urban communities
The other half of the fastest-growing large cities with the best home buying opportunity is a collection of large cities that can stand on their own two feet both economically and culturally.
No metropolis next door fueling these cities.
No, these large cities: Tyler, TX; Knoxville, TN; Savannah, GA; Chattanooga, TN; and Billings, MT are all home to their own urban centers. Each one boasts thriving local economies that support the community and local lifestyle.
As we've mentioned, Chattanooga is home to a thriving local tech economy. Whereas, Knoxville has its own vibrant downtown market square and the most affordable home prices of the top 10 cities.
Meanwhile, darling Savannah, Georgia is known for its local boutiques, southern hospitality, historical architecture, and picturesque moss-draped trees.
Nationally, Billings may be lesser-known. However, this large Montana city has been a big attraction for those leaving more expensive states like California and Seattle.
Looking closer at income, home value, and unemployment rates in large cities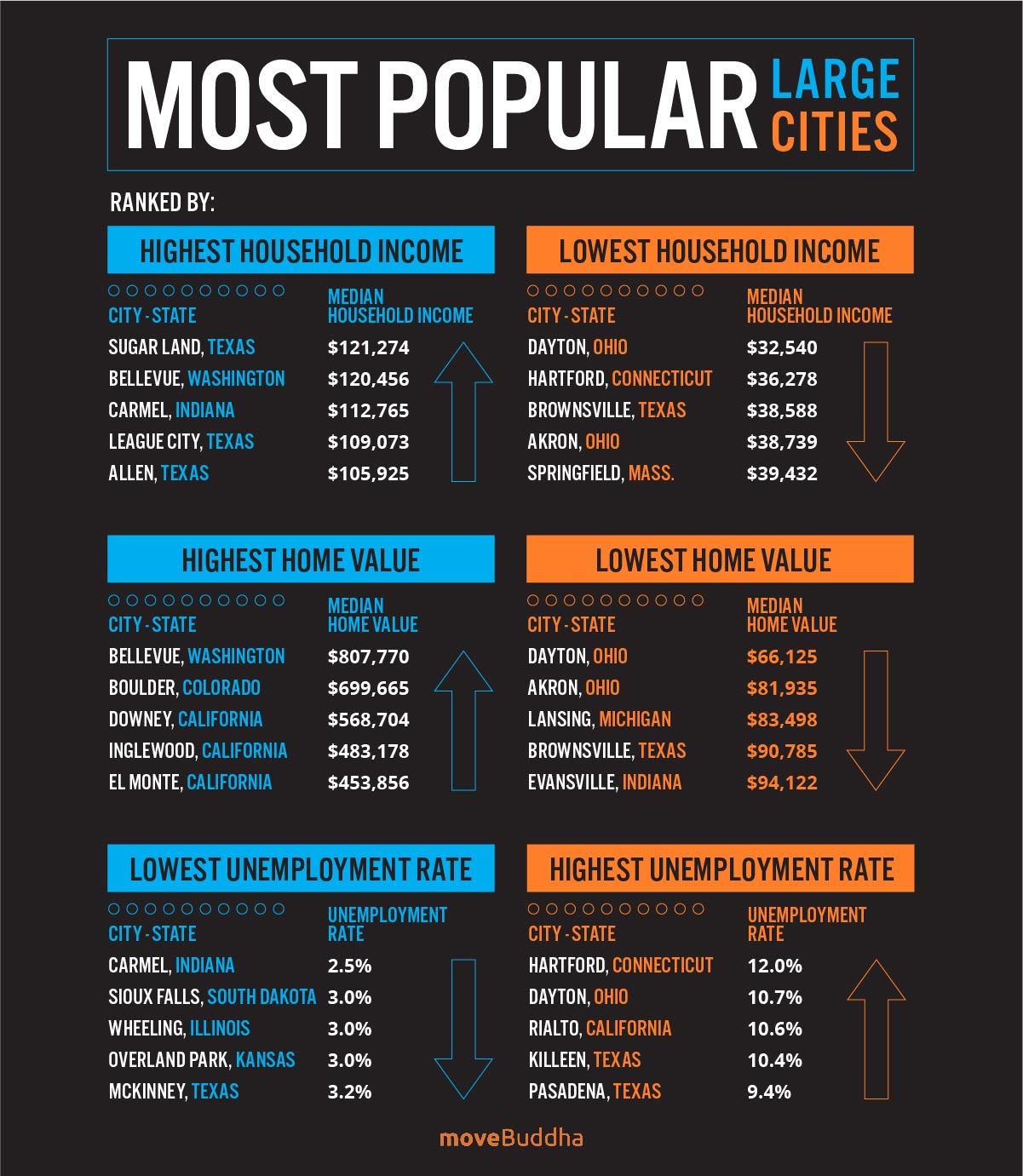 Is the large city economy strong enough for stable employment?
The hiring reports are in. As of April 2021, the US was shocked to see employers added only 266,000 new jobs. Economists originally estimated closer to one million.
The staggering news shot panic through those entering the workforce or simply looking for a job.
Perhaps its businesses throwing caution to the wind who are not hiring or workers who are fearful of returning to work, in either case, are large cities able to step up to the challenge? Can these smaller economies offer enough jobs to new residents moving in?
Cities like Carmel, IN; Sioux Falls, SD; Wheeling, IL; Overland Park, KS; and McKinney, TX have some of the best and lowest profiles for unemployment. All top 5 cities have unemployment rates well below the national average of 6.1 (April 2021).
Plus, two-thirds of the 101 large cities all have unemployment rates below the national average, with 25% with rates at 4.1 or less.
Methodology
The overall rankings use proprietary data from our own moveBuddha Moving Cost Calculator. Comparing YoY data, we were able to determine which cities in the U.S. were most searched as moving destinations in 2020. Our overall ranking system for this report is based on these findings.
Economic, Population, & Demographic Data
To understand the income to home value ratio, we used median household income compared to the median value of homes owned by residents as of 2019 to compute a simple ratio. This data was sourced from the 2019 American Community Survey run by the United States Census Bureau.
We also collected the unemployment rates from the US Census Bureau.
Not what you were looking for?
Check out other categories that can help you find the information you need!